'Tis Dining Month, the tastiest time of year! This means we're dishing up fun and fascinating food content throughout October. Dig in, Milwaukee!
In honor of Dining Month, we're resharing some of our restaurant-related Urban Spelunking stories. Enjoy this look at classic Milwaukee!
The stories of Milwaukee's longest-lived and most iconic restaurants are, like the story of the city itself – and, indeed, of the United States – are the stories of immigrants.
From the German-born founders of Mader's and Pandl's, to the Italian immigrants who introduced Milwaukee to pizza at the Caradaro Club, to the Mexican-American family behind Conejito's and beyond, Milwaukee's melting pot is full of ingredients that have arrived in the baggage (sometimes, though not always literally) of new Americans.
The same is true at Three Brothers Restaurant, 2414 S. St. Clair St. in Bay View, which was opened in 1956 by Milun Radicevic, who had arrived in Milwaukee in 1949 and slowly, one by one, brought his family here to build a new life together.
Milunka Radicevic behind the bar.
"Three brothers was our family's Ellis Island," says his granddaughter Milunka, who runs the restaurant today. "Anyone that was ever related to us that was a Radicevic or Markovic, which is my grandmother's maiden name, that was from the former Yugoslavia. They would literally fly in and everyone's first stop was here and then the rest of their journey in America came after that. But everybody came here first."
An immigrants' tale
Born in 1892, the elder Radicevic served in the military of the Kingdom of Serbia first during the Balkan Wars of 1912-13 and then again during World War I, after which he received his country's highest military honor.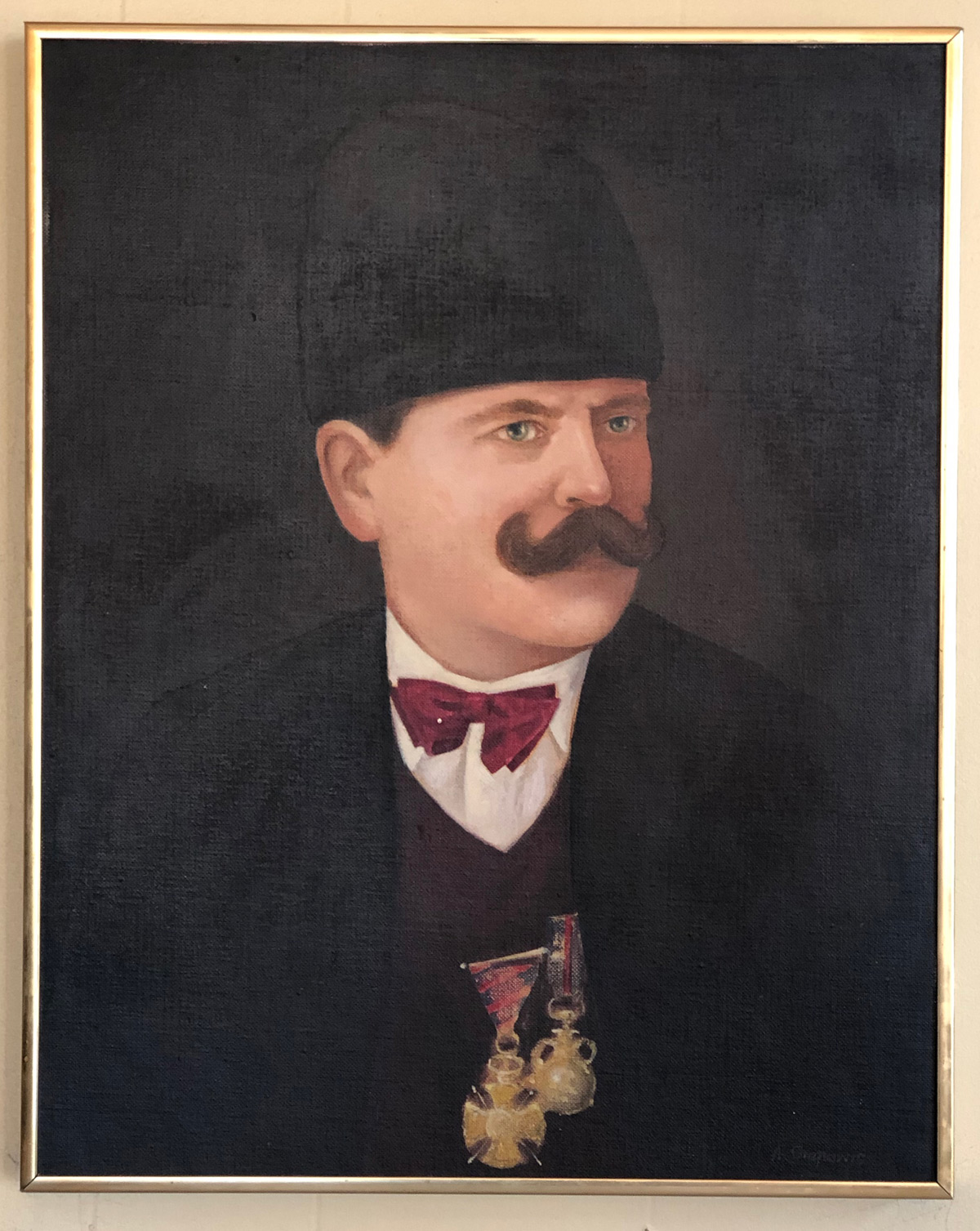 Radicevic (at left) was back in uniform – for Yugoslavia, which had been created in 1918 from a merger of lands controlled by Serbs, Croatians and Slovenes – when World War II arrived. This time, he was captured by the Germans and because he supported resistance leader Draja Mihajlovic after Yugoslavia was invaded by Hitler, he was sent to a concentration camp in northern France.
Escaping 20 days later, Radicevic fled first to France and then to England, where the Polish government was in exile after Germany invaded, and he joined Polish forces.
"On his way to finding his own safety, a French platoon was shot down and instead of continuing to flee for his own life, he turned around and helped them," explains his granddaughter.
"Through his contribution to the resistance movement, he received asylum first in France, and then he went to England. And it was in England where he was waiting for papers and you needed sponsorship to come to America at the time. So he was sponsored by a Lutheran family here."
In 1949, sponsored by that family, Radicevic arrived in Milwaukee, where he took a job as a liquor salesman, putting to use experience he'd gleaned from his career back home as a winemaker and distiller.
In 1953, Radicevic took over a tavern at 814 S. 2nd St. – now home to Snack Boys – which some say he called Big Mike's but other sources, including newspaper ads, say was called Mike's Good Luck Tavern.
The saloon appears to have had a long association with Milwaukeeans with ties to Eastern Europe. In the 1930s it was run by Frank Verbich and then, as Wimpy's Tavern, by John Gorishek. In 1952, then-barkeep Sam Orlich died and his widow Eva sold to Milun Radicevic. (A Sam Radovich was there at some point around this time, too.)
After Radicevic moved his business to Bay View, names like Filipovich and Milun Dragich followed at the old 2nd Street tavern.
That move to Bay View took place in 1956 and one has to assume it was related to the fact that he was finally able to bring his wife Milunka (pictured below) to America the previous year.
"When my grandmother came with that, it became instrumental in terms of the restaurant becoming what it is today," says young Milunka. "She came here, took all that she knew, and created the menu that we have today.
"And what's remarkable about the menu that we have is now you can get every imported cheese you can imagine, almost as authentic of a product from abroad. When she created the menu, she used the things that you could find here, grew most of the things, made her own cheeses ... literally everything by scratch, by hand."
Radicevic named his new Bay View restaurant and tavern Three Brothers, in the hope that one day his three sons – Branko, Milutin (aka Louie) and Aleksander – would run it.
Slowly, the Radicevics worked in their restaurant and, simultaneously, worked to get the rest of their family here. In 1957, their daughter arrived, followed soon after by a son. The following year, the Journal caught wind of the story and ran photos and an article under the headline, "Torn from Belgrade home by Nazis, he builds a new life in Milwaukee."
By then 66 years old, Milun dreamed of reuniting his family around the Christmas tree that year. It was a dream so strong that, though it wasn't meant to be, it turned out he didn't have to wait too long. By January, his son Branko arrived and just days later, his son Aleksander was here, too.
"When my dad came in January '59, it was a bitter, bitter, bitter cold day here," says Milunka Radicevic, who is Branko's daughter. "He told me the bitter, bitter cold day sort of encapsulated his first experience. When he landed he kissed the ground."
A former Schlitz tied house
The building where the family was reunited, was erected on a small triangular spit of land in Bay View purchased by the Schlitz Brewing Company from Rowland Thomas and his wife in July 1897 for $250.
Less than two weeks earlier, the Milwaukee Journal reported that despite a "noticeable depression" in the building market, "many of the larger owners of real estate, like the Pabst and Schlitz brewing companies are keeping right on with their building. During the past week architect Charles Kirchoff, Jr. designed a new $20,000 store and office building for August Uihlein of the Schlitz company, for the corner of Murray and North avenues and there are others to follow."
As the United States slowly climbed out of the economic slump that exploded into a full-blown depression by 1893, folks liked their beer and Schlitz, along with other big brewers, continued to buy real estate to build tied houses, where their beer would be sold exclusively.
"Brand loyalty was not well-established; customers were attracted by cheap offers, free samples, free food and a large number of giveaways, such as calendars, glassware and signs," noted Uwe Spiekermann in his article, "Marketing Milwaukee: Schlitz and the Making of a National Beer Brand, 1880-1940," which appeared in the fall 2013 bulletin of the German Historical Institute.
"Consequently, Schlitz was investing huge sums in tied-house locations: From 1897 to 1905, the company invested nearly one-third of a million dollars in building 57 saloons in Chicago."
One of those many tied houses was built on that spit of land in Bay View and was designed, like most Schlitz tied houses of the era, by Charles Kirchhoff. Like the others that flowed from his pen, this one was erected – at an estimated cost of $5,000 – of cream city brick and had a turret.
Atop the turret was a belted Schlitz globe, which, rather remarkably, survives today, as does a mural of the Grand Tetons on the back bar.
Its first operator was Scottish immigrant James A. Kerr, who ran it initially as Kerr & Bird (presumably with a partner named Bird), along with his two other Bay View taverns, on Russell and Superior (the site of Club Garibaldi today) and on Lenox and Linus (now a private home).
Kerr, who had arrived in 1890 and brought his wife and children here the following year, was active in the neighborhood, serving as president of the Young Men's Literary and Athletic Club and also the Bay View Athletic Club.
By 1901, Kerr – who surely needed some help to run three taverns simultaneously – had brought Henry Lutz in at the St. Clair saloon. Still, the stress of it all must've been too much and in 1904, Kerr, just 40 years old, died of a heart attack at his home above the St. Clair tap.
Kerr was followed by German immigrant Michael Brusewitz, who had been born in Hamburg in 1862 and arrived here in 1885, becoming a citizen six years later.
During the couple years the Brusewitz family lived upstairs, Michael ran the saloon below, assisted by his son Frank (who was just 16 in 1906) while elder son Arthur worked at the iron mill nearby that surely provided more than a few customers to the tavern.
But by 1907, Brusewitz – who had run for alderman in Bay View in 1906 – had relocated to Bishop Avenue (now Wentworth) and that February took over The Little Hungary restaurant and tavern on Market and Wells Streets Downtown.
Interestingly, Brusewitz, who would later relocate to Chicago Street in the Third Ward, ran for sheriff on a couple occasions, vowing, if nominated – which he was not – to appoint women as sheriff's deputies.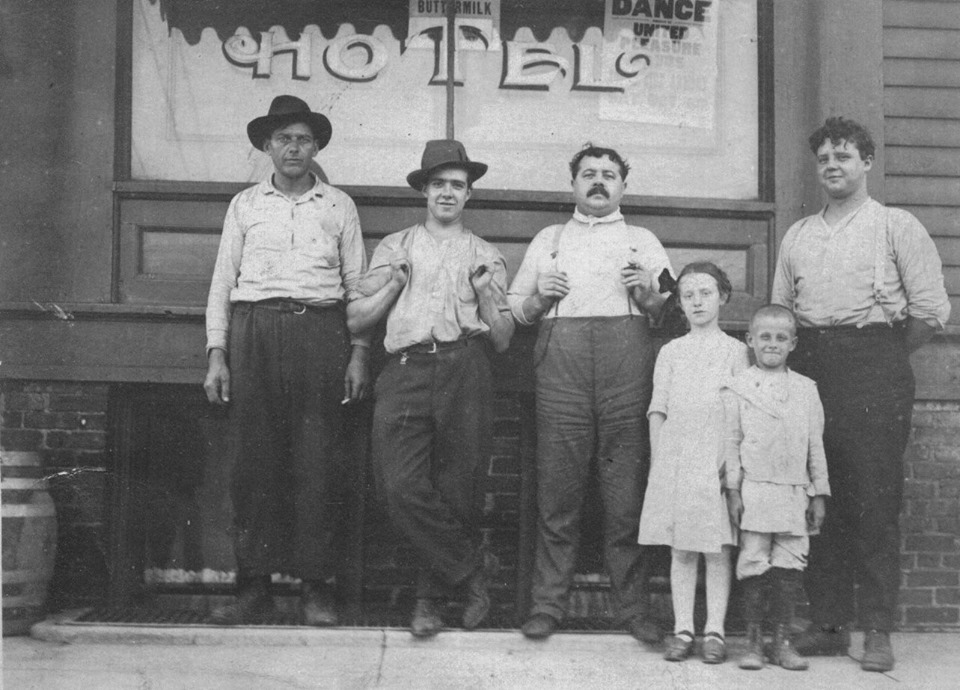 A mustachioed Brusewitz and family outside their Third Ward saloon and hotel around 1910-1. (PHOTO: Courtesy of Bruce Brusewitz)
In 1920, one newspaper reported that Brusewitz, "believes in jury women and also in women peace officers. He announces that if nominated for sheriff on the Republican ticket and he is elected he will appoint several women deputy sheriffs. 'Women are needed to apprehend the vamps in the county, male or female. My slogan is 'Equal protection to all' and I purpose (sic) to see it that man and women share alike under the law if I am elected sheriff of Milwaukee County."
He was not nominated and, of course, therefore did not win.
Meanwhile, back on St. Clair, John Barsony (or someone with a name that may or may not have sounded like that, such was the reliability of spellings back then) was behind the bar in 1907, followed by 22-year-old Hungarian immigrant Kalman Erdelyi in 1908.
Neither lasted long and by 1909 Steve Molnar – another Hungarian immigrant, he'd arrived in 1890 – was living upstairs with his wife Annie and her sister and 4-year-old daughter Bella, and ran the saloon below.
Molnar's 15 minutes of fame arrived in 1911 when he claimed to have found "the largest mushroom ever discovered in this part of the country." In addition to that 36-pound fungal monster, he'd also plucked a 14-pounder about a mile and a half north of Wind Lake.
Alas, Molnar died the following year, in his mid 30s and another Hungarian, Steve Galo took over on St. Clair, staying until 1920 and toward the end of that tenure, taking Louis Wilhelm on as a partner.
It is at this point – with Prohibition now the law of the land – that Romanian immigrant Joseph Kallay moved his family – which spoke Hungarian – from their place on Bishop Avenue (now Wentworth) into the apartment upstairs at the St. Clair tavern, quit his job as a machinist at the Bay View rolling mill and became the operator of a soft drinks parlor, dispensing soda instead of beer in front of the Grant Tetons mural.
When Repeal arrived in 1933, Kallay traded soda for beer and ran the Globe Tavern until he rented it to a newly arrived decorated Serbian war veteran named Milun Radicevic.
A 1956 classified ad for the building offered a "large solid brick building with living quarters upstairs. Possibilities unlimited. Building and license," with immediate occupancy and a two-car garage for $17,000.
Those ads ran until the end of 1957 – the year Kallay died. The tavern building was again listed for sale in 1962 and '68.
In the meantime, Three Brothers was quietly making a name for itself with the kind of unassuming atmosphere and quality food that remain its trademarks today.
The incomparable burek. (PHOTO: Royal Brevvaxling)
"Restaurants like the Three Brothers are, happily, devoid of any of the irritations of the commercial type of dining establishments," wrote the Journal's Herbert Kubly, listing such irritations as low lights, the "cult of flambe," the "absymal contempt for salads," "ecstatic menuizing," and "the compendium of embossed testimonials and awards which paper restaurant walls like dentists' diplomas."
Three Brothers and one American Classic
Although Radicevic's boys all made it to America, they didn't all stay to work at the restaurant named in their honor. In 1971, Aleksander opened his own place, called Old Town Serbian Restaurant, and Branko had followed a different path altogether.
"He was first in New York," says his daughter, Milunka. "That's where he met my mother. He was promoted and she was promoted into his (old) position. They met, fell in love, married, and then they were both transferred to California and he was doing international banking in L.A. That's where my sisters were born and myself. My father was very happy with his job at Bank of America."
(PHOTO: Royal Brevvaxling)
But families like these stick together and when Milun became ill in 1972, Branko came home.
"In our culture, the eldest son takes care of his family," says Milunka, "and so my parents both took a leave of absence thinking that they were going to come here and bring my grandmother and grandfather to sunny California."
You already know the ending. That did not happen. Instead, in 1976, Milun died, and Branko and his wife never returned to sunny California.
"My mom landed here," says Milunka, "and started out serving."
During the day she helped with food prep and over time she learned her mother-in-law's recipes and carried the tradition forward when the elder Milunka died in 1982.
Grandma Milunka's kitchen work table.
Since that time, Three Brothers has continued to thrive.
It's been featured in numerous national publications, including Bon Appetit and Gourmet magazines and, just this month, in The New York Times.
In 1976, it was named a City of Milwaukee landmark.
In 2002, the restaurant earned a coveted James Beard Award, calling it an American Classic.
"That award speaks really to the whole city and the state because we wouldn't be here if the community didn't support us," says Milunka. "So that gift was a huge spiritual thing for me. I felt really moved by it. Even now."
Today's menu is basically the same as it was 50, 60 years ago.
"The less we touch things the better off they are," says Milunka. "We've tried to take things off and then people get upset. Over the years dishes have been added, but the menu has mostly stayed the same.
"Our job is to maintain the level of consistency so that people who haven't been here for 30 years that walk in and go, 'Oh my God, this tastes the same or, or better'."
One gets the sense that no one is tinkering too much with something that works. But also with something that may be a restaurant to you and me, but is so much more to the family that owns it.
"Everyone says to me, what's your position? What's your job title? And I, and I tell everyone, because it's genuinely so, my title is daughter. I didn't necessarily take over. It's our family and our family's business. Just as my father came here, he didn't necessarily take over the restaurant. He came to help his family. So his title was son, my mother's title was daughter-in-law.

"When I look around the restaurant, the way the chairs have worn is (from) all the hands that have touched it. My dad always used to sit right here for Monday night dinners. I would have some timeouts in that corner. When we had the jukebox, we would hide in the jukebox to play hide-and-go-seek. We would play in the sink in the, in the ladies room because that's the original bathroom, the original sink that for children's perfect children's height.

"There is no kitchen upstairs, so the restaurant is our kitchen and our dining room. There's always been this really beautiful continuity between family and extended family and family work, family work. And because we were so young when we were here, it's like very much just intrinsically who we really are now and what we think and how we feel and it, every time we open for, for dinner service, the, the best way that I can explain to people is that it's like having people over for Thanksgiving every night where you create this dinner and it's grand because you hope that everybody can have a wonderful experience here."
Having visited a fair number of Schlitz taverns in Milwaukee, I marveled at the belted globe, the memorabilia, the Grand Tetons mural, the original ceilings and wainscoting, the vintage bar and furniture.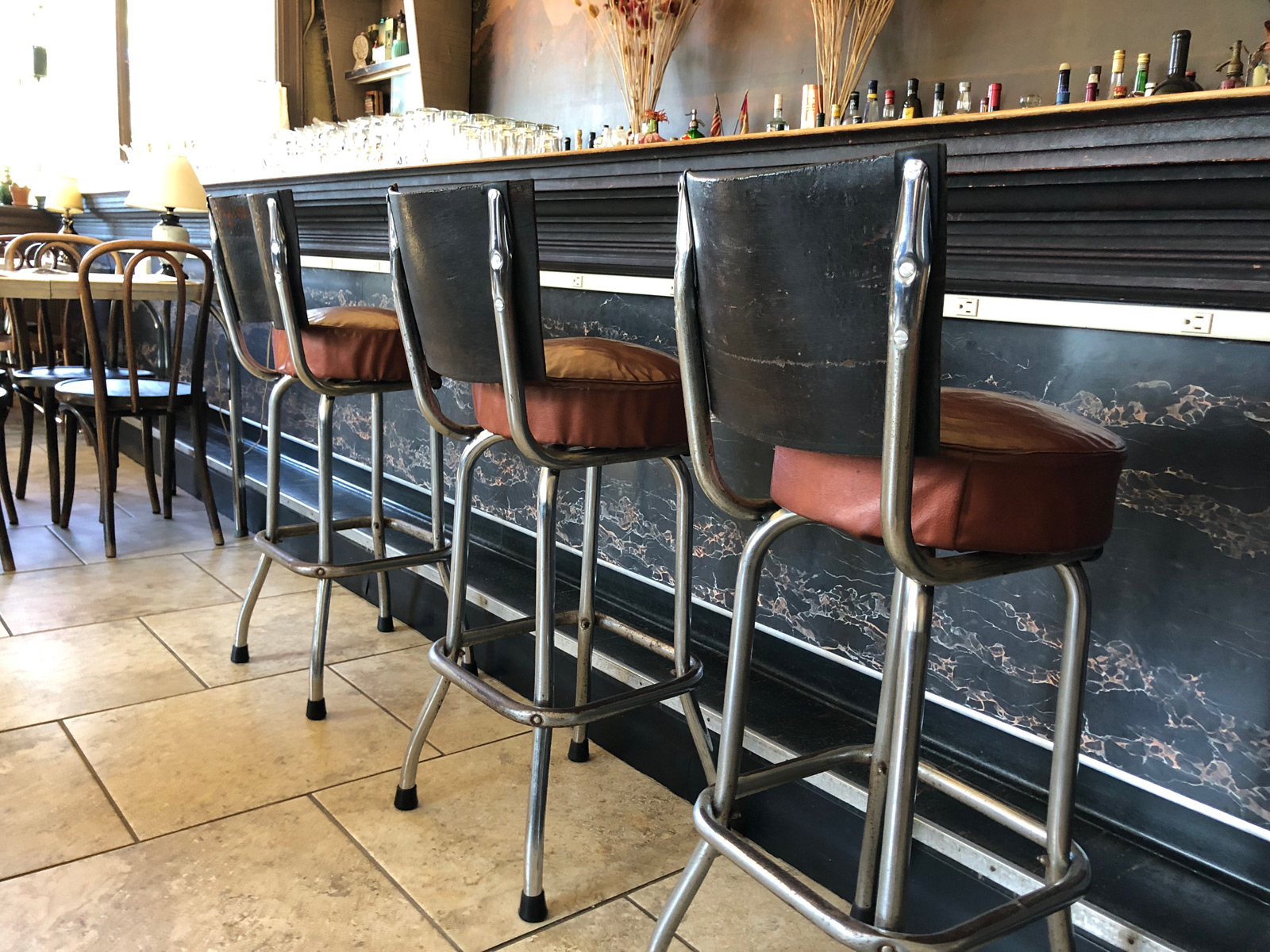 But, really, more than anything else, I marveled at Milunka and her profound connection to this place; a place that has been the concrete – nay, the cream city brick – personification of the American dream for three generations of her family.
"My grandfather, my father, my uncles, my aunts," she says, "were so grateful, our family was raised so grateful to be here and for the opportunity to come here after going through everything that they went through and to be able to start fresh and to find footing, find a place, find a home, after such turmoil."
Born in Brooklyn, N.Y., where he lived until he was 17, Bobby received his BA-Mass Communications from UWM in 1989 and has lived in Walker's Point, Bay View, Enderis Park, South Milwaukee and on the East Side.
He has published three non-fiction books in Italy – including one about an event in Milwaukee history, which was published in the U.S. in autumn 2010. Four more books, all about Milwaukee, have been published by The History Press.
With his most recent band, The Yell Leaders, Bobby released four LPs and had a songs featured in episodes of TV's "Party of Five" and "Dawson's Creek," and films in Japan, South America and the U.S. The Yell Leaders were named the best unsigned band in their region by VH-1 as part of its Rock Across America 1998 Tour. Most recently, the band contributed tracks to a UK vinyl/CD tribute to the Redskins and collaborated on a track with Italian novelist Enrico Remmert.
He's produced three installments of the "OMCD" series of local music compilations for OnMilwaukee.com and in 2007 produced a CD of Italian music and poetry.
In 2005, he was awarded the City of Asti's (Italy) Journalism Prize for his work focusing on that area. He has also won awards from the Milwaukee Press Club.
He can be heard weekly on 88Nine Radio Milwaukee talking about his "Urban Spelunking" series of stories.