If you're a slightly esoteric, kook-a-licious weirdo like I am, you may find significance in the fact a bar named Thurman's 15 was closed for (almost) 15 months for remodeling. But, like most things, it's simply pure coincidence.
And yet, there's something special and serendiptious about the iconic corner tavern located just a block north of Brady Street at 1731 N. Arlington Pl. For starters, it's quite possibly the world's only baseball and Grateful Dead-themed bar. It's also both an "everyone's welcome" neighborhood hole in the wall as well as a hidden gem sought out by Dead fans from around the world.
Former owner Bill Lennon opened the spot in 1987 and named it after New York Yankee's baseball catcher Thurman Lee Munson (#15). The first bartenders were huge fans of the Grateful Dead and started Thursday night "Tape nights" from the bar's inception. Deadheads – and later Phish and Widespead Panic fans attending shows at Alpine Valley – caught wind of the bar and started showing up in droves during, before and after concerts.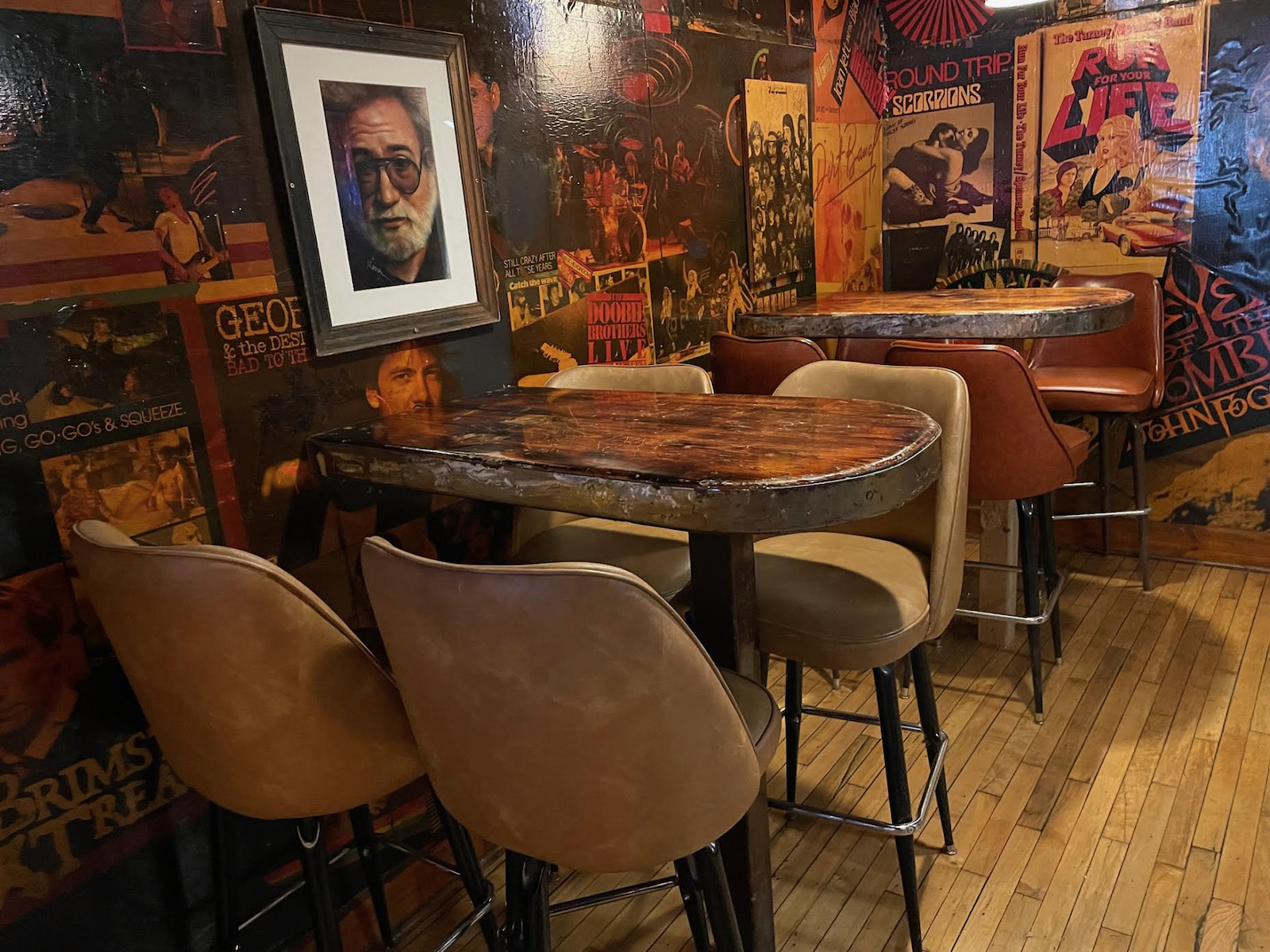 But after decades of nightly merrymaking, it was long overdue for a cosmic transformation. Or at least a good scrub down and a few upgrades.
Thurman's 15 closed on New Year's Eve of 2020/2021 and quietly reopened last week. Father and sons Richard, Tim and Richard Jr. Paul purchased Thurman's last year after Lennon passed away.
"We always had a special place in our heart for this place. So when Bill passed and his daughter wanted to sell, we knew we wanted to keep the institution alive," says Richard Jr., aka Dicky, whose band Bootleg Bessie played in the tavern many times.
"Thurman's is a dive bar and always will be. But it has so much character. We wanted to clean it up and improve a few things without changing the vibe," says Dicky.
And that is exactly what they did. The space mostly looks and feels the same, with the biggest visual change the removal of the vestibule just beyond the front door. Now, patrons walk right into the bar, but are still greeted by a life-sized poster of former Brewer Robin Yount and a massive Jerry Garcia painting.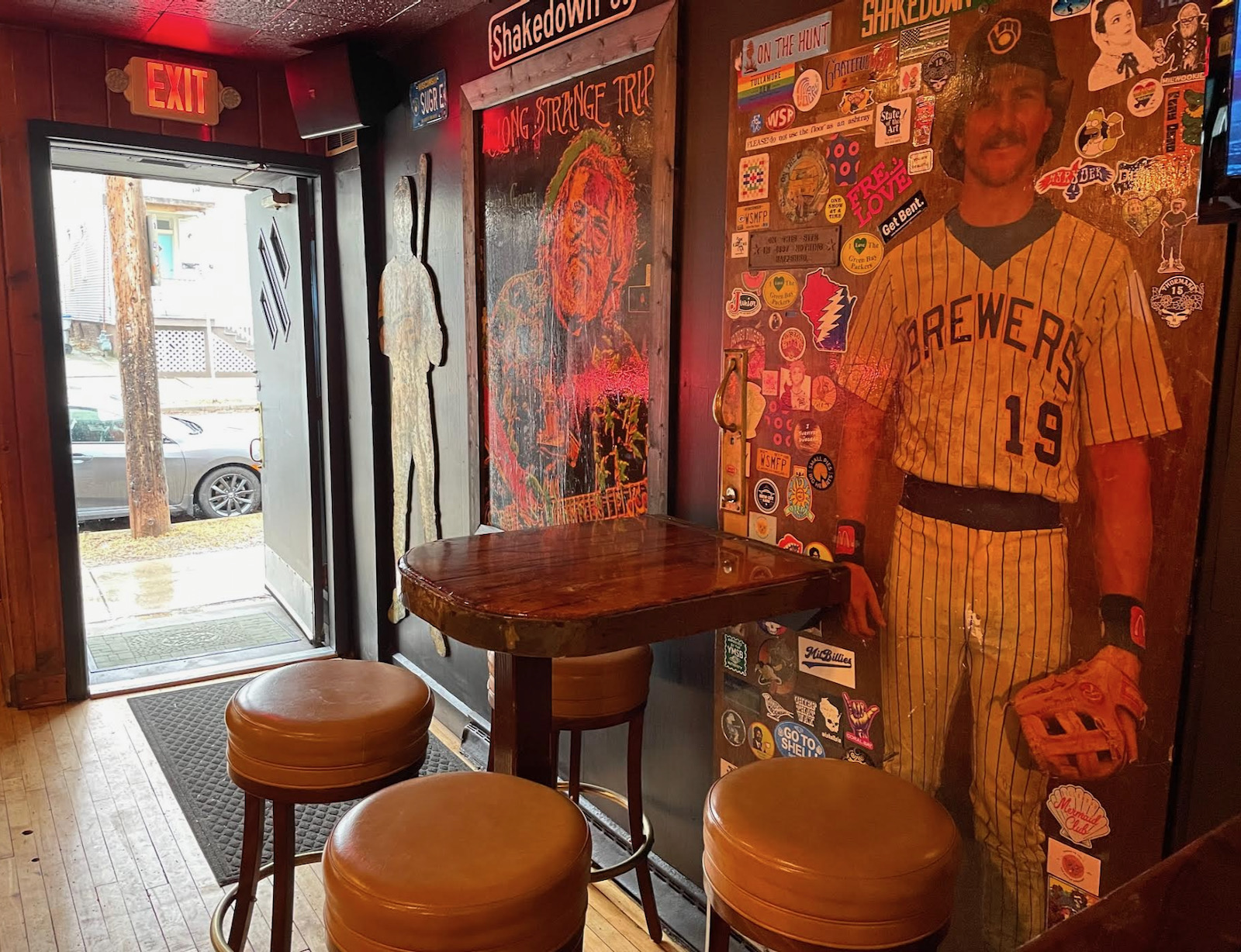 The interior sports freshly sanded bartops and wood floors, a new shuffle board game and pinball machines, and is overall fresher and cleaner.
"The biggest changes customers can't actually see," says Dicky, referencing the new, 14-line tap system and the numerous upgrades made behind the scenes.
Longtime fans of Thurman's will appreciate how much is the same: the walls remain plastered in vintage vinyl covers, baseball memorabilia, bumper stickers, old street signs and graffiti (especially in the restrooms).
The neon Ben & Jerry's sign that hung in the front window for years is now prominently placed on the back wall of the bar.
"I'm gonna miss it in the front window. At least once a year a family would wander in hoping to buy ice cream," says bar manager Liam Butler-Green.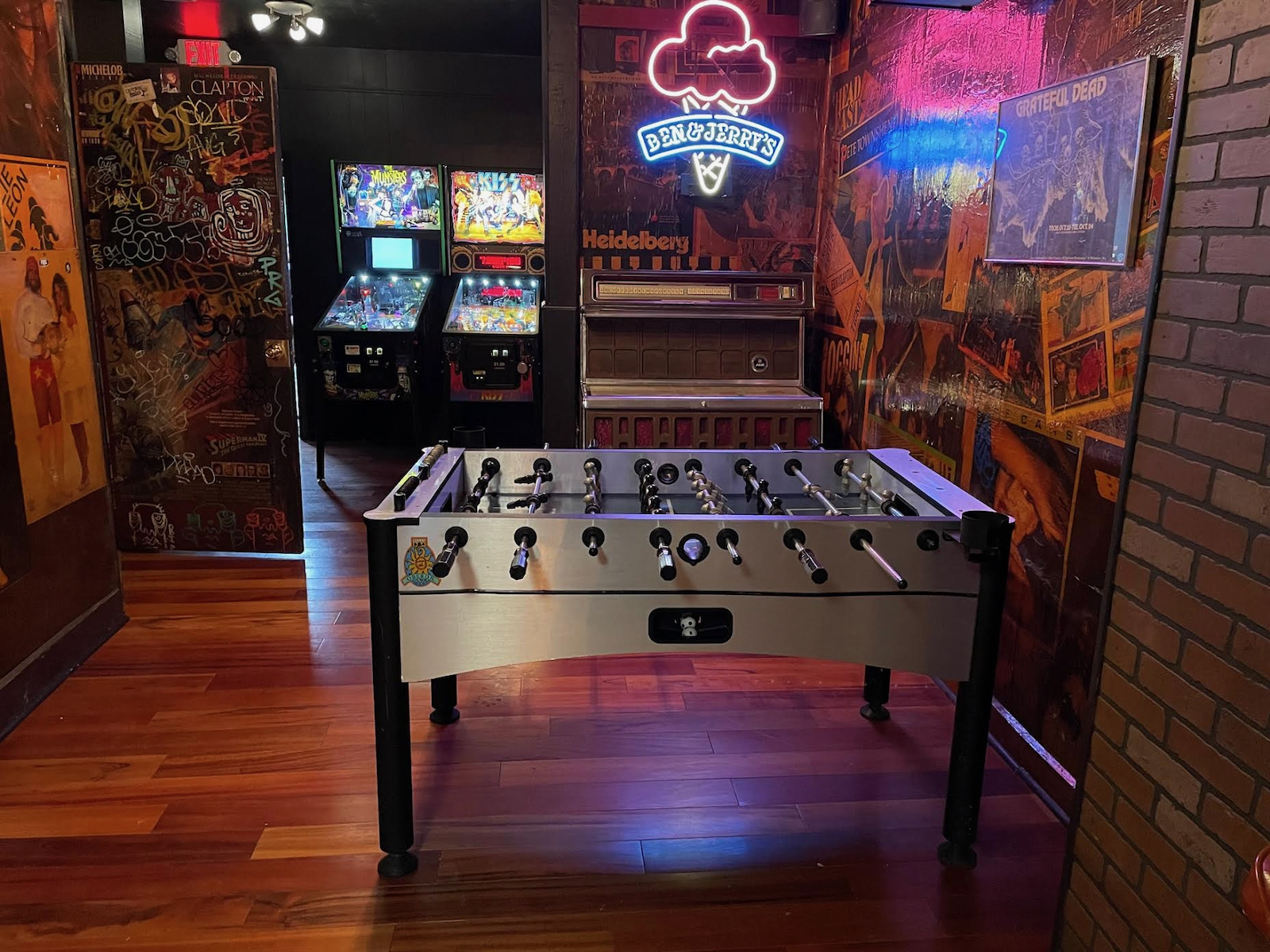 The bar's tradition of Thursday "Dead Nights" will also soon return featuring Grateful Dead videos and music via streaming, records and tapes. Thurman's will also host live bands, DJs and possibly karaoke.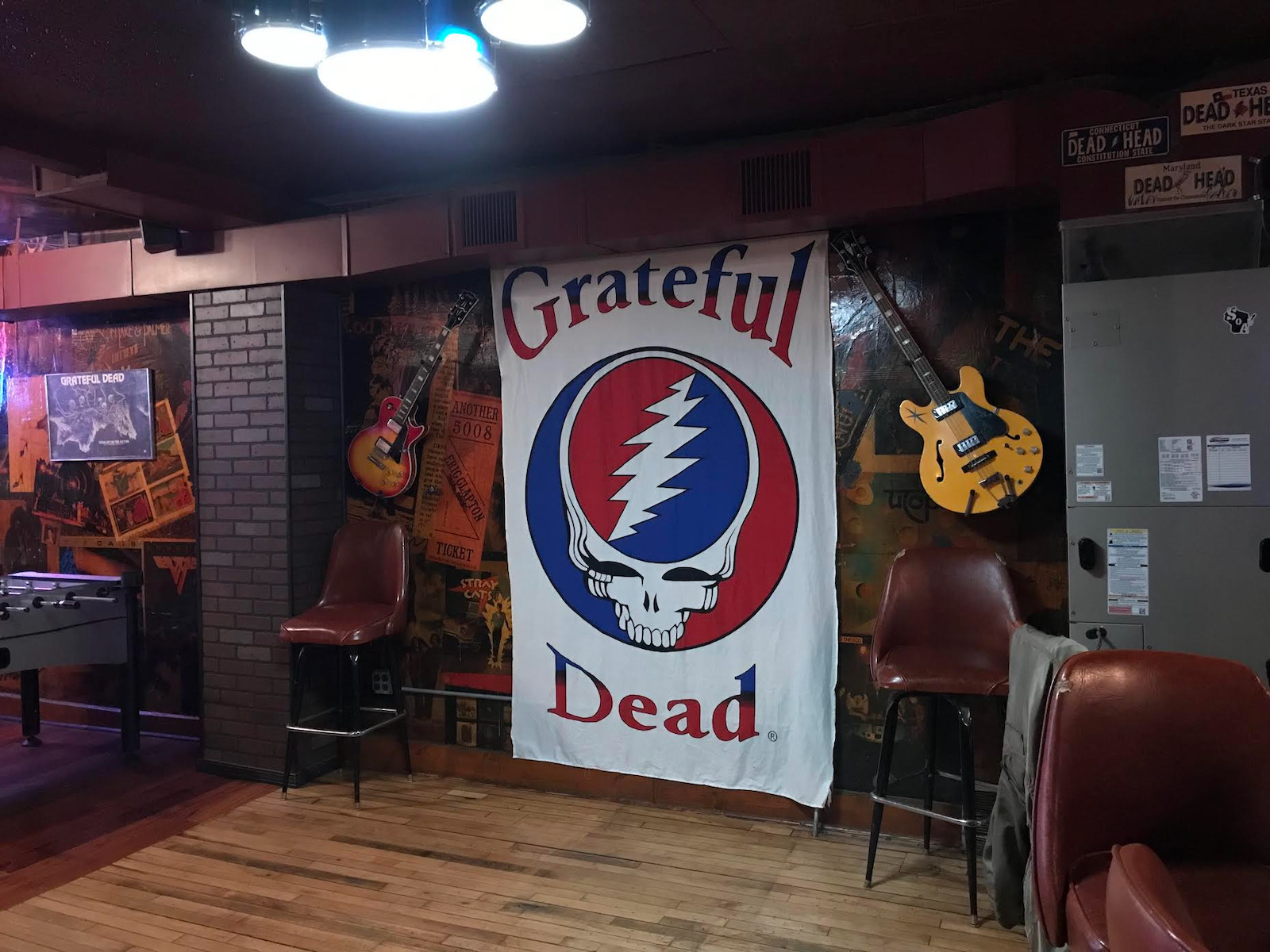 Included in the purchase of the bar was the "Packers house" located next door on Pulaski Street. The single family dwelling is painted green and gold and was once used as a party house by Lennon, his bartenders and friends.
Both buildings will be repainted this summer, but Dicky is quick to assure they will keep the team colors scheme for the Packers house. (Which is currently occupied by Illinois natives, ironically.)
"I think the neighborhood would tar and feather us if we tried to paint it any other colors," he says.
Thurman's munchie menu is simple for now: just chips and nuts, but soon will include frozen pizzas. There's also a full bar with beer and hard seltzer in recyclable aluminum cans or via the new taps.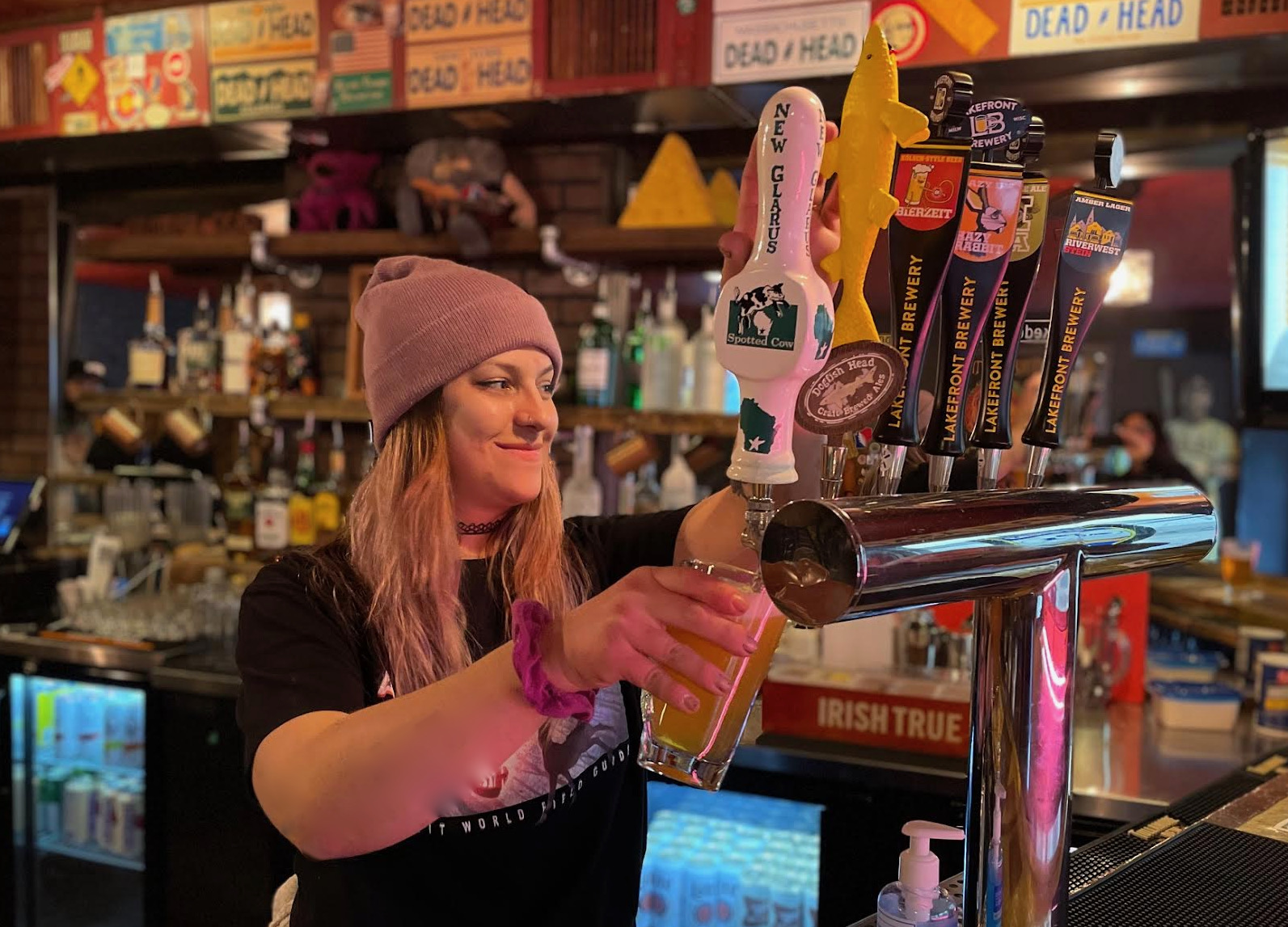 Bartender Ally Paige says she was thrilled to return to work at Thurman's when it reopened.
"This place is unlike anywhere else. And the people who come in here make it. I've met some of my best friends through working here," says Paige.
Thurman's is open Wednesday-Thursday from 4 p.m. to bar close and Friday-Sunday from noon to bar close. The bar will celebrate a grand opening party on Wednesday, April 20 (4/20) that will extend through the weekend.
"Thurman's is not for everyone," says Dicky. "But we're really happy to be here for those who love it."

Molly Snyder started writing and publishing her work at the age 10, when her community newspaper printed her poem, "The Unicorn." Since then, she's expanded beyond the subject of mythical creatures and written in many different mediums but, nearest and dearest to her heart, thousands of articles for OnMilwaukee.

Molly is a regular contributor to FOX6 News and numerous radio stations as well as the co-host of "Dandelions: A Podcast For Women." She's received five Milwaukee Press Club Awards, served as the Pfister Narrator and is the Wisconsin State Fair's Celebrity Cream Puff Eating Champion of 2019.