Dave Hansen was born in California but his family moved away when he was very young and before he could remember living there.
"California is in my blood. I'm kind of a freak for that part of the country," says Hansen. "My art and my interests – skateboarding, surfing – are from the California culture."
Hansen, who lives in Cudahy with his wife and 2-year-old son, works as a full-time, freelance artist who primarily creates tiki carvings and other "Polynesian pop" pieces.
"I'm heavily into the oceanic arts," says Hansen. "I do tons of research on it. People have to know the history behind what they are buying from me."
Overall, Milwaukee is a tough market for Hansen and, consequently, he sells his work three or four times a year in California as well as in Florida and New York. During the past decade, he has sold his work to tiki bars or restaurants in Portland, San Francisco and Las Vegas.
Hansen's biggest local customer is Foundation, a Riverwest tiki bar at 2718 N. Bremen St. that features 250-300 pieces of his work.
"Every time I go in there I look around and think, 'Man, did I do all of this?' Foundation has the most of my artwork in one space other than my home bar," he says.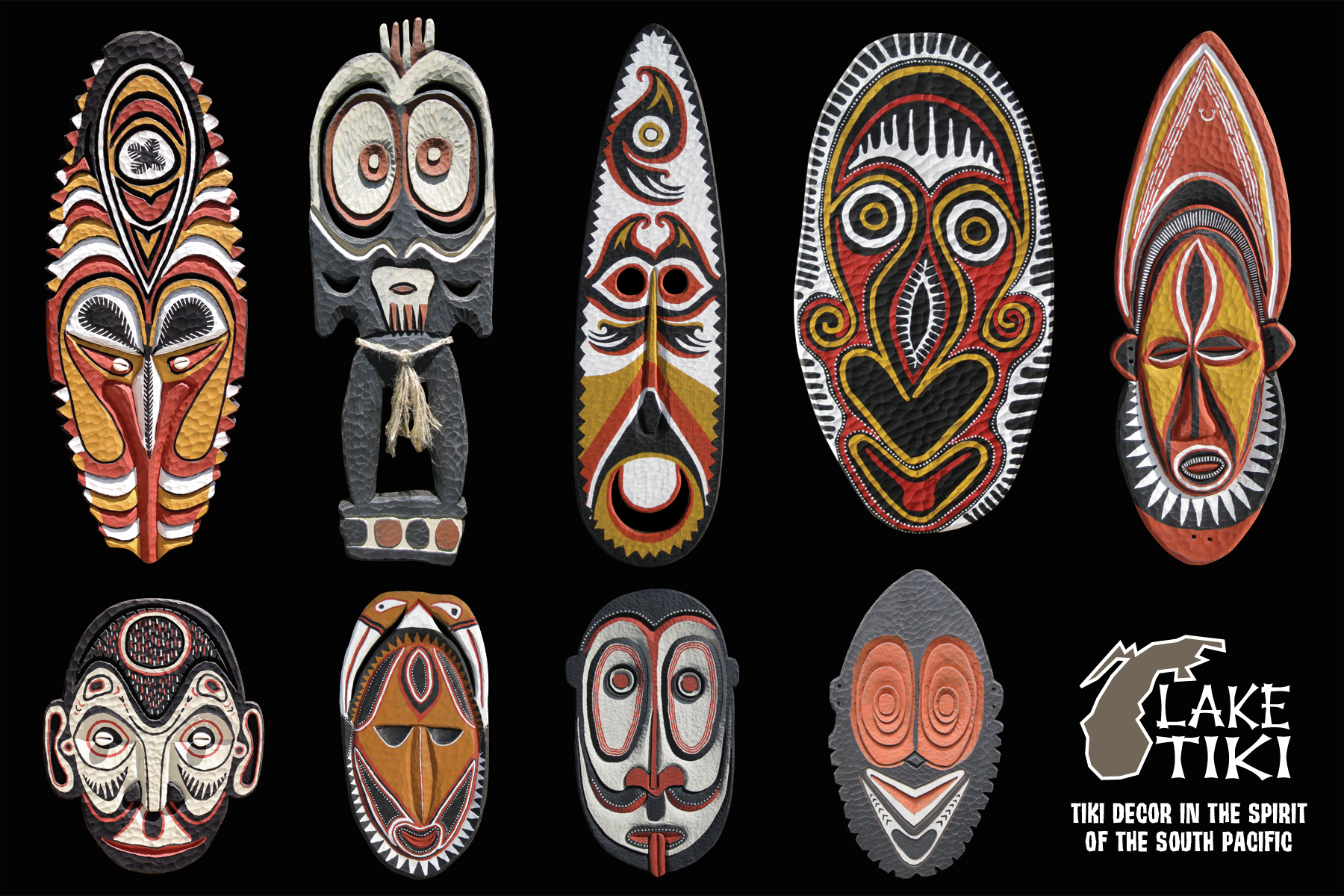 Lucky Joe's Tiki Lounge, 196 S. 2nd St., features some of Hansen's work, too.
Hansen has a degree from Milwaukee Institute of Art and Design and worked in advertising for a decade before going full time with his art. At first, Hansen was discouraged.
"My first shows were at the Strawberry Festival in Cedarburg and Fish Days in Port Washington, and both were tremendous failures," he says. "No one looked at – much less bought – any of my art. My wife and I broke down in tears at the end of the weekends."
Hansen later found his niche in an online forum called Tiki Central where he was connected with lovers of tiki / Polynesian culture around the world.
Hansen hopes to have a solo show someday, but between his art and family hasn't found the time to organize an event.
Before his son was born, Hansen says he worked day and night on his carvings and still works as often as he can. Hansen's wife works full time as a designer so he spends his days taking care of his son.
"I've been at this for 14 years and I haven't had the time to build a web site," he says.
Hansen says even though he has a strong professional and personal connection to California, he prefers living in Milwaukee because the cost of living is lower. "I love going to California, soaking up the culture and bringing it back here," he says.
Surfing on Lake Michigan helps Hansen get his "Cali fix," too. He surfs all year 'round in Sheboygan where there is a sizable group of surfers, some of whom have been doing it since the early '60s.
"I'm one of those knuckleheads surfing on the lake when it's dark and stormy," says Hansen. "We all have pretty flexible jobs, because you have to watch the forecast and drop everything and go when you can. The waves don't last."
Hansen carved his first tiki logs in 2001 for a surfers' cookout in Sheboygan.
"I thought 'how hard can it be?' and, it turns out, it was pretty challenging," says Hansen. "I sat down with a log and I was determined to do it. And I just kept doing it. I was hooked."
When Hansen started carving logs, there were only of a handful of artists doing the same thing, but over the years, more and more people have started making similar work. Therefore, Hansen started to create other art pieces including masks, wall hangings and replicas of signs from now-defunct California tiki businesses.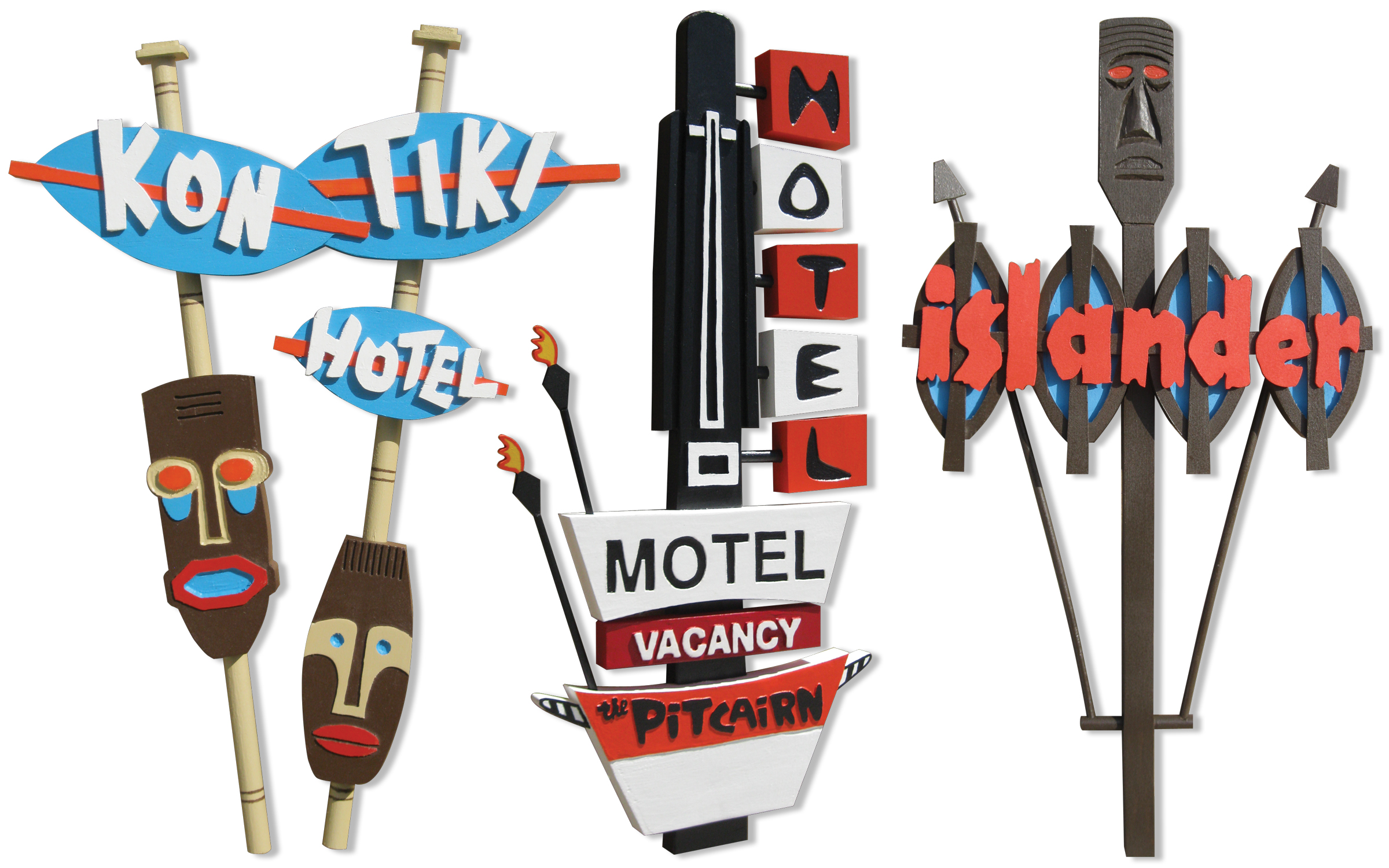 "I make a lot of miniature models of signs that were in front of tiki bars and bowling alleys and sell them in California," he says. "People are always telling me they went to one of the places as a kid with their parents or they met their husband or wife in one of these places. It's really great. And I've learned I have to keep changing it up, because this a small niche and you can't have too many people doing the same thing."
Hansen says he isn't making as much money as he did when he worked in advertising, but he's happy.
"Sometimes the work comes to me and sometimes I really have to scramble," he says. "But it is extremely fulfilling when someone hands you money for something you created and then makes room in their home."

Molly Snyder started writing and publishing her work at the age 10, when her community newspaper printed her poem, "The Unicorn." Since then, she's expanded beyond the subject of mythical creatures and written in many different mediums but, nearest and dearest to her heart, thousands of articles for OnMilwaukee.

Molly is a regular contributor to FOX6 News and numerous radio stations as well as the co-host of "Dandelions: A Podcast For Women." She's received five Milwaukee Press Club Awards, served as the Pfister Narrator and is the Wisconsin State Fair's Celebrity Cream Puff Eating Champion of 2019.