Dotted across the Milwaukee landscape are a series of red brick buildings that are instantly recognizable to many as former substations built by the Milwaukee Electric Railway and Light Co. in the early years of the 20th century.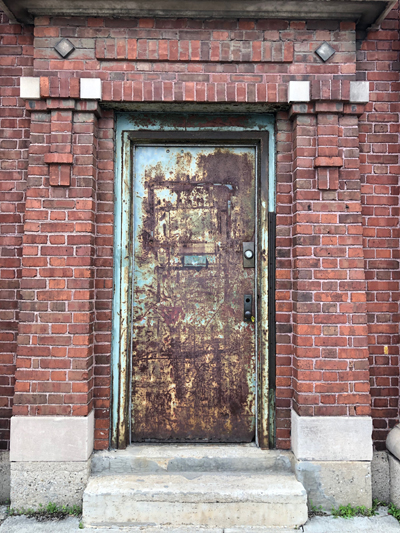 There's one on 1st and Maple, for example; another at 66th and Lisbon; and one on 36th and Wells; to name but a few examples.
There's also one in Lindsay Heights, tucked onto to the northwest corner of 20th and North Avenue, its windows, like the others, clouded to prevent views inside.
That might be why, despite driving past regularly, I failed to notice activity inside 2000 W. North Ave. the past few years.
Looking from the front toward the back (above) and from the back to the front (below).
Three years ago, a group of artists, including brothers Keenan and Ryan Lampe and Jacqueline Joyce – aka Jax, who works at the recently opened No Studios – bought the building and dubbed it 20 Ton Studios.
Since then, they've installed an overhead crane – at no small expense, as you can imagine – and have begun working in the space.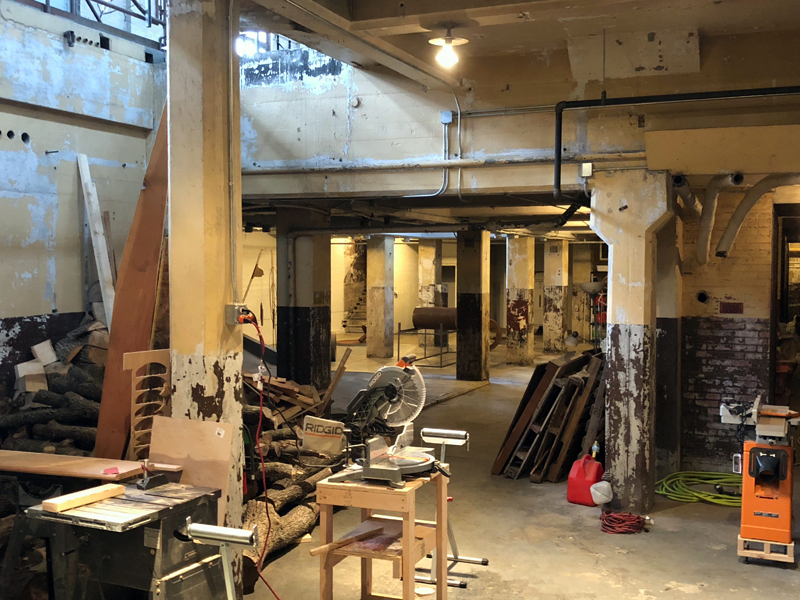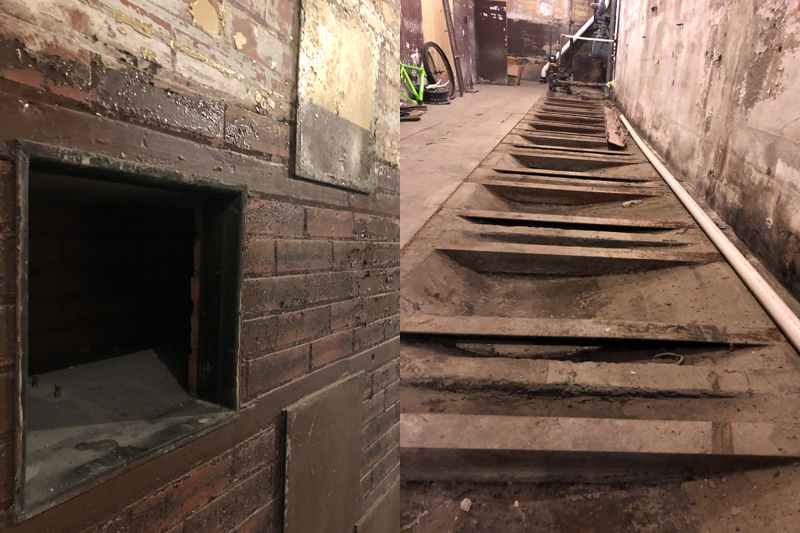 Scenes from the basement.
"We've been flying under the radar for a couple of years now," says Joyce.
"Sometimes we open the overhead doors," says Keenan Lampe, "and neighborhood folks – especially kids – will stop in and ask what we're doing."
What they're doing is making use of woodworking and painting and other workshops to create art. Recently, sculptor Abby Campbell began doing work there, too.
"We have an operating agreement and we try to get everyone that's going to be in here as a full-time member," says Keenan. "They start as a probationary member. Then we do some meetings, see how it's going, and bring them on in full."
In addition to offering studio space, part of the 6,240-square foot building will serve as a gallery.
"It is a future goal of ours to be capable of employing interns and hosting visiting artists," notes the 20 Ton website. "Our ability to do so will largely depend on our rate of growth. We must first employ ourselves."
The building under construction (PHOTO: WE Energies)
The substation was built by TMER&L in 1911 at a cost of $20,000 and Pawling & Harnischfeger installed the 20-ton traveling crane that is still in place – albeit inactive – and gives the current business its name.
Proposal for the original crane. (PHOTO: Courtesy of 20 Ton Studios)
Substations are used by power companies to transform high voltage power into lower power that can be sent to customers via power lines. They're spread around town so that each can serve a specific neighborhood.
The building – which appears to have replaced a pair of dwellings that can be seen on the 1910 Sanborn map of Milwaukee (pictured above) – typically houses equipment like transformers and their controls and devices that protect the transformers and service lines.
Undated images of the building when it still functioned as a substation,
likely taken before 1957. (PHOTOS: We Energies)
All of that equipment is gone today, except the crane, though you can still see remnants, like bundles of thick copper wire (pictured below) emerging from holes in the wall and numbered niches that used to house equipment in the basement.
The TMER&L substations were used to power the city's old streetcar system, and this one did so with, according to a 1930 document provided by Chuck Westerman, a trio of 2,000-kilowatt rotary converters that turned high-voltage alternating current into 600 volts of DC.
Undated images of the building when it still functioned as a substation. (PHOTOS: We Energies)
Brendan Conway, a spokesman for WE Energies – which is the modern incarnation of TMER&L – says that, "According to a memo from 1980 it served approximately 3400 residential and business customers on the near north side. No mention of streetcars in any info I found."
In 1919, the utility altered the floor in the back of the building, though it's not entirely clear what work was done. In 1954, a shower was added to the basement rest room, but otherwise, very little appears to have changed over the years.
According to Conway, "due to old equipment, the substation was retired in 1981 and its load was shifted to two nearby stations. The building was sold in 1990."
Classified ads offering the building for sale can be found in newspapers from 1987 and '88, but what its purpose has been in the intervening years is sketchy.
"It looked like it hadn't been occupied for so long," says Joyce.
"We heard it had been used as a food pantry for a while by the church next door for a brief period," adds Keenan. "But there was some other guy in the middle (before the person they bought it from). We tried contacting him when we were buying it ... we were trying to find someone who had old drawings. Supposedly Wisconsin Electric gave them all to whoever they sold it to."
Conway confirms that WE Energies does not have the drawings in its archive.
The fact that the place is just a big open space – a blank canvas, if you will – makes it perfect for 20 Ton, says Joyce.
"We did a lot of touring of studios around Milwaukee and Red Line had a lot of what we were looking for, an integrative space that all artists can show their work. This, essentially, allows for us to have a showroom. But then we liked to have as many artists working out of these spaces, like metal fabrication, a painting studio, a print lab, eventually. Downstairs is the wood shop."
That emptiness, however, also meant the building needed a lot of work. The previous owner, says Ryan Lampe, used it for storage – and there was a bike repair business in the basement – but harbored dreams of converting it into a living space, as has been done at the 66th and Lisbon substation.
"When we first got the building it was empty," says Ryan. "There was no heat, no running water. The electrical panel had just been upgraded but you couldn't run any kind of equipment we use. So the first year was getting the occupancy permit, getting the heat installed, getting the water running, getting the actual power so we can run welders and stuff."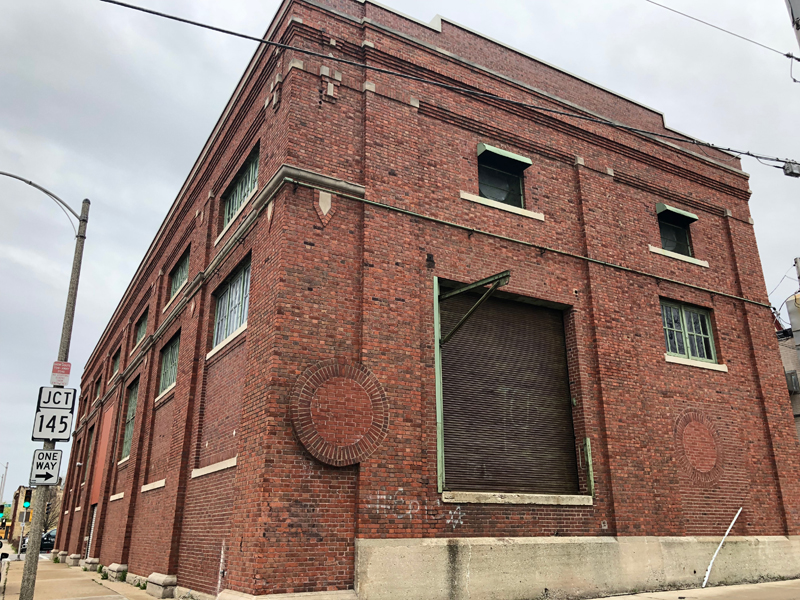 The rear of the building.
The next steps are a bit up in the air at the moment.
"It depends on how much cashflow we've got," says Keenan. "Do we take the first two bays and add actual couple extra floors so we can add more heat control, office kind of thing? It's going to be interesting. It's going to be a challenge to try and keep as open as possible and keep the history and the aesthetic we've got going and still make it more functional for us."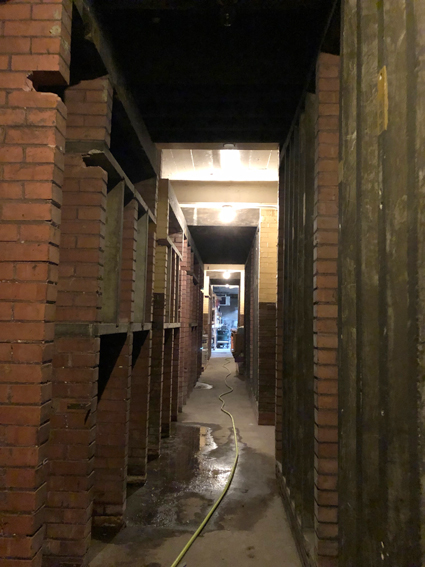 After checking out the spaces in the basement, including the unusual corridor that appears to have provided access the equipment in niches – and looking inside the panel-covered square openings in another wall – we head back upstairs and Joyce and I climb some ladders up to the original crane control booth.
"That guy doesn't move," says Keenan.
"Yeah, it's our chandelier," quips Joyce.
It's pretty great to see all the controls still in place.
"There had been cigarette butts all over in here," says Joyce, while we're up in the booth. "It must've been pretty smoky in here."
Before we climb back down, we spy some vintage penmanship in the form of numbers that are likely measurements inscribed on a beam of the crane's rail.
They also found a vintage risque (for its time) magazine in the bathroom. (Boys will be boys, in any era, I guess.)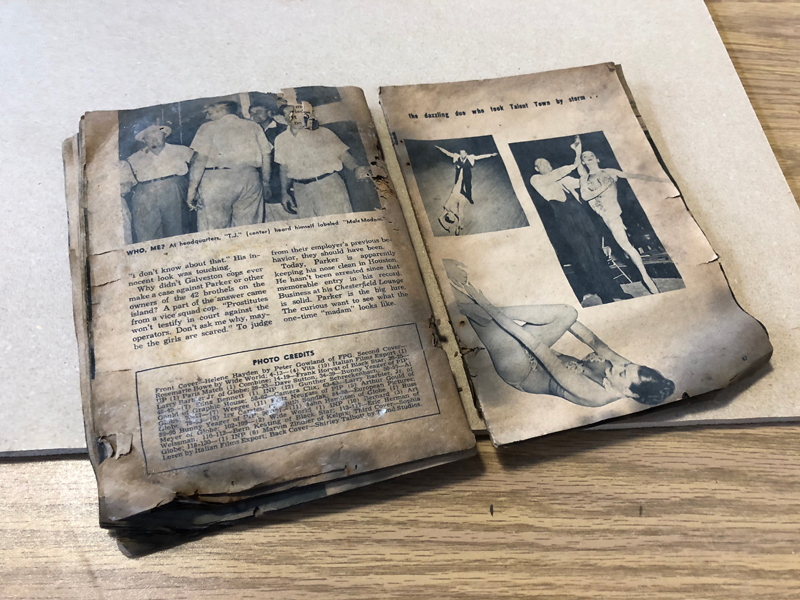 We talk for a bit about how the place must've reeked of and hummed from the high voltage, and the electricity in the air may even have caused havoc on anyone visiting with a perm.
"We have such a incredible building," says Keenan after we climb back down. "It's in Milwaukee's makeup."
Joyce agrees.
"There's so much history here. It's really become a passion project for us."
Born in Brooklyn, N.Y., where he lived until he was 17, Bobby received his BA-Mass Communications from UWM in 1989 and has lived in Walker's Point, Bay View, Enderis Park, South Milwaukee and on the East Side.
He has published three non-fiction books in Italy – including one about an event in Milwaukee history, which was published in the U.S. in autumn 2010. Four more books, all about Milwaukee, have been published by The History Press.
With his most recent band, The Yell Leaders, Bobby released four LPs and had a songs featured in an episode of TV's "Party of Five," and films in Japan, South America and the U.S. The Yell Leaders were named the best unsigned band in their region by VH-1 as part of its Rock Across America 1998 Tour. Most recently, the band contributed tracks to a UK vinyl/CD tribute to the Redskins and collaborated on a track with Italian novelist Enrico Remmert.
He's produced three installments of the "OMCD" series of local music compilations for OnMilwaukee.com and in 2007 produced a CD of Italian music and poetry.
In 2005, he was awarded the City of Asti's (Italy) Journalism Prize for his work focusing on that area.
He can be heard weekly on 88Nine Radio Milwaukee talking about his "Urban Spelunking" series of stories.