On the afternoon of our interview, Mark Hill, a former Milwaukeean currently living in Madison, was going to pick up his 43rd vintage typewriter.
"I like manual portables the most, from the late 40s to the late 50s," says Hill. "My favorite typewriter I own is a 1946 Olympia SM-3. Smith Coronas from the 40s and 50s are also excellent typewriters."
Hill started collecting typewriters after watching a documentary called California Typewriter, featuring the legendary actor Tom Hanks who is also a vintage typewriter enthusiast. "Watching this documentary was kind of a religious experience for me. I recommend everyone watch it," says Hill.
In the documentary, Hanks mentions that he loves getting typewritten letters from people, and so Hill eventually sat down and banged out a note to the "Forrest Gump" star.
"I sent him a typewritten postcard telling him he inspired me to start collecting typewriters," says Hill. "At the time, I only had 14 typewriters."
Last week, he received a typewritten letter back from Hanks that he hand-typed on personalized stationery. It's a lovely, pale-inked correspondence with a few customary typos.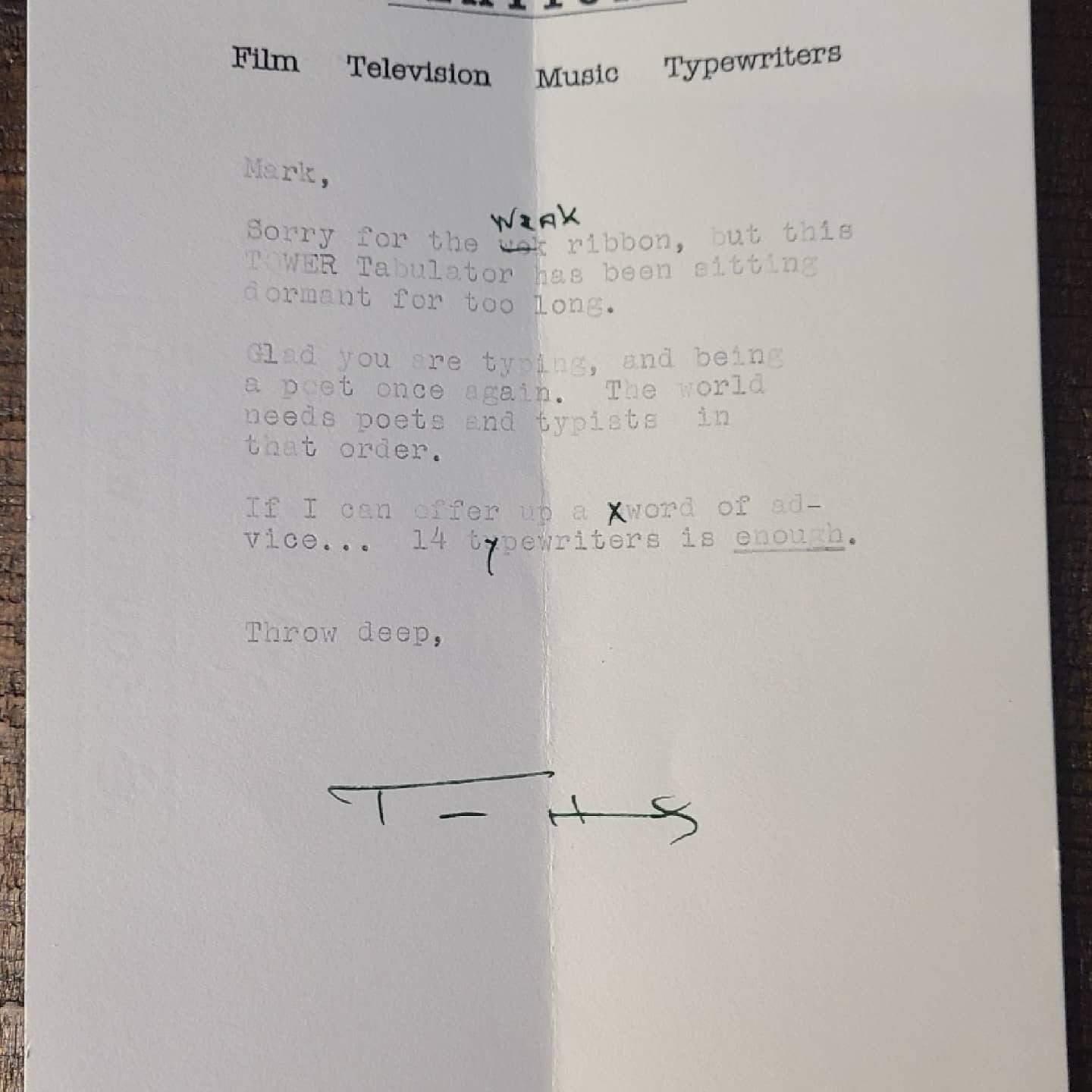 Mark,
Sorry for the weak ribbon, but this TOWER tabulator has been sitting dormant for too long.
Glad you are typing and being a poet once again. The world needs poets and typists in that order.
If I can offer up a word of advice … 14 typewriters is enough.
Throw deep,
Tom Hanks
In a 2019 interview with the New York Times, Hanks shares that he has collected typewriters since he was a teenager. At one point he had hundreds of the machines which he describes as "brilliant combinations of art and engineering." Today, the man who joked 14 typewriters were enough still has 120.
So what about typewriters are so addictive to some people?
"Typewriters are far more visceral to use. You don't just see what you type, but you hear it and feel it also," says Hill, who recently opened an Etsy shop where he plans on selling typewriters he restored. "I love the mechanics of a typewriter."
The Milwaukee Public Museum also has a large collection of vintage typewriters. Read more about that here.

Molly Snyder started writing and publishing her work at the age 10, when her community newspaper printed her poem, "The Unicorn." Since then, she's expanded beyond the subject of mythical creatures and written in many different mediums but, nearest and dearest to her heart, thousands of articles for OnMilwaukee.

Molly is a regular contributor to FOX6 News and numerous radio stations as well as the co-host of "Dandelions: A Podcast For Women." She's received five Milwaukee Press Club Awards, served as the Pfister Narrator and is the Wisconsin State Fair's Celebrity Cream Puff Eating Champion of 2019.