When we think of well-crafted Milwaukee mansions, we think of the earliest ones on Grand Avenue, or later ones that lined Prospect Avenue, Highland Boulevard, Lake Drive.
But let's not forget Washington Heights, where the gems on Washington and Hi-Mount Boulevards rival those anywhere in town.
Recently, I was invited to see the elaborate home that industrialist Theodore Trecker tapped architect Charles Tharinger to design at 1735 N. Hi-Mount Blvd., just north of Washington Boulevard, in 1915.
I was invited over by former Tosa alderman Bobby Pantuso, who works for the Salvatorans – more officially the Society of the Divine Savior – and has his office there. The former home has long been the American Province Headquarters of the religious order, which runs some local parishes, like Pius X and Mother of Good Counsel, and a few high schools.
Pantuso, though not a Milwaukee native, has some history with the house.
"We lived in Maryland," he says, "and I was born in '75. In '77, my parents were elected to be the first (co-)directors of the Lay Salvatorians, which was a brand new program. So we moved from Maryland to here and my parents actually worked in this building.
"So, I remember being a very little kid and just kind of wandering around this building. And then, you know, years and years, 39 years later, I ended up working here. It's pretty cool."
You can imagine, then, how proud he is of his workplace.
Who was Theodore Trecker?
Born in 1868 on a farm in La Salle, Illinois, Theodore Trecker moved to Milwaukee at age 18 and apprenticed as a machinist at Kempsmith Co., where he worked with E.J. Kearney, a draftsman from Iowa, from around 1894.
After having risen up to the position of foreman, Trecker suggested to Kearney that they start their own business, to which Kearney legendarily replied, "I'll tell you what we'll do. If Dewey beats the Spaniards at Manila Bay we'll start in business," referring to the then-ongoing Spanish-American War.
Dewey won the battle and on May 17, 1898 Kearney and Trecker was officially founded, starting first in a small space above a shop on South 1st Street. Their first customer brought in a baby carriage to be repaired.
By 1901, the company had moved to 67th and National in West Allis, where Trecker twice became village president and helped incorporate the village as a city in 1906. He was also founder of West Allis Building and Loan.
Two vintage images that suggest the growth of Kearney and Trecker
(PHOTO: VintageMachinery.org)
In the meantime, Kearney and Trecker's success seemed to know no bounds, becoming one of the biggest machine tool companies in the world. By the time Trecker died in 1955, his company employed 2,250 workers in a facility that sprawled across 95 acres.
In 1915, he tapped Tharinger – who also designed this place – to design a German Renaissance Revival house that spared no expense. In fact, on the original building permit, the estimated cost of $18,000 was crossed out and updated to say $35,000!
Lex Brothers, on Teutonia Avenue, were the masons and a carpenter is identified as "Bauer."
In addition to gorgeous millwork, stunning leaded glass windows and other features – on Oct. 30, 1915, the Milwaukee Sentinel noted that, "among other things a refrigeration plant will be installed in the home," which also had a dumb waiter and a central vacuuming system – some of that cost might have gone into the solid construction using steel beams.
The home was noted as complete by an inspector on July 13, 1916. And what a home it was.
A third-floor ballroom was adorned with plaster faces, bathrooms and kitchen were walled and floored with arts and crafts tiles, a basement billiards room has a lovely tile floor and an earthy brick fireplace surround.
Fireplace surrounds on the first floor have attractive tiles, too.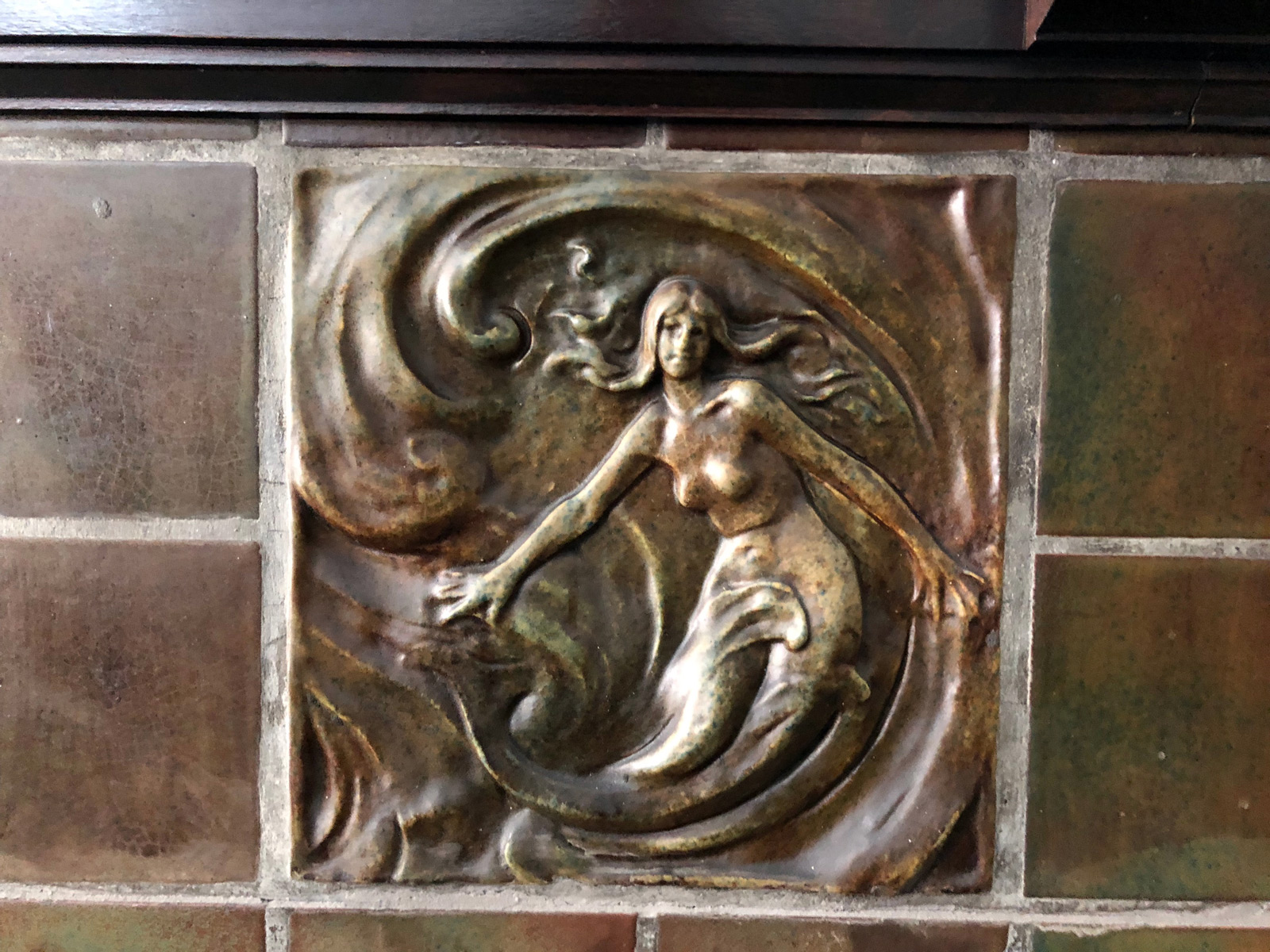 Pull out the pocket doors on the main floor – where there are exposed-beam ceilings – to find Prairie Style leaded glass to match the windows.
Then there's the main staircase, which, while attractive enough from the foyer, opens upstairs into perhaps the most attractive space in the house.
While some features – like the automobile turntable installed in the garage because Mrs. Trecker did not like backing out down the 120-foot driveway – are gone, other more homely touches remain, like pencil marks on the door frame in the dining room charting the growth progress of various family members, including "Dad" and "Mother."
In 1928, Trecker dropped another $1,000 for an addition on the back.
Three years earlier, the home was still notable enough to appear in a newspaper advertisement for Wadham's home heating oils.
Trecker – whose wife, Emma Pufahl Trecker, died in 1945 – remained at the helm of his namesake company until July 1947, he became board chair, ceding his post to his son Joseph, who died soon after and was replaced by another son, Francis.
In 1979, the company merged with the Cross Company to create Cross & Trecker, which was purchased in 1991 by Giddings & Lewis, Inc.
Trecker died in December 1955 (21 years after Kearney passed away) at the age of 87, and the following year, a grandson, Robert Trecker, was living in the house, which was part of the $3,175,789 in assets that the elder Trecker couldn't take with him.
So, in 1957, those assets were disbursed according to Trecker's will, which left $10,000 to housekeeper Miss Carrie Buss and $5,000 to secretary Miss Minnie Butzen, and then split the rest evenly between Trecker's four sons and two daughters.
A new owner
In August 1958, Robert Trecker moved to a new home he had built in Brookfield and the family mansion was sold for $18,500 to the Salvatoran Fathers, an order founded in Rome in 1881 and which arrived in Wisconsin in 1896, setting up a provincial headquarters in St. Nazianz in Manitowoc County.
At the time of the purchase of the Trecker Mansion, according to the Journal, the order had 110 priests and 80 brothers in the U.S.
"They are in parish work and also operate four high schools, including one at St. Nazianz, and six seminaries, including one at St. N and another at Menominee, Michigan," that report noted. "The order has two parishes here: Mother of Good Counsel and Pius X. Father (Paul) Schuster said Milwaukee was chosen as the provincial headquarters because its transportation facilities would make it easy to reach by members coming for consultations."
The order immediately set to work adapting the mansion to its needs, converting the dining room to a parlor, the billiards room to a dining hall, the ballroom to residential space, etc. To accomplish this work, architect Urban F. Peacock was hired and he drew up plans to close up the dumb waiter (on the second floor, the opening is now a small cupboard), enclosing a staircase from the basement all the wait to the top floor, adding a fire-resisting ceiling in the furnace room and putting in a new bathroom on the second floor.
Much later, in 1974, another garage was added at the alley. A matching one followed 12 years later. In 1976, there were changes to the original garage, now a chapel (pictured below), and in the 1928 addition to create office spaces, one of which is now where Bobby Pantuso works.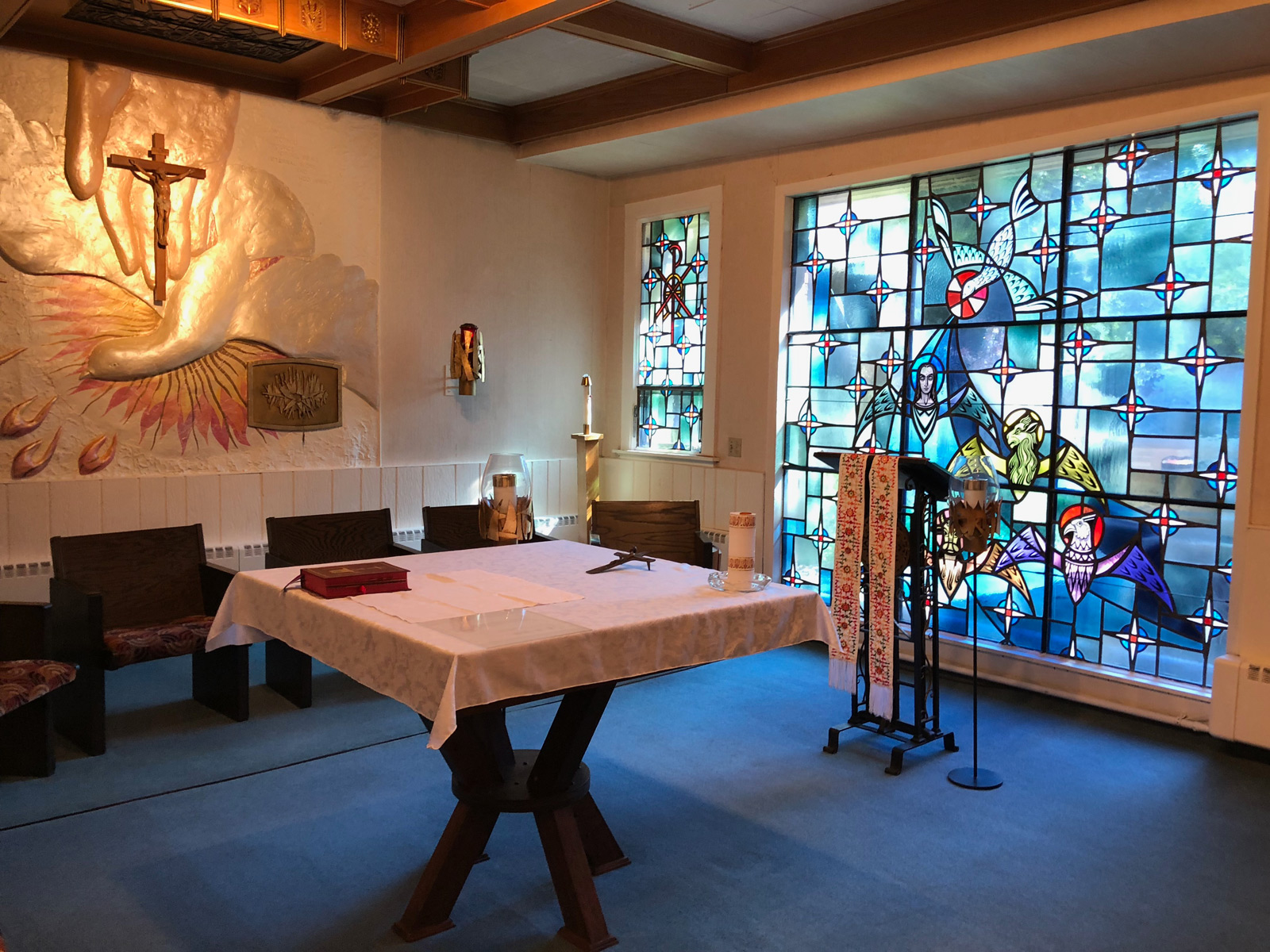 He's been in the home for five years now and he's seen it change over his affiliation of many years, going back to his parents' tenure.
"There's not very many guys that live here anymore," he says. "There's only three priests. Back in the day this house could usually accommodate 10. The staff, they come and go (on the first floor), and then the second floor is all the people that live here. This used to be a bustling house of people who lives here. It just got to the point where we got better situations to live in."
Nowadays, he adds, the house has frequent guests who are in town from around the country for meetings and the like. Just as Father Schuster had suggested would be the case back in 1958.
At the moment, in addition to Pius and MGC, the Salvatorans also have St. Margaret Mary parish on North 92nd Street. The order used to run Francis Jordan High School, too, but that closed many years ago.
Though Pantuso doesn't live here – his Tosa house has an interesting history of its own – he relishes its beauty and backstory and seems happy as a clam to be showing it off. He's got a few good stories about it from the Trecker era, too.
One of those recounts that at the top of the stairs Mr. and Mrs. Trecker each had a separate bedroom ... or did they?
"There's a secret passageway between mom's bedroom and dad's bedroom," he says. "I just love that."
And, he says, you can see the power of Theodore Trecker's influence in the street outside, too.
You'll notice that Hi-Mount Boulevard makes a notable curve east just north of the mansion's front yard.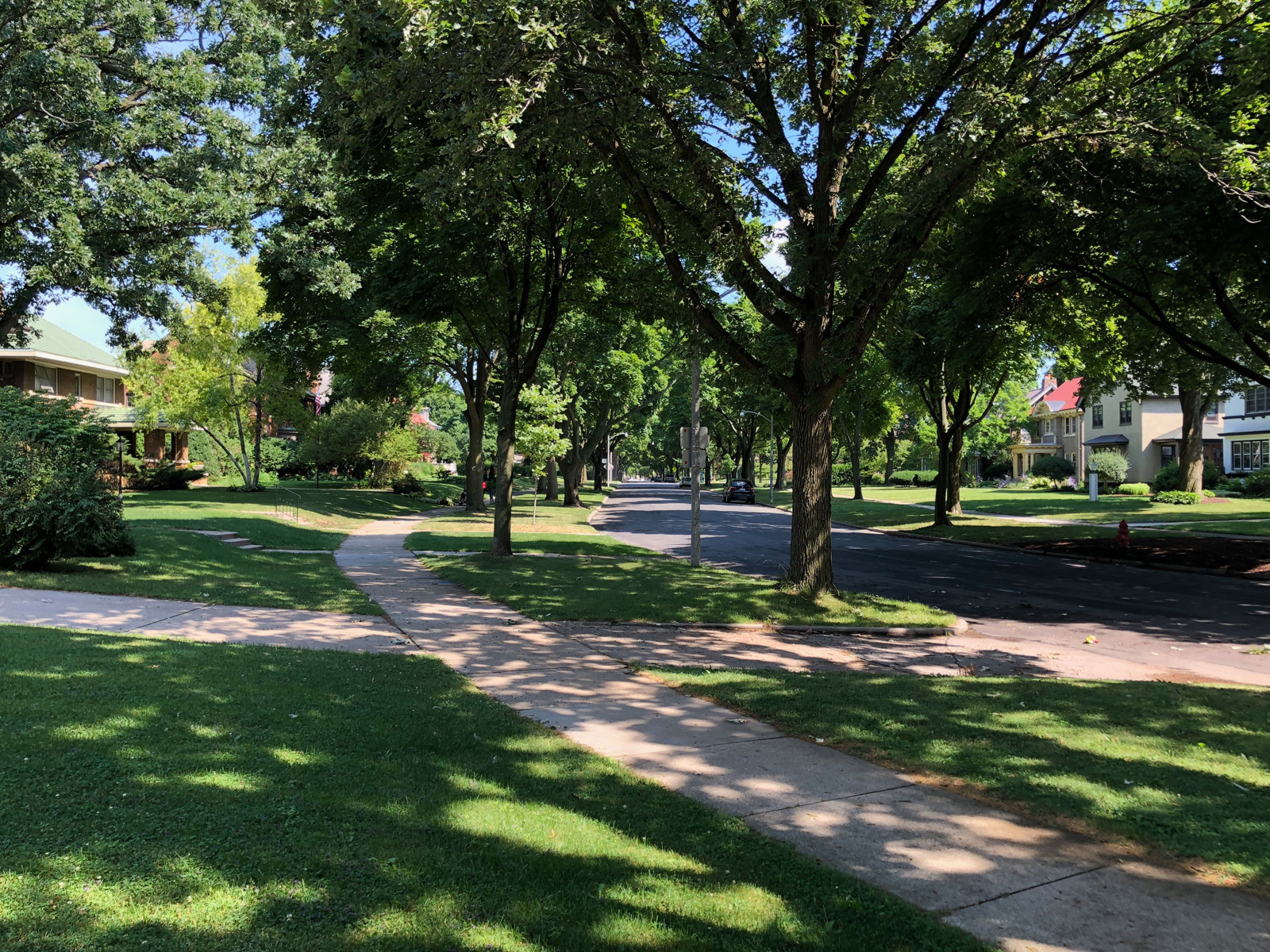 "Take a really good look at this street," he says as we're standing on the walkway out front. "Notice how we're standing in the middle of the yard, and I can see all the way to North Avenue. The street is straight.
"This street is supposed to be straight (all the way) through here but that would've taken part of the Treckers' yard, and that wasn't going to happen. So the street actually bends to the will of the Treckers."
Born in Brooklyn, N.Y., where he lived until he was 17, Bobby received his BA-Mass Communications from UWM in 1989 and has lived in Walker's Point, Bay View, Enderis Park, South Milwaukee and on the East Side.
He has published three non-fiction books in Italy – including one about an event in Milwaukee history, which was published in the U.S. in autumn 2010. Four more books, all about Milwaukee, have been published by The History Press.
With his most recent band, The Yell Leaders, Bobby released four LPs and had a songs featured in episodes of TV's "Party of Five" and "Dawson's Creek," and films in Japan, South America and the U.S. The Yell Leaders were named the best unsigned band in their region by VH-1 as part of its Rock Across America 1998 Tour. Most recently, the band contributed tracks to a UK vinyl/CD tribute to the Redskins and collaborated on a track with Italian novelist Enrico Remmert.
He's produced three installments of the "OMCD" series of local music compilations for OnMilwaukee.com and in 2007 produced a CD of Italian music and poetry.
In 2005, he was awarded the City of Asti's (Italy) Journalism Prize for his work focusing on that area. He has also won awards from the Milwaukee Press Club.
He can be heard weekly on 88Nine Radio Milwaukee talking about his "Urban Spelunking" series of stories.