Another coffee shop has opened its doors in Walker's Point, and it comes complete with an open, airy interior, plenty of seating and an owner who says community is at the heart of what she does.
Tribeca Gallery Cafe & Books, the newest tenant in the newly minted Freshwater Plaza at 1318 S. 1st St., is the second cafe for owner Julie Crnkovich who opened her first Tribeca GalleryCafe & Books in Watertown over a decade ago.
Named for the Tribeca neighborhood in the heart of Manhattan in New York City where Crnkovich lived for a time after growing up in Watertown, she says the cafe aims to capture the warmth and friendliness she unexpectedly found when she moved to "the big city."
An illustration on the eastern wall of the cafe tells the story of her journey, depicting buildings in the Tribeca neighborhood on the left, her Watertown cafe in the middle and a portion of the Milwaukee skyline on the right.
Crnkovich says she's always emphasized community involvement at the cafe, whether it's through supporting local musicians or collaborating with area businesses, and she's looking forward to connecting with the Walker's Point neighborhood in a similar fashion.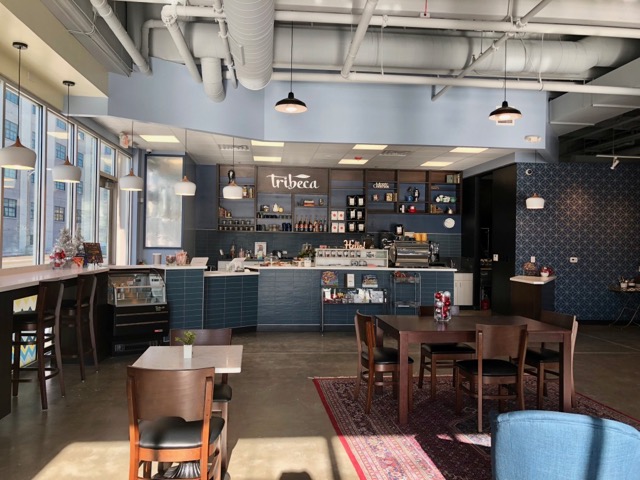 The cafe features a full complement of coffee and espresso drinks – from lattes to macchiatos – using coffee from both Madison's Ancora Coffee and Milwaukee's Pilcrow Coffee. Pastry items are also available for purchase.
Tribeca also offers a nice selection of books for both children and adults, along with a variety of other items suitable for gifting. Crnkovich says she'll be expanding her selection of books and goods in the coming weeks as traffic in the cafe increases.
Tribeca is open Monday through Friday from 6:30 a.m. to 8 p.m. and Saturday and Sunday from 7 a.m. to 6 p.m.
Lori Fredrich (Lo) is an eater, writer, wonderer, bon vivante, traveler, cook, gardener and girlwonder. Born and raised in the Milwaukee area, she has tried to leave many times, but seems to be drawn to this quirky city that smells of beer and alewives.
Some might say that she is a little obsessed with food. Lo would say she is A LOT obsessed with food. After all, she has been cooking, eating and enjoying food for decades and has no plans to retire anytime soon.
Lo's recipes and writing have been featured in a variety of publications including GO: Airtran Inflight Magazine, Cheese Connoisseur, Cooking Light, Edible Milwaukee, Milwaukee Magazine and the Milwaukee Journal Sentinel, as well as on the blog Go Bold with Butter, the web site Wisconsin Cheese Talk, and in the quarterly online magazine Grate. Pair. Share.