If you like this article, read more about Milwaukee-area history and architecture in the hundreds of other similar articles in the Urban Spelunking series here.
Whenever I pass Trimborn Farm and the neighboring Curtin House – which date to the mid-19th century – in Greendale, I think of the perhaps apocryphal story of young Jeremiah Curtin walking all the way Downtown and back to attend school.
Whether or not its true, it does speak to just how far out of Milwaukee these homesteads were when they were built, as well as to Curtin's ambition to live a different life than the one offered by rural southeastern Wisconsin.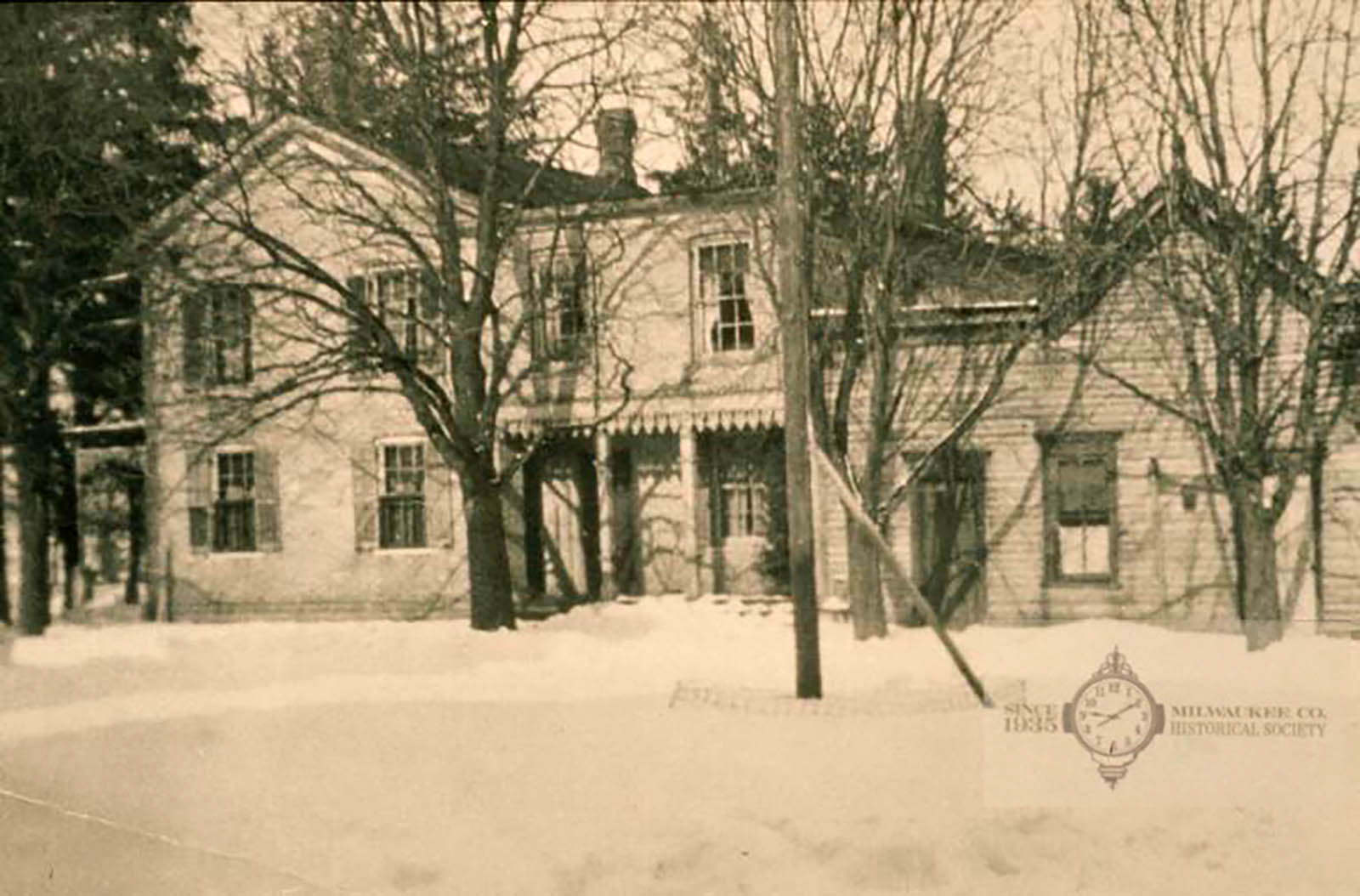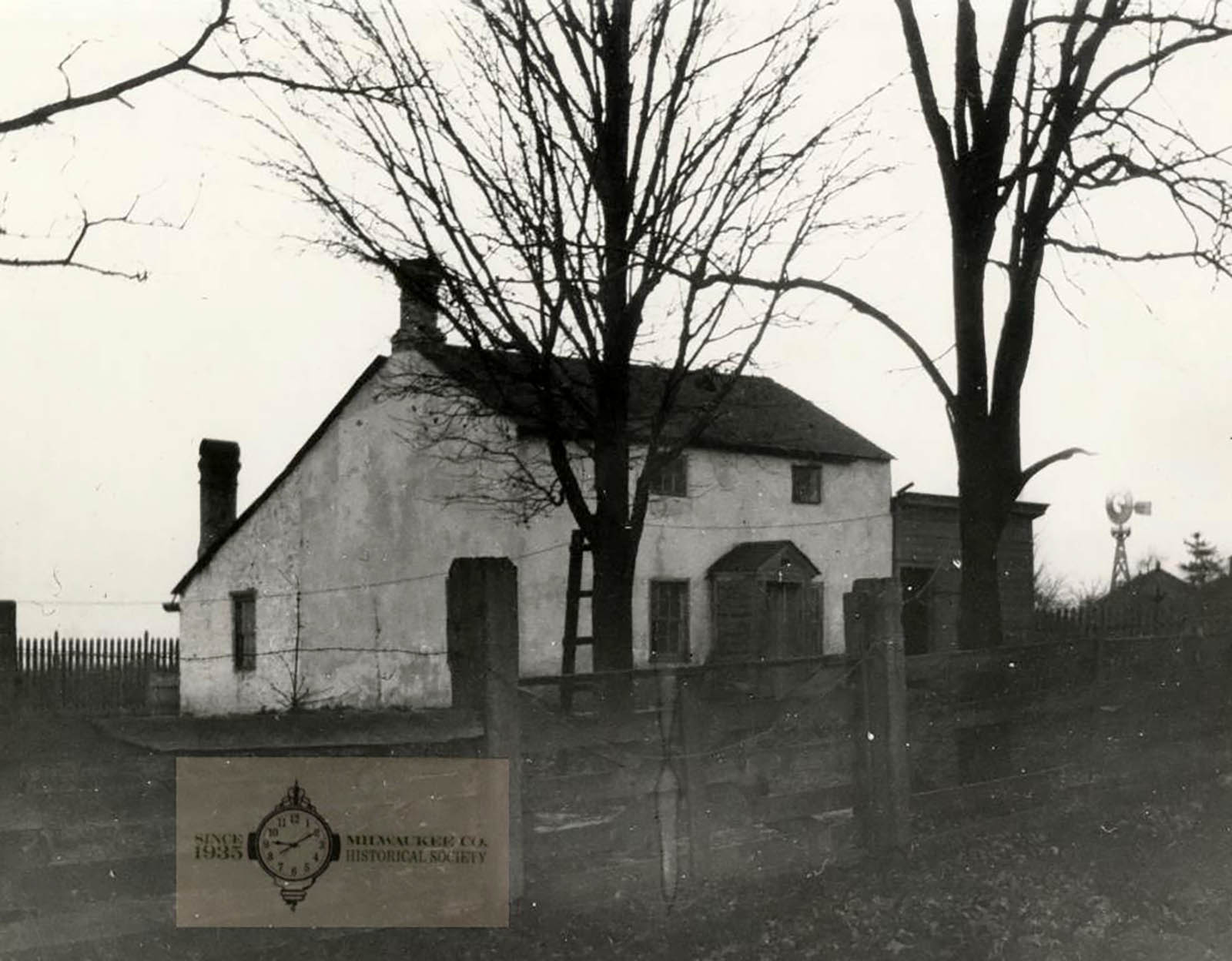 The properties are managed by Milwaukee County Historical Society and their grounds are open to visitors. Tours are also offered in season; check the website for details.
Curtin House, 8681 W. Grange Ave., in the earlier of the two structures and it is a reflection of the Irish roots of the Curtin family.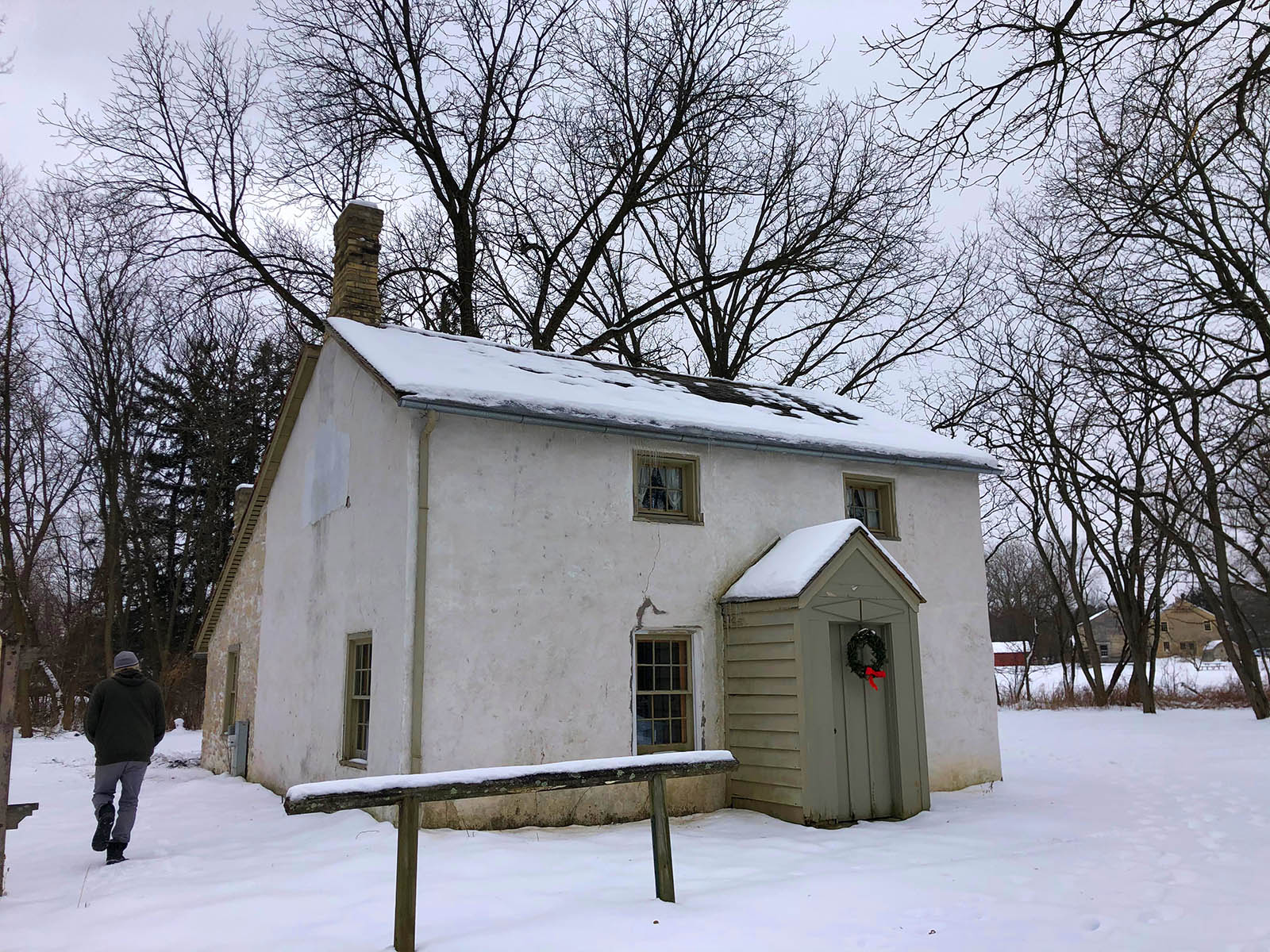 Jeremiah – who would later gain fame as a scholar, author, translator, folklorist (whose studies of Irish folklore were by feted by William Butler Yeats!), foreign serviceman – was born in Detroit in 1835 to parents to had immigrated from Ireland. The following year, the family arrived in Greendale and built the first of three homes that stood on the property, which at that time was in the old Town of Greenfield, where a number of Irish had settled.
I asked Carl Baehr, author of the book "From the Emerald Isle to the Cream City : A History of the Irish in Milwaukee," if he could tell us more and he says, "The Curtins from County Limerick followed a common route from Ireland. First to Canada because it was much cheaper for them to travel to Canada than the U.S. because both Ireland and Canada were part of the British Empire."
In 1834, the Curtins migrated to Detroit from Halifax and took up farming.
"There they met the Furlong family, farmers from County Cork who reached Detroit from Canada also," says Baehr. "There David Curtin married Ellen Furlong and that is where Jeremiah was born – his grandfather was also Jeremiah who died on the voyage to Halifax.
"Within months of his birth, the Furlongs and Curtins moved to the Milwaukee area and began farming."
Indeed early maps of the Town of Greenfield, show the Furlong property near the Curtin place.
"They undoubtedly moved from the Detroit area to Milwaukee because they thought their prospects were better here," says Baehr. "They didn't come because they had family here already because they were the first the farm the land here. Two of Ellen's brothers later became successful in Milwaukee businesses, but the Curtins remained on the farm where David died in 1856 at age 46."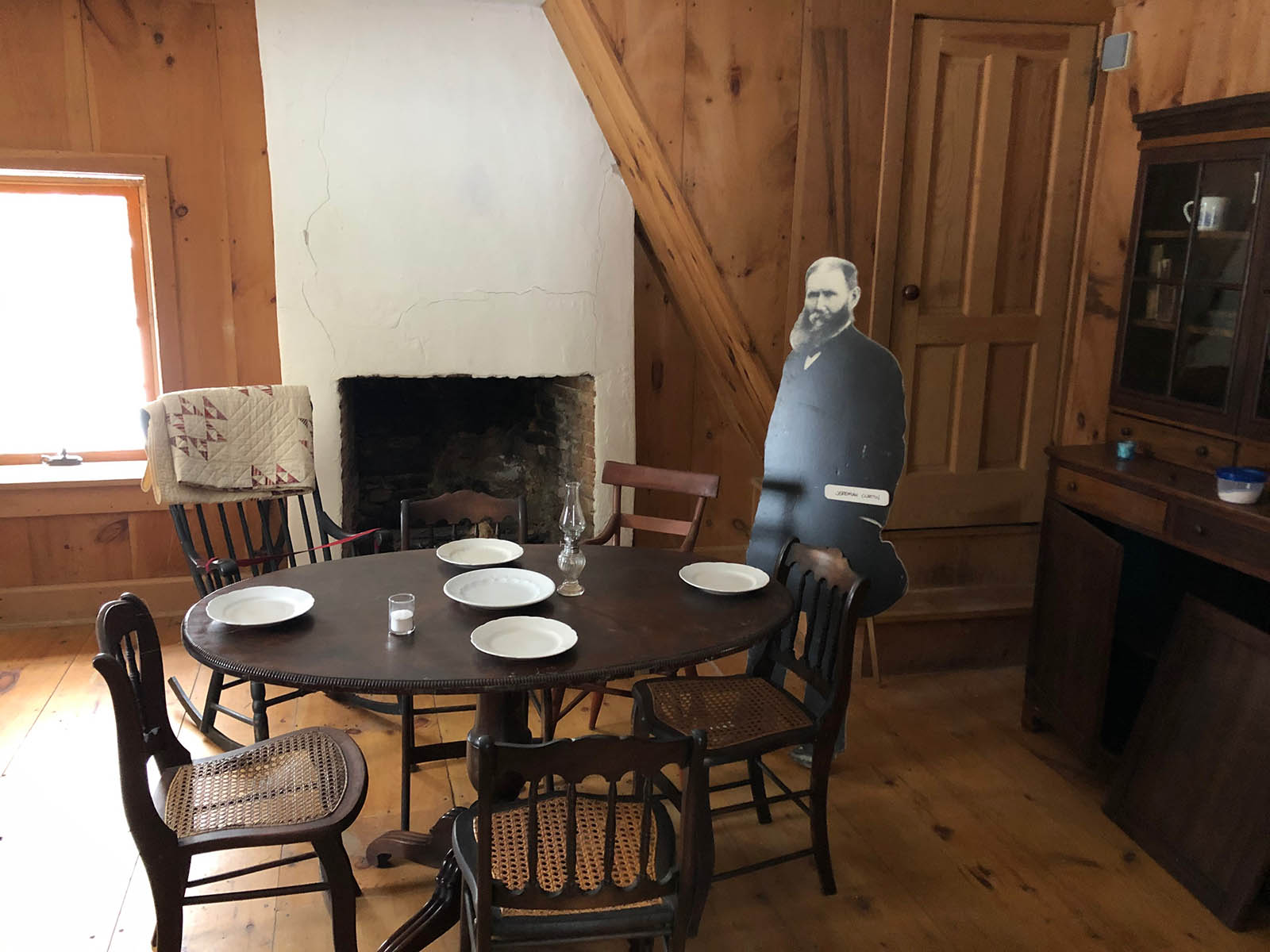 The current home, the first to be built in stone in the old Town of Greenfield – and the oldest surviving home, too – looks like small Irish cottages seen dotted around the Emerald Isle countryside – with a second floor – and inside it feels homey but small; small enough that I can't pass between rooms without ducking through the doorways.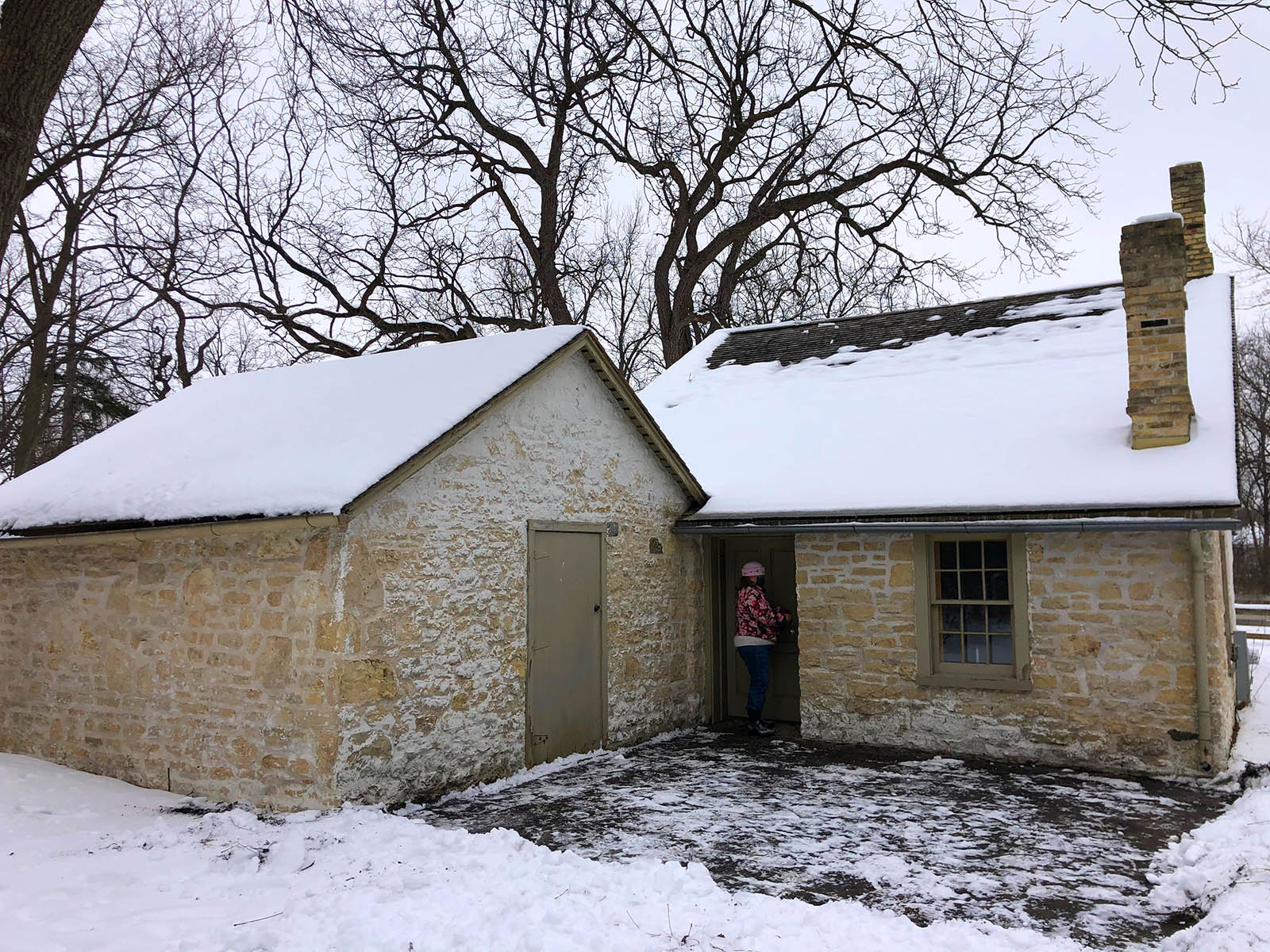 The current structure – with its 18-inch-thick walls – was erected in three parts. The main area in front, an addition to the back (above) and a stone "spring room," also at the back (below), that had a sunken floor and was used as something of a root cellar.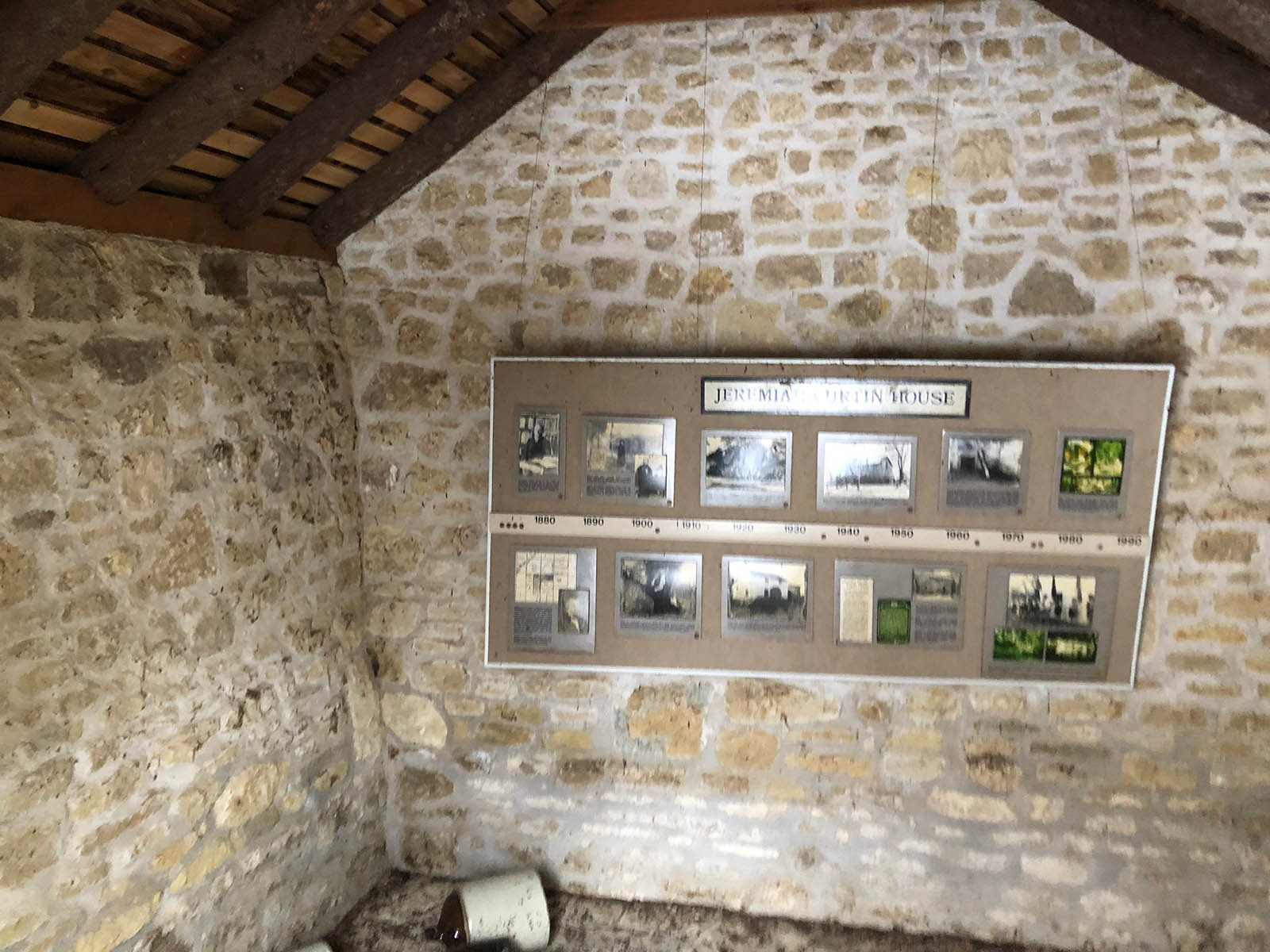 The Curtins farmed their property until 1866, 10 years after David's passing, and Jeremiah had left for Harvard (after having studied at Milwaukee University and Carroll College), from which he graduated in 1863.
The young Curtin studied law in New York and worked briefly for the U.S. Sanitary Commission before moving to Russia to work in St. Petersburg as secretary to U.S. minister to the czarist Russian court, Cassius Clay (no, not THAT Cassius Clay).
While in Russian, Curtin traveled and studied numerous languages and when he returned to the United States, he married a Vermonter named Alma Cardell, and gave lectures on Russia, which he would visit again in 1900. In the interim, he was tapped by the Bureau of American Ethnology to study, as a field worker, Slavic and Native American languages.
Next, he traveled extensively through his parents' native Ireland, studying and collecting folklore.
In 1901, Jeremiah and Alma visited the Greenfield house, where Alma took photos, including the one below.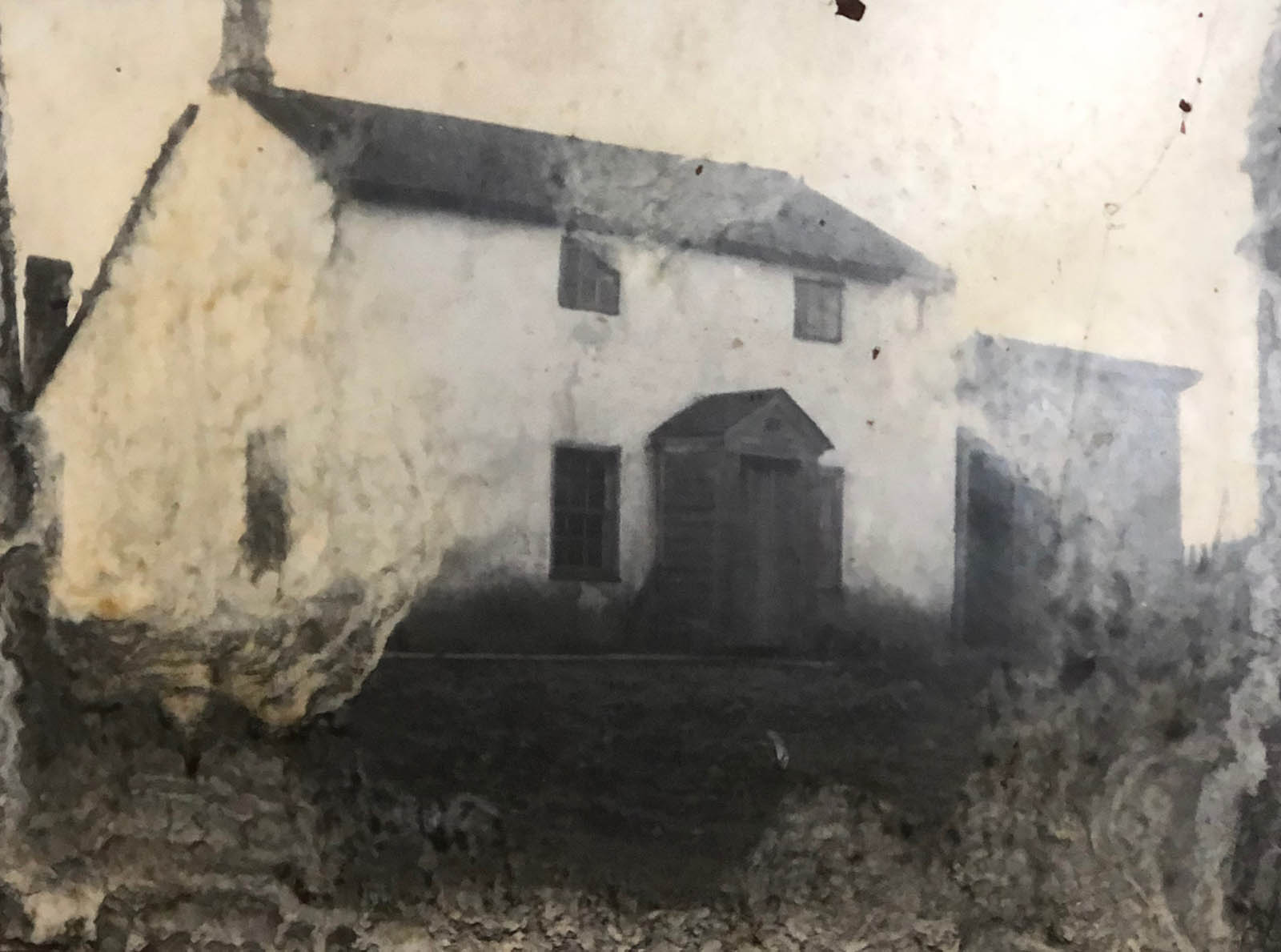 The following year, he died in Vermont, where he was buried.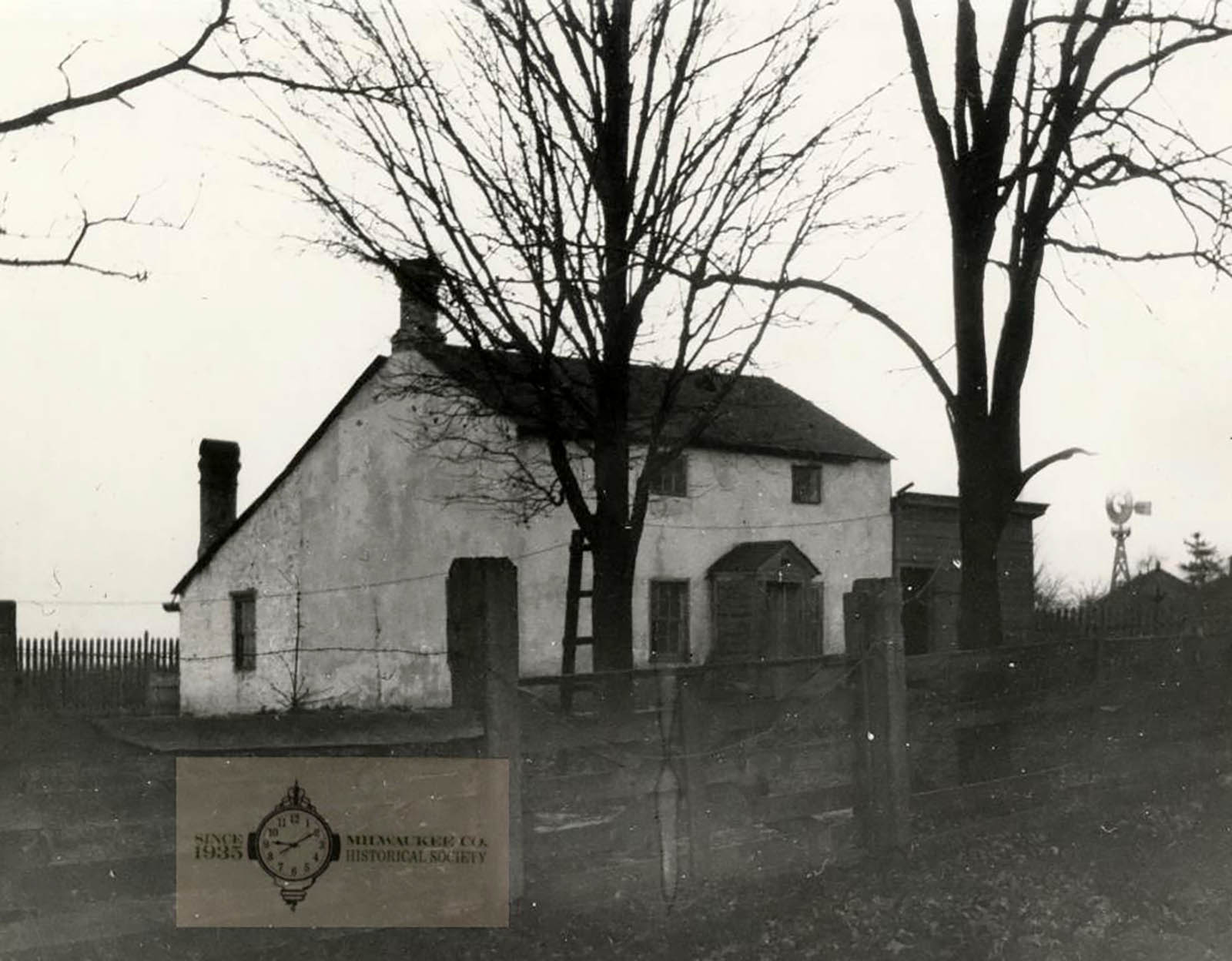 Back at home, his mother Ellen split the family farm in two and sold one piece (with the house) to her brother and the other to their neighbor Werner Trimborn.
The house remained in use into the 1920s and in 1930, it was restored as part of the WPA.
Around the same time, it was purchased, along with the Trimborn Farm and other properties, by the federal government as part of the land acquisition for the development of Greendale, one of three planned "greenbelt" communities built across the country.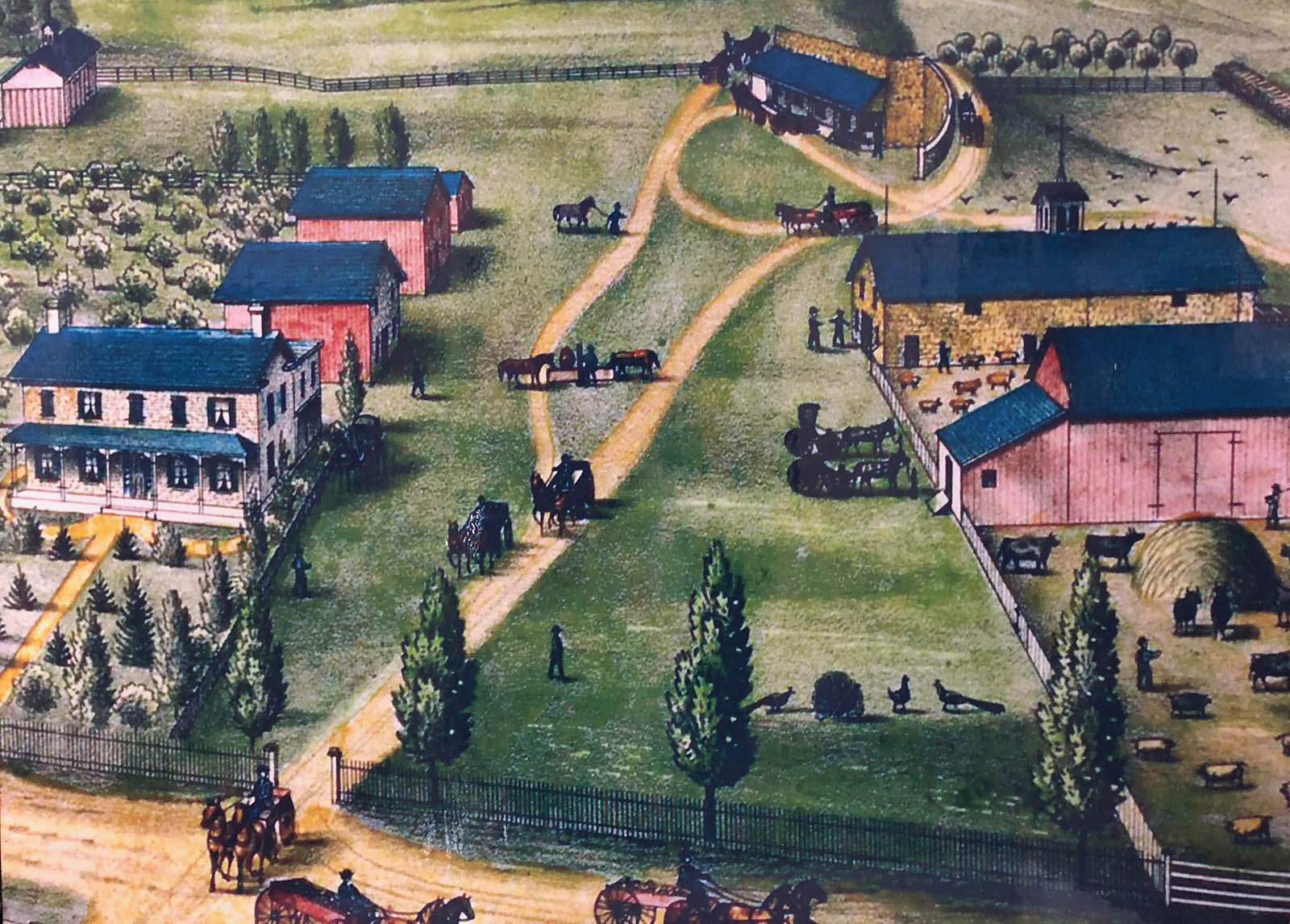 The farm (of which you can see an artists' rendering above) was used as a construction staging area and its buildings were used to house workers.
Later, sadly, it was badly damaged by vandalism.
In 1952, Curtin House was given to the Milwaukee County Historical Society, which continues to own it. In 1976, it was chosen to be the county's Bicentennial Project and money was raised to restore it. By 1985, the 150th anniversary of Curtin's birth, the restored home was officially dedicated.
The Curtins had already been established and settled into their third home in the Town of Greenfield when widower Werner Trimborn arrived in Milwaukee from Prussia in 1847 with his three children.
Trimborn's work as a teamster would serve him well in his next venture, which required plenty of horse power.
Four years later, he partnered with Jacob Kier to buy a limestone quarry, a lime kiln and 10 acres of land next door to the Curtin family at what is now 8881 W. Grange Ave.
Though Kier quickly walked away, Trimborn Farm would become one of the biggest producers of lime in the state. Lime, which is basically created by heating limestone, had many uses in the 19th century, including for making construction materials, preserving food, purifying water, making paper, as fertilizer and more.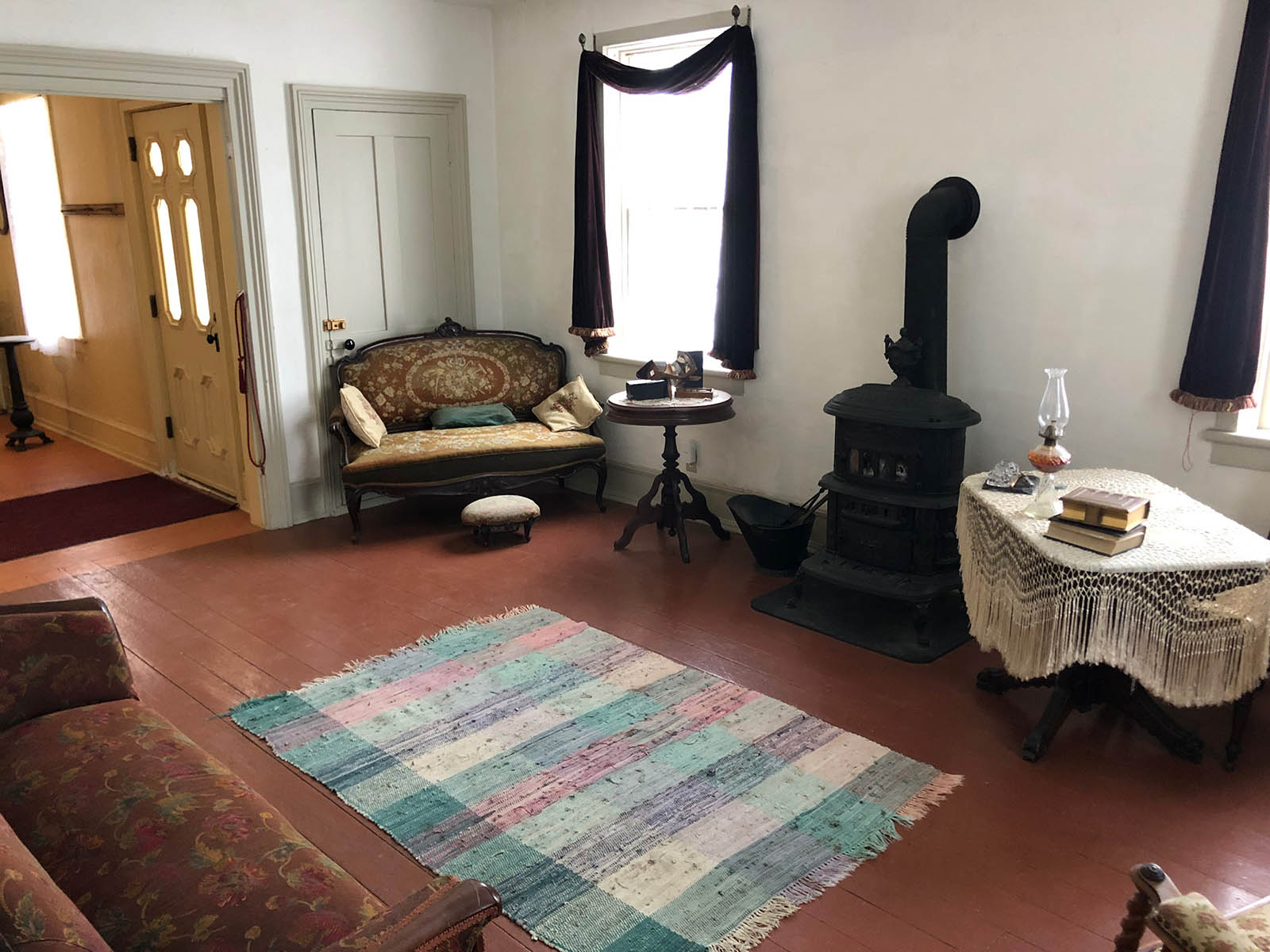 Trimborn's success led to the expansion of the farm to a whopping 530 acres in the 1870s, when Werner employed around 40 workers.
When Trimborn (pictured with his children below) died in 1879, his sons kept the enterprise going, but the birth and development of an American-made Portland cement industry in the 1870s and '80s spelled the end, as the kilning of lime because less and less profitable.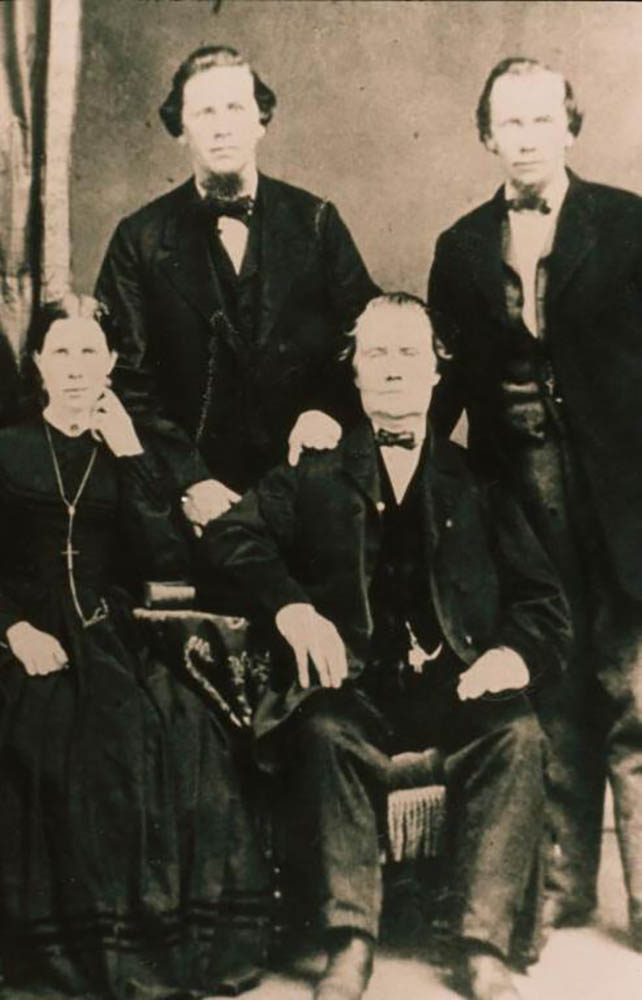 The Trimborns leased the land to farmers and around the turn of the century began selling it off piece by piece, though a large chunk was owned by Theodore Vollmer and his family, who operated a dairy farm beginning in 1901.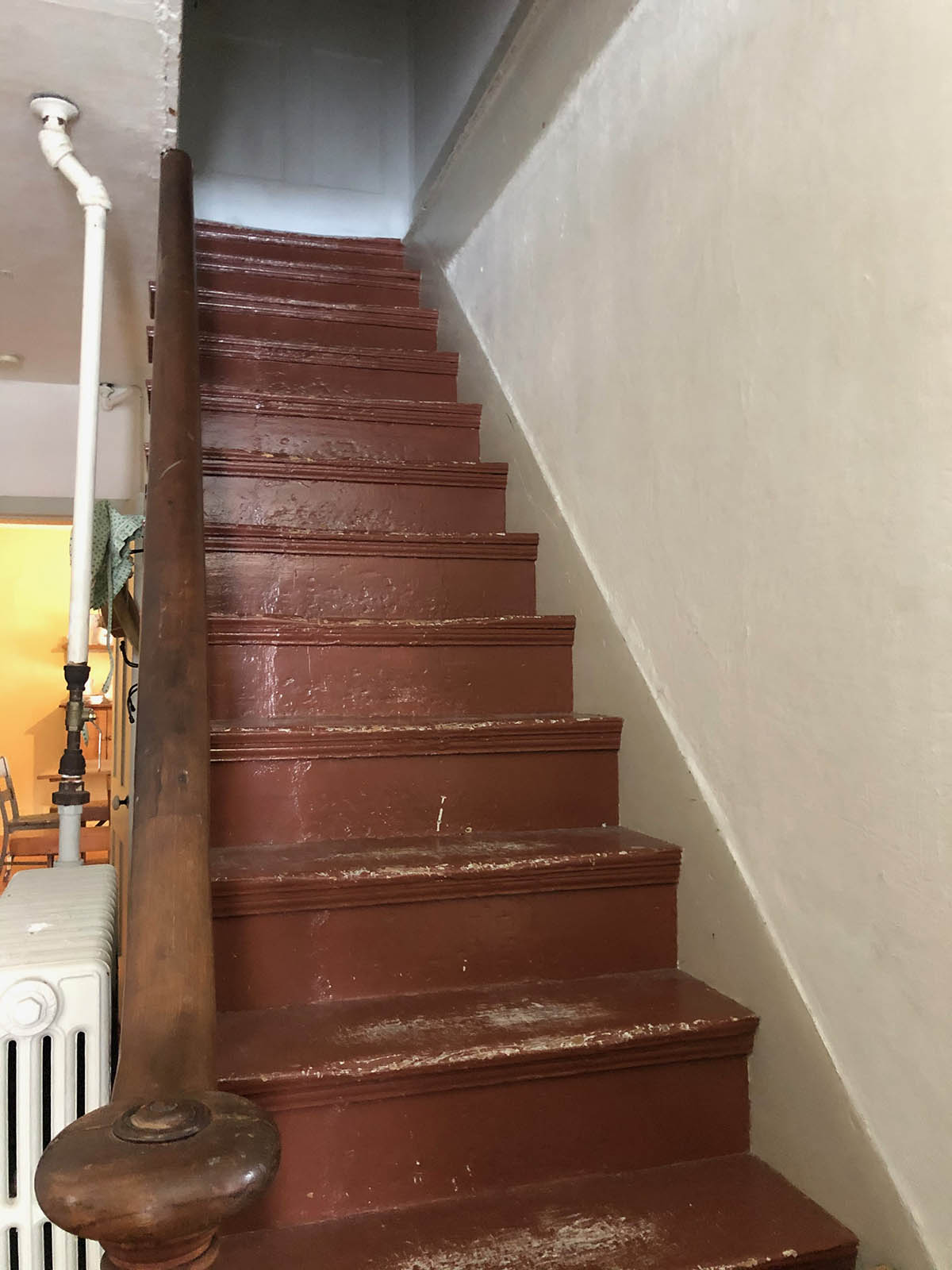 Another large piece was purchased by the Froemming family, which constructed a series of greenhouses that survived and operated into the 1980s.
In 1928, the Froemmings donated much of their land for the construction of Whitnall Park and the remainder was purchased by Thomas Saxe – who with his brother was a major player in Milwaukee's cinema scene, owning and operating many theaters, including the Oriental – who used it as a hobby farm and country getaway, often entertaining guests.
After the period of federal ownership, from the mid-1930s, the land was again privately owned and was used for crops and, unexpectedly, an airstrip for planes dusting crops, skywriting and taking aerial photographs. According to the Milwaukee County Historical Society, some of the pilots that utilized the airstrip would later found the Experimental Aircraft Association (EAA) in Oshkosh.
The site was later home to the Circle H Riding Stable, until the land was bought by the Milwaukee County Parks System in 1980 and worked to develop it alongside Curtin House into a historical site.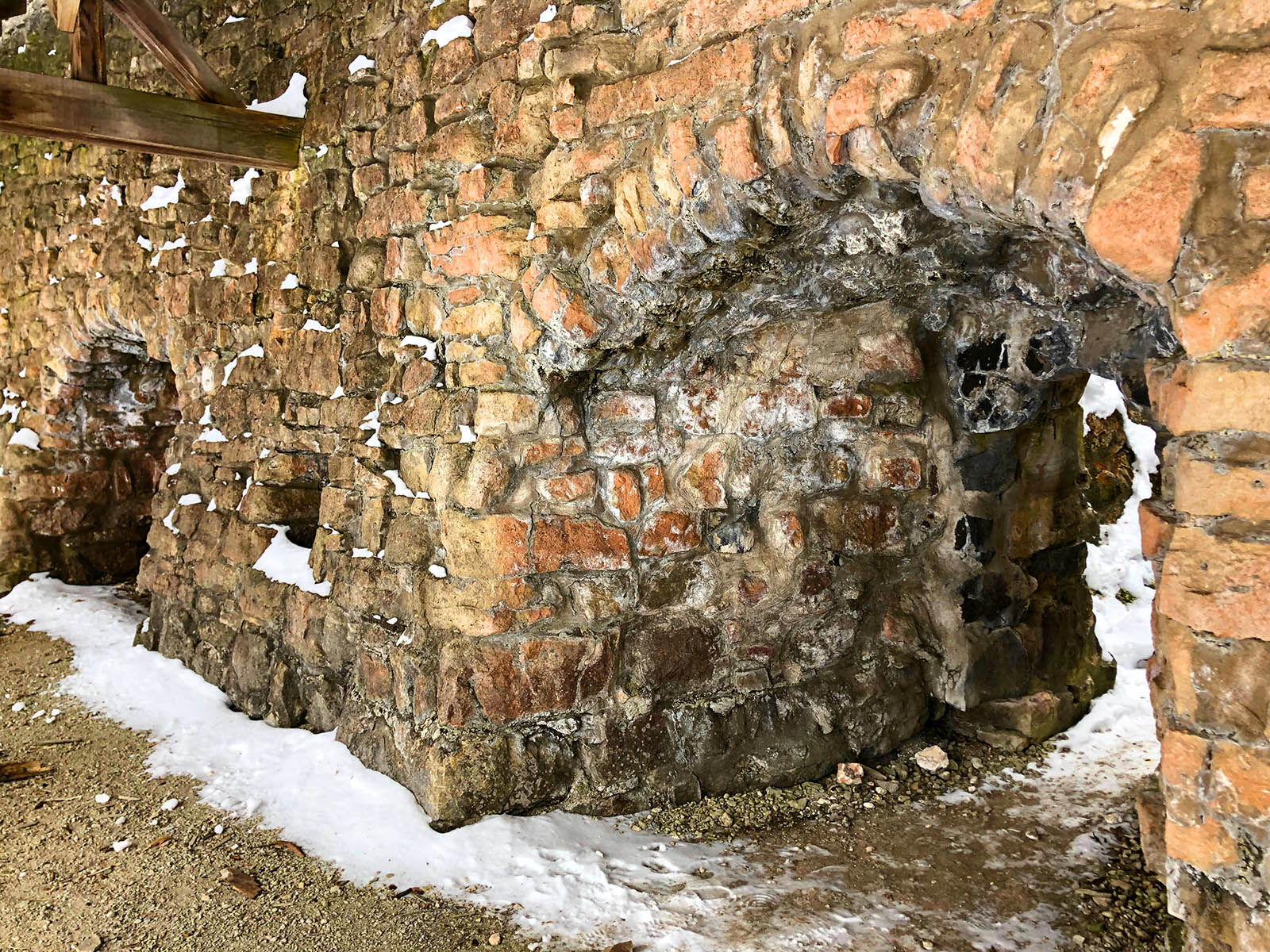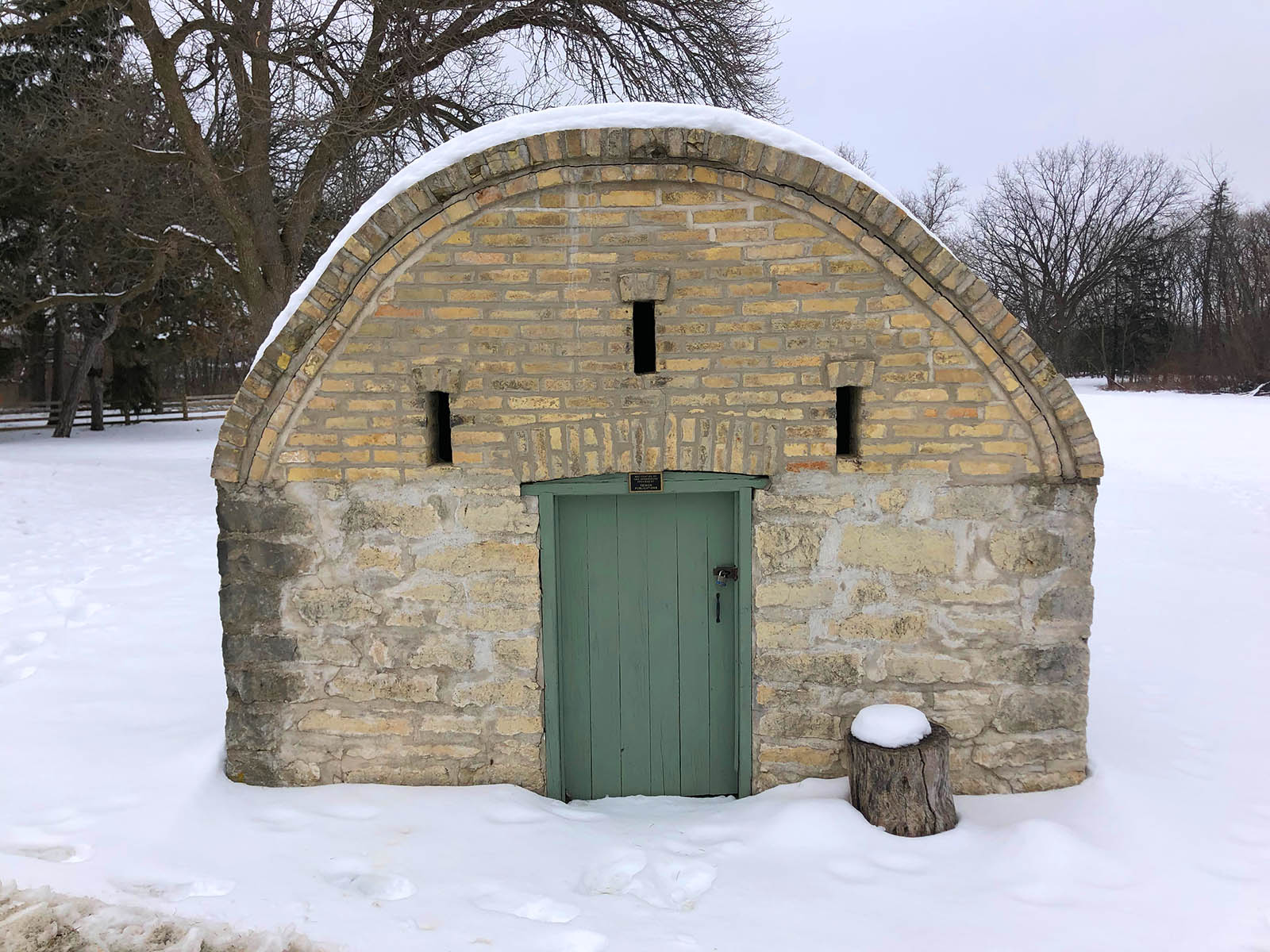 It's a really interesting place to visit as four lime kilns survive (above), as does the cream city brick Trimborn family home and other interesting outbuildings like a barrel-roofed ice house (pictured just above) and a timber frame building that housed workers during the construction of Greendale (pictured below).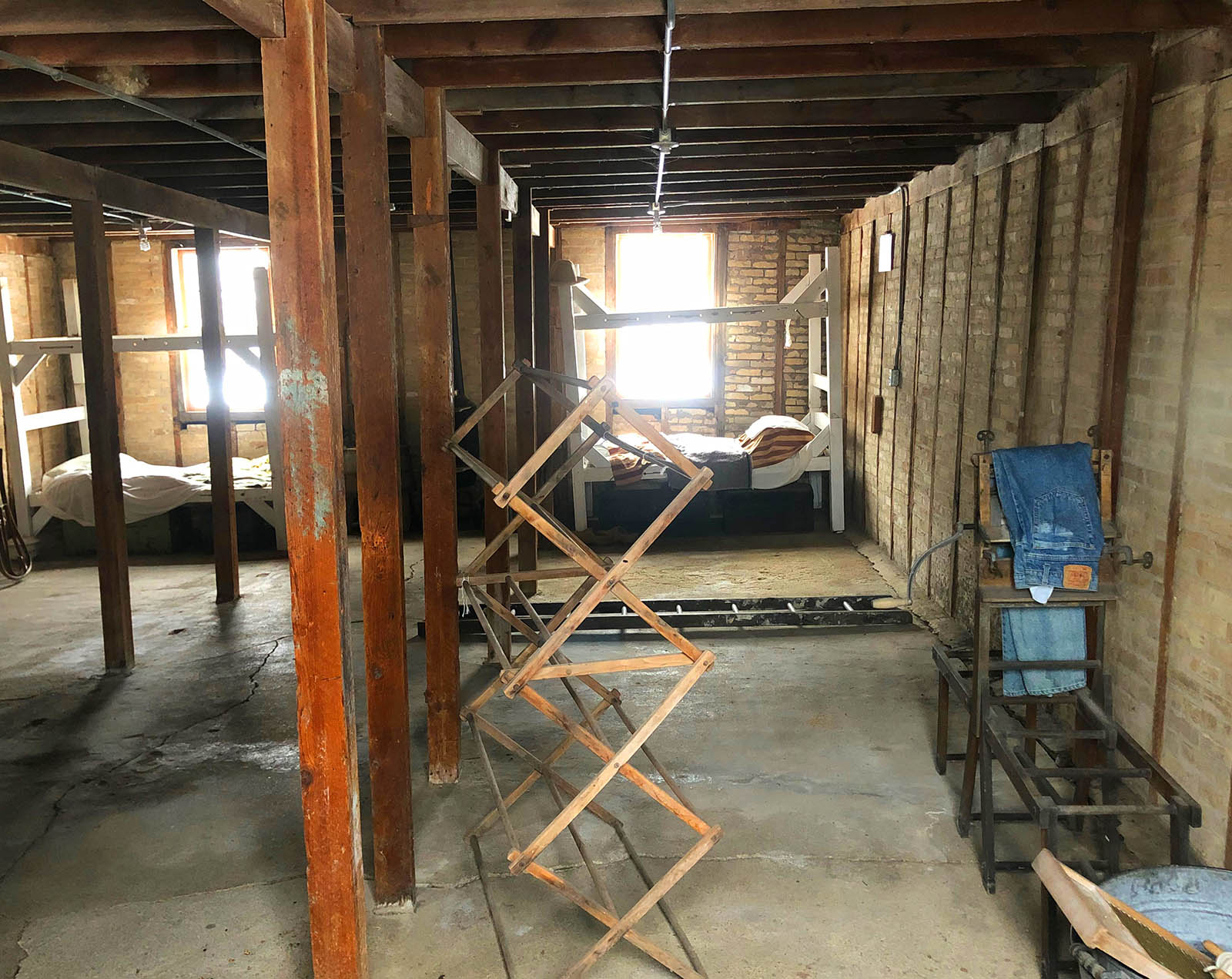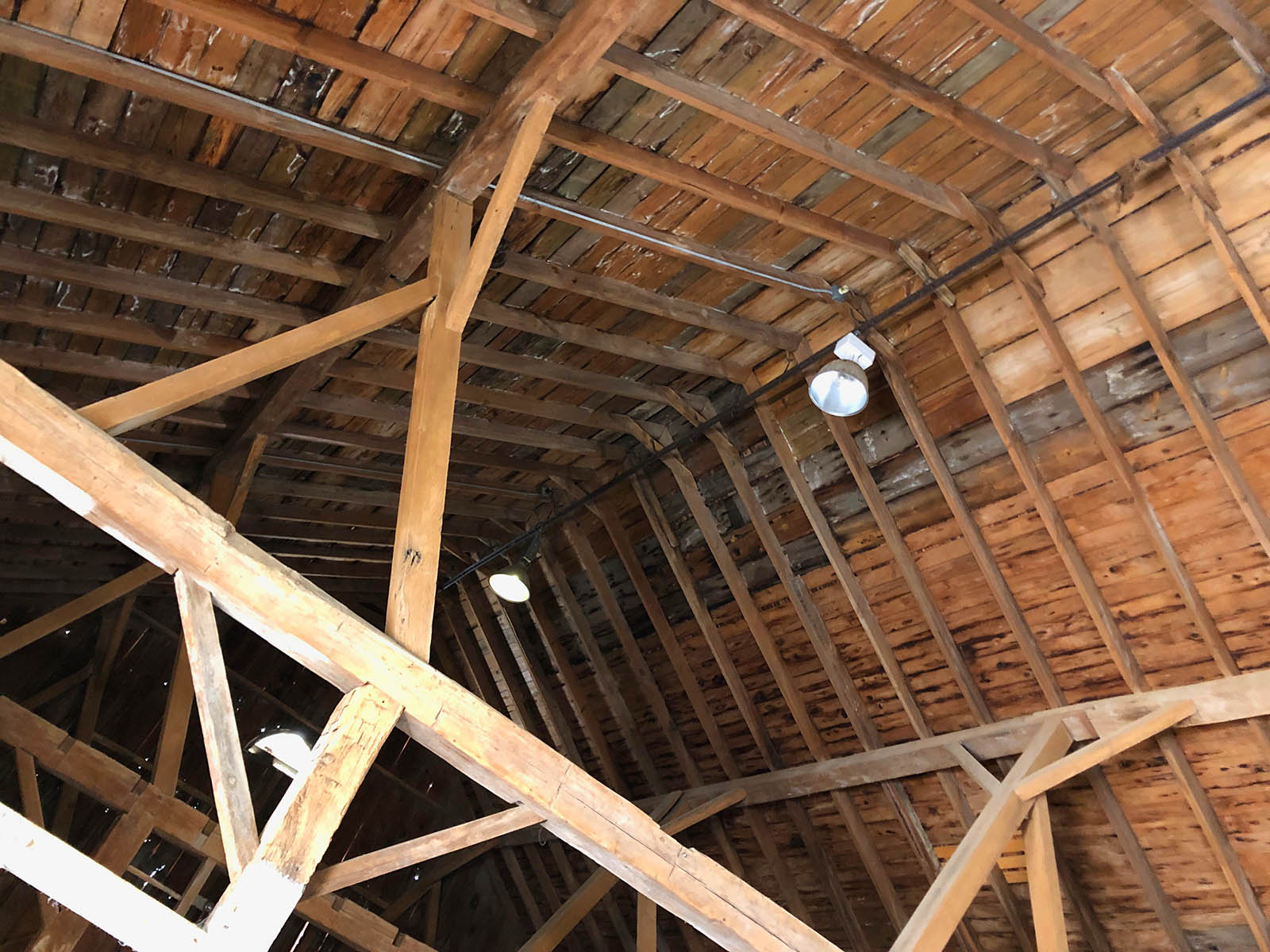 There is also a pair of barns dating to the early days of the Trimborn era, including a soaring mortise and tenon frame threshing barn (pictured above) – often used for events, include weddings, these days – and a stunning stone barn that was long used as an animal barn (pictured below), including horse stables for the Trimborn farm, where horses would've hauled stone from the quarry across the road to the kilns, carried lime from the kilns, brought the tons of lumber that would've been required to fuel the kilns, as well as worked on the farm.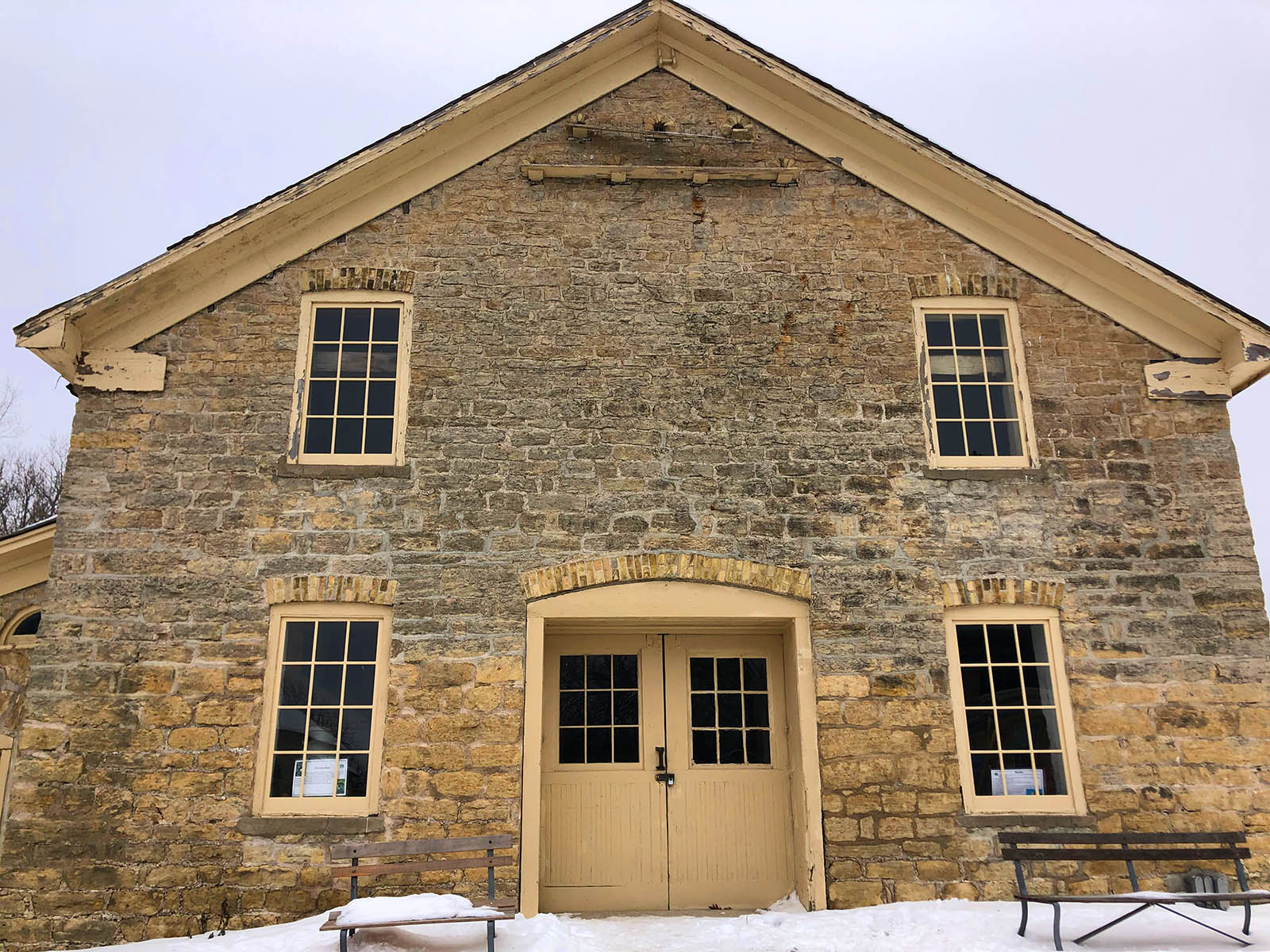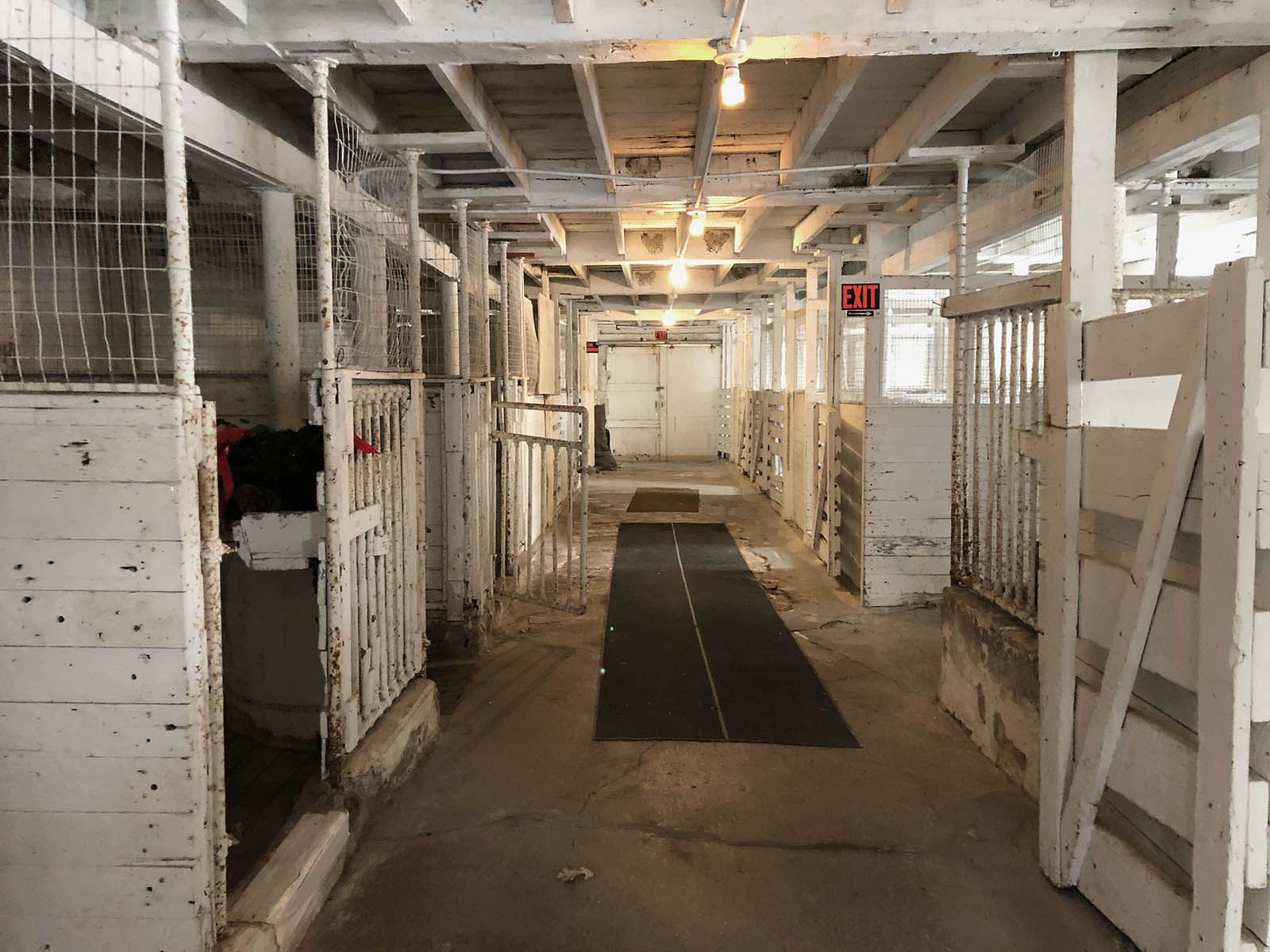 The quarry (pictured below) survives as a pond in a private residential development directly across Grange Avenue.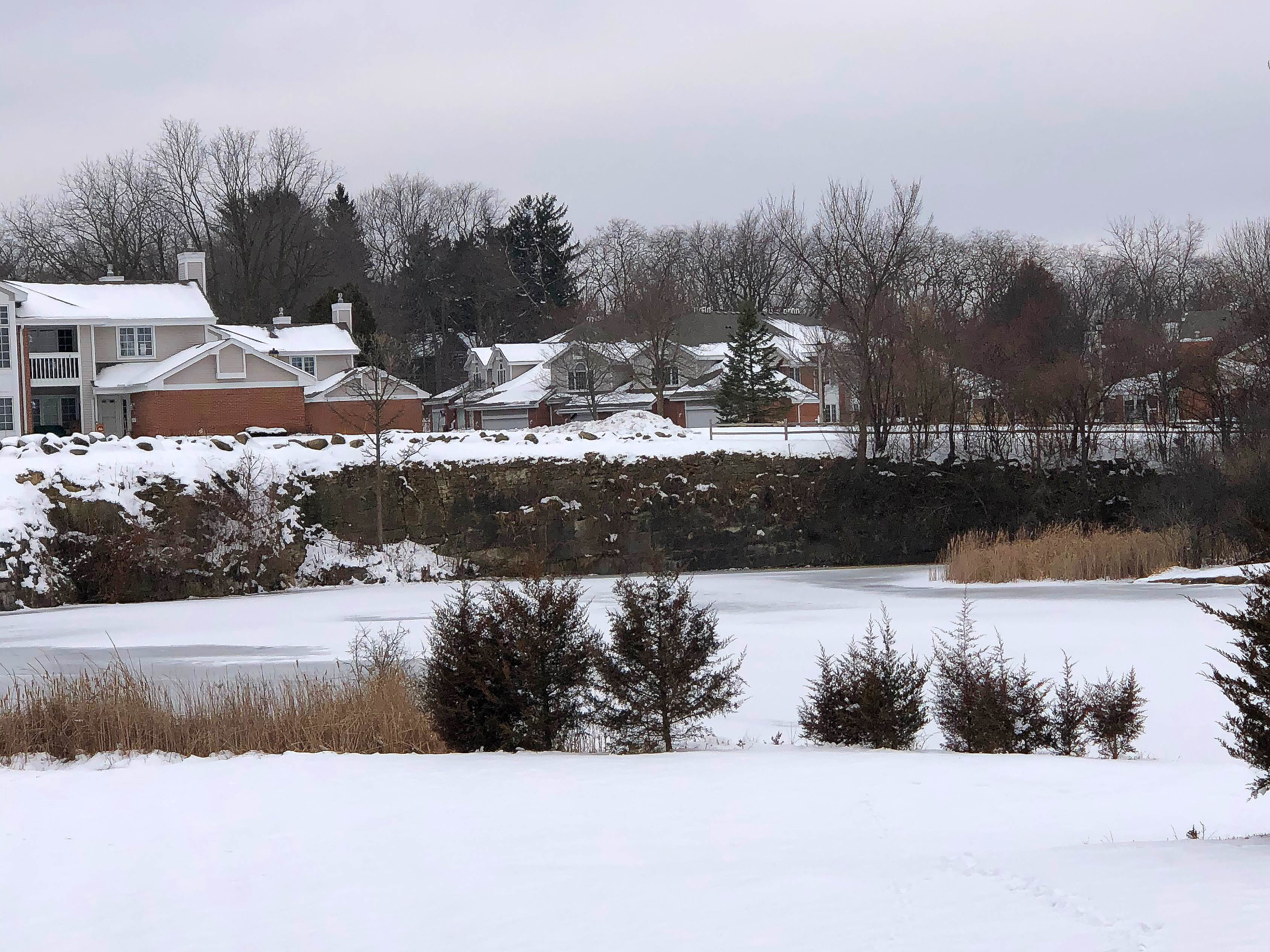 Since 2004, the farm has managed (though the Parks System still owns) Trimborn Farm, offering tours for the general public, as well as school groups, hosting concerts and workshops and an annual arts fair, among other activities and events.
"It is a County Park, so it is open like any other park for people to come and walk around," says MCHS Educator Mary Jo Knapp, who leads tours of the site.
"And they do," adds MCHS Archivist Steve Schaffer, who now lives on the second floor of the Trimborn house with his wife and dog, serving as an on-site caretaker. "We have regulars that come back all the time.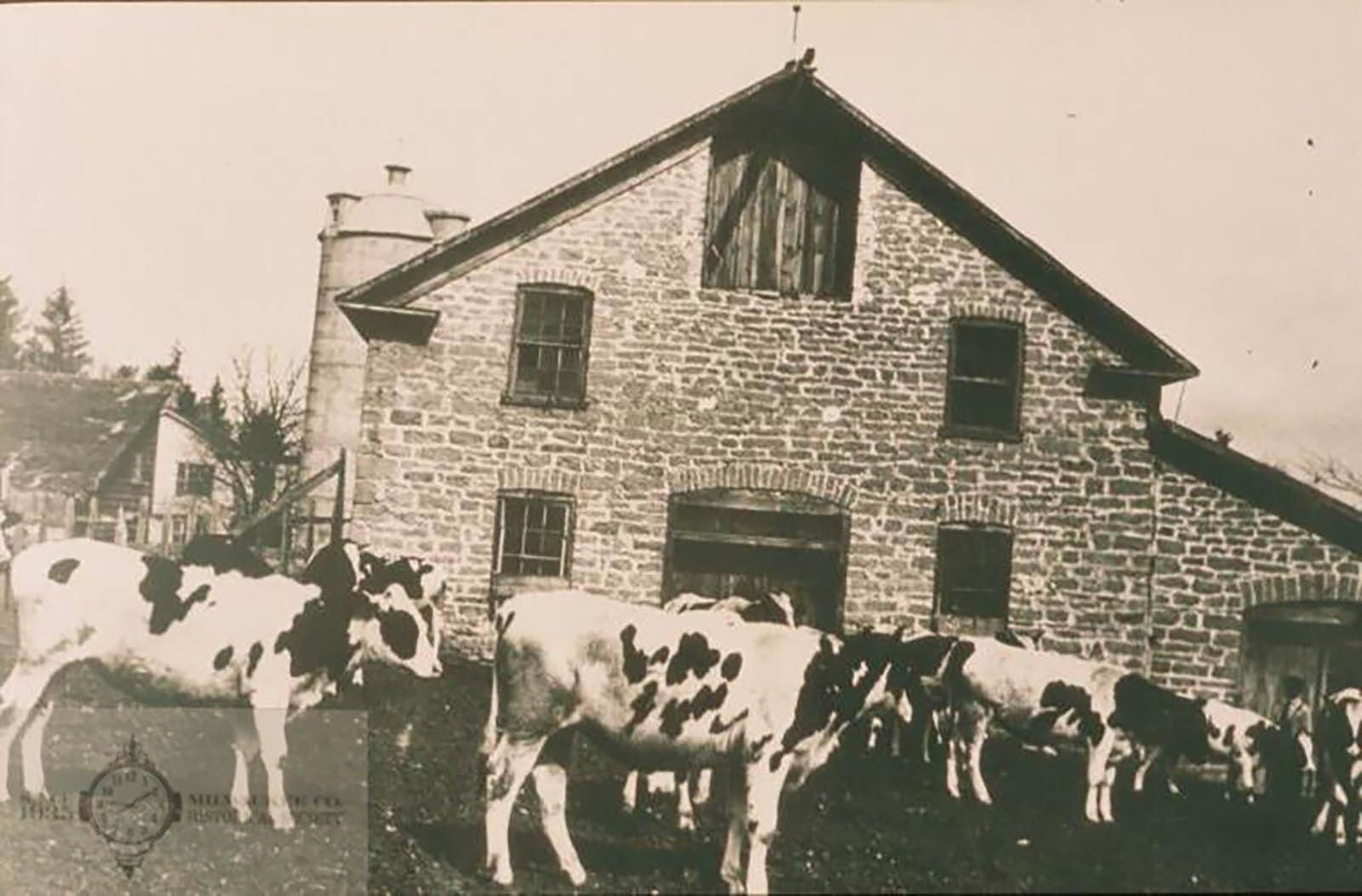 "Sometimes I'll catch a glimpse of someone walking around and I'll think, 'who's walking around in my yard' and then I remember, 'oh, yeah, it's not my yard'."
It's true: Trimborn Farm belongs to all of us. So, stop by and take a walk back through time.
(Vintage images courtesy of the Milwaukee County Historical Society.)
Born in Brooklyn, N.Y., where he lived until he was 17, Bobby received his BA-Mass Communications from UWM in 1989 and has lived in Walker's Point, Bay View, Enderis Park, South Milwaukee and on the East Side.
He has published three non-fiction books in Italy – including one about an event in Milwaukee history, which was published in the U.S. in autumn 2010. Four more books, all about Milwaukee, have been published by The History Press.
With his most recent band, The Yell Leaders, Bobby released four LPs and had a songs featured in episodes of TV's "Party of Five" and "Dawson's Creek," and films in Japan, South America and the U.S. The Yell Leaders were named the best unsigned band in their region by VH-1 as part of its Rock Across America 1998 Tour. Most recently, the band contributed tracks to a UK vinyl/CD tribute to the Redskins and collaborated on a track with Italian novelist Enrico Remmert.
He's produced three installments of the "OMCD" series of local music compilations for OnMilwaukee.com and in 2007 produced a CD of Italian music and poetry.
In 2005, he was awarded the City of Asti's (Italy) Journalism Prize for his work focusing on that area. He has also won awards from the Milwaukee Press Club.
He can be heard weekly on 88Nine Radio Milwaukee talking about his "Urban Spelunking" series of stories.