Watching the flames engulf the historic cathedral of Notre Dame in Paris in April was devastating. For many Milwaukeeans, it brought back memories of 11 months earlier – to the day – when fire ripped through Trinity Evangelical Lutheran Church, 1046 N. 9th St.
Though Trinity is, of course, nowhere near as old as Notre Dame – which was begun in the 12th century – having been built in 1878 gives the cream city brick Lutheran church a local pedigree similar to Notre Dame's in Paris.
"That was heart wrenching," says Trinity's Chris Behnke as we stand watching work proceed on the new roof at the 9th Street church. "Oh my gosh, yeah.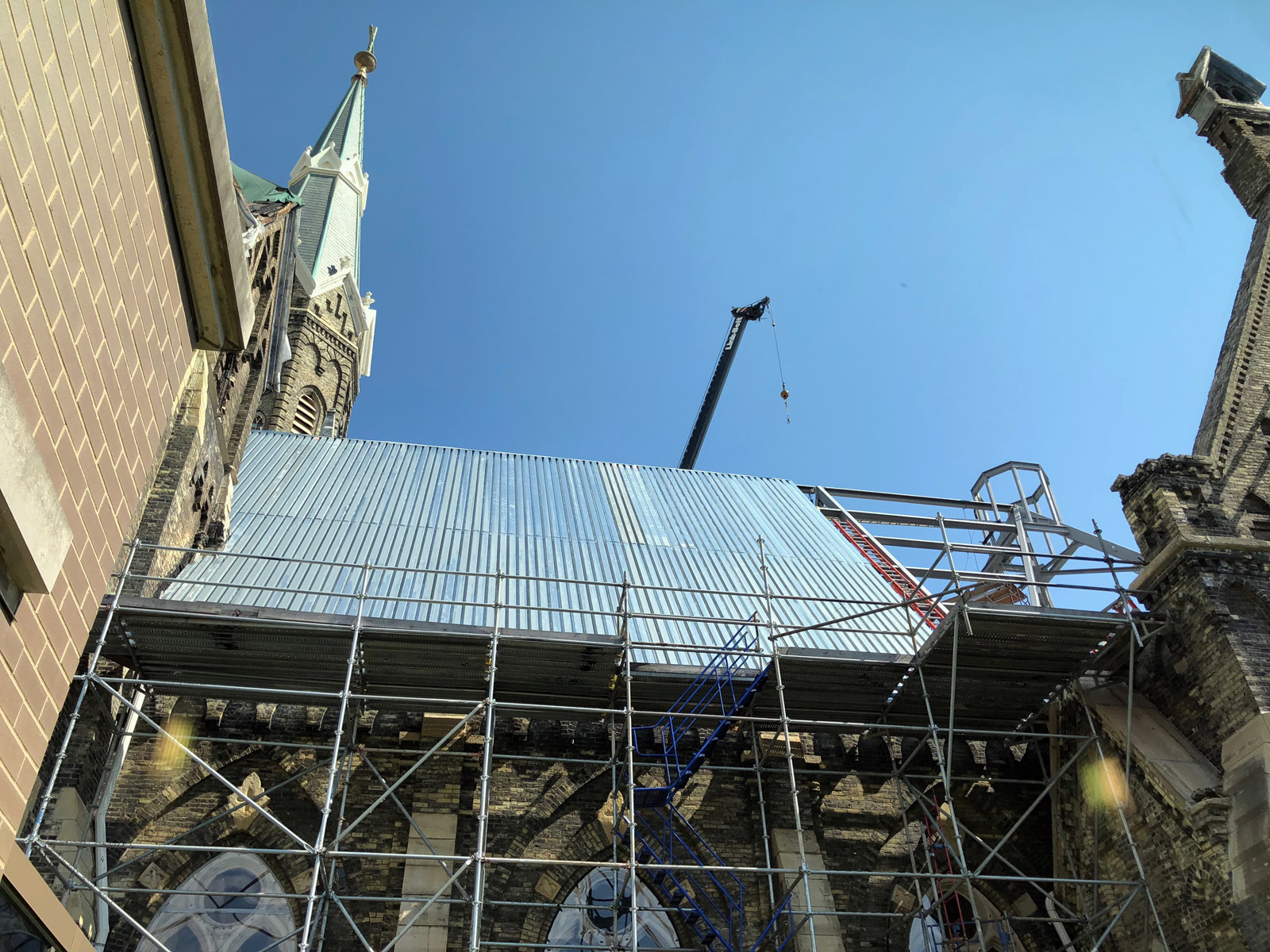 "And it was so close to that time period, one month ahead of when Trinity had burned, so it kind of floated back to that and then I thought about how those people are going to handle, and deal with that. That was hard to look at ... the history and that it's an historic site, it's architecturally beautiful, it is an active worship site, so there were just so many different levels to think about. How are people going to handle it?"
I pointed out to Behnke that she basically just described Trinity, too, and she nodded.
"The congregation, especially coming from 1847 which is pretty early on Milwaukee's timeline," she says. "And then this building, 1878 to '79. Yeah, it's been here quite some time."
And thanks to a number of factors, including an extremely dedicated and willful congregation that never lost its faith even in its darkest moment, Trinity is most definitely like a phoenix rising from the ashes.
As clean up work progressed, engineers quickly assessed the structure and stiff-backs were installed to secure the walls of the church, which until the fire had been supported in part by the roof. A temporary ceiling was then installed to keep the elements out. At the same time, artwork damaged in the blaze was sent out for restoration.
Now, you can see the new steel roof going up and you can even see where the support beams are for the replacement of the third steeple, which fell through the building into the basement during the fire.
That work is expected to be completed this summer. Once the roof is complete it will look – from the exterior and from inside the church itself, unless you venture into the attic – as it did before, though it will be considerably more fireproof.
"On top of that steel sub-structure will be the slate roof," says Behnke. "You're not going to see any of that steel. That'll all be covered up."
And, after the roof is complete?
"Then the stiff backs that are holding the walls will come off once all that other structure is in place," says Behnke. "Because the scaffolding is already up in there, the logical thing is to continue working. Taking off that temporary flat roof, and then opening it up."
The new ceiling will be plaster, like the old one, which is a good thing, says Behnke.
"We are all very thankful for that because that means the acoustics, which were really wonderful in there can be maintained. So, probably starting with the plaster and then wall repair and doing all those things because you then get down to having somebody to rebuild pews. All the little details were saved so that they could either be cleaned up and put back on a new pew, or at least used as a template to recreate them."
Though the organ was destroyed, there were key pieces that were salvaged and will be sent to whoever ends up building a replacement for Trinity. At the moment, says Behnke, a qualified builder is being sought.
"They want to do that fairly soon because with organ builders you have to get in line because it can often take three years to build an organ," she says. "So they are going to want to make that decision and get in line as quickly as they can, and then proceed from there. But yes, you're right, you remember that we saved pieces that were salvageable. They can either be reused or again, as templates, so that the sound of the Schuelke (organ) can be brought back."
In the meantime, thanks to a donor, the parish again has a grand piano that it will be able to use while it awaits a new organ. A grand piano at Trinity was also lost in the fire.
"It's a Steinway from 1901 and an area pastor and his wife were going to be moving up to Chilton, and decided they didn't want to move the piano so they gave it to Trinity, thinking that we would have an instrument to use until the organ and everything else would be in place," says Behnke.
"We're very glad to have that as a gift. In addition to the financial donations we've gotten, we've had other offers like a church that has extra hymnals, too. People have been very thoughtful. Within all of this, there's a lot of nice things that are coming along."
All in all, Behnke says she's pleased with the progress made in just over a year since the fire. Especially considering in the days right after the blaze it was unclear if the church building even had a future at all.
"We feel like this has all gone very quickly," she says, noting that the plan still calls for the restored church to be ready within three to five years of the fire. "This is good progress for just over one year."
The congregation is still working with the insurance company and other sources for funding, though she declines to go into detail.
"I can't say too much about that, except that we have obviously been getting some of those things together because we've been able to make this progress and pay for it. We're not in panic mode. Let me just say that. We are just assured that God will provide, and we just keep taking it step by step, day by day. It's going to happen."
While the work progresses, the congregation continues to hold worship services at Krause Funeral Home, 9000 W. Capitol Dr., and, says Behnke, things are going well.
"We even, in January, took in six new members, which people wouldn't expect to have happen when you're displaced, but we did. Less than a month ago had two babies baptized, so all those things are going on and carrying on. I think one of the hard things as been not having a place to gather for meals, which we typically have had.
"We definitely miss being here but to know that we can gather someplace is very comforting."
Born in Brooklyn, N.Y., where he lived until he was 17, Bobby received his BA-Mass Communications from UWM in 1989 and has lived in Walker's Point, Bay View, Enderis Park, South Milwaukee and on the East Side.
He has published three non-fiction books in Italy – including one about an event in Milwaukee history, which was published in the U.S. in autumn 2010. Four more books, all about Milwaukee, have been published by The History Press.
With his most recent band, The Yell Leaders, Bobby released four LPs and had a songs featured in episodes of TV's "Party of Five" and "Dawson's Creek," and films in Japan, South America and the U.S. The Yell Leaders were named the best unsigned band in their region by VH-1 as part of its Rock Across America 1998 Tour. Most recently, the band contributed tracks to a UK vinyl/CD tribute to the Redskins and collaborated on a track with Italian novelist Enrico Remmert.
He's produced three installments of the "OMCD" series of local music compilations for OnMilwaukee.com and in 2007 produced a CD of Italian music and poetry.
In 2005, he was awarded the City of Asti's (Italy) Journalism Prize for his work focusing on that area. He has also won awards from the Milwaukee Press Club.
He can be heard weekly on 88Nine Radio Milwaukee talking about his "Urban Spelunking" series of stories.