First things first: Although marijuana is legal in 38 states, it is not legal in Wisconsin. However, if you're spending time in Illinois, are at least 21 years old and want to sample cannabis products medically or recreationally you are free to do so.
Perhaps some people, like we did, find the experience slightly daunting. There are so many different marijuana products now and ways to ingest them and that one time weed made me paranoid and … where does one even start?
Recently, we were on our way to a weekend in Chicago and set out to answer these questions.
We stopped at Rise, the closest dispensary to Milwaukee, in Mundelein, Ill. This was our first time in a dispensary and we weren't sure what to expect. But our experience couldn't have been easier or more informative.
Before going, there may be some unlearning for Wisconsinites to do. We live in a culture where alcohol (mostly beer) is our only legal and acceptable recreational substance and pot is something stoners toked under the bleachers in high school. Or at the very least, using cannabis was something we needed to hide.
Welcome to weed-friendly 2022 where it's understood that marijuana is a natural substance with myriad medicinal and recreational uses. In this Stoned New World, all types of people go to dispensaries in search of pain or anxiety relief, relaxation, sleep aids or inspiration.
Sure, these products aren't for everyone, but for some, they're absolute life changers.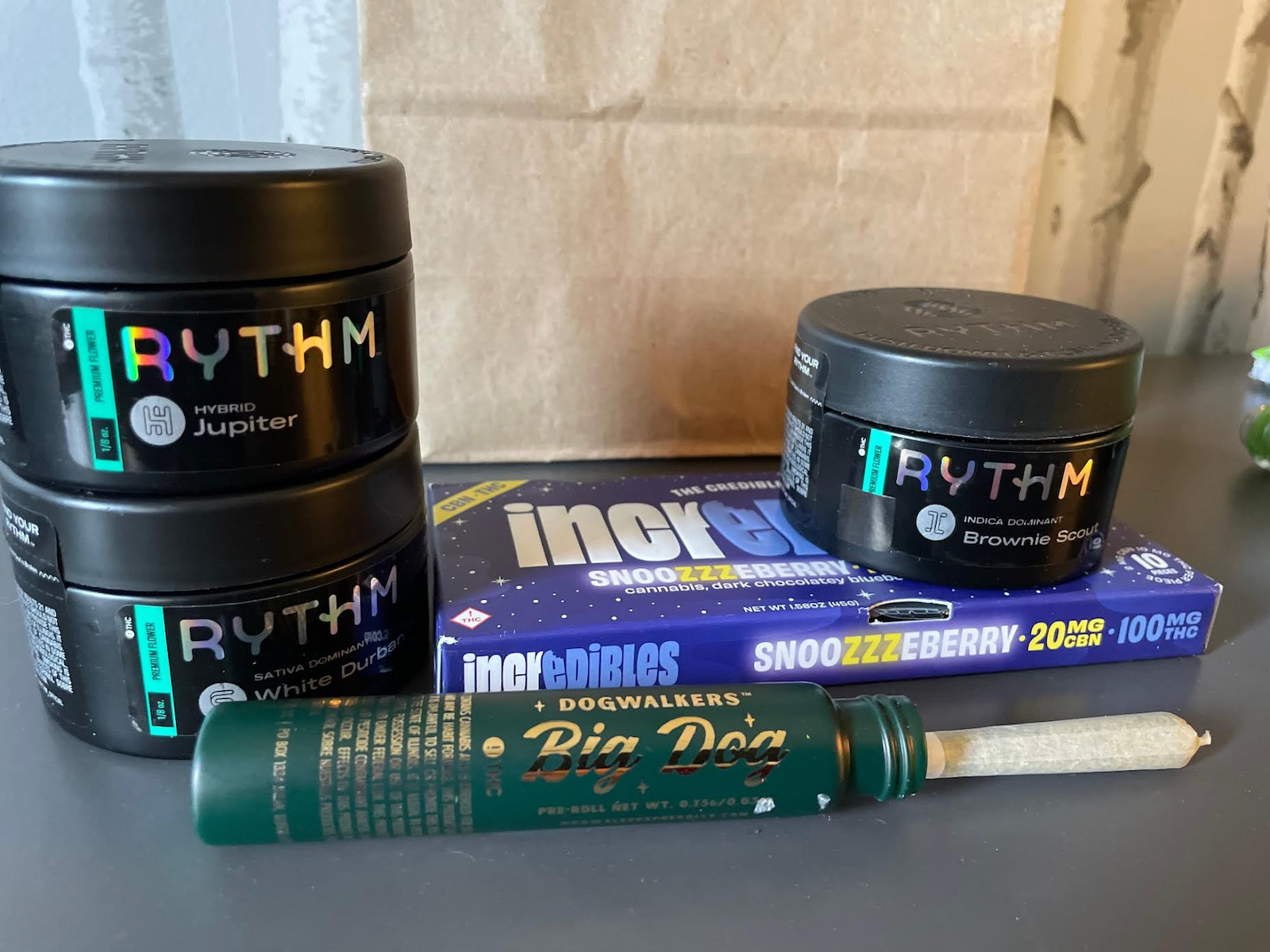 On the road
There are numerous dispensaries near the northern Illinois border, but we chose Rise because it was the closest to Milwaukee and was more or less on the way to our final destination.
Rise is located at 1325 Armour Blvd. in Mundelein, Ill. It's 59 miles from Brew City and an easy drive on 94 South to Hwy 60. Once off the interstate, it's about a four mile drive to the dispensary, which is located in an industrial park, a block off the highway.
Rise has multiple parking lots: one for people with medical conditions that's in front of the building and another for all other guests that's located across the street. There is also a drive-thru – aptly called a "roll thru" – for people with medical cards.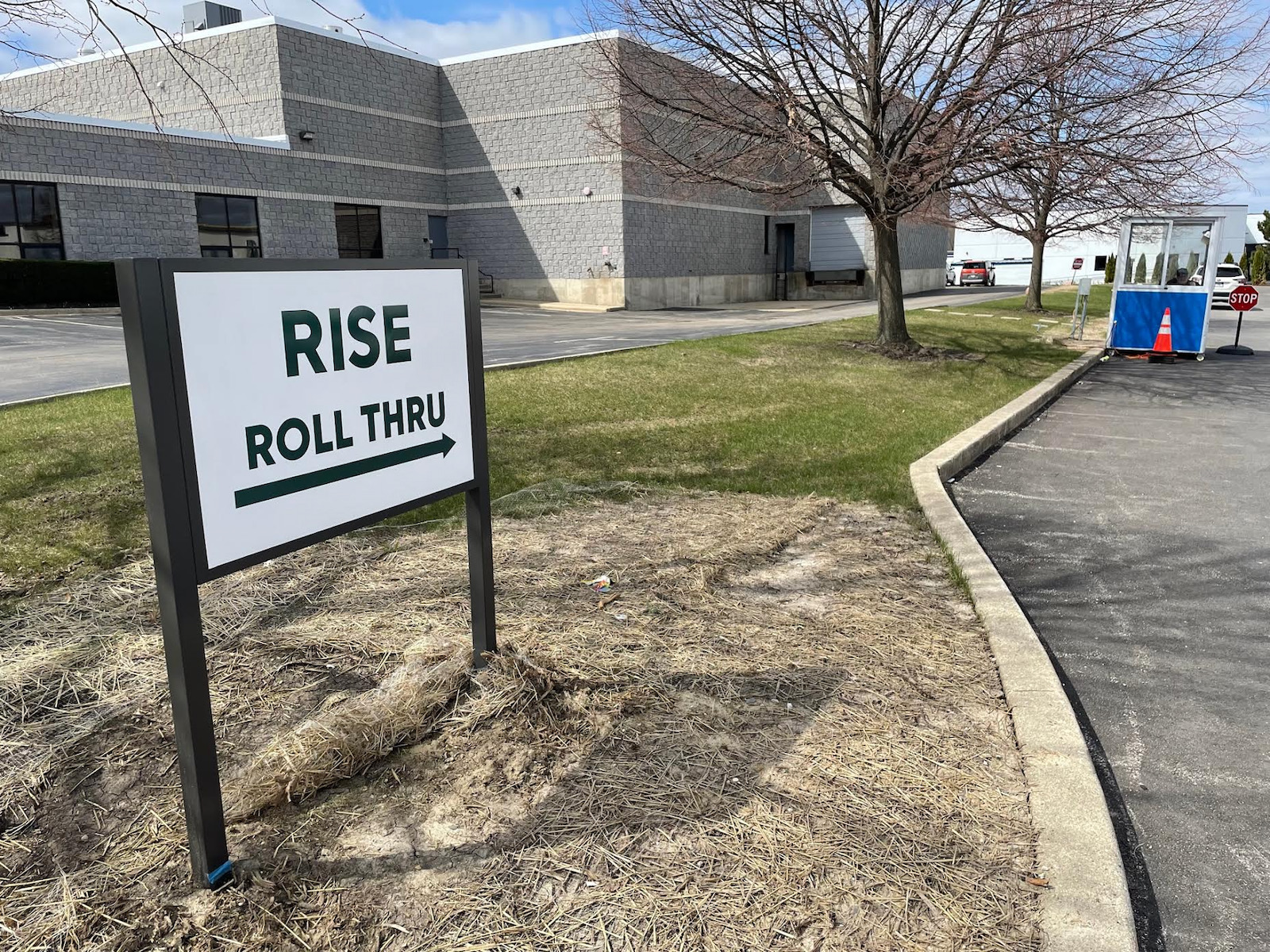 Fries with that? Your ordering options
Customers can place their order via the website prior to their visit and pop in for pick-up or curbside (medical-only) service.
However, if you're unsure what you want – and / or are curious about the place – going into the facility with at least 20 minutes to spare is highly (ahem) recommended.
If you choose to shop inside the facility, note that they accept cash or debit cards only. There is an ATM on site and you can run your debit at the register.
Shop for pot
When you walk through the front doors, a greeter asks to see your ID to ensure you are 21 and to determine if you are from Illinois. Those from other states, including Wisconsin, are welcome, but able to buy fewer products.
As Wisconsinsites, each person can legally purchase 250 mg of edibles, 1/2 ounce of "flower" (that's the dispensary's word of choice for the dried plant buds) and 2.5 ounces of extract.
Once you are cleared for entry, the hall into the dispensary has a museum feel with a timeline on the wall featuring cannabis facts, graphics and informational signs.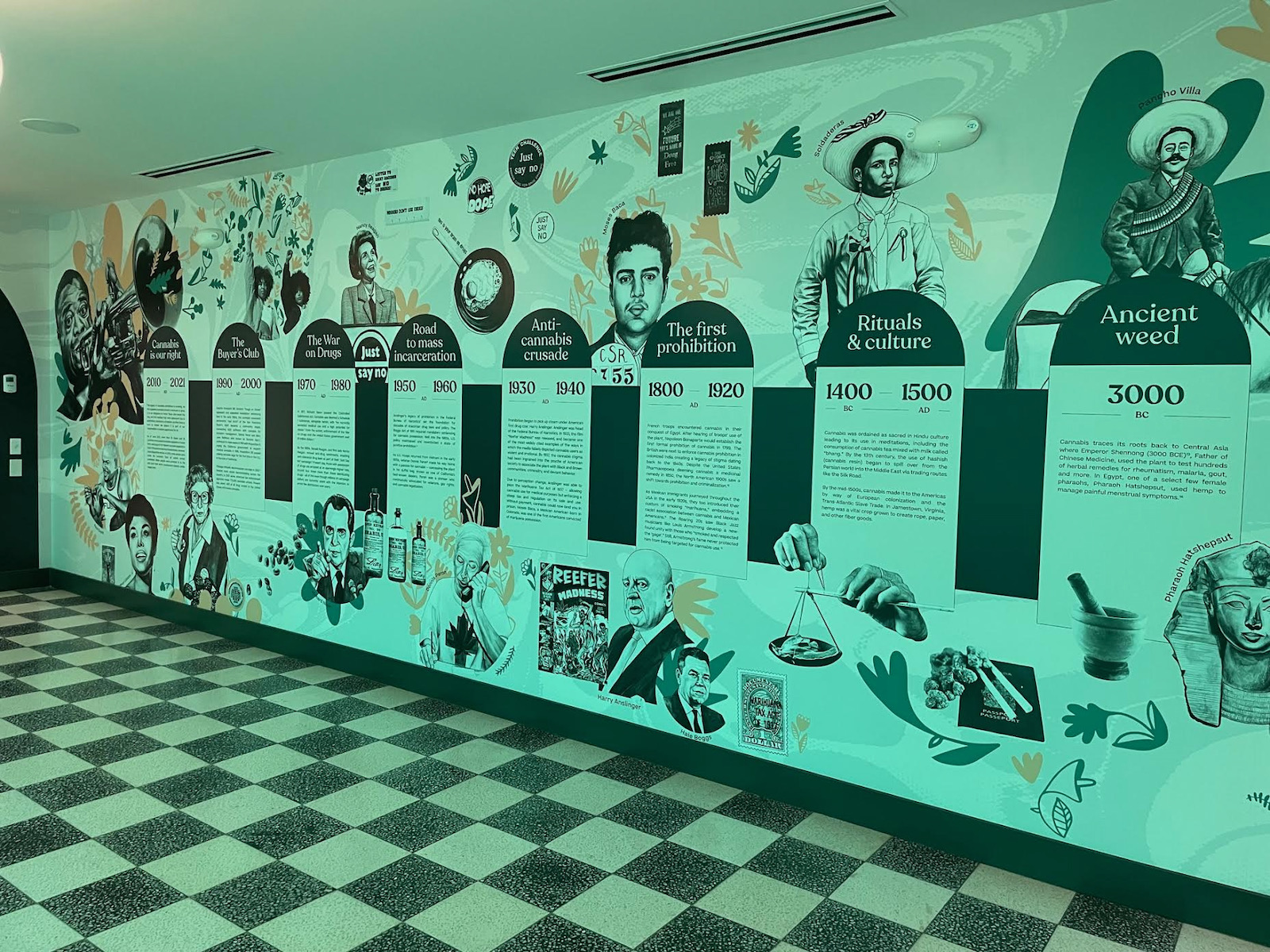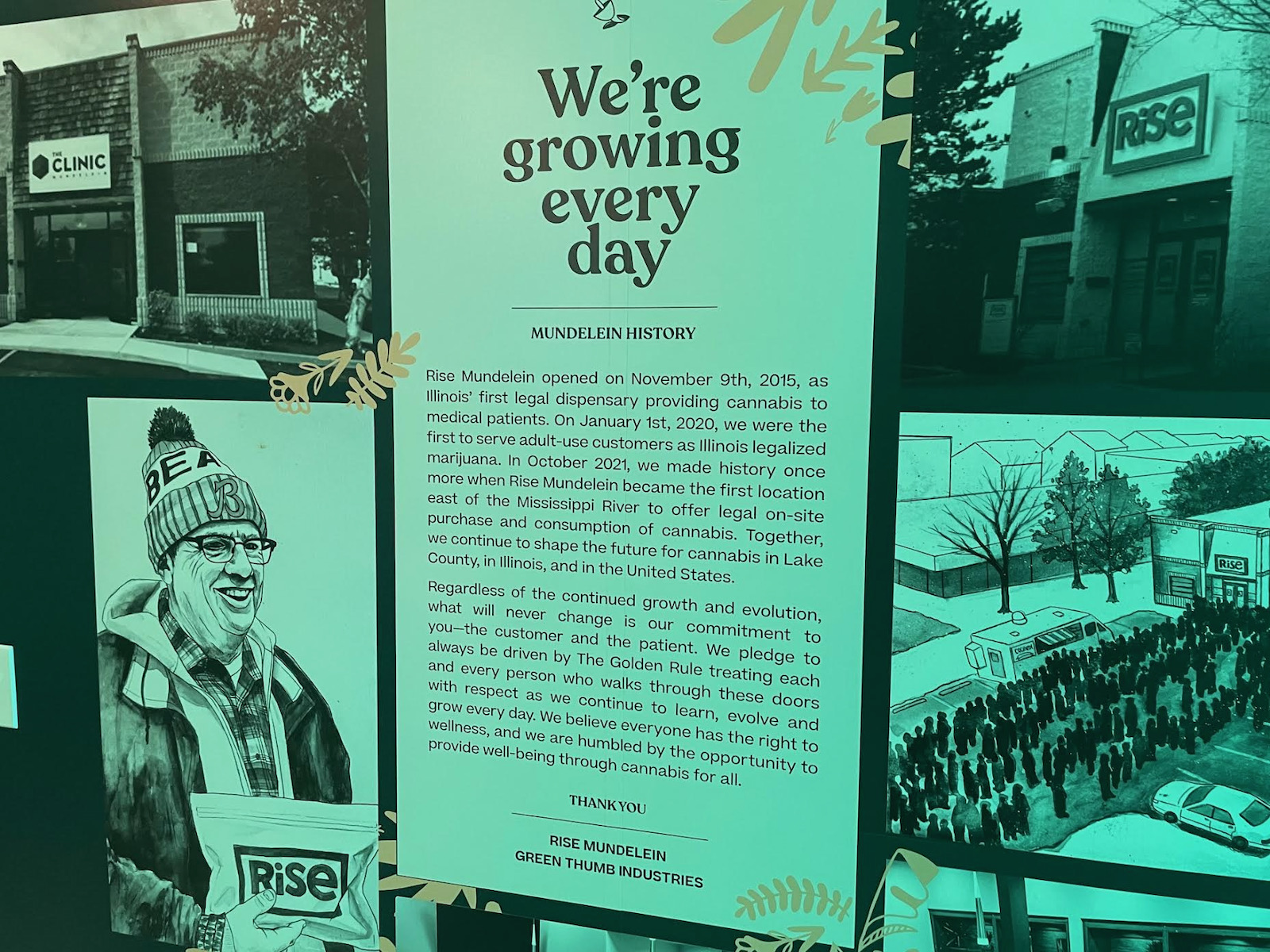 Once inside the actual dispensary, you are met by another worker who helps direct you – either to the kiosk area for on-site ordering or the check-out area to grab online orders.
The kiosk area has dozens of touch-screens, some stationed around a bar, others along the walls, where customers read about and then order products. All of the products are stored in the on-site inventory area and gathered by employees called "pickers."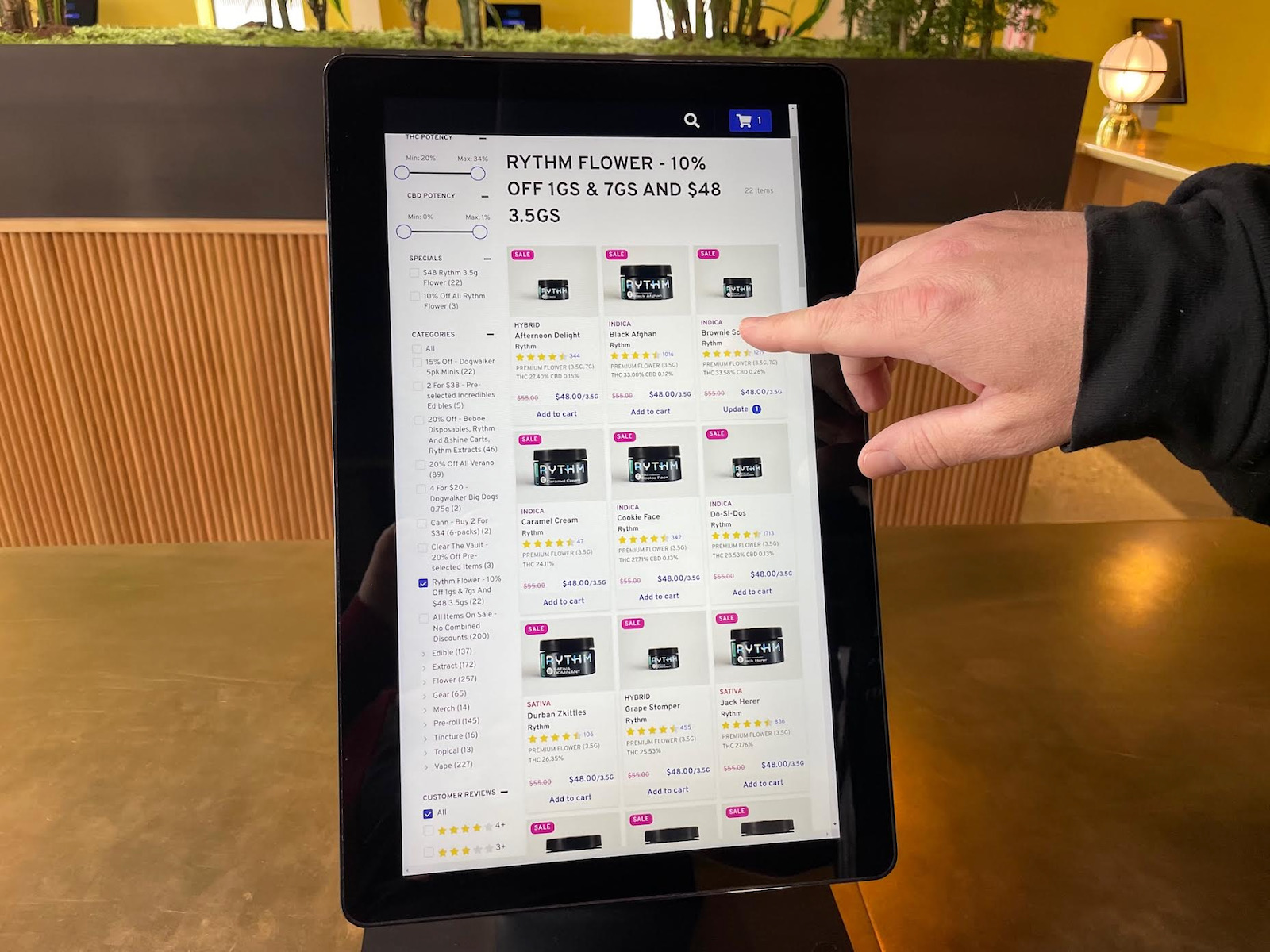 During our visit, we were approached by Abram S., a "Patient Care Specialist," who asked if we knew what we wanted or if we needed assistance.
We told him we weren't certain what to buy and had a lot of questions. This transpired into a 30-minute conversation about exactly what we wanted to accomplish, exactly how we wanted to feel and if there were any products we liked or disliked in the past.
Abram listened to our situation and then briefly and concisely explained what the different acronyms meant: THC, CBD, CBN, etc.
He asked if we were looking for pain relief, anxiety relief, sleep aids, relaxation enhancements or recreational use and inquired how we wanted to consume cannabis, with options including smoking, vaping, eating or topical application.
Despite all of the different products out there, Abram says the most popular way to consume marijuana is still ol' fashioned smoking.
Flower is available in different potencies with different effects. People who don't want to "feel high" don't have to, whereas those who do want an altering experience can choose whether they want to feel more energized (Sativa products) or relaxed (Indica products).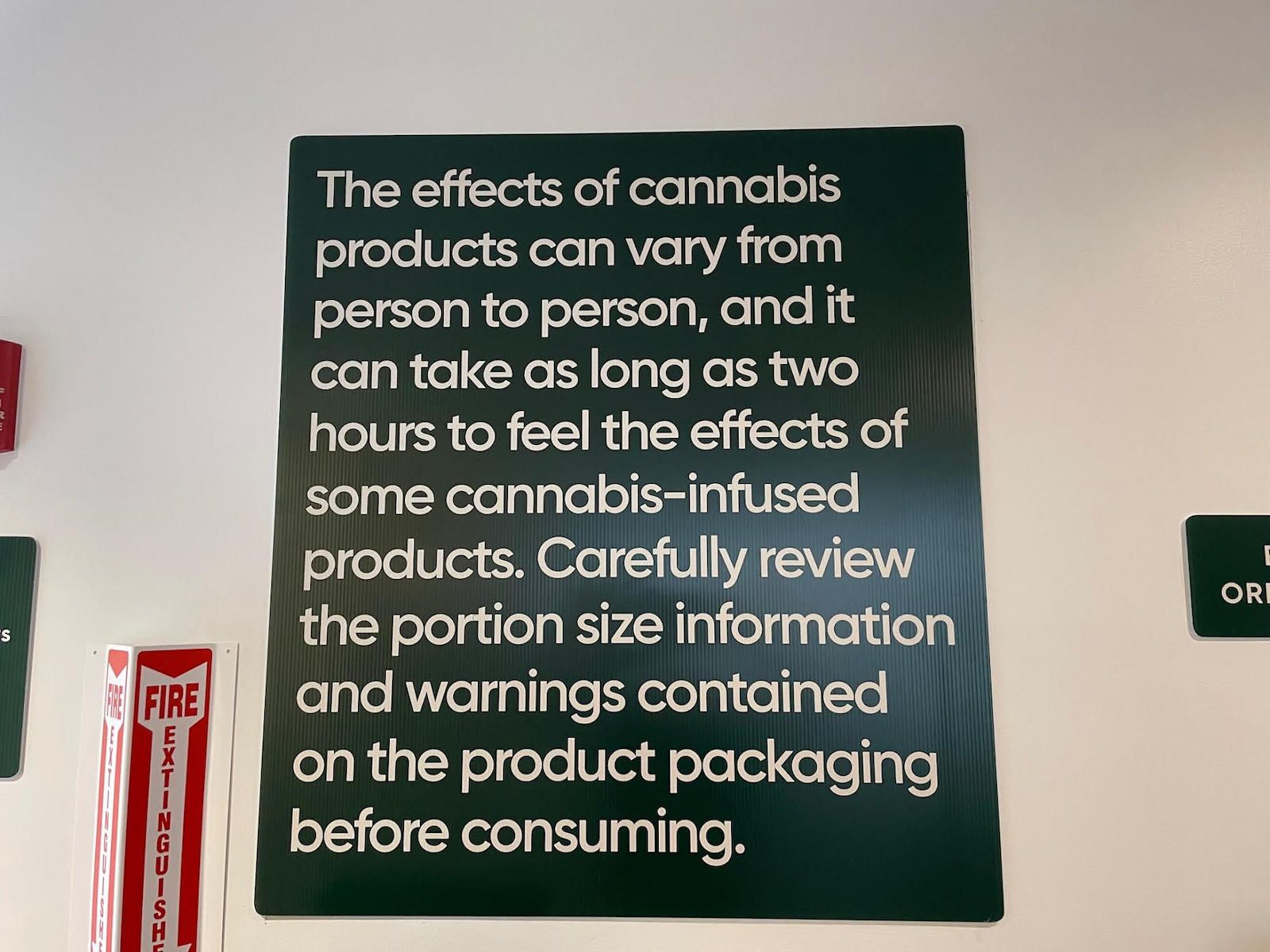 "We are happy to explain dosage and our general rule of thumb is to always start small or 'walk before you run,'" says Abram.
Edibles, also extremely popular, come in many forms, including chocolates, gummies and drinks. Tinctures, vape pens, joints, topicals, balms, lotions and sprays are also available.
"We are hear to answer any and all of your questions so we can find out what's perfect for you," says Abram. "This plant is incredibly resourceful, but the goal is to figure out how it works as a remedy for you."
$o how much?
Once customers order products via the touch screen, they head to the check out area to pay. Customers simply give the cashier the name the order is under and they retrieve it from a window connected to the inventory area.
The prices range greatly for the products and for smoking devices (glass pipes, chillums, water bongs, vapes, etc. range from $11 to a few hundred bucks) which are also available on site.
"Flower" is most commonly sold by the 1/8 ounce for $45-50 but is available in much smaller amounts, from a gram or a joint to the maximum of 1/2 ounce.
Popular brands include Rythm and Verano. All of the cannabis at Rise comes from "cultivation centers" located within the state of Illinois.
Rise features sales on different products every day. During our visit, particular pre-rolled joints – called "Dogwalkers" – were 4 for $20.
The taxes on all of the products are high, up to 33 percent per item. It depends on the THC level of the product. Other states have lower taxation.
"Price is important which is why it's important to figure out what you want and don't want before you spend money on it," says Abram.
Try before you buy
Rise customers can sample products purchased on site by reserving a two-hour time slot in a lounge, which is already expanding with construction expected to be complete in time for 4/20 Day.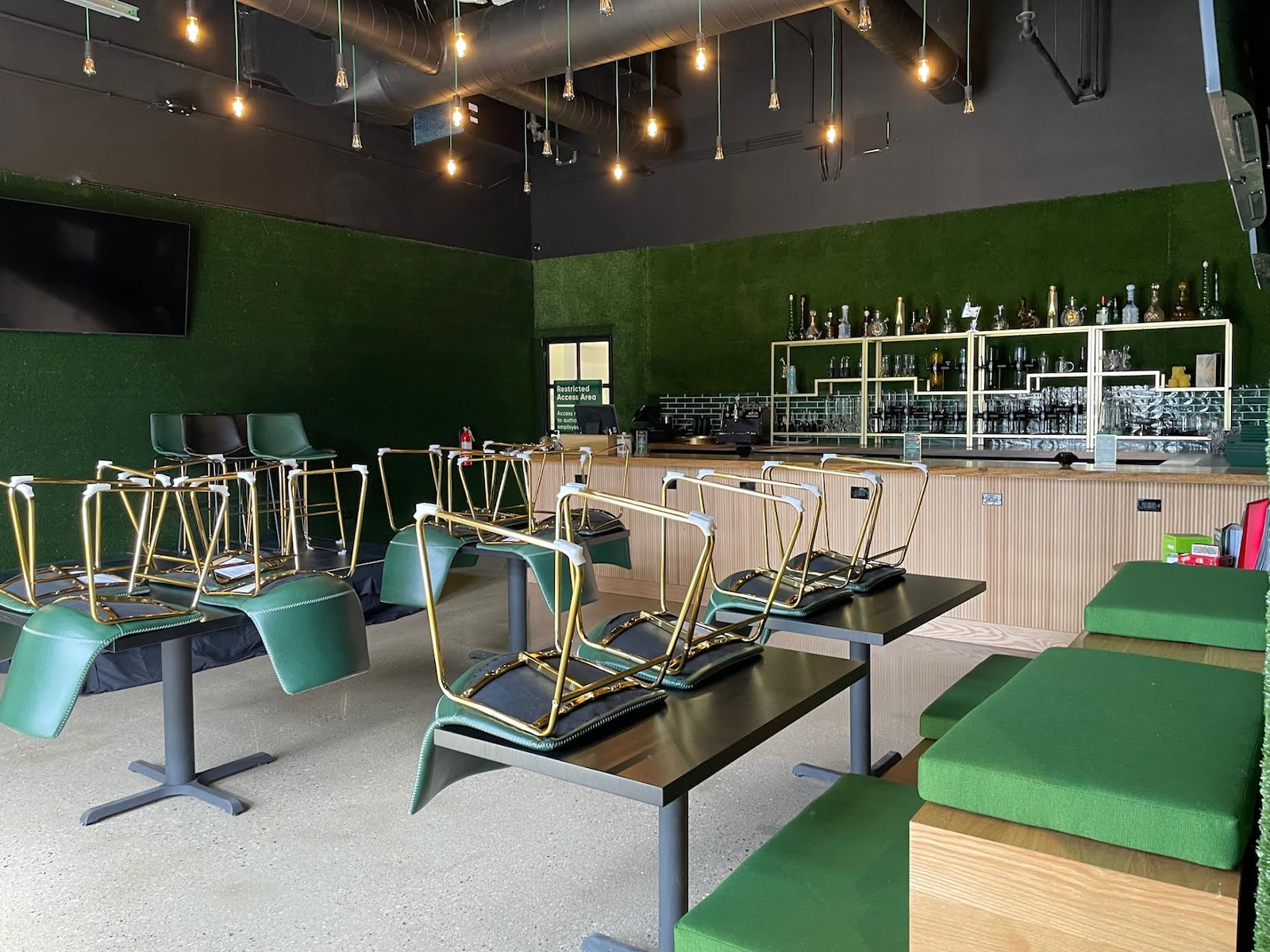 Customers reserve spots before their visit via the website or use a QR code inside the store. There is no charge to hang out in the speakeasy, which is a private area with booths, or the lounge, a larger cafe/bar type spot with large screens for videos or gaming.
Complimentary water, soda and snacks are often served.
"Sometimes people want to 'try before they buy' or stay for a while and socialize here," says Abram. "We encourage that."
Overall experience
We found Rise easy to find and even easier to navigate once inside thanks to the smart layout and helpful staff who were extremely knowledeable and, well, just plain nice. We walked away with a few different products to sample for both relief from aches and pains and for relaxation.
Overall, the experience was slightly surreal. Marijuana, which was once so hush-hush, is now completely out in the open in many states and someday, it will be in Wisconsin, too.
"THC u later!" a smiling worker said to us on the way out the door.

Molly Snyder started writing and publishing her work at the age 10, when her community newspaper printed her poem, "The Unicorn." Since then, she's expanded beyond the subject of mythical creatures and written in many different mediums but, nearest and dearest to her heart, thousands of articles for OnMilwaukee.

Molly is a regular contributor to FOX6 News and numerous radio stations as well as the co-host of "Dandelions: A Podcast For Women." She's received five Milwaukee Press Club Awards, served as the Pfister Narrator and is the Wisconsin State Fair's Celebrity Cream Puff Eating Champion of 2019.