One of the benefits of living in Milwaukee is the cost of real estate. While a one-bedroom apartment in New York City may run you more than $1 million, you can – at this very moment – nab a gorgeous and historic three-story upper East Side mansion a block from Lake Park for under $800,000.
In the 1970s, architecture and history expert Russell Zimmermann said that "the stylistic rarity and nearly mint condition," of the Anna and Gustav J.A. Trostel mansion, 2611 N. Terrace Ave., "make this an important landmark. Only the finest and most costly materials were used."
While some changes have been made to this impressive German Renaissance Revival gem in the intervening years, calling this place home would be a bit like living in a miniature Milwaukee City Hall, though to describe it as a miniature anything feels almost ridiculous when the house has eight bedrooms and an equal number of bathrooms.
The 7,723-square foot house – which is currently a triplex, with apartments on the first, second and third floors – is on the market and listed at $799,000. That seems a little like highway robbery when you consider the gorgeous vintage stained glass windows and the Cyril Colnik ironwork alone.
The mansion, built in 1899, has a gorgeous central gable that towers above the home, its shape recalling elements of Henry Koch's Milwaukee City Hall. There are half-timbered portions, jerkinhead roofs, a lovely porch with a beautiful ceiling, heavy wood brackets, a variety of ornament – including some grotesques – medieval-style buttresses and, of course, all that fine Colnik iron.
This home was the work of architects Adolph Finker (pictured at right in a 1906 newspaper photo) – Trostel's brother-in-law – and Hans Liebert, brother of the much more locally renowned architect Eugene Liebert (who designed a nearby mansion for Trostel's brother a few years later).
While both architects – who also designed the carriage house next door, which after having been moved from the the northwest corner of the lot to its current position, was sold off separately – had important connections, neither designed much else of note here in Milwaukee, it seems.
Each, however, had another calling. Finkler served as secretary/treasurer of Albert Trostel & Sons Tannery and Liebert had earned a reputation for his piano skills.
"The house's German-immigrant architects, Adolph Finkler and Hans Liebert, knew that German elites delighted in constructing mansions based on the rustic dwellings and hunting lodges of the 16th and 17th centuries," notes the entry on the home in the Wisconsin Historical Society's Architectural Inventory.
"Tannery owner Gustav Trostel, like many of Milwaukee's wealthy German Americans, must have shared this nostalgia.
"The flamboyant German Renaissance Revival style easily distinguished it from its more traditional-looking English and Colonial Revival style neighbors. The facade is dominated by a massive front-facing gable, scrolled in its first stage, then peaked and pedimented. Dressed limestone, decorative copper, clay tile and stained glass embellish the house; Cyril Colnik crafted the ornate ironwork. Third-floor dormers punctuate the steeply pitched tile roof, some of them decorated with medieval-style false half-timbering and with hand-carved human faces on the beam ends."
Folks said Trostel, who took over his father's eponymous tannery – one of the largest in a city that boasted a huge leather-making industry, with a dozen or more tanneries – around the time the home was built, was crazy for siting it so far out of town, and old photos show it sitting alone, just a few other homes off in the distance.
In his important book, "Magnificent Milwaukee," Zimmermann wrote:
"The newly platted neighborhood still looked like the farm land that it once was, and the beacon from nearby North Point Lighthouse would sweep across the empty landscape night after night. In the year before the Trostels came, only one building – a farmhouse on Summit Avenue – existed in the five square blocks bounded by Belleview Place, Downer Avenue, Terrace Avenue and Park Place.

"When the big house was built in 1899, the land to the north of it was swampy with willow trees, patches of quicksand and a pond. Children from the area built a raft there and used to swim in the pond which was near the present intersection of Terrace Avenue and Lake Drive.

"In spite of the elegance of their new mansion, the Trostel family had the hardships of pioneers on moving day. Wagon loads of furniture came up Lake Drive and their contents had to be trundled across a field to the house. One of Gustav's daughters remembered that the wagon carrying their piano bogged down in the mud and the movers had to off-load the instrument. Trostel went to his tannery and arranged for a heavier wagon and a larger team of horses to complete the job.

"The new mansion must have attracted a lot of attention standing there, with all of its finery, in the middle of a field. Terrace Avenue was later extended to Gilman Street (now Belleview Place) but Trostel had it graded just far enough to reach the new driveway. Beyond his manicured lawn, roughly-chiseled vacant lots spread out in all directions."
The roads around the house weren't paved and Trostel had an eye toward the future when he installed both gas and electric fixtures because service for the latter didn't yet exist in the area.
The home remained in the family until Anna Trostel's death in 1942, at which point the new owners tinkered it into a duplex. Further changes added a third unit on the top floor, which had been built as a ballroom and a playroom for the children.
In 1947, the current garage – which has the lower unit's master bedroom above – was added.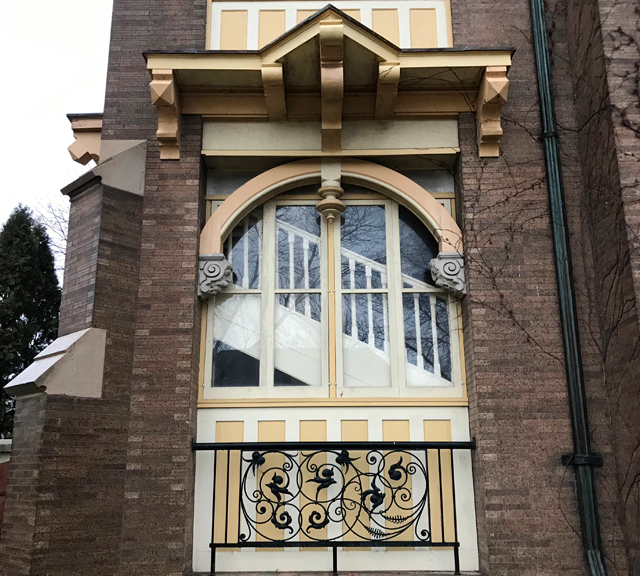 Other changes over the years were the enclosing of the two porches on the home's southeast corner and the building of a staircase within them, the removal of some ornamental features – most notably some large gargoyles – that had fallen victim to the elements and the replacement of the porch staircase.
Inside, of course, changes were made to create the apartments, and some details, like sconces and chandeliers have long since been removed, but much of the gorgeous interior remains.
The hardwood floors, with contrasting shades, are stunning. Impressive pocket doors still slide. Oak woodwork – some painted, some not – is everywhere and the ceilings are appropriately swanky.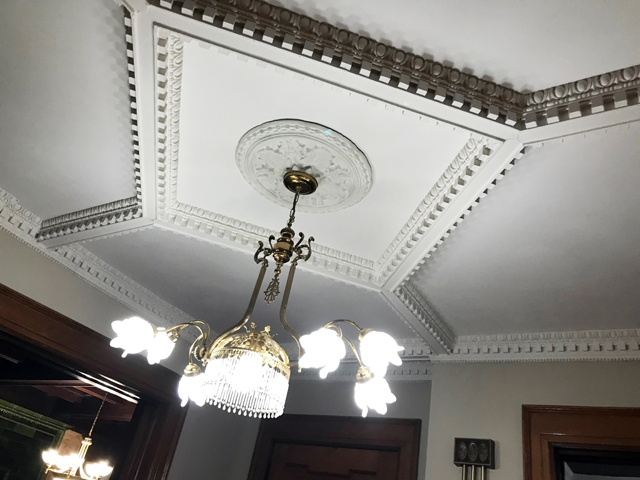 On the main floor there are fine fireplaces including two with incredibly beautiful green and brown tile surrounds.
A regal staircase leads upstairs, taking a break with a landing adorned with a tall stained glass panel depicting Queen Louise of Prussia lounging in a landscape. A three-panel arched window looks out over the porch and in a small side room facing south has another tripartite stained glass set.
Of course, the Colnik iron is a major highlight. There are ornamented tie rods out on the porch and a leafy light fixture in the entry way with a gas jet popping out. The motif carries through on the staircase and porch balustrades, too.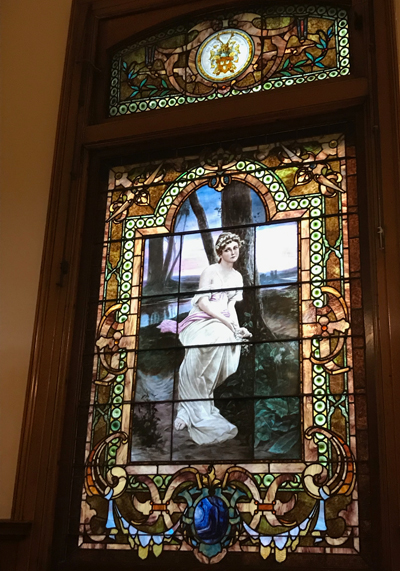 Most impressive is the complicated grille on the front door that has a spiky ball that conjures a forbidding medieval mace, as well as an engraved "T" for Trostel.
The house has been on the market a few times in recent years, at a variety of price points, but it's been listed again since last month when the first-floor tenants moved out.
While a few potential buyers have expressed serious interest, there were no official offers on the house when I visited recently. So, if you have the means and would love to live in a real Milwaukee landmark, it's time to strike while the (Colnik) iron is hot.
More Trostel Mansion photos
by Social Candy's Jeremy Baccash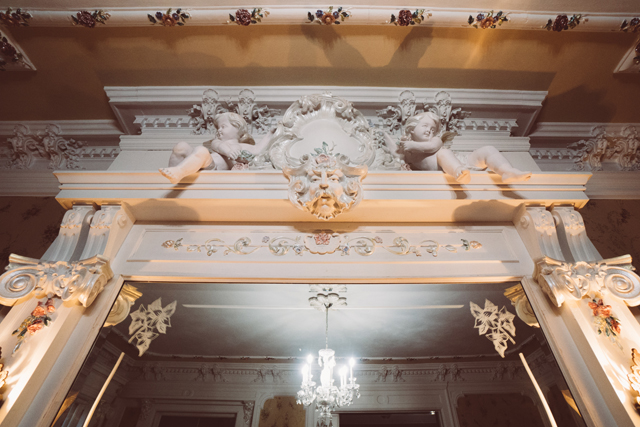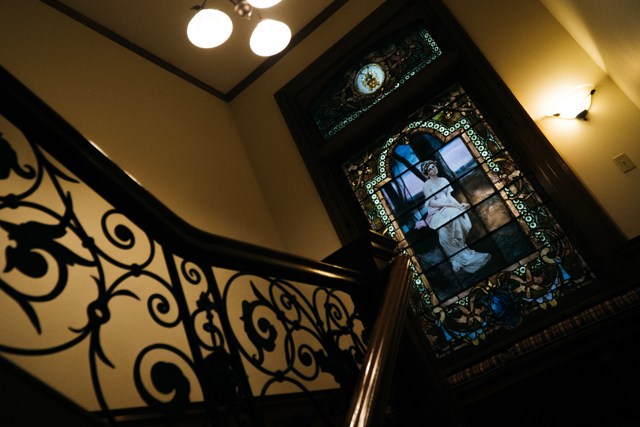 Born in Brooklyn, N.Y., where he lived until he was 17, Bobby received his BA-Mass Communications from UWM in 1989 and has lived in Walker's Point, Bay View, Enderis Park, South Milwaukee and on the East Side.
He has published three non-fiction books in Italy – including one about an event in Milwaukee history, which was published in the U.S. in autumn 2010. Four more books, all about Milwaukee, have been published by The History Press.
With his most recent band, The Yell Leaders, Bobby released four LPs and had a songs featured in episodes of TV's "Party of Five" and "Dawson's Creek," and films in Japan, South America and the U.S. The Yell Leaders were named the best unsigned band in their region by VH-1 as part of its Rock Across America 1998 Tour. Most recently, the band contributed tracks to a UK vinyl/CD tribute to the Redskins and collaborated on a track with Italian novelist Enrico Remmert.
He's produced three installments of the "OMCD" series of local music compilations for OnMilwaukee.com and in 2007 produced a CD of Italian music and poetry.
In 2005, he was awarded the City of Asti's (Italy) Journalism Prize for his work focusing on that area. He has also won awards from the Milwaukee Press Club.
He can be heard weekly on 88Nine Radio Milwaukee talking about his "Urban Spelunking" series of stories.