Last week, I reminded you Donald Trump stands tall in Downtown Milwaukee on the wall inside the iconic Safe House.
This afternoon, The Donald's local image grew even larger when Kingshead Salon, 1246 N. Van Buren St., plastered his smiling-ish mug on its high-profile billboard on the south side of the building.
Since 1968, owner Dave Lemke – with the creative help of Eichenbaum & Associates – has promoted his salon using this high-profile outdoor ad space. The Kingshead billboards, which change about every four months, have featured images of Elvis and Queen Elizabeth in the past.
"This time, we went with Trump," says Lemke. "After all, he's the most famous man in the country, and people can't stop talking about his hair. So, as a salon, we thought we'd take advantage of this."
The billboard features a portrait of Trump that illuminates his famous mane along with the words, "We Can Make Your Hair Great Again."
"There are absolutely no politics involved here, just a commentary on his hair and how much people are talking about it," assures Lemke. "And hopefully they will continue to do so for a few more months."
No word as to whether Kingshead plans to style "man buns" or not.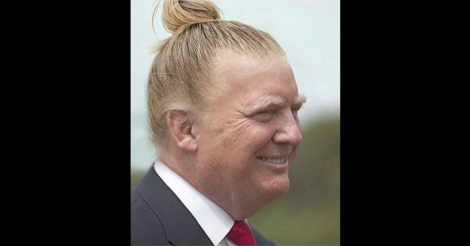 Trump will appear in Milwaukee on Tuesday, Nov. 10 for a Republican presidential primary debate at the Milwaukee Theatre, just three days after hosting "Saturday Night Live."
Molly Snyder contributed to this report.
A life-long and passionate community leader and Milwaukeean, Jeff Sherman is a co-founder of OnMilwaukee.
He grew up in Wauwatosa and graduated from Marquette University, as a Warrior. He holds an MBA from Cardinal Stritch University, and is the founding president of Young Professionals of Milwaukee (YPM)/Fuel Milwaukee.
Early in his career, Sherman was one of youngest members of the Greater Milwaukee Committee, and currently is involved in numerous civic and community groups - including board positions at The Wisconsin Center District, Wisconsin Club and Marcus Center for the Performing Arts. He's honored to have been named to The Business Journal's "30 under 30" and Milwaukee Magazine's "35 under 35" lists.
He owns a condo in Downtown and lives in greater Milwaukee with his wife Stephanie, his son, Jake, and daughter Pierce. He's a political, music, sports and news junkie and thinks, for what it's worth, that all new movies should be released in theaters, on demand, online and on DVD simultaneously.
He also thinks you should read OnMilwaukee each and every day.