It's been just less than a year since we announced that Tua Pasta would be coming to the long-vacant Riverwalk space that once housed John Hawk's Pub at 100 E. Wisconsin Ave.
But, after a series of soft openings for building employees, friends and family, father and son team Alvaro Niño de Guzman Sr. and Alvaro Niño de Guzman Jr. will be swinging the restaurant's doors open to the public. Beginning Monday, Jan. 20, you can be among the first to try the innovative concept which allows you to custom design your own pasta, salads and gelato.
Walk into the restaurant and you'll find a bright space with a clean industrial look and feel that includes an open kitchen and ordering line along with high-top seating for over 100 guests.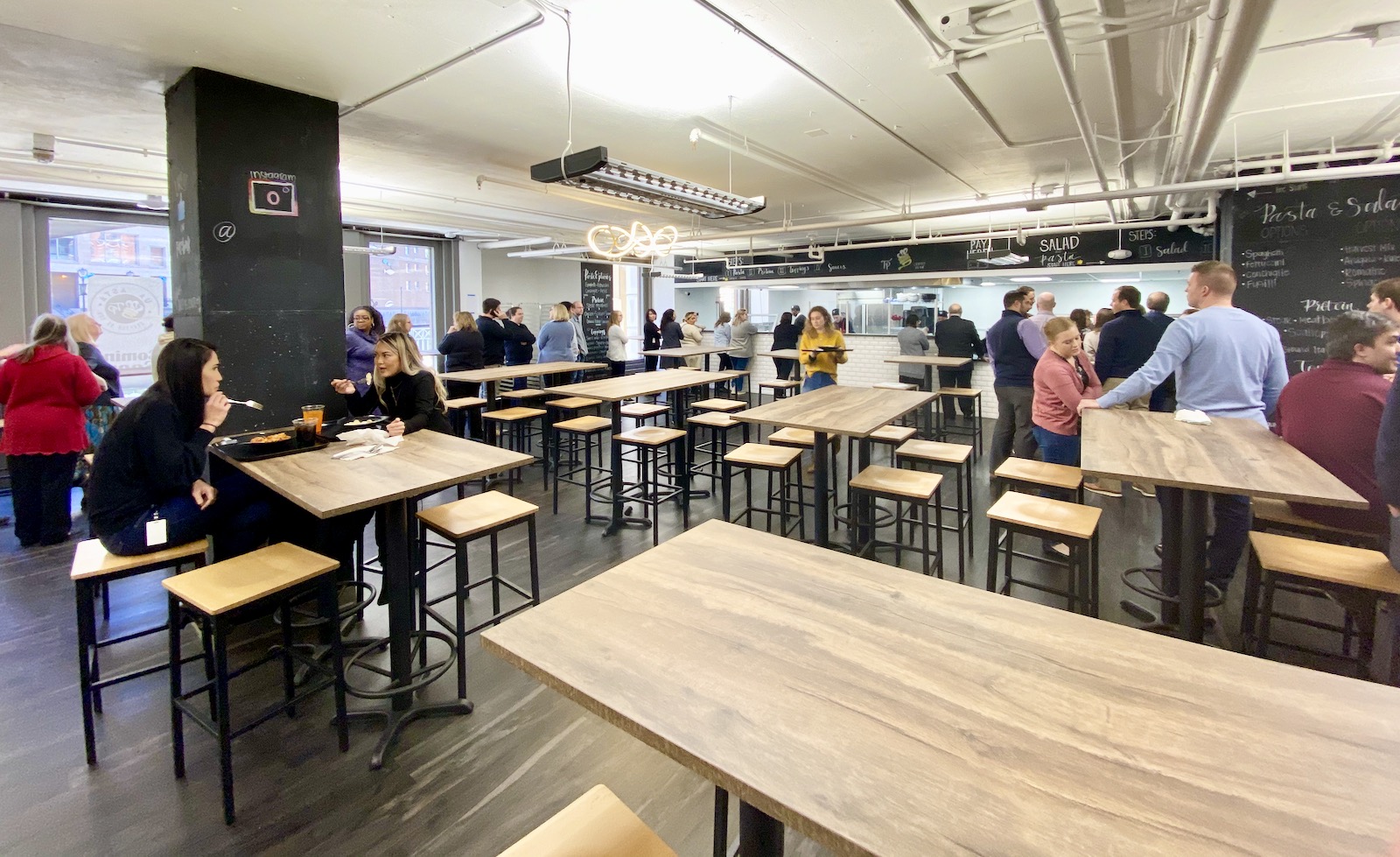 The space also features modern lighting, which co-owner Alvaro Niño de Guzman Sr. says was specially designed, much like a photography studio, allowing guests to enjoy (and Instagram photos of their food) without the interference of shadows.
Customize to your heart's content
Thanks to its unique model, there's no menu at Tua Pasta. But guests can choose their own customized dishes from a selection of toppings listed on large pillars near the ordering area, where they can watch their dishes being constructed from start to finish.
Both pastas and salads are sold for between $7-11 per bowl (with a choice of small or large portions). The price includes vegetable-based toppings and sauce or dressing. Proteins can be added for an additional charge.
Salads are available with your choice of greens (harvest mix, arugula and kale, romaine or a blend of harvest mix and spinach), and housemade fresh pasta is available in a variety of shapes including spaghetti, fettuccini, conchiglie (shells) and fusilli.
From there, you can choose from toppings including onions (sweet or red), zucchini, mixed peppers, garlic, mushrooms, squash, carrots, kale, roasted cherry tomatoes and olives. Salads can also be topped with cauliflower, strawberries or boiled egg.
Salad dressings include ranch, Caesar, blue cheese, French, balsamic, raspberry, Italian and honey mustard. Meanwhile pasta sauces range from marinara and bolognese to pesto, alfredo and four-cheese.
Protein options include steak, meatballs, ground Italian sausage, chicken, scallops and shrimp.
And if you're yearning for a sweet treat, there's also housemade gelato, which is churned to order with inclusions like chocolate, fruits and nuts. Currently, guests can choose from two base flavors for gelato, but Guzman Sr. says they will be adding additional gelato machines (and hence their selection) in the months ahead.
Beginning Monday, Jan. 20, Tua Pasta will be open Monday through Saturday from 11:30 a.m. to 9 p.m. (closed on Sundays). Guzman Sr. says they are likely to expand their hours during the summer months when folks can enjoy their customized creations on the restaurant's beautiful Riverwalk patio.
Lori Fredrich (Lo) is an eater, writer, wonderer, bon vivante, traveler, cook, gardener and girlwonder. Born and raised in the Milwaukee area, she has tried to leave many times, but seems to be drawn to this quirky city that smells of beer and alewives.
Some might say that she is a little obsessed with food. Lo would say she is A LOT obsessed with food. After all, she has been cooking, eating and enjoying food for decades and has no plans to retire anytime soon.
Lo's recipes and writing have been featured in a variety of publications including GO: Airtran Inflight Magazine, Cheese Connoisseur, Cooking Light, Edible Milwaukee, Milwaukee Magazine and the Milwaukee Journal Sentinel, as well as on the blog Go Bold with Butter, the web site Wisconsin Cheese Talk, and in the quarterly online magazine Grate. Pair. Share.