Feeling hungry? Maybe you're craving dumplings from Dandan. Tabouleh from Casablanca. Or a Barrie Burger from AJ Bombers.
Well, thanks to digital technology, there's now yet another way to satiate your craving.
UberEATS officially launches its Milwaukee delivery service today. And – although UberEATS currently already operates in 50 cities in 20 countries around the world – it's the first of its kind in Wisconsin.
UberEATS allows customers to order food from more than 70 Milwaukee restaurants – including AJ Bombers, Casablanca, Dandan, Dopp's Bar & Grill, FreshFin Poke, Huan Xi, Merriment Social, Sake Tumi, Santino's Little Italy, Smoke Shack and more – as quickly and easily as getting a ride.
In fact, the same network of UberX drivers who will take you home after a night of bar-hopping will also deliver your lunch or dinner. Thanks to an expansive delivery network, UberEATS can also deliver meals over large distances.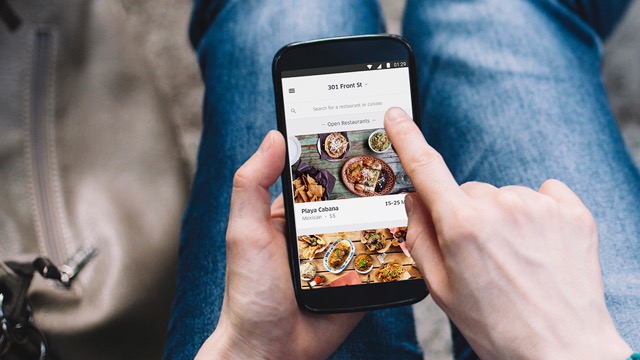 How does it work?
Using UberEATS is easy, particularly if you already have an active Uber account.
In that case, you just need to download the UberEATS app (or visit UberEATS.com) and log in using your Uber credentials. Search for the restaurant from which you'd like to eat, peruse the menu and place your order. A delivery fee of $4.99 will be added to your order, and your bill will be paid with the credit card you already have on file.
Uber has also employed its tracking technology to UberEATS. So, you can even watch in real time as your order is picked up and delivered directly to your current location.
During the UberEATS launch, new users will receive $10 off their first two orders using the promotional code EATSMKENOW.
Lori Fredrich (Lo) is an eater, writer, wonderer, bon vivante, traveler, cook, gardener and girlwonder. Born and raised in the Milwaukee area, she has tried to leave many times, but seems to be drawn to this quirky city that smells of beer and alewives.
Some might say that she is a little obsessed with food. Lo would say she is A LOT obsessed with food. After all, she has been cooking, eating and enjoying food for decades and has no plans to retire anytime soon.
Lo's recipes and writing have been featured in a variety of publications including GO: Airtran Inflight Magazine, Cheese Connoisseur, Cooking Light, Edible Milwaukee, Milwaukee Magazine and the Milwaukee Journal Sentinel, as well as on the blog Go Bold with Butter, the web site Wisconsin Cheese Talk, and in the quarterly online magazine Grate. Pair. Share.