Milwaukee is filled with hidden retail gems boasting unique collections of housewares, clothing, jewelry and one-of-a-kind gift items. In this series, we're highlighting some of the best of the bunch and giving you all the information you need to shop smarter while supporting local artisans and business owners.
Swoon Trinkets & Doodads
5422 W. Vliet St.
swoonllc.com
Kira Wendel started her entrepreneurial retail career in 2001 when she opened a local artist consignment shop called The KukaBana Tree in Riverwest. She and her husband also created and sold works at local craft fairs until 2009, when she was diagnosed with a chronic illness and forced to stop working for a spell.
In 2013, Wendel met Waxwing and Milwaukee Home owner, Steph Davies. Wendel accepted a position at Waxwing for a couple of years, but when she saw a retail space open a block from her home she knew it was time to strike out on her own again.
In the early stages of developing Swoon, Wendel experienced a few setbacks, but she was finally able to open the innovative art-and-gift shop in October of 2016. Swoon sells a large variety of gifts for all ages including handmade clothing, art, jewelry, soaps, lotions, cards, patches, toys and more from local and national artists. The business also hosts workshops and events for people of all ages.
Swoon specializes in unique, quality children's toys. "We focus on what I call 'heirloom toys,' meaning toys that will last and can be handed down for generations," says Wendel. "We also look for toys that spark imagination."
Recently, Wendel secured a Kiva loan and was able to expand the shop into adjoining space she had been already paying rent on for more than a year.
"Kiva has been a great tool for a small business. It feels great to have people rally around who want to see you succeed. And because of the support we've been able to add more artists and more trinkets and doodads for people to swoon over," says Wendel.
Swoon will participate in the neighborhood's Holiday Happenings taking place on Nov. 15-16 as well as Good Karma Friday – a different approach to Black Friday that includes a donation aspect of all sales.
"This is especially important to me because when I was a kid an organization showered me and my family with gifts," says Wendel. "I am so grateful to be a part of such a wonderful community and able now to give back."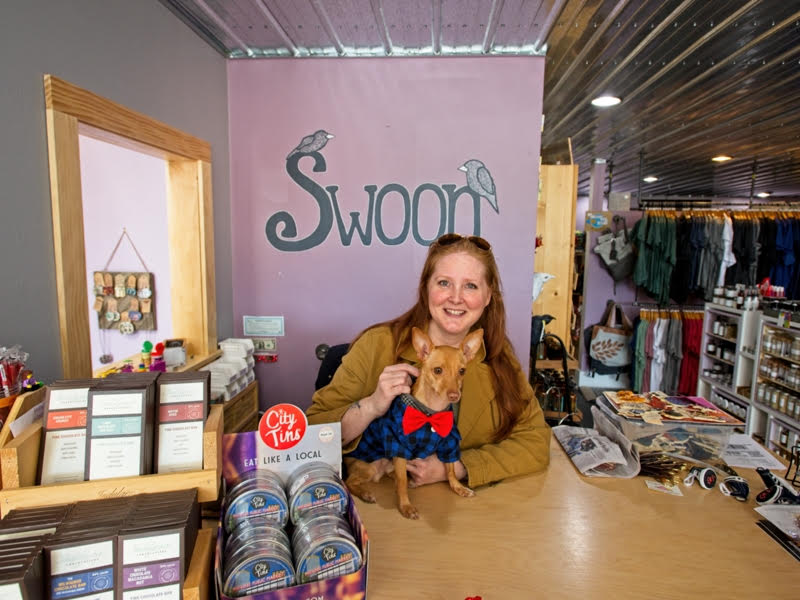 Molly Snyder started writing and publishing her work at the age 10, when her community newspaper printed her poem, "The Unicorn." Since then, she's expanded beyond the subject of mythical creatures and written in many different mediums but, nearest and dearest to her heart, thousands of articles for OnMilwaukee.

Molly is a regular contributor to FOX6 News and numerous radio stations as well as the co-host of "Dandelions: A Podcast For Women." She's received five Milwaukee Press Club Awards, served as the Pfister Narrator and is the Wisconsin State Fair's Celebrity Cream Puff Eating Champion of 2019.