Earlier this week, OnMilwaukee reported that the storied, iconic Up & Under Pub on Brady Street would shutter its doors on Sunday, Sept. 27 after being in business since 1977.
"This is not our choice," says owner Tim Brodersen, who owns the bar with his wife, Jill. "We never saw this coming."
Brodersen says he received a letter from his landlord, Pete Wolbersen, earlier this month asking him to vacate the building by Oct. 1.
"We were on good terms. For the first time ever, we didn't pay rent for a few months during Covid, but we had worked that out and were repaying what we owed every month," says Brodersen.
OnMilwaukee reached Wolbersen via the phone, but he would not disclose why he evicted the Up & Under nor what his plans were for the future of the space.
"I won't answer any questions until they are out," says Wolbersen.
Brodersen owns the "Up & Under" name and hopes to move the concept to another building.
"We're currently looking for a place to move," says Brodersen. "The Up & Under is a Milwaukee institution and it can't end like this, without any logic or explanation."
Brodersen bought the Up & Under Pub in 2006. A musician living in Chicago at the time, Brodersen had visited the bar many times, so when the opportunity to buy presented itself, Brodersen jumped at it.
"Every time I was in Milwaukee, I'd always end up at Up and Under. It had some kind of charm," says Brodersen. "I bought it through a freak happenstance. My brother pulled up on Brady – he was going to buy cigars across the street – and someone came out from inside the bar and said, 'are you here about buying the Up & Under?'"
Brodersen's brother said no, he wasn't, but if they were looking for someone to buy the business, he had the perfect guy in mind.
"My brother called me and said, 'Hey, your favorite watering hole in Milwaukee is for sale,' and I never looked back," says Brodersen, who moved to Milwaukee for the opportunity 14 years ago. After living in Brewers Hill for many years, he and Jill now reside in Whitefish Bay with their three daughters.
"This is the farthest we've ever lived from the bar," says Brodersen.
Brodersen enjoys hosting live music as much as he loves to bartend and interact with his staff and customers.
"It is never work for me. "It's a lot of meeting people and musicians, and and a lot of having fun, but never work," says Brodersen, who plays guitar, bass and recently taught himself to play piano during the stay-at-home order.
Although deeply disappointed, Brodersen says he's determined to keep the Up & Under going in a new location.
"It was a dream come true to get this bar, and it's not over," says Brodersen. "I love this place, but I also know it's more than a place."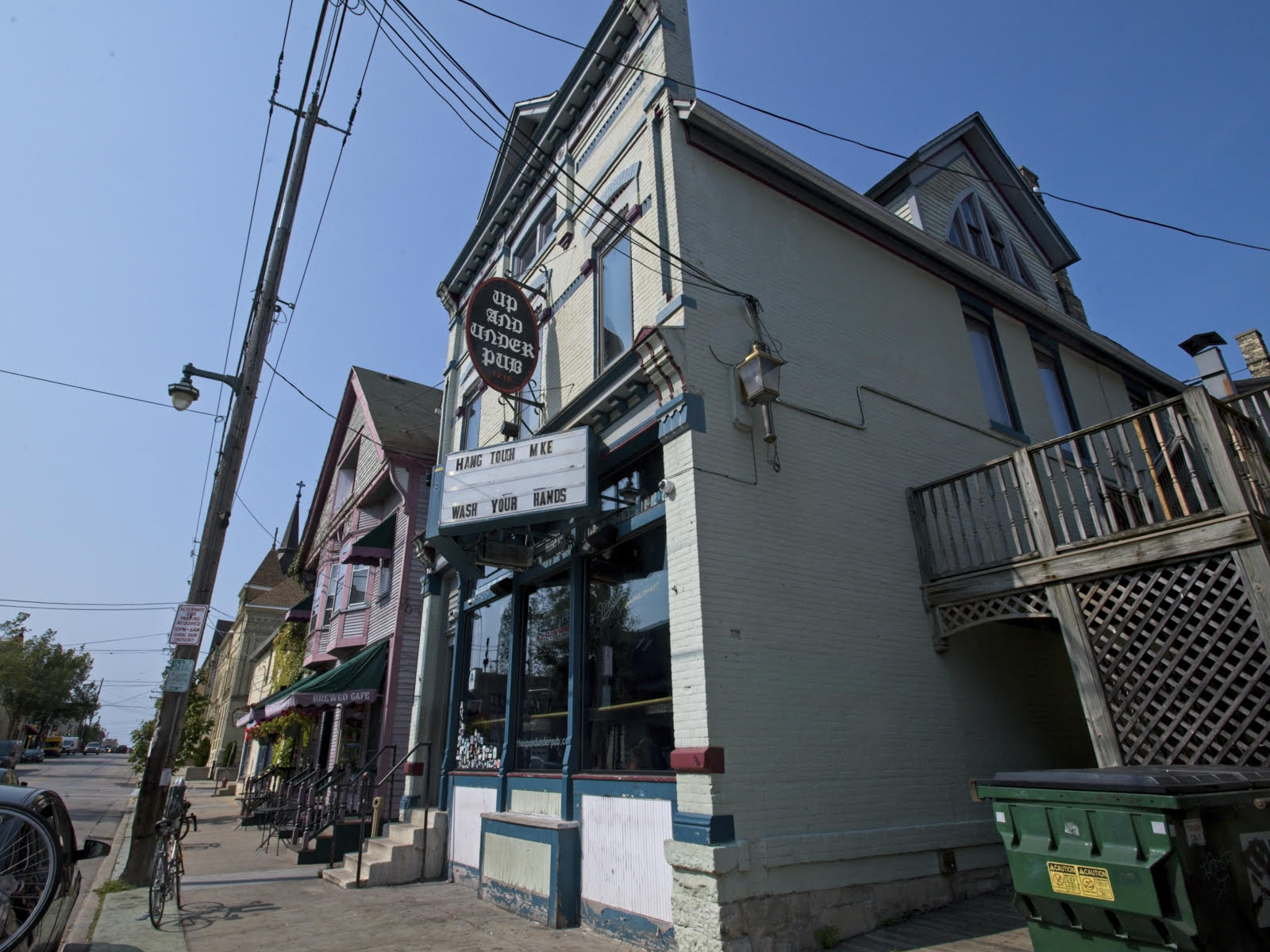 Molly Snyder started writing and publishing her work at the age 10, when her community newspaper printed her poem, "The Unicorn." Since then, she's expanded beyond the subject of mythical creatures and written in many different mediums but, nearest and dearest to her heart, thousands of articles for OnMilwaukee.

Molly is a regular contributor to FOX6 News and numerous radio stations as well as the co-host of "Dandelions: A Podcast For Women." She's received five Milwaukee Press Club Awards, served as the Pfister Narrator and is the Wisconsin State Fair's Celebrity Cream Puff Eating Champion of 2019.