All of Milwaukee's most recognizable and best-known firehouses were the work of folks like Thomas Philpot and, especially, Sebastian Brand. Think of the Chief Lippert station on North Avenue or the home of Engine Co. 3, or memories of the old Beulah Brinton Community Center in Bay View.
Charles Malig designed many MFD quarters – including some you surely recognize – but that his signature contribution to the genre makes a quieter statement is not an accident.
Malig, as I've written before, was born in 1879 and studied engineering and design and then apprenticed in architectural firms. After being hired by the city's Bureau of Bridges and Buildings in 1911, Malig began to design a wide variety of utilitarian structures – hospitals, DPW sheds, bridge houses, police stations.
Looking up into the hose drying tower at the old Engine 23 quarters on Oklahoma Avenue.
He designed the fireboat house on Water Street in the Third Ward and the art deco MFD high-pressure pumping station on the western edge of Bay View, too. His first firehouse, in 1915, on Vliet Street, was the first designed for motorized fire trucks. No hayloft required.
From 1926, the city erected five firehouses that Malig designed to nestle snugly into their mostly residential neighborhoods. Malig riffed on the popular bungalow house design to create these unified designs – with variations – that have come to be called bungalow firehouses.
Fortunately, all five of the stations survive, though only one remains active as a firehouse. Three of the five have been designated as historical landmarks.
"These fire houses were built within a relatively brief time span and although called 'bungalow style fire houses' at the time of their construction due to their low residential profile, they feature details that we would call Colonial Revival or Georgian Revival today," noted the landmark nomination report prepared by the city.
The houses are all one- or one-and-a-half-story structures with tan or gold brick exteriors bolstered by corner quoins. They all have hose-drying towers (though in varying locations) in the back and they all have their dormitories and offices on the main floor, instead of upstairs as in older firehouses.
The kitchen at the former Engine 23 on Oklahoma Avenue.
They're all gabled, with a large garage door, and some had entry area porches, making them look very much like residential houses.
The designation report pointed out that the new design was a product of its time.
"The efforts at building fine new fire stations coincided with Socialist Mayor Daniel Hoan's goal (of) bringing well-run, honest and efficient city services to all areas of the city. In many ways the 1920s can be thought of as the golden era of civic improvements in Milwaukee with the completion of Lincoln Memorial Drive in 1929, and the construction of many new parks pavilions, handsome ward yard buildings, the Kilbourn Avenue Bridge and public bus shelters and comfort stations."
Malig and Milwaukee were not the only ones working to integrate firehouse architecture with surrounding neighborhoods. Check out these, for example, in Fort Worth (1928) and Sacramento (1917!).
Engine Co. 34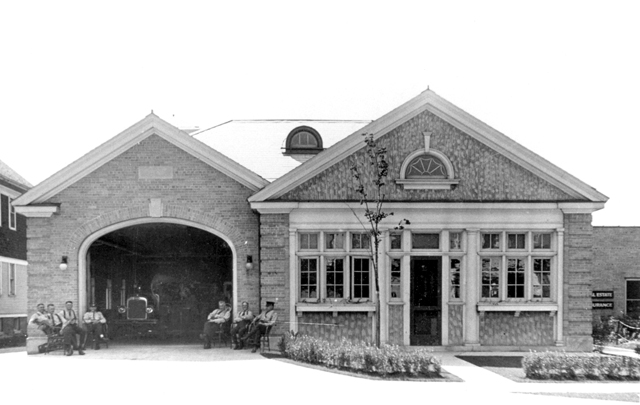 (PHOTO: Courtesy of Jim Ley)
The first to be erected, in 1926, was Engine Co. 34 at 2669 N. 47th St., a few doors south of Center Street. Changes here are why this one was not landmarked, but it's still obviously a bungalow firehouse if you stop by to take a look, even though it is now used as a residence. Engine 34 relocated to another, newer Malig firehouse at 62nd and Burleigh in 1949.
Engine Co. 23
Engine 23, 1615 W. Oklahoma Ave., was built next, in January 1927, at a cost of $43,275 (about $13,000 more than Engine 34's quarters a year earlier). This one is now home to the Milwaukee Fire Education Center and Museum. Engine 23 is now housed at 1400 S. 9th St. If you want to see what these firehouses looked like inside, visit the museum.
Engine Co. 22

(PHOTO: Courtesy of Jim Ley)
The bungalow firehouse at 2901 N. 30th St., at Locust Street, was erected as home to Engine 22 (which is now housed at 88th and Lisbon) in June 1927, and was almost identical to the one on Oklahoma Avenue, but cost slightly less ($36,250). Now enlarged, this firehouse is still active and serves as quarters for Engine 13. The 1994 expansion created a new kitchen, rec room, officers' quarters and laundry room.
Last week, the station was closed after six shots were fired into it. Fortunately, no one was injured. Engine 13 was temporarily relocated to Station 5 on Reservoir Avenue and returned to its quarters on Wednesday.
Engine Co. 35
While 22 was under construction, work began on Engine 35's quarters at 407 N. Hawley Rd., which is quite similar to the examples on 30th Street and on Oklahoma Avenue. In the early years of the 21st century, a new station was built around the corner and Enterprise Art Glass, whose owner Andy Paremski is an enthusiast of these structures, moved in.
Engine Co. 36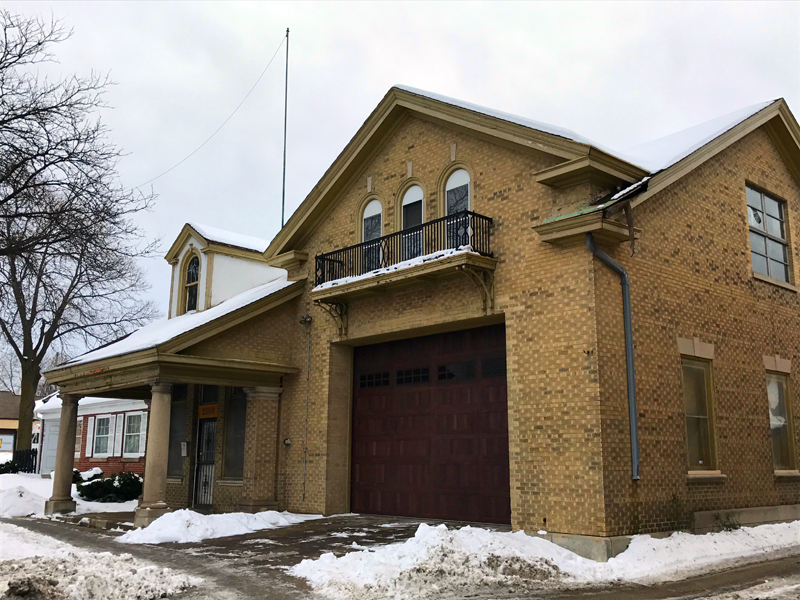 The final bungalow firehouse was built at 2509 W. Capitol Dr., where it can still be seen. Completed in June 1928 (when its address was 2409 Atwater Rd.), at a cost of $29,000, this one is really nestled into its location, a small lot on the south side of the street.
Originally home to Engine 36, that crew is now housed nearby on 27th Street, just north of Capitol. The old quarters is now privately owned and may serve as a residence.
Significance
"The five bungalow fire houses are significant for their innovative design and their what they represent about local government in the 1920s," the historic report noted.
"As the City of Milwaukee grew in size through annexations the need for fire protection was met by the construction of a series of fire houses located in primarily residential areas. One-story structures with combination gable-hip roofs integrated well into the fabric of the burgeoning residential neighborhoods and neighborhood commercial districts."
Born in Brooklyn, N.Y., where he lived until he was 17, Bobby received his BA-Mass Communications from UWM in 1989 and has lived in Walker's Point, Bay View, Enderis Park, South Milwaukee and on the East Side.
He has published three non-fiction books in Italy – including one about an event in Milwaukee history, which was published in the U.S. in autumn 2010. Four more books, all about Milwaukee, have been published by The History Press.
With his most recent band, The Yell Leaders, Bobby released four LPs and had a songs featured in episodes of TV's "Party of Five" and "Dawson's Creek," and films in Japan, South America and the U.S. The Yell Leaders were named the best unsigned band in their region by VH-1 as part of its Rock Across America 1998 Tour. Most recently, the band contributed tracks to a UK vinyl/CD tribute to the Redskins and collaborated on a track with Italian novelist Enrico Remmert.
He's produced three installments of the "OMCD" series of local music compilations for OnMilwaukee.com and in 2007 produced a CD of Italian music and poetry.
In 2005, he was awarded the City of Asti's (Italy) Journalism Prize for his work focusing on that area. He has also won awards from the Milwaukee Press Club.
He can be heard weekly on 88Nine Radio Milwaukee talking about his "Urban Spelunking" series of stories.