"It's a seven-story building made out of wood and brick," says Bear Development's S.R. Mills, as we gaze through a cream city brick arch, down into what will become elevator shafts in the new Homewood Suites hotel that the Kenosha-based developer is retrofitting into the old Button Block, 500 N. Water St.
Ironically, had the 1892 building – which just snuck in before steel frames became the norm for such structures – been erected with steel, Mills says, it may have met its demise in a blaze that took place in 1992.
Steel, Mills says, would likely have melted or bent. Instead, the solid wood posts and beams stood firm, suffering only a layer an inch or two thick of the kind of scaly charring that firefighters call "alligatoring."
And so, the building that Henry H. Button's son built as a monument to his father, remains standing today, a gorgeous red sandstone Richardson Romanesque testament to the kind of solid construction that built Milwaukee.
In May, Bear expects to open a 94-room extended stay Homewood Suites hotel on all seven floors. The adjacent empty lot to the north will become a valet driveway, the basement will have a splash pad for the kids to enjoy while mom and dad are in the nearby hot tub and each floor will have 14 guest rooms.
Most of those rooms – which will all have kitchenettes – will be slightly larger than your typical hotel room, running about 450 square feet and up, and many will offer great views, especially the ones in the turret that architects Crane and Barkhausen included in their sturdy design.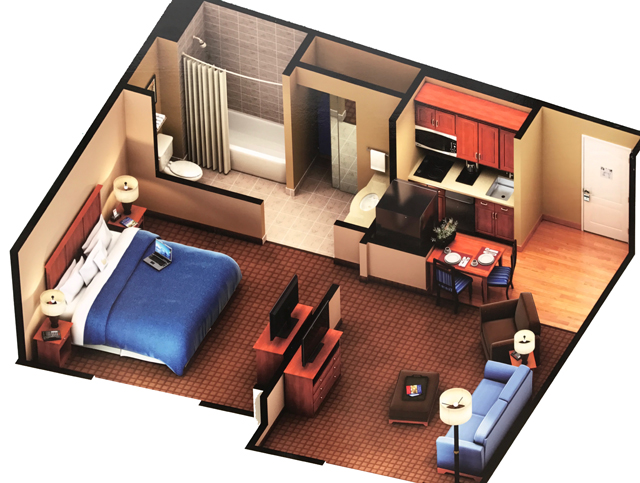 Dr. Henry Harrison Button – aka "Doc Button" – was born in Wallingford, Vermont, in 1818 and studied at Brown University and then under the tutelage of a doctor in Brooklyn. After working as a private tutor in Virginia, Button returned to Brooklyn, where he practiced medicine for four years before moving to Milwaukee.
Button's friend – and a cousin of his wife's – Thomas Greene bought Henry Fess Jr.'s drug store and lured Button to come partner with him in running it. The two created a successful wholesale and retail pharmacy enterprise.
The business did well enough that Button could afford to hire Edward Townsend Mix to draw him a gorgeous Italianate cream city brick mansion on Martin (now State) Street. That building still stands at number 1024.
When Button died in 1890, his family wanted to build an enduring monument to him.
Button's eldest son Charles tapped Crane and Barkhausen to design a building for the northeast corner of Water and Huron (now Clybourn) Streets, which had been home to Paul Bechtner's vinegar factory until it was consumed by fire.
"The ruins (of the vinegar factory) would have been removed long ago," noted The Sentinel at the time, "but the estate wanted to find a desirable tenant for the new building which it intended to erect. Finally Charles P. Button, the agent for the estate, secured two local concerns which will occupy the building," which the paper declared to be "a model of architectural beauty."
The site of the new building was a significant one for Charles, who had been born in the United States Hotel that once stood on the site. Indeed, a posthumous report confirmed that the Button Block was built in homage to his father, but added that it was also a "commemoration of his (own) birth."
Charles Button graduated from Harvard with honors and spent a year in Europe before returning to join his father's company, Greene and Button. Later, he also owned the Phoenix Knitting Works and a shoemaking company in South Milwaukee.
The younger Button wouldn't be around to enjoy the new building long himself. On May 7, 1897, he fell dead in the street near The Pfister, a victim of "apoplexy," a stroke or cerebral hemorrhage. He was just 45 years old.
Despite their absence, the Buttons' eponymous building would endure. Milwaukeeans today likely best remember it as home to Joey Buona's restaurant, which closed about a year ago. Others may recall a string of nightclubs and restaurants in the space, including The Mad Hatter, Park Avenue, Bermuda's, Brett Favre's Steakhouse and Nitro, which is what was operating when disaster struck on Sept. 29, 1992.

(PHOTO: Courtesy Bear Development)
The building was in the process of being renovated when on a Thursday night at just after 10 p.m. a fire broke out.
"We were coming back from Chicago and we just decided to drop in and see how renovation was going," Bob Fisher – who along with his brother Ed was renovating the club – told the Sentinel.
"When we got in, we smelled smoke and then someone started pounding on the door and told us there was a fire on the fifth or sixth floor. The next thing I knew, windows were popping out."
"I was walking out and I turned the corner and I said, 'I smell smoke,'" Beverly Santoro, who had been at the Swingin' Door, told the Sentinel. "There was just a glow in one window, then the glow spread to another window. Then all of a sudden the second floor ignited with light and blew out the windows."
A construction worker involved in the project said the renovations were 90 percent done at that point. Five bars had been installed in the three-tiered club, which was also getting VIP rooms, new lighting and audio equipment.
The paper reported that about 150 firefighters and 14 engines were on hand to battle the four-alarm blaze that began on the sixth floor and spread to the seventh, keeping firefighters on the scene into daylight Friday. Though the top three floors of the building were extensively damaged, no one was hurt.
In the years since the fire, very little has gone on in the building aside from the first- and second-floor restaurant space, where Brett Favre's Steakhouse opened in 1997 and was replaced in 2001 by Joey Buona's.
Mills is eager to maintain as much of the building's character as possible. Outside, not much will change (though there are new windows and a rickety fire escape has been removed from the back) – the National Park Service generally sees to that in buildings like the Button Block, which is on the National Register of Historic Places.
Inside, a pair of elevators is being installed in the north half of the building and those 14 rooms are being added to all the upper floors. Most will retain original features, like high, wood ceilings and heavy wood window frames. The building's interior cream city brick will be exposed in the corridors.
On the first floor, there will be reception (facing Water Street) and guest dining areas (facing Clybourn), with a kitchen in the southeast corner. In the basement, once work is completed on new concrete caps for the building's wood pilings and a system to keep the pilings safe is installed, a fitness area, splash pad and hot tub will be put in.
The driveway to the north will allow guests to turn in off Water Street, drop at the north entrance, and continue on to park in the lot just east of the hotel. Bear has a long-term lease for that surface lot.
Mills said that the biggest surprises to come during the work have been some little discoveries, like a Sons of the Revolution register book (pictured below) from the 19th century still in the basement safe (seen at right), and a variety of old bottles and other items turned up while digging up the basement to install a system that will keep the wood pilings sufficiently covered with water.
Flexibility in design was a big draw to the Homewood Suites brand, said Mills, who noted that such that flexibility allows developers to retrofit Homewood Suites hotels into historic structures like the Button Block.
Homewood Suites hotels also occupy historic buildings like this one on the National Register in San Antonio, this especially ornate one in Cincinnati, this 1898 building in Grand Rapids, Michigan, and this 1910 building in Nashville.
"We really want to pay homage to this building," Mills said. "The Homewood Suites brand allows us to do that."

(PHOTO: Courtesy Bear Development)
Born in Brooklyn, N.Y., where he lived until he was 17, Bobby received his BA-Mass Communications from UWM in 1989 and has lived in Walker's Point, Bay View, Enderis Park, South Milwaukee and on the East Side.
He has published three non-fiction books in Italy – including one about an event in Milwaukee history, which was published in the U.S. in autumn 2010. Four more books, all about Milwaukee, have been published by The History Press.
With his most recent band, The Yell Leaders, Bobby released four LPs and had a songs featured in episodes of TV's "Party of Five" and "Dawson's Creek," and films in Japan, South America and the U.S. The Yell Leaders were named the best unsigned band in their region by VH-1 as part of its Rock Across America 1998 Tour. Most recently, the band contributed tracks to a UK vinyl/CD tribute to the Redskins and collaborated on a track with Italian novelist Enrico Remmert.
He's produced three installments of the "OMCD" series of local music compilations for OnMilwaukee.com and in 2007 produced a CD of Italian music and poetry.
In 2005, he was awarded the City of Asti's (Italy) Journalism Prize for his work focusing on that area. He has also won awards from the Milwaukee Press Club.
He can be heard weekly on 88Nine Radio Milwaukee talking about his "Urban Spelunking" series of stories.