In many Milwaukee buildings, over time, bars and restaurants come and go. Some make a splash, others fizzle, some leave nary a trace and others are etched into our collective memory.
The building at 815-21 E. Brady St. has seen some of them all since it opened in 1928. It's possible, likely even, that no one remembers Tony Cossy's restaurant, which was there in 1929. But I bet some folks have fond memories of Eddie Pitzo's Sunny Italy and, of course, Cataldo's remains firmly entrenched in the Brady Street psyche.
Originally, the building, begun in October 1927 and completed the following April, had three retail spaces and three apartments on two upper floors. These days, while the apartments are still upstairs, the first floor has long since been opened up into a single space, which since last summer has been home to The Diplomat.
Though I can't say whether or not previous barkeeps and restaurateurs felt a part of a tradition in the space, Dane and Anna Baldwin (pictured above), owners of The Diplomat, sure do.
"Brady Street just has a rich history," says Anna. "We're meeting great people in the neighborhood. What we wanted to be when we opened is a neighborhood spot, and what's really nice is we're getting folks from the neighborhood that have been here forever."
During their short time in the building, the Baldwins – who met in a cooler at Carnivor, where Dane was a chef and Anna was a bartender, and are now married with two daughters – have already been contacted by some of their predecessors.
"The Pitzos (whose family owned Sunny Italy) contacted me on Facebook," Anna says, "and we have people coming from down the street whose parents grew up here or maybe they grew up here and they're living in the same house that their parents owned and they just come in for dinner. And that's exactly what we wanted to be. What's great is that we're hearing these stories about the neighborhood and the place that was here."
The building was designed by architect Alfred Siewert for Tom Mason, a Sicilian immigrant who was born Tom Macaione and was a painter by trade. Mason, in fact, collaborated with Siewert not only on the painting of this building, designed in the Mediterranean style, but on other Siewert works, including apartment buildings in West Allis and the Varsity Apartments on North 15th Street, near Marquette.
When the building opened in August 1928, Mason's business occupied one of the two retail spaces and a large newspaper display ad announced the availability of "two attractive stores, 20x50, for rent."
Tony Campanelli set up his grocery operation in the westernmost storefront in 1928 and it remained that at least until 1932. By '29, Tony Cossy ran a "lunch room" in the middle space, suggesting Mason's base was in the easternmost retail spot.
But, as always, there was turnover, and with three addresses in a single building (not counting the address for the apartments upstairs) – often used interchangeably it seems – it's difficult to name everything that occupied the storefronts and even to be sure sometimes which storefront was home to each business.
We do know that E. Wurm had a candy and cigar shop in 1932 in a space that was previously home to a barber shop. We also know that same year Henry Sweet threatened to kill his wife in their apartment upstairs, breaking down a door to get to her, according to a colorful newspaper story that reported Sweet's capture.
Sweet was arrested after setting up a meeting with his wife, who then alerted police. When Sweet got into the car in which his wife was awaiting their meeting, Det. Carl Voy hopped into the back seat and "thrust his pistol into Sweet's ribs."
In early 1933, with Prohibition still on the books, the middle space was home to a political office used for Democratic campaigns for supervisor.
At this point, the building appears to have been owned by Adam Rogowski, who was soon operating a tavern in Campanelli's old grocery space and expanded into the political HQ, too, presumably post-election.
Rogowski's tavern appears to have been fairly long-lived, enduring at least into the 1940s.
In 1946, the building became home to one of Milwaukee's earliest pizzerie. Fast on the heels of pizza's Brew City debut at Caradaro Club in the Third Ward, Alfred and Armand Dibella opened their own pizza joint in the middle space, 819 E. Brady St.
"We invite you to try the new taste thrill Italian baked delicacy, pizza," said one Dibella newspaper ad. Another explaining the pronunciation – peetza – of the dish and adding that "one dollar serves four."
Dibella initially wasn't very big, with just five booths and four tables, but when the space next door at 821 (which had been a funeral parlor) closed, the pizzeria expanded. A tavern still occupied the 815 spot.
But Dibella appears to have been a flash in the (pizza) pan, because by '47, Joseph Frinzi had opened his butcher shop in the former restaurant space and a year later, Lucy Sorrenti was so busy running the restaurant in the middle storefront, it landed her in trouble with the law.
Sorrenti worked from 4 p.m. until 4 a.m. and that made it hard for her to get up early and see her son Salvatore off to his eighth grade classroom up Cass Street at St. Rita's school.
As a result, Sal missed 56 half days and was late another 28 times during the 1947-48 school year. He told authorities he often went to the movies instead. His mom earned a 90-day sentence, which she served on probation.
But Sorrenti's name was back on the police blotter a year later when she was busted for selling alcohol without a license at the restaurant, where a couple illicit bottles were confiscated, along with the teapot from which she was allegedly dispensing whiskey.
I recounted this story to the Baldwins, who are now thinking of naming a cocktail in Sorrenti's honor.
And the changes kept coming. Elmer Groll ran a food market in '50, and in '51 Ed Thompson ran a tap and Nick's Pizzeria was at 819. The building was also sold a couple times during the early 1950s. In '52, a classified ad offered 819 for rent, saying "Milwaukee's original pizzeria available; newly remodeled, new fixtures, selling due to illness."
In '53 Mr. and Mrs. Dickens ran the restaurant and, that July, 18-year-old Max Adonis – later a well-known figure in the local underworld – was taken into custody after a brawl outside the tavern at 815 that resulted in injuries and arrests.

(PHOTO: Courtesy of Anna Pitzo, who can be seen outside Sunny Italy in the photo below, with her husband, Eddie)
Later in the decade, Mario's Pizzeria arrived at 819 and soon after, Eddie Pitzo opened Sunny Italy cocktail lounge next door at 815. According to Pitzo's wife, Anna, her husband purchased the building with Hugo Cherubini and Mary Cherubini, who was married to Hugo's brother Mario, who ran the pizzeria.
According to Pitzo, Mario Cherubini died in 1959 and Mary continued to run the pizzeria.
"Ed purchased the bar business from someone whose name I do not recall," she told me . "That was in July of 1959. Sunny Italy and Mario's Pizza become incorporated and functioned as one corporation."
During this era, Haughton Elevator Co. was in the easternmost space.
"This guy stopped me in the street when we first opened," says Anna Baldwin. "He said that he when was a kid, the wife or maybe the woman that owned – it must have been Mario's Pizzeria – would bake little pizzas for all the kids after school.
"They'd leave Cass Street School and they'd run up here and she'd bake them tiny little pizzas and she wouldn't charge them. He said, 'I won't go to another pizza spot because it's not her pizza.' She was like the mom of the neighborhood."

Someone immortalized Cataldo's on one of the doors in the basement.
In 1974, Carlo Cataldo bought the building and opened Cataldo's in all three spaces. It became a Brady Street hotspot and something of a landmark by the time its tenure ended at the close of the 20th century.

The Cataldo's era, circa 1986. (PHOTO: Courtesy of Wisconsin Historical Society)
Since then, the space has been further redecorated and opened first as Konohana, then for 11 years by Michele Green as Bosley on Brady and, now, as The Diplomat.
As a nod to the history of the neighborhood, and of their restaurant's place in it, the Baldwins installed a huge photo of a 1970s Brady Street Festival scene on the wall of the bar, which, appropriately, is in the 815 side of the restaurant, where bars have long held sway.

Tyler, the grandson of Bosley owner Michele Green, wrote his name all over the place in the basement.
"There's so many people and especially women that come in like, 'oh that's me'," says Anna, pointing to a figure in the image of the crowded street. "There's so many people that come in and they're like 'oh, I wonder if I'm here' and 'oh, I remember that'"
The Baldwins clearly love this part of running their first restaurant, though both have plenty of experience. Dane, for example, has worked at Gil's, Mr. B's, Graffito, Harbor House, Bacchus and other Milwaukee restaurants.
"So many people come in with their stories," says Anna, noting that sometimes they even find stories of the building in unexpected place. Including at Maxim's, a family restaurant out in northwestern Brookfield.
"We walk in," Dane recounts,"we're gonna have breakfast and we're sitting next to four older people, one gentleman, three women, and struck up a conversation. He grew up in (the Brady Street) area and he swore up and down he was a dishwasher here a long time ago, and it's super cool."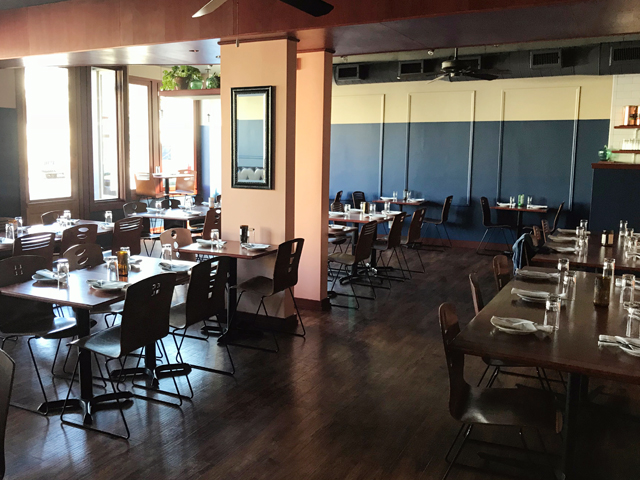 "We were out there in Brookfield and the guy we're sitting next to at the bar worked here," adds Anna, almost with astonishment.
As we've seen, while some restaurants were short-lived in this Brady Street building, others lasted a long time.
"Are you in for 20 years?" I ask the Baldwins.
"Oh yeah," says Anna without hesitation.
"Yeah," adds Dane, "if it goes 20 years, then absolutely."
Born in Brooklyn, N.Y., where he lived until he was 17, Bobby received his BA-Mass Communications from UWM in 1989 and has lived in Walker's Point, Bay View, Enderis Park, South Milwaukee and on the East Side.
He has published three non-fiction books in Italy – including one about an event in Milwaukee history, which was published in the U.S. in autumn 2010. Four more books, all about Milwaukee, have been published by The History Press.
With his most recent band, The Yell Leaders, Bobby released four LPs and had a songs featured in episodes of TV's "Party of Five" and "Dawson's Creek," and films in Japan, South America and the U.S. The Yell Leaders were named the best unsigned band in their region by VH-1 as part of its Rock Across America 1998 Tour. Most recently, the band contributed tracks to a UK vinyl/CD tribute to the Redskins and collaborated on a track with Italian novelist Enrico Remmert.
He's produced three installments of the "OMCD" series of local music compilations for OnMilwaukee.com and in 2007 produced a CD of Italian music and poetry.
In 2005, he was awarded the City of Asti's (Italy) Journalism Prize for his work focusing on that area. He has also won awards from the Milwaukee Press Club.
He can be heard weekly on 88Nine Radio Milwaukee talking about his "Urban Spelunking" series of stories.