Get your Milwaukee history fix this summer with OnMilwaukee's Urban Spelunking, sponsored by DearMKE. Fall in love with Milwaukee and its stories on DearMKE.com, or go on your own urban exploration and share your photos and your stories of Milwaukee with #DearMKE on Instagram, Facebook and Twitter.
Considering how much waterfront Milwaukee has – between the lake, the rivers and the canals – it makes perfect sense that there's a history of fireboats here.
According to the Wisconsin Historical Society, "The first fireboat was launched in 1889 and by the early 1900s four stations were in operation, two of which were positioned near the numerous highly-combustible structures lining the Menomonee and lower Milwaukee Rivers – the coal docks, hay and feed sheds, grain elevators and warehouses. One of these early stations was built at the confluence of the two rivers."
That early station – with a 23x42-foot brick quarters and an outdoor sliding pole encased in a wooden chute, according to Jim Ley's encyclopedic book about Milwaukee firehouses, as well as docks rented by the city – was located where the Milwaukee and Menomonee Rivers meet, at 105 N. Water St., in the Third Ward.
It was torn down in 1914 and replaced in 1915 by a $24,500 brown brick facility designed by Charles Malig, who served as the staff architect with the city's Bureau of Bridges and Public Buildings for nearly four decades, designing firehouses, police stations, bridge houses, hospitals and other structures.

(PHOTO: Courtesy of Integrated Medical Partners)
Decomissioned by Milwaukee Fire Department in the second half of the 1980s, the building at 105 N. Water St. was sold by the city and is now again for sale.
In their book, "Beertown Blazes," Dick Nailen and James Haight noted that "Fireboats were still something of a novelty at the start.
"New York had begun operating its first one in 1875; not until 1886 did Chicago aquire its Geiser. While the (Milwaukee) Board of Aldermen mulled over a resolution concerning the 'fire tug,' the city's 1887 fire loss record lent a persuasive argument. Total loss in 507 fires was $449,346.83, but just five of those blazes – each on or near a river – accounted for 62 percent of that loss."
The boat, dubbed Cataract (though many pushed for the name Juneau), was designed by Milwaukee's Frederick C. Starke. For a time MFD operated four boats. Such boats were used for a variety of purposes, including fighting fires on land and on the water, breaking ice, lifesaving and providing water to fire engines engaged in battling big blazes.
Ley notes that the Cataract – with a crew of 11 under Capt. Archie Campbell – went into service on Oct. 11, 1889 and fought its first blaze in December, a fire on a barge (which was named for Starke, ironically) on the Menomonee River. Ley adds that Chief James Foley declared, "The boat paid for itself twice over on this occasion."
According to "Beertown Blazes," MFD-15 Lt. Jack O'Rourke said, "after decades on the river, 'We're the harbor errand boys, from rescuing livestock to dragging out automobiles. We get a lot of calls from the stockyards; some poor cow jumps in the river, for reasons unknown – we have to go up and lasso her out. Just a flock of seagoing cowboys!'"

The fireboat James Foley. (PHOTO: Courtesy of Integrated Medical Partners)
The fireboat station was commissioned in September 1915 and occupied by Fireboat #15, according to Ley's book. Captain Harris Giddings led a crew of 20 firefighters there.
Outside there's a decorative surrounding at the main entrance and a tall flagpole projecting from the center of the facade, which also has some stone window lintels. In the central bay are stone panels etched with "Fire Department" and "No. 15 Engine-House."
There was a 36-inch brass pole that traversed two floors, allowing firefighters to reach the dock level from the top-floor sleeping quarters in seconds.
In 1935, the building was tinkered with, according to Ley, to make room for the Harbor Master, and a year later, a new steel dock wall was built out back. By 1940, offices were also located there. Later, the Civil Defense would replace the bureau – which was moved to the old Torrent fireboat quarters on Cherry Street in 1949 – in those offices, Ley noted.

The fireboat Torrent. (PHOTO: Courtesy of Integrated Medical Partners)
In 1949, the city sold the old #15 fireboat to Cleveland, where it was converted to a tug, and stationed the new fireboat Deluge at the Water Street house, which is an unusual fire station in that it has no street-level equipment door, for obvious reasons.
By the early 1960s, MFD needed a smaller boat, too, in part for its scuba team, which was added in 1961, and it bought Fireboat 2 and stationed it with the Deluge.
Among the many fires fought by the Deluge was the Metropolitan Block fire on 3rd and State in 1975.
But the city's water system was improving, along with fireproof construction and fire prevention, and fireboats became less necessary. By 1983, there was just a single fireboat station in Milwaukee and it was this one on Water Street. In just a few years that one, too, would be shuttered and used for records storage. The Deluge went out of service in 1984.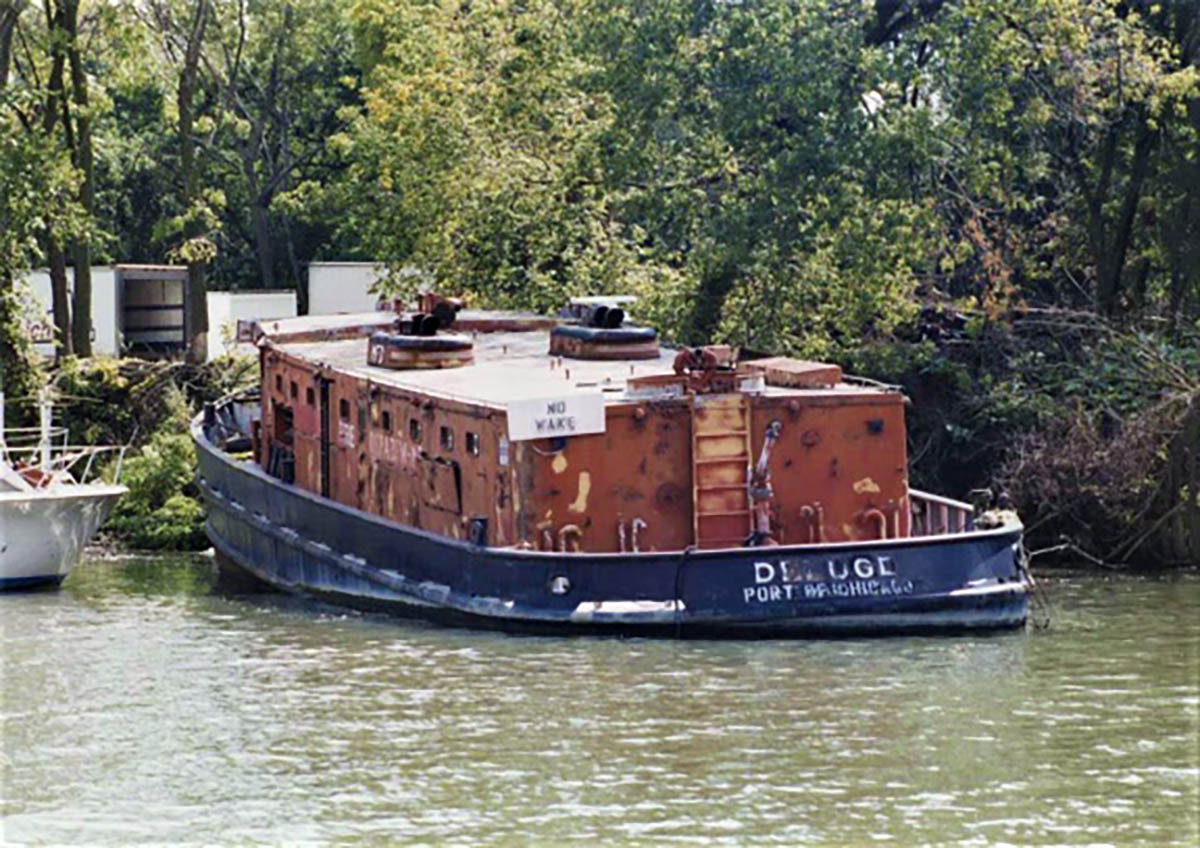 Among the vessels stationed on the Water Street site were the Cataract/Engine 15 (1889-93), James Foley/Engine 17 (1893-1903); MFD-15 (1903-49); Deluge (1949-84) and Roamer/Fireboat 2/Engine 42 jet boat (1963-84).
"Today the MFD has a 36-foot, high-speed, aluminum fireboat called Trident," says retired firefighter and local historian Wayne Mutza, whose new book is a history of American fireboats (stay tuned for a story on that).
"It arrived in June 2007 from Canada's MetalCraft Marine, largest supplier of fireboats in the U.S. It was christened Aug. 20, 2009 by Harley-Davidson Museum Director Stacy Watson. It's moored at Discovery World. The dive-rescue team (currently housed in Walker's Point) has a variety of small inflatables also."
At auction, the city sold the station (which in the early 1960s was home to Milwauke's Civil Defense Administration office, too) to an architectural firm, which renovated the main floor and used it as its office.
A couple Wayne Mutza photographs of the house, taken in the 1970s.
In 2008, the building was purchased by Integrated Medical Partners, which renovated all three floors, built decks out back facing the river and have added a patio and garden next to the Riverwalk, which dead-ends right behind the building.
"The first floor is pretty much in the state that it was with the exception of the lighting. We modernized and updated the look consistent with what we did elsewhere in the building," says IMP CEO Bill Pickart, of the main floor, which has a stunning heavy duty wooden staircase up to the second floor, wainscoting throughout and a section of brass pole in the reception area.
"But the look is very true to history. The pole, this is a real fire pole. We added to provide us a more authentic feel."
Each of the three floors has been completely renovated, though Pickart kept and restored as much of the woodwork around the doors and windows as possible and kept the hardwood floors, too. There's exposed silver brick everywhere.
On the lower level, some of the firefighters locker doors remain, but when you open them you don't find coats and boots, instead you'll HVAC and other infrastructure.
"We did extensive renovation," says Pickart. "And we significantly upgraded the wiring to facilitate the technology that we use in the business. We moved the headquarters here because the configuration of space and number of people all worked out."
Pickart says that the Third Ward has changed during his company's time there and it has been a vibrant place to be.
"We were in Park Place (on the far northwest side)," he says. "It was nice. However, in comparison, the energy here resulting from being on the water is spectacular from April 15 to about Oct. 15. There are people everywhere, which makes it enjoyable. The Third Ward has gotten stronger. There's a lot of value that's been built up over the last couple of years, and it just keeps building – so we're excited about it."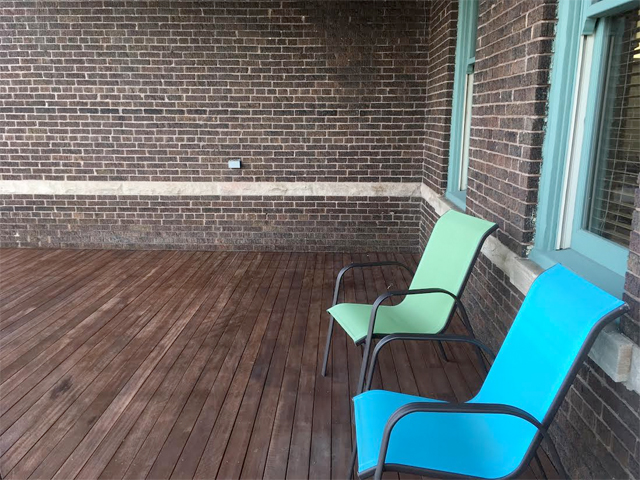 A patio overlooks the river. (PHOTO: Adam Levin)
Pickart won't say what the future holds for IMP or where it will be located once the building is sold, but he will miss this old firehouse.
"It was the right size for us (when we bought it), it has a parking lot," he says. "It has a great history and we just thought it was a wonderful building. I love the building."
Me, too.
Born in Brooklyn, N.Y., where he lived until he was 17, Bobby received his BA-Mass Communications from UWM in 1989 and has lived in Walker's Point, Bay View, Enderis Park, South Milwaukee and on the East Side.
He has published three non-fiction books in Italy – including one about an event in Milwaukee history, which was published in the U.S. in autumn 2010. Four more books, all about Milwaukee, have been published by The History Press.
With his most recent band, The Yell Leaders, Bobby released four LPs and had a songs featured in episodes of TV's "Party of Five" and "Dawson's Creek," and films in Japan, South America and the U.S. The Yell Leaders were named the best unsigned band in their region by VH-1 as part of its Rock Across America 1998 Tour. Most recently, the band contributed tracks to a UK vinyl/CD tribute to the Redskins and collaborated on a track with Italian novelist Enrico Remmert.
He's produced three installments of the "OMCD" series of local music compilations for OnMilwaukee.com and in 2007 produced a CD of Italian music and poetry.
In 2005, he was awarded the City of Asti's (Italy) Journalism Prize for his work focusing on that area. He has also won awards from the Milwaukee Press Club.
He can be heard weekly on 88Nine Radio Milwaukee talking about his "Urban Spelunking" series of stories.