In late September, Milwaukee developer Juli Kaufmann tweeted that she bought the former Koeffler "double house" at 817-19 N. Marshall St., on the edge of Downtown and the lower East Side.
The building looks like a single-family home to the casual eye, but, as a City of Milwaukee historic preservation report notes, "the paired entrances sheltered by the broad front porch betray that it is actually a pair of side-by-side three-story townhouses."
Kaufmann purchased the home with Patrick Jones, who owns Ramsey Jones Architects, and Braatz Building's Andy Braatz. That's a pretty complete development team right there.
We just bought the original Milwaukee Koeffler Double House and now this shit is about to get real. You know its a historic property with a key ring like this! #PreservingHistory #CelebratingLocalCulture pic.twitter.com/KgFmIfr43F — Juli Kaufmann (@julikaufmann) September 24, 2019
The trio paid $600,000 to buy the property, according to BizTimes Milwaukee, and plans to invest another $1.4 million on construction, equipment, fixtures and furniture to transform the 1898 former mansion – which had most recently served as office space – into the Historic Koeffler Inn, which Kauffmann says will have around 16-18 rooms.
"We really don't have a name yet," Kaufmann tells me. "The Historic Koeffler Inn has been a placeholder."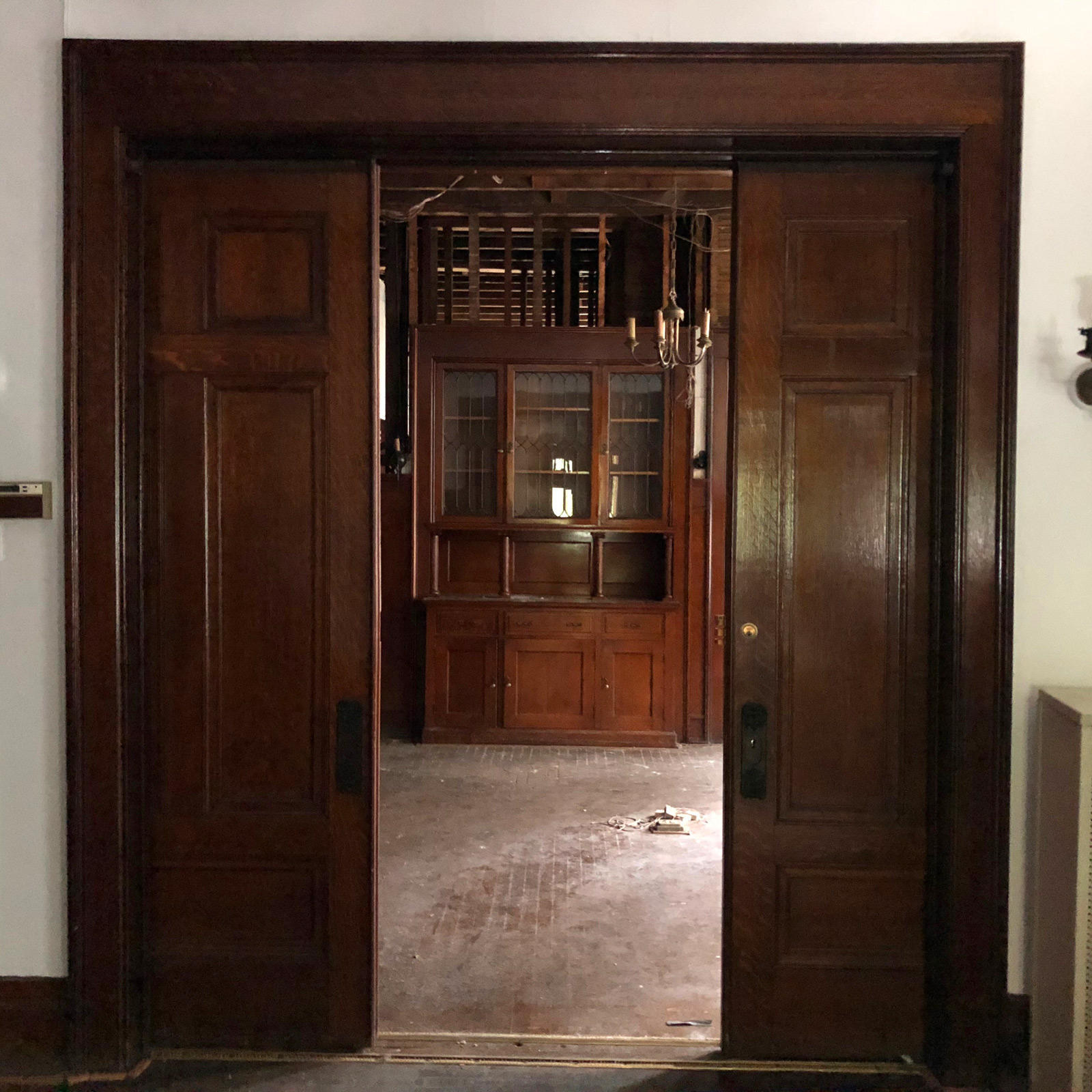 She also tweeted that she expects the project to be ready in time for next summer's Democratic National Convention.
Hey @dncmke2020 We've got a sweet lodging spot you can reserve the whole place for your entire crew. 16+ rooms- keep it all to yourselves. Visit in style! https://t.co/BU8F43zLYN — Juli Kaufmann (@julikaufmann) September 24, 2019
Before construction begins, the team is seeking historic designation for the project at the state and national levels, to protect the future of the property and also unlock historic tax credits on the project.
"We are seeking designation to forever preserve an iconic part of Milwaukee's heritage and history," Kaufmann says. "These cultural assets are priceless and important to all of us."
The home is already a city landmark.
"We are still looking for a food and beverage partner," says Kaufmann. "We seek an operator that shares our spirit of commitment to authentic Milwaukee craft, using that same theme of celebrating history while not being stuck in the past. We imagine a contemporary tavern experience."
Designed by architects George B. Ferry and Alfred C. Clas – known for high-profile projects in Milwaukee that include the Central Library and the Pabst Mansion, among others – the German Renaissance style double home, which betrays some Flemish influence in its eye-catching gables, was constructed by carpenters F.L. Vogels Sons and masons Paul Riesen & Co. for three siblings.
Charles A. Koeffler, Jr. was an attorney and his brother Hugo was in real estate, and they clearly did well for themselves, hiring some of the top architects in town to design a lavish grey brick home with limestone details in Yankee Hill, one of the most prestigious neighborhoods at the time.
The family also had a farm estate out in rural Wauwatosa.
In addition, Charles Jr. was an art collector known to own some real gems, including a painting of Herodias attributed to Titian. Perhaps it hung in this house.
After his death Charles Jr. was described by the Journal as a "wealthy real estate operator and lawyer."
As the old adage warns, however, wealth can't always bring happiness and surely their father's 1897 suicide – he shot himself in the head with a Colt revolver after a long battle with Bright's Disease and a more recent cancer diagnosis – brought much pain.
The Koefflers were long-standing Milwaukeeans, however, their father Charles Sr. having immigrated from Germany's Rhineland in 1849 and done shifts working at Pfister & Vogel tannery and as a teamster at Melms Brewery before launching his own wholesale and retail liquor business on Water Street, near Buffalo, in 1863. He also started a distillery with his brother Gustav.
It was his wealth that appears to have helped his sons get going.
"After accumulating considerable property he retired from business in 1869, and since then has the greater part of the time been residing on his farm in the town of Wauwatosa," wrote the Journal upon his death. "In recent years he was interested with his sons in large real estate transactions."
Charles Jr. razed his father's house, perhaps hoping to erase bad memories in addition to an old home, and in 1898 built his own place, which is often called the Koeffler House ... but not exclusively.
For example, in his volume, "The Heritage Guidebook," H. Russell Zimmermann calls the house the "Francis M. Baumgarten Residence," and notes that the Baumgartens occupied the north side, and Otto C. Baumgarten the south.
According to the 1900 census, Hugo Koeffler, a batchelor, was living at 483 Marshall (now 817 N. Marshall) with his brother Charles Jr. and sister-in-law Jessie, and two servants. Milwaukee Apron Company's Francis Baumgarten occupied 485 (now 819) with his wife, and Hermine, and their sons Otto and Edgar, along with two servants.
Interestingly, there are two building permits for the house, both pulled on July 18, 1898.
One, for a $7,800 dwelling designed by Ferry & Clas was signed by Charles Koeffler. The other, signed by Mrs. H. Baumgarten, for a $9,300 dwelling of the same dimensions and also designed by Ferry & Clas.
Mrs. Baumgarten – Hermine – was the sister of Charles and Hugo.
But before you think Koeffler got the better part of the deal, a couple months later, he pulled a permit for a Ferry & Clas-designed three-story brick-faced barn, costing $1,950. Even Steven ... more or less.
And, in the end, if you call it the Koeffler House or the Baumgarten House, you're both half-right and half-wrong. This double house is double named.
What's also interesting is that while both the 1900 and 1910 census schedules show the Koeffler brothers living at 817 N. Marshall, none of the Milwaukee city directories from those years concur. Instead, while both brothers' businesses are listed Downtown, Wauwatosa is listed as their place of residence. This only changes beginning with the 1913 directory.
The 1910 Sanborn Fire Insurance Map shows the double house (483-485, at right),
with the 1907 home (489) just to the north.
Adding some confusion is that in 1907 a home was built just to the north at 489 (now 829 N.) Marshall St. by the Koeffler's sister, aka Mrs. F. M. Baumgartner. It was designed by Fernekes & Cramer (not the alliteratively similar Ferry & Clas, as some sources suggest).
In 1902, Hugo organized a transaction in which his sister Hermine bought a 60x120-feet lot on Marshall Street, between Biddle and Oneida, for $14,000 from Judson A. Roundy (yes, founder of THAT Roundy's), and it is possible, perhaps even likely, that this is the land upon which 829 N. Marshall sits.
That home, however, was not occupied by Hermine and her husband, but, rather, by their son Edgar – who also worked at Milwaukee Apron – and his family.
City directories show that the Baumgartens remained at 819 N. Marshall until 1918, the year after Hugo successfully sued his brother and sister over the trust their father left upon his death, suggesting a potential rift.
The Baumgartners were replaced at 819 by Moses Annenberg and his family, who appear to have stayed until they left Milwaukee for Long Island in 1920.
Annenberg was active in publishing and was, at the time, the vice president and secretary of the Evening Wisconsin newspaper. He also owned a wholesale tobacco business on Water Street. Later, after he'd left town, he'd become a partner in an East Side business that you likely know. You can read more about Annenberg and that business here.
Living with Annenberg and his wife Sadie were their eight children, including their 11-year-old son Walter, born here in 1908, who went on to become a media magnate, U.S. Ambassador to Great Britain and well-known philanthropist.
Meanwhile, on the other side of the fire wall, it's unclear exactly who was in residence, though it doesn't seem to have been the two brothers together anymore.
The 1919 city directory lists Hugo living there while Charles was out in Tosa, and the 1920 book shows Hugo living in Delafield and the widowed Charles with his son Carl back on Marshall Street. The 1920 census agrees with the latter.
A 1922 city directory, however, suggests the Baumgartens were by then living at 817 N. Marshall.
Regardless, at this point, the residency of both the Koefflers and the Baumgartens at 817, 819 and 829 N. Marshall St., appears to come to a close. Over time, both will be transformed into rooming houses, which explains why there's a bathtub or toilet around most every corner in the Double House these days.
Tragically, like his father, Charles Jr. – who died in 1930 – took his own life. Three years later, his brother Hugo also committed suicide.
Carl Koeffler, Charles Jr.'s son, born in 1901, continued to own the Double House until the late 1960s, when it was purchased by Taxman Investments, which converted it into commercial and office space by the mid-1970s.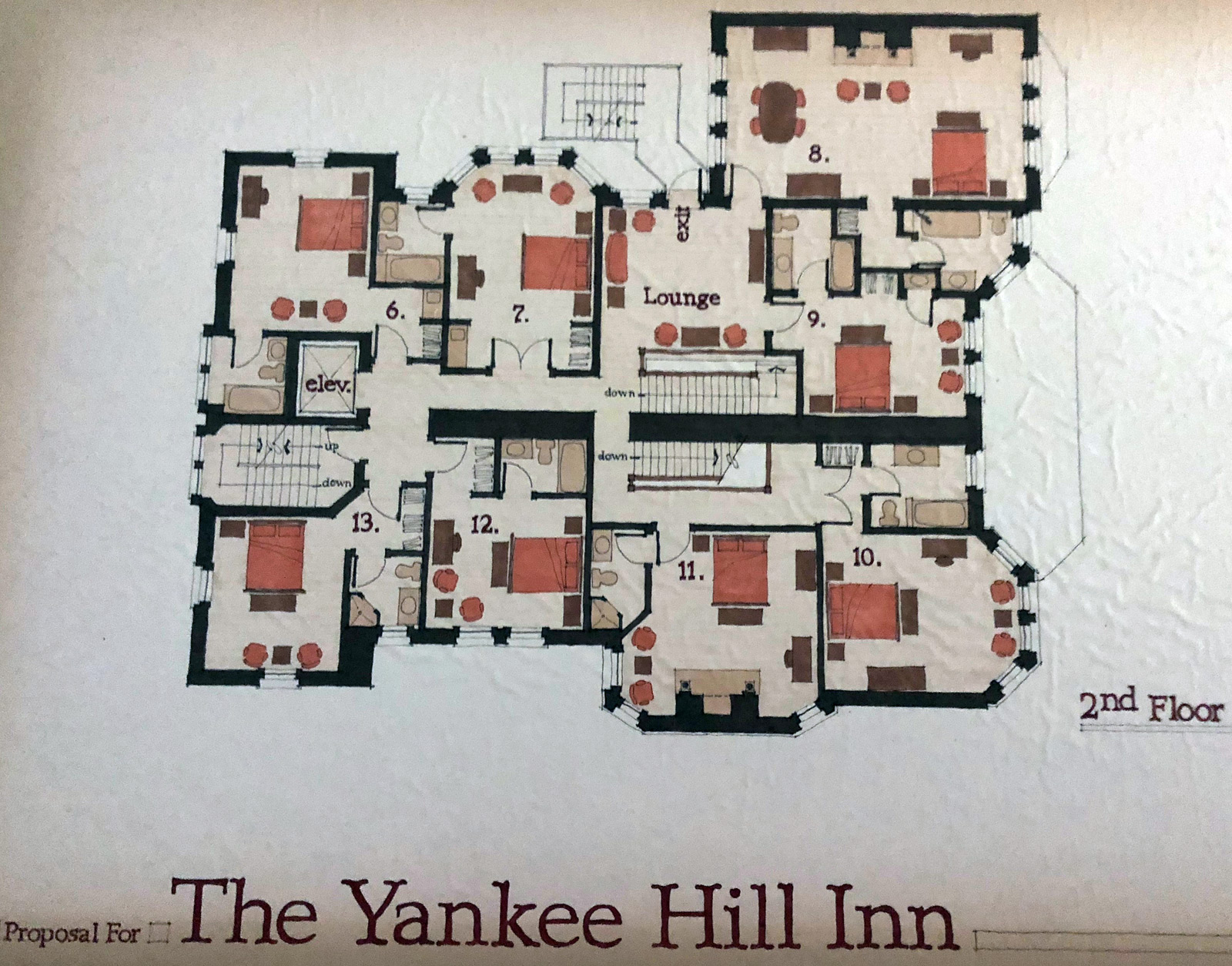 In 1985, a permit to tear down the house was filed, but the city landmarked the place in '86, helping to save it. A couple years later, Taxman had an architect draw up plans to convert it into The Yankee Hill Inn (pictured above), but that never happened and it continued to serve as office space.
Even as things changed inside, from the outside, the beauty hasn't diminished.
Zimmermann notes that, "of special interest is the pierced, carved stone balustrade in front of the roof dormers and an unusual limestone molding where the brick walls meet the foundation."
And the City of Milwaukee's Historic Designation Report says the house, "represents an early manifestation of the turning away from the heavy-handed Flemish Renaissance Revival style of the 1890s, exemplified by the Pabst Mansion, to the subtler forms of 17th century English domestic architecture that were to dominate upperclass residential design in Milwaukee in the years leading up to World War I.
"The firm of Ferry and Clas was on the cutting edge of innovative architectural design in Milwaukee at the turn of the century. Their bold and successful experiments with a variety of period revival architectural styles introduced and popularized new design trends in the city. The Koeffler House is a unique work demonstrating their facility in designing in the emerging Jacobean Revival Style. It is just as important a milestone in their domestic work as the Flemish Renaissance style Pabst Mansion (1890-92), the Neo-Classical Gustav Pabst House (1906) at 2230 N. Terrace Ave. or the Georgian Revival style William Fitzgerald House (1901) at 2022 E. Lafayette Pl."
Now, there is plaster missing inside and other issues that likely don't matter much since conversion will require much work anyway.
But, much of the home's splendor survives in the form of functioning pocket doors, gorgeous fireplaces – especially one on the first floor of 817 – and two great staircases (although 819, pictured above top, wins the grand staircase battle here, hands down, even if 817's, above below, has impressive paneling and hidden closets underneath), ornamental millwork and plasterwork, built-ins with leaded glass and on the top floor of 817, a spacious, wood-paneled former nursery, pictured below.
Some of the future guestrooms upstairs will have pretty fine views of the Downtown skyline.
Plus, they'll get to bed down in a place that the city's report says, "is architecturally significant as a fine example of the period revival domestic architecture favored by affluent Milwaukeeans in the late nineteenth and early twentieth centuries. It is a distinguished work by the noted regional architecture firm of Ferry and Clas. It is important as a rare surviving example of an upper income doublehouse in the Yankee Hill area and an important work by an architecture firm that significantly influenced the architectural development and urban planning of Milwaukee."
Adds Kaufmann, "The double house offers a chance to step into a piece of Milwaukee history and it just feels right to showcase it as lodging for visitors who want to experience authentic Milwaukee. Its an incredibly challenging piece of real estate to repurpose and this helps explain why it has been deteriorating for many years.
"We all believe in saving these iconic structures and adaptation into a hotel concept – we hope – presents the best chance to save this gem for future generations. We really want it to be a showcase for the history, craftsmanship and ingenuity that speaks to what Milwaukee is all about. Celebrating our history, while forging forward with innovation – that is our aim."
Born in Brooklyn, N.Y., where he lived until he was 17, Bobby received his BA-Mass Communications from UWM in 1989 and has lived in Walker's Point, Bay View, Enderis Park, South Milwaukee and on the East Side.
He has published three non-fiction books in Italy – including one about an event in Milwaukee history, which was published in the U.S. in autumn 2010. Four more books, all about Milwaukee, have been published by The History Press.
With his most recent band, The Yell Leaders, Bobby released four LPs and had a songs featured in episodes of TV's "Party of Five" and "Dawson's Creek," and films in Japan, South America and the U.S. The Yell Leaders were named the best unsigned band in their region by VH-1 as part of its Rock Across America 1998 Tour. Most recently, the band contributed tracks to a UK vinyl/CD tribute to the Redskins and collaborated on a track with Italian novelist Enrico Remmert.
He's produced three installments of the "OMCD" series of local music compilations for OnMilwaukee.com and in 2007 produced a CD of Italian music and poetry.
In 2005, he was awarded the City of Asti's (Italy) Journalism Prize for his work focusing on that area. He has also won awards from the Milwaukee Press Club.
He can be heard weekly on 88Nine Radio Milwaukee talking about his "Urban Spelunking" series of stories.