Thanks to the generosity of an anonymous donor, the beautiful Victorian Gothic Judge Jason Downer Mansion, 1201 N. Prospect Ave., is now something of a temple to art history, serving as the headquarters of the Milwaukee Art Museum's library.
But, when construction began on the place in the early 1870s, the intention was to create a different kind of temple.
That story begins with The Free Church of Atonement mission founded on the East Side in 1857 by the Right Reverend Jackson Kemper, according to Father Kevin Carroll, dean and rector at All Saints Cathedral, a few blocks from the mansion, at 818 E. Juneau Ave. For more than a decade, Kemper worked toward establishing a cathedral, which would be one of the first in the American Episcopal Church.
"A legal parish organization was formed in July of 1869 in order to accept title to a parcel of East Side property, and construction of a cathedral building was begun," Carroll wrote to me in an email.
"On All Saints' Day of that year Bishop Kemper, as his last official act, laid the cornerstone of what was intended to become a chapel of the cathedral on the corner of what is now East Juneau and North Prospect Avenues. But a cathedral on that site was not to be.
"Since no diocesan canon had been acted upon at that time to establish a cathedral, no diocesan funds were allocated for such a purpose. Financial difficulties forced the parish to abandon the project and return to its former wooden church of Jackson Street. The property reverted to the mortgagor, Judge Jason Downer, and on the chapel foundation, he built an elegant Victorian mansion."
However, Kemper kept the cathedral idea alive and two years later, the cathedral idea finally moved forward.
"The cathedral vision still prevailed, and in 1871, the parish purchased several lots and a house on what is now East Juneau Avenue and North Cass Street, and moved their small frame building onto that property. The same year an event occurred that made possible the purchase of a large and imposing church structure, Olivet Congregational Church, which stood only a few yards from the small Pro-Cathedral. There was some kind of strife in the Olivet congregation. They never took position of their building."
Downer – a Vermont native who was a well-known lawyer, former newspaper editor and supporter of women's education – in the meantime, tapped no less than Edward Townsend Mix (whose own Italianate cream city brick home was within spitting distance) to design that elegant Victorian mansion that Father Carroll mentioned.
According to Russell Zimmermann's "Heritage Guidebook," Mix made some modifications to the inherited foundation and laid "this handsome house on the original stone."
Downer spent $20,000 on its construction, which is in the ballpark of the amount the city was spending to erect schoolhouses at the time.
The three-story home, which occupies a high-profile corner lot and is oriented in such a way as make the most of the myriad views offered by the site, is listed on the National Register of Historic Places.
Until recently, it was covered in a muted, pale green paint, that has – thankfully – been removed, restoring the striking cream city brick exterior. It's the kind of place you could marvel at endlessly.
On the exterior there is that bay stacked atop a larger bay on the south facade, there are the church-y basement peaked basement window openings, there are elegant slender windows, there is lovely ironwork, there are elaborately carved bargeboards, the heavy wooden doors featured six-pointed star details and on and on and on.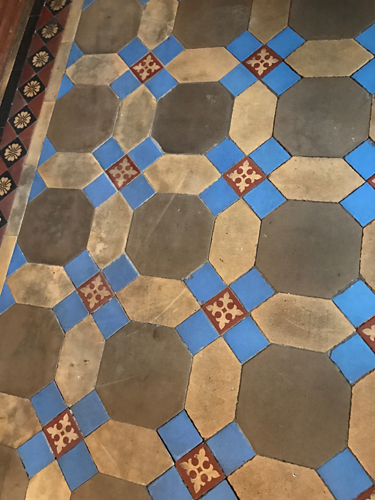 Inside, the place is much like an art museum itself, with stunning wood floors – with a different design in each room – a terra cotta-tiled entrance hall, pictured at right (with also has a very church-like niche), molded plaster ceiling ornaments (there's that six-pointed star again), marble fireplaces and a sturdy bannister following the slinky course of the curvaceous staircase, which is anchored by some mighty newel posts.
It's hard to imagine how anyone – especially folks whose passion and profession is art history – will get any work done in here.
"We're like, 'shiny things, shiny things'," says MAM Librarian/Archivist Heather Winter, who works here every day with a small staff that also includes Beret Balestrieri Kohn, the museum's audio visual librarian, and the legendary MAM figure Barbara Brown Lee.
"There really is – and this has been repeated by many people – no better match than an art museum and a house like this. We'll protect it and uphold it in a way that other organizations might not mean to."
Downer lived in the house with his second wife, Eliza Minor Downer, until his death in 1883. Mrs. Downer stayed here until her death five years later, and then, having no children, the home was bequeathed to nearby Immanuel Presbyterian Church, with the caveat that it be used as a rest home for the elderly.
And that's the purpose it served until 1965, when the cost of running the place grew too weighty for the church and it was sold and then used as office space. In recent years, many decades of changes – like linoleum floor tiles over the hardwood floors – were thankfully undone, and now the place feels again like a 19th century mansion.
These days, Winter and her staff are slowly moving in, in part because they have the luxury of doing so (since they're not being ousted from the main MAM complex) and in part because one doesn't just move fragile works on paper and like objects hastily.
"There's a lot happening," Winter says. "A space like this is extraordinary in so many public ways that certainly when it was built it wasn't considering the weight of 25,000 books or the weight of thousands of boxes."
To support a room full of compact shelving (which is floating on the floor and can be removed without damaging or changing the original features of the building, a series of 4x4s were added in the basement. (While we were down there, I tried to find some hint of that original church cornerstone – I also nosed around outside – to no avail.)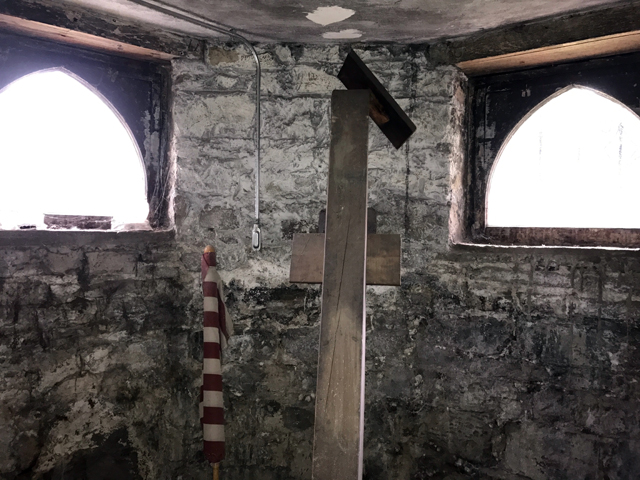 Is that a cross in the basement?!
Though the library has significantly more space here in the mansion than back at the museum, not everything will be relocated, says Winter.
"We're learning about the environment of the house to see what it can handle in terms of our materials," she says. "It's one of the reasons we moved in and wanted to be here for several months before we opened, so that we had a solid grasp of what could reasonably be here and how to use the space.
"I think more than anything it's us learning how to work in the space, change our movements, where we put things, what works best and is most efficient for us. It's a lot of space to get used to that we didn't really have before."
At the moment, there are offices for the main staff, and a third-floor space – that may have originally been a cigar and billiards room – is home to a group of interns (see photo below). Interns, that is, who have one of the best views in town.
Winter says that the fact that not all materials will make the move is not really an issue in this day and age.
"We've relied so heavily on technological communication that I know there's people we communicated with in the (art museum) building that would never have known where we existed in the building, because we managed to handle so much through email or phone calls or text messages or photographs," Winter says.
"People would contact us with a question, and we responded with the answer. That's why, when we say we're trying to determine what's really going to be here and not, it's really going to be a non-issue in terms of access because ... you don't need to have all thousands and thousands of boxes in front of you."
One thing Judge Downer really wanted in front of him were the views he treasured. And when one neighbor built a home that obscured one such vista, Downer built another house just a few yards northeast of this one.
That house has come to be known as the Spite House, because Downer built it to deprive his new neighbor of a lake view. You can read more about that here.
The MAM library staff will take a more open approach to the property with its fellow Milwaukeeans, says Winter.
"We've had people randomly knocking on the door. They'll walk by and come up and ask questions. We've just had such an overwhelmingly positive response, because people are curious and they want to know what happens behind the scenes of a museum.
"We have known the collection intimately for a decade or more and have talked about it to people, and now to be able to say, come on in and look at all the amazing cool things that we've been working with and on, that's the most exciting."
Born in Brooklyn, N.Y., where he lived until he was 17, Bobby received his BA-Mass Communications from UWM in 1989 and has lived in Walker's Point, Bay View, Enderis Park, South Milwaukee and on the East Side.
He has published three non-fiction books in Italy – including one about an event in Milwaukee history, which was published in the U.S. in autumn 2010. Four more books, all about Milwaukee, have been published by The History Press.
With his most recent band, The Yell Leaders, Bobby released four LPs and had a songs featured in episodes of TV's "Party of Five" and "Dawson's Creek," and films in Japan, South America and the U.S. The Yell Leaders were named the best unsigned band in their region by VH-1 as part of its Rock Across America 1998 Tour. Most recently, the band contributed tracks to a UK vinyl/CD tribute to the Redskins and collaborated on a track with Italian novelist Enrico Remmert.
He's produced three installments of the "OMCD" series of local music compilations for OnMilwaukee.com and in 2007 produced a CD of Italian music and poetry.
In 2005, he was awarded the City of Asti's (Italy) Journalism Prize for his work focusing on that area. He has also won awards from the Milwaukee Press Club.
He can be heard weekly on 88Nine Radio Milwaukee talking about his "Urban Spelunking" series of stories.