Get your Milwaukee history fix this summer with OnMilwaukee's Urban Spelunking, sponsored by DearMKE. Fall in love with Milwaukee and its stories on DearMKE.com, or go on your own urban exploration and share your photos and your stories of Milwaukee with #DearMKE on Instagram, Facebook and Twitter.
Perhaps I shouldn't have been surprised to step inside the former Ritz Theater movie house 3608 W. Villard Ave. and find it intact as a movie house.

(PHOTO: AstorTheater.org)
The same thing happened when I visited the old Grand on Holton and Locust. But, other times, like when I explored the old Lyric Theater on Vliet Street, I had to be content with easter eggs and clues, since all the seating had been removed and the auditorium carved up into rooms.
But after The Ritz, which was called the Villa by then, was closed by Marcus Theatres in 1986, it had a brief return as a movie house in the following decade, so it hasn't really been gone all that long.
The Ritz in 1977. (Courtesy of CinemaTreasures.org)
Now, the building is vacant and was acquired by the city in a tax foreclosure. The Department of City Development has listed it for sale for $20,000.
The Spanish Colonial style theater was built as the independent, 840-seat Ritz cinema in 1926 by Michael Brumm, who had opened a nickelodeon called The Princess across Villard Avenue in 1912. His son Arnold helped out at the theaters.
As was often the case with movie theaters of the era, The Ritz had an adjacent retail space and offices upstairs. Over the years, those spaces were occupied by a confectioner, a doctor, a barber, a typewriter store, a gift shop, a real estate and mortgage business, and spaces upstairs also served as residences from 1935 until the end of World War II.
"In summer, when business declined, the Brumm family would travel to outlying areas with a portable generator and a movie projector, bringing the movies to farmers or businesspeople in small towns without movie theaters," wrote Larry Widen and Judi Anderson in their book, "Silver Screens: A Pictorial History of Milwaukee's Movie Theaters."
"The show was done on a weekly circuit, with posters left behind to advertiser the next week's feature. When Michael Brumm opened The Ritz in 1926, he stopped the traveling shows and settled into more routine business operations."
Brumm tapped his son, Arnold, as assistant manager once the latter graduated from high school, Widen and Anderson wrote, leading Arnold to ultimately take over the business entirely.
With powerful chains running the theater game, indie owners like Brumm often struggled to stay afloat.
"Arnold Brumm remembered many occasions when film booking became a problem at his family's Ritz Theater," Widen and Anderson noted in "Silver Screens."
"'The buying power of the chains really put the squeeze on the little guys,' Brumm said. 'And "block booking," the packaging of one great picture with 20 lousy ones, hurt us a lot.' Studios often came to the independent owners with a year's worth of projected films. To keep a constant flow of films on his screen, the theater owner bought the lot sight unseen, hoping that several films in the package would turn out to be hit attractions. Until block booking was made illegal in 1939, it was an accepted way to do business, 'Film salesmen were very aggressive guys,' Brumm said. 'They would do almost anything to ... control your screen for 52 weeks at a time.' In spite of the hardships connected with being independent, the most determined of the owners found their markets, and their theaters prospered."
For an interesting look at the finances of The Ritz in this era, check out Matthew Prigge's delve into one of the theater's ledgers from 1935, a year in which Brumm's place lost $320.
One way Arnold Brumm worked to "find his market" was to catch the public's eye in unusual ways, according to Widen and Anderson.
"Although he had always been known for his innovative advertising techniques, such as displaying movie posters upside down, Brumm pulled off his most successful stunt to promote the sale of war bonds in 1944.

Seats stored beneath the stage.
"Coming up short on the bond sales quota set for his theater, Brumm climbed to the top of the Ritz theater's five-story chimney on a Saturday afternoon. A huge sign on the chimney said, 'BUY ME WITH WAR BONDS.' He stayed at his post for the next 24 hours, and war bond sales were brisk. When the final figures were tallied, Brumm's stunt had doubled the theater's goals."
A post on Cinema Treasures, suggests that the theater was operated by the Fox Wisconsin chain during the 1940s.
According to a much later Milwaukee Journal Sentinel article," "One of the strangest efforts came in the early 1950s, when the theater implemented something it called 'Dignity Nights.' On designated evenings, candy eaters, popcorn munchers and peanut shell snappers were corralled into a special section, protecting the aurally sensitive from the oral cacophony."
In late 1959, Marcus Theaters, which had moved into the Milwaukee market when it acquired the Tosa Theater (now the Rosebud) in 1940, bought The Ritz and ran it for the last 11 weeks of the year, according to Marcus archivist Leslie Heinrichs.

The view from the alley. It appears a sign had been painted within the molding on the rear wall.
At the time, movies were 85 cents for adults in the evening, 60 cents for matinees and early bird screenings. Children paid 25 cents and students twice that.
In 1962, three days before Christmas, the theater was re-launched as The Villa, playing both on the architecture of the building and the location on Villard Avenue.
Heinrichs shared these interesting tidbits from the theater's Marcus era...
Nov. 4 1977 – one of 8 Marcus Theatres that had a Thanksgiving Food Drive for the Needy in association with the Milwaukee B'nai B'rith council's 1977 drive. The idea is to show a movie that would appeal to audience of all ages and have everyone who wants to attend get a free ticket. The ticket and at least a $1.00 contribution in food or cash are necessary for admittance. The movie show was a 1976 limited run film "It's Showtime".
January 1978 – Villa is one of 10 theatres that has special showings of films for Milwaukee area teachers who want to take their students to the movies as a field trip. Some that are tentatively scheduled include: "Close Encounters of the Third Kind," "Grease," "Jungle Book," "Cat from Outer Space," "International Velvet," "Wild Billy and the Keystone Cowboy." Other films may appeal to select student groups such as social studies, humanities or foreign language classes. These are a perfect supplement to classroom studies.
January 1980 – Admission prices are dramatically reduced at the Villa to great success. Ticket prices are only 79 cents. Current showings include two Burt Reynolds hit films "Starting Over" and "The End". Vice President of the Marcus Corporation, Bruce Olson, said: " We choose to offer these lower priced admissions especially for those families who may find it difficult, at times, to afford regular admission prices. We also believe it will stimulate the older audiences who seldom go to the movies anymore. Furthermore, in today's inflationary environment, we want to provide a low cost form of entertainment." (Note: The Villa is one of two theatres that did this.)
March 1980 – The Marcus Theatres Corporation will institute a $1 admission price on Mondays and Tuesdays beginning Monday, March 16th. The $1 policy will be in effect at most theaters throughout the statewide Marcus Theatres chain, for a limited time only. Note: The Villa is one of 74 theaters that had this policy.
October 1984 – Marcus Corporation offers 50 cent movies for 1 night only at all theaters including the Villa. This is in honor of its 50th anniversary.
In 1986, Marcus closed The Villa and two years later Tanya and Herman Lewis bought the building and attempted to run it as a second-run house, then a first-run cinema, then a community theater and center before calling it quits in March 1995.
Since then, the building has been home to a salon, a school (called AGAPE), a church, a bookstore. But now it's vacant, and while it's seen better days – there is a fair bit of water intrusion – it still looks entirely like a theater inside.
There's a lobby that looks as though it's definitely been altered at some point.

The lobby.
The marquee still hangs above the door, with a vertical sign advertising the school that once occupied the building. Up the terrazzo stairs are a handful of empty offices facing the street. Across the hall are some storage rooms and the projection room, which, as was customary, has its own bathroom.
One door offers a view (though no ladder anymore) up to the attic lit by those dormers you can see on the facade.
In the basement, which I didn't get to explore completely, were the bathrooms, which look as though they'd been updated at least once.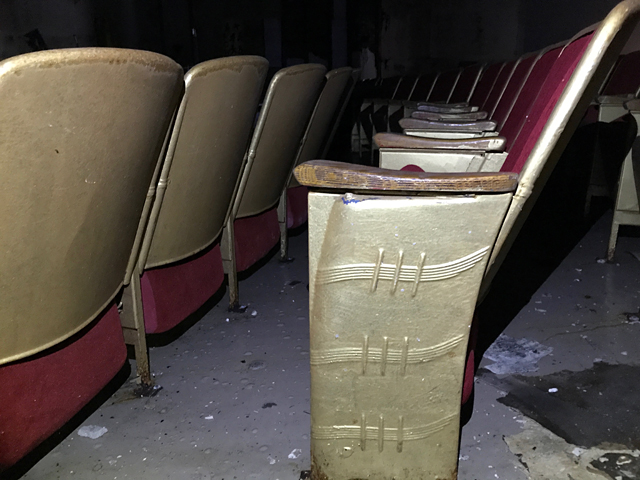 Inside the auditorium, the seats are all still there, including what are surely the original cast iron decorative standards at the ends of each row.
There are decorative plaster moldings on the walls (pictured above), and the ceiling has a recessed dome painted blue. Flanking the stage are a pair of exits with organ pipe lofts above (there was a 2/5 Kilgen organ – now in a private collection in Columbus, Ohio – up there).
On one side, you can scale a ladder to peek into the organ pipe loft, which is empty and the opening that allowed the sound into the theater has been boarded up (pictured below).
There's a space below the stage, accessed via the orchestra pit – which itself sits under a stage extension – where there are extra seats and other objects stored.
A second-floor office (above) and a peek up into the attic (below).
Up in one of the offices there are more modern plexiglass letters for the marquee. Seven of them now appear outside: "For Sale."
(PHOTO: Milwaukee Department of City Development)
Born in Brooklyn, N.Y., where he lived until he was 17, Bobby received his BA-Mass Communications from UWM in 1989 and has lived in Walker's Point, Bay View, Enderis Park, South Milwaukee and on the East Side.
He has published three non-fiction books in Italy – including one about an event in Milwaukee history, which was published in the U.S. in autumn 2010. Four more books, all about Milwaukee, have been published by The History Press.
With his most recent band, The Yell Leaders, Bobby released four LPs and had a songs featured in episodes of TV's "Party of Five" and "Dawson's Creek," and films in Japan, South America and the U.S. The Yell Leaders were named the best unsigned band in their region by VH-1 as part of its Rock Across America 1998 Tour. Most recently, the band contributed tracks to a UK vinyl/CD tribute to the Redskins and collaborated on a track with Italian novelist Enrico Remmert.
He's produced three installments of the "OMCD" series of local music compilations for OnMilwaukee.com and in 2007 produced a CD of Italian music and poetry.
In 2005, he was awarded the City of Asti's (Italy) Journalism Prize for his work focusing on that area. He has also won awards from the Milwaukee Press Club.
He can be heard weekly on 88Nine Radio Milwaukee talking about his "Urban Spelunking" series of stories.