"Bar Month" at OnMilwaukee is brought to you by Miller Brewing Company, calling Milwaukee home since 1855. For the entire month of March, we're serving up fun articles on bars, clubs and beverages – including guides, the latest trends, bar reviews, the results of our Best of Bars poll and more. Grab a designated driver and dive in!
Tied-houses – taverns built and owned by breweries – helped make Milwaukee a city of corner bars. More than a century after the tied-house boom in Brew City, these structures have become an iconic architectural feature of the city, too.
Regano's Roman Coin, The White House, Club Garibaldi, Ristorante Bartolotta, Wolski's, the old Judge's on North Avenue, Three Brothers Restaurant, Trocadero, The Irish Pub in the Third Ward, O'Lydia's – I could go on and on – were all built by Miller, Pabst or Schlitz as tied-houses.
And they're often quite recognizable. For instance, Pabst often used castle-like crenelations and towers along the roof lines of its tied-houses, to reinforce its connection to the brewery, whose buildings were also designed this way.
Schlitz-built taverns are often recognizable thanks to the distinctive globe the brewery adopted as its logo. Many built in the late 1880s and 1890s were designed in the Queen Anne style, often by the same architect, Charles Kirchhoff, who drew plans for Schlitz and the Uihlein family that owned it from the 1880s until the 1930s. Among his many works for the company was the iconic Schlitz Palm Garden, which opened on 3rd and Wisconsin in 1896. (Incidentally, Kirchhoff, with his partner Thomas Rose, designed a number of theaters in Milwaukee, too, most notably the Riverside.)
Though the Palm Garden has long since disappeared from the landscape, a series of Kirchhoff-designed buildings for Schlitz survives. Of particular note are four built at roughly the same time, the jewel of which, to my eye, is the building at 322 W. State St. that currently houses Dehne's Upper 90 Sports Pub.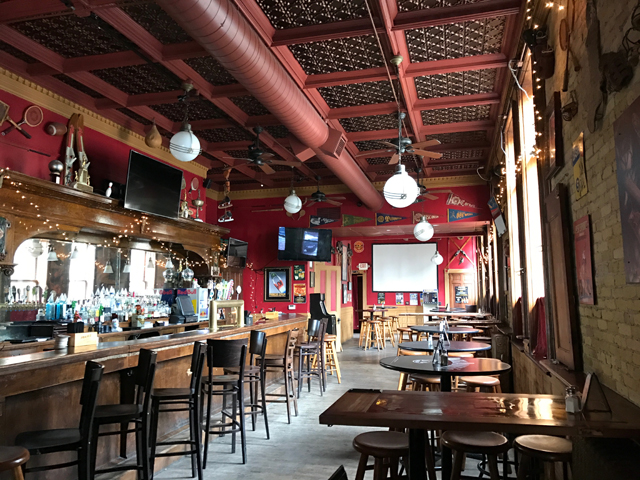 The three-story "corner" tap – it's on the corner of an alley, but still – is executed in cream city brick trimmed with limestone and punctuated by decorative brickwork and corbelling. Above the main entrance is a rounded corner turret. There's a wood window bay on the front and two stamped sheet metal ones on the east facade. Each is topped with a brick arch.
On the front, at the top, there's a peaked faux gable dotted with a decorative flame. Along the alley side there is a trio of corbelled chimneys.
According to a city historic designation report, the building "was built in 1889 ( note: actually 1888) at a cost of $15,000 by the Joseph Schlitz Brewing Company as part of its growing chain of brewery-owned saloons. At the time, most of Milwaukee's major breweries were establishing chains of retail outlets for their expanding beer production. These buildings were typically built at a corner location with a saloon at street level, the proprietor's living quarter upstairs, and, at particularly important locations, a public hall for rental on the top floor.
"The subject structure was built just off North Third Street in the heart of the German Retailing district. Because a street corner location could not be obtained in this valuable commercial area, the building was built in the middle of the block oriented to a wide alley, as if it was on an actual street corner.
"The brewing companies were all very conscious of their public image and sought to construct buildings that would reflect positively on their company and their product. Few, however, went to the extent that Schlitz did to construct tasteful, eye catching hospitality facilities. ...The West State Street building is typical of the best of the firm's high-budget neighborhood brewery saloons."
Of note is the fact that – despite a historical marker across 4th and State Streets – the building was erected on the site of the Kleinsteuber Machine Shop where Christopher Latham Sholes invented the first practical typewriter in 1869.
The first floor of the building, built in 1889 by Herman Goese, was designed as a tavern, the second floor as the tavernkeeper's flat and the top floor – which has dazzlingly high ceilings and is now converted into three apartments with lofted bedrooms – was a hall.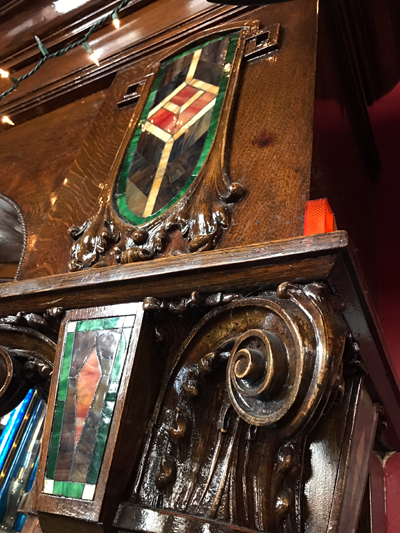 The second floor was most recently used as office space and is under construction again.
Everyone, however, can experience the beauty of the tavern itself. There have been changes – the most obvious being the kitchen added perhaps a dozen years ago when the space was briefly branded as Stubb's, and it appears that the entrance hall to the upper floors was once open to the tavern, too – but, otherwise, this is one of the most "vintage" taverns in town.
There's a gorgeous mirrored bar built in with decorative colored glass (pictured at right). The bar itself appears to be original, too, as does a built in on the east wall. Hardwood floors and old – if not original – glass bathroom transom signs, horse-head coat rack, wainscoting and more make one feel like they're stepping back into the place that Anton Kuolt leased from Schlitz from the start.
"The vintage qualities are really what attracted us to the place, and we play off that a lot (in the look and atmosphere)," said Jake Dehne, who co-owns the building with his brother Seth, the day he showed me around.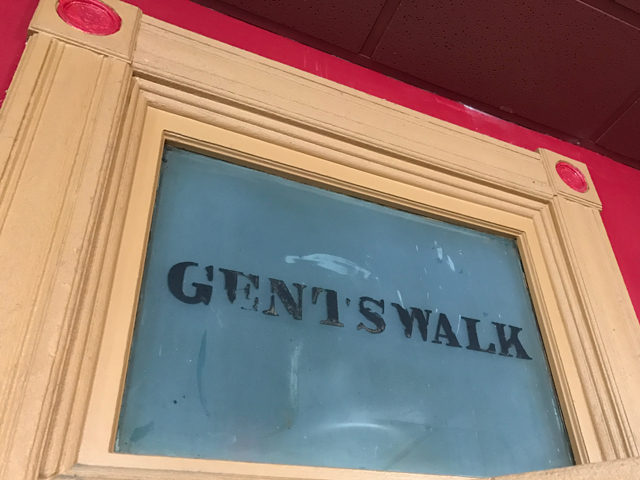 "The old ice-box is still here, too," he said, showing me that, now converted, it still serves as a behind-the-bar fridge.
Perhaps the best remnants are the original Schlitz globe lights hanging throughout the bar space.
Anton Kuolt was the first to lease the bar from Schlitz and he ran in until John Miller took over in 1915 (though permits do once – and only once – mention a "Mrs. Hinkel" as the "owner" in 1908, and a John Hinkel did own the building just east on the corner of 3rd and State).
Three years earlier, Schlitz converted the upper floors into offices – 23 of them – that soon were in use as hotel rooms during the building's long tenure as The Stag Tavern and Hotel (1915-1975, except a run as the New State, from 1933 to '52).
Albert Dobbs took over in '33, and by the mid-1960s, it was under the watchful eye of his son Raymond, who bought the building from Schlitz in 1971. In 1983, Dobbs sold the building to Sandra Ruffalo, who owned it during its incarnations as The Daily Planet (1983-86, 1989), Shepard's (1986-88), The Tamarack (1989-98) and a string of places: Stubb's, Lukas' On State Calderone Pub, The Side Bar.
The Dehne brothers – who also own The Pub Club and Red, White and Blue nearby – took over in 2011 and later, when Ruffalo was ready to sell, bought the building.
Remember I mentioned earlier that this was one of four "related" buildings? I bet you'll recognize some, if not all, the others designed by Kirchhoff for Schlitz and the Uihleins at the same time.
One, at 1900 W. St. Paul Ave., is home to Sobelman's. Another tavern, at 2249 N. Humboldt Ave., has housed Humboldt Gardens and Zak's but has long been vacant (except for the "Please Be Civil" neon sign in an upper window). The last is the flamboyant (flame-boyant, you might say) Hummel/Uihlein Building on the southwest corner of Center Street and King Drive, which was built as a store, not a tavern.
While the buildings share similar styles and some similar traits, no two are alike.
The Hummel/Uihlein has the decorative flames of 322 W. State St., but no turret.
Sobelman's has partial turret, which is an especially attractive feature to my eyes, but no flames (though a pair of cylindrical tourelles flanking the peak at the top of the corner sure looks ripe for use as candles.
Unlike Kuolt's tavern, this one – built by John Stabelfeldt in 1889, with an 1890 addition constucted by William Kasten – has been modernized inside over the years and doesn't retail its vintage tavern look. Outside, however, it remains a real looker. It was, for many years, run by a number of operators as the Ranch House bar and restaurant.
The former Humboldt Gardens/Zak's/Spruce Goose was first operated by Julius Schmechel (1891-92), Fred Zethner (1983-94), Charles Winkler (1895-1901), Louis Salzman (1902-04), Michael Schulist (1905-29) and Frank Deuster (1930). Benjamin Jakubiak ran it as Humboldt Gardens from 1933 until his death in 1951. It continued to serve as a bar for another 12 years before sitting idle from 1963 to '69.
Damian Zak operated as Zak's beginning in 1975. Later, it became The Spruce Goose, Kilroy's Tavern and The Hot Spot before it closed, seemingly for good, in 1992. Zak still lives in the building, the third floor of which was a hall (which remains an open space with an adjacent cloak roam), as in the other tavern buildings in this set.
This one has a turret, which was capped with a conical "hat" until 1942, and an early photo shows a pair of those candlelight flames on the east facade. Those are long gone. Unlike the other buildings, this one included a bowling alley (also long gone).
There are many other Schlitz tied-houses that survive in town, too. But, they're not part of the group. The former Irene J's/Outlaws clubhouse, 1835-39 S. 2nd St., is stylistically similar and of the same era (1891), but appears to be the work of architect John Paulu.
A particularly striking example at 2414 S. St. Clair St. in Bay View emerged from the pen of Kirchhoff but not until 1897.
The White House, 2900 S. Kinnickinnic Ave. in Bay View is a beautiful Queen Anne Schlitz tied house from 1893, but it is a clapboard structure, not a brick one.
And when it comes to great old Milwaukee brewery tied houses, Chicago's got many examples. But that's another story.
Born in Brooklyn, N.Y., where he lived until he was 17, Bobby received his BA-Mass Communications from UWM in 1989 and has lived in Walker's Point, Bay View, Enderis Park, South Milwaukee and on the East Side.
He has published three non-fiction books in Italy – including one about an event in Milwaukee history, which was published in the U.S. in autumn 2010. Four more books, all about Milwaukee, have been published by The History Press.
With his most recent band, The Yell Leaders, Bobby released four LPs and had a songs featured in episodes of TV's "Party of Five" and "Dawson's Creek," and films in Japan, South America and the U.S. The Yell Leaders were named the best unsigned band in their region by VH-1 as part of its Rock Across America 1998 Tour. Most recently, the band contributed tracks to a UK vinyl/CD tribute to the Redskins and collaborated on a track with Italian novelist Enrico Remmert.
He's produced three installments of the "OMCD" series of local music compilations for OnMilwaukee.com and in 2007 produced a CD of Italian music and poetry.
In 2005, he was awarded the City of Asti's (Italy) Journalism Prize for his work focusing on that area. He has also won awards from the Milwaukee Press Club.
He can be heard weekly on 88Nine Radio Milwaukee talking about his "Urban Spelunking" series of stories.