If you like this article, read more about Milwaukee-area history and architecture in the hundreds of other similar articles in the Urban Spelunking series here.
Like a number of similarly modest, but eye-catching school buildings scattered around the Milwaukee area, the old State Street School, perched high up on the northwest corner of 46th and State Streets, served neighborhood students for many decades.
But this one, at 4610 W. State St., also has some interesting history.
Built either in 1880 or 1910 – depending on who you ask (though I lean 1880, for a few reasons) – on what was then called the Milwaukee and Watertown Plank Road, the four-room school house was erected by the Town of Wauwatosa as what would be one of three schools in its Public School District No. 8. All three of those schools (the others are Story and Hawley) would end up in Milwaukee Public Schools when their land was annexed by the City of Milwaukee.
The one on State Street joined MPS in 1925 and was renamed State Street School to accommodate the district's main naming practice since 1912.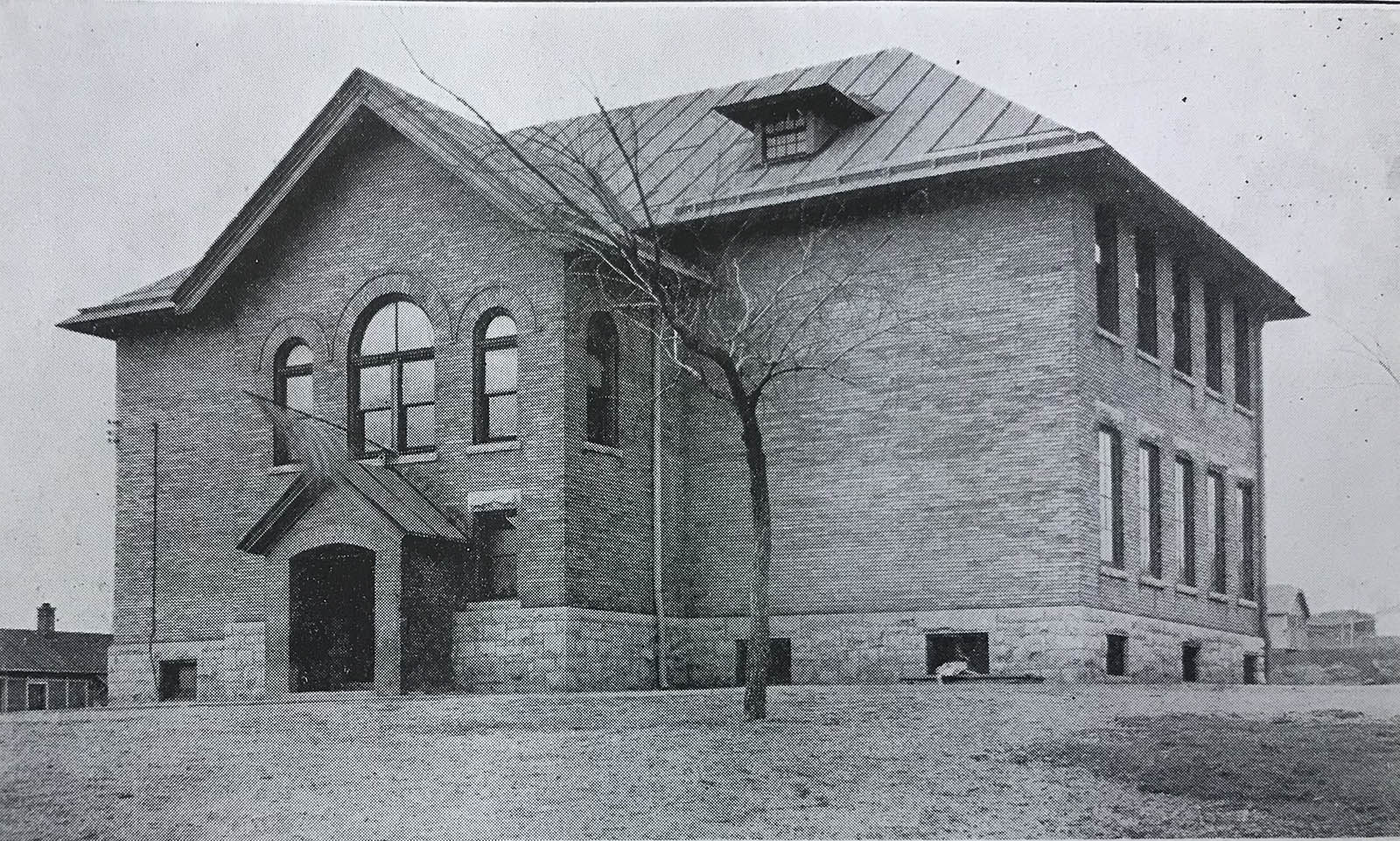 The school in a photo, circa 1927, in an MPS report.
A survey of MPS buildings by UWM and the Wisconsin Historical Society, noted that the building, "represents a 19th-century township school, a relatively rare property type in Milwaukee. The school was built around 1880 by the Town of Wauwautosa. The original portion of the building is a four-room school with brick walls, stone lintels, a hipped roof, and a gabled entry bay with arched windows."
In its 1927 report, "Where We Go To School," an unnamed MPS employee wrote, "The building is a small four-room structure acquired through annexation. Until the end of this school year it was supervised by the principal of the Story School. The present enrollment is 108. The district is growing and provision will need to be made for the future. The board has recently purchased two adjoining lots immediately north which have been added to the playgrounds."
In fact the building seems to have required a fair bit of work. On the 1910 Sanborn map it's described as having no lights and one can see the privy toilets out back.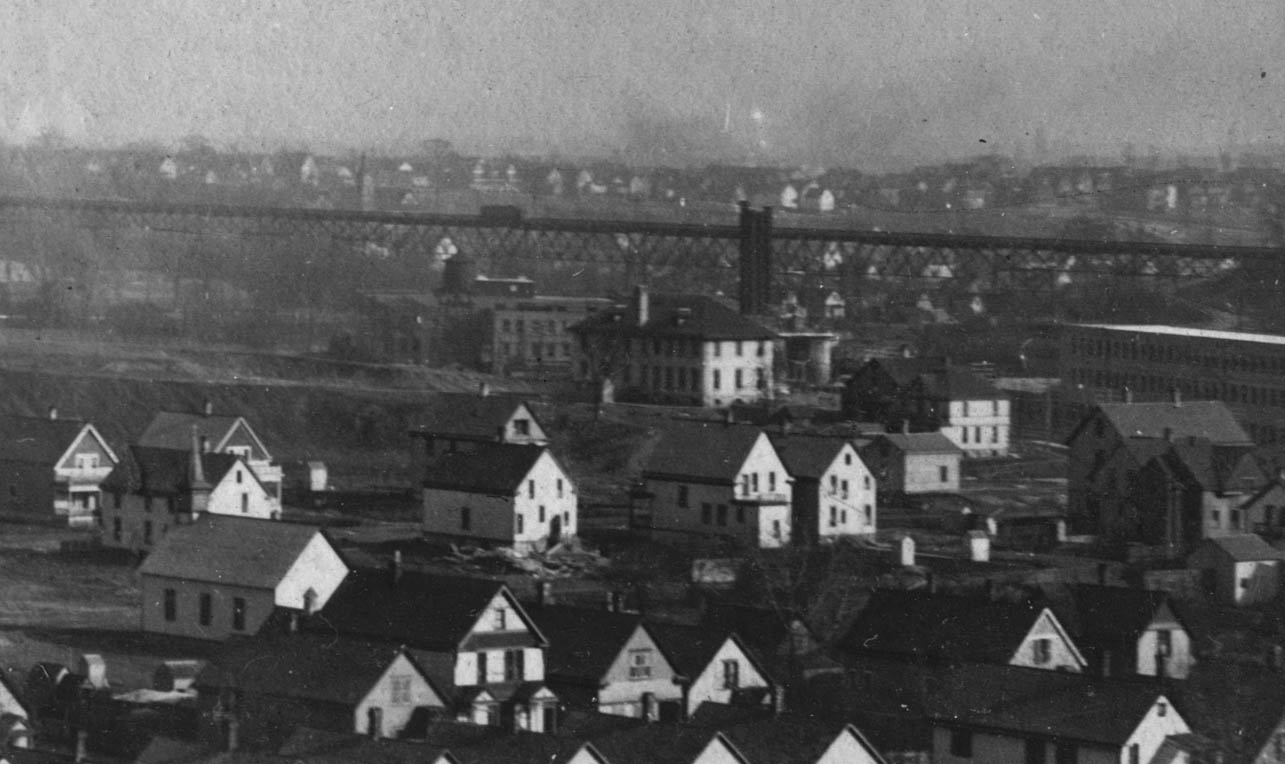 A view of the school, from the northwest, circa 1915, courtesy of Yance Marti.
In March 1928, the board approved $7,000 to buy those lots just north of the building to create more playground space and that September nearly $2,000 was allotted for Rice Brothers to install "modern toilets."
In 1932, MPS spent $10,000 – a fair chunk of change during the Depression – to erect the 611-foot retaining wall and perch a decorative iron fence atop it.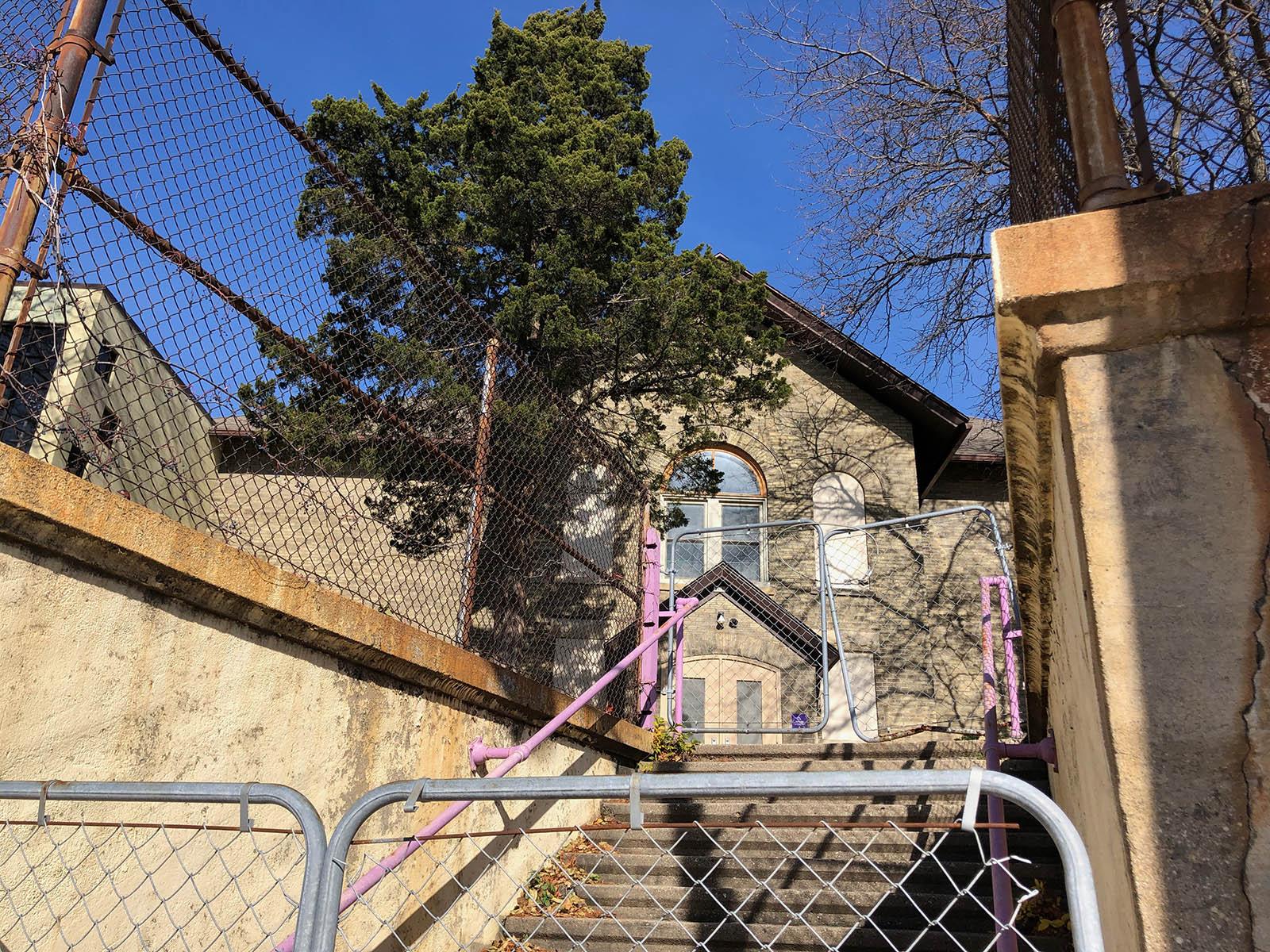 But the building was in active use, not only for classes, but for child health screenings, parent meetings and other uses, and it got its own principal in 1927 in Anna Millman.
But such a small building was bound to be a challenge in a growing district and by 1940, it was already decided that Joseph Koelsch – the principal at the nearby Story School, which got a new Art Deco building on 36th and Kilbourn in 1936 – could also oversee State Street.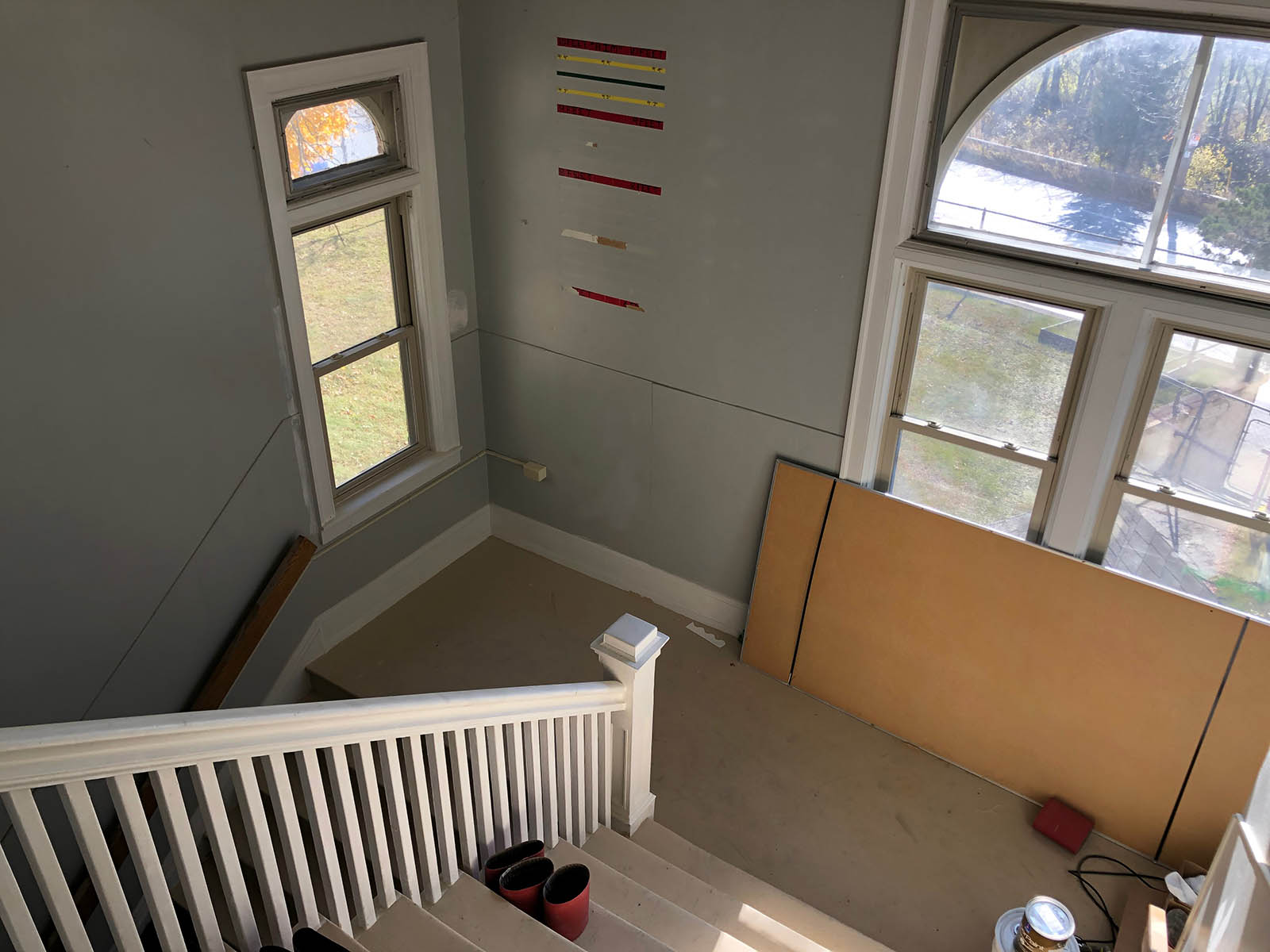 That change, as well as a shared principal arrangement at Wright Street (a building similar to State Street) and Hi-Mount, along with the closings of Ludington and Madison Street Schools, saved MPS $31,000 a year, and cost 50 teachers their jobs.
As part of the change, two of State's classrooms were shut down and two grade levels (third and fourth) eliminated, making it a two-room school with a kindergarten class and a combined first and second grade class.
A year later, Superintendent Milton C. Potter suggested closing the school as part of a five-year facilities plan, leading parents over the course of the following year or so to fight to keep it open. In fact, about 100 parents protested, demanding a special meeting, which they got.
Still, the school was closed and sat empty, but only for a few years. Then, its history took an unusual turn.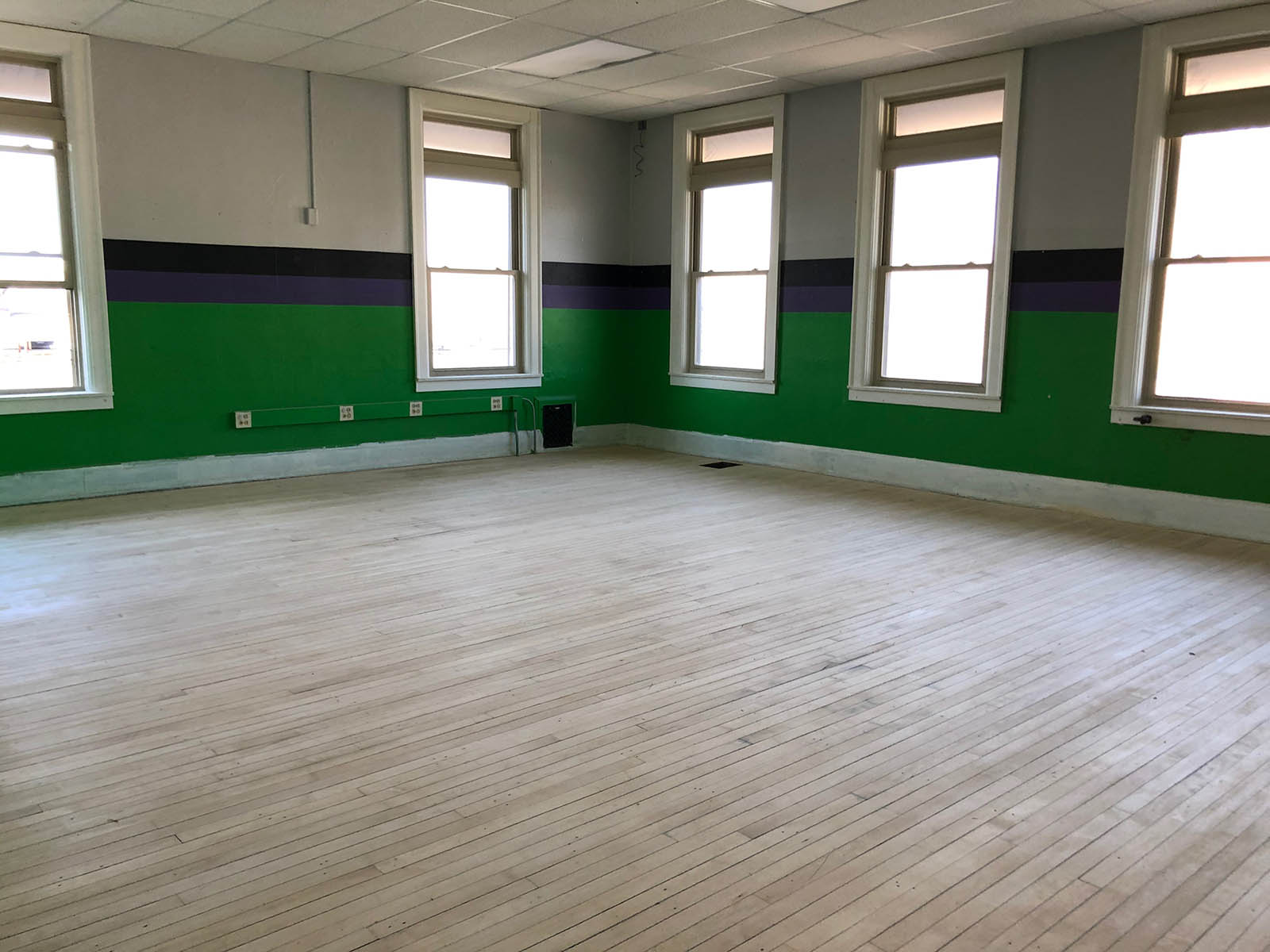 In a story not at all unique to Milwaukee, after World War II, returning G.I.s needed homes and so much of the land outside the historic center of the city was platted and developed with hundreds, nay thousands, of often-humble, but still beloved new homes, especially to the southwest and northwest of Downtown.
These houses couldn't be constructed overnight and, thus, many veterans needed housing badly and the City and County got creative in seeking solutions.
Among the proposed solutions were the erection of Quonset huts that could be used as temporary, short-term housing for veterans while new, permanent homes were being built.
Another was to use government buildings, including former barracks, trailers, prefab structures and ... empty schools.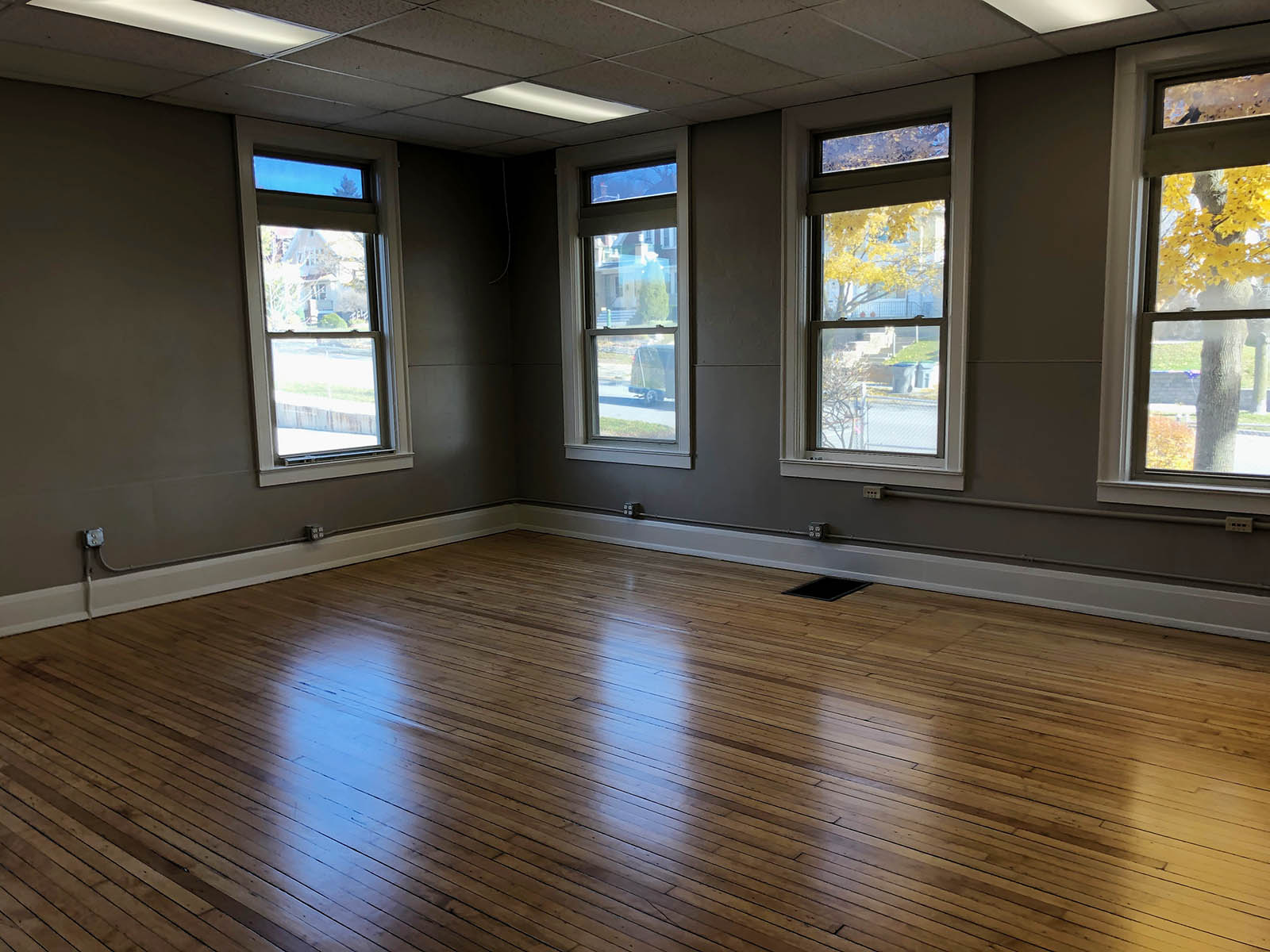 MPS offered the use of at least three buildings – Weil Street, Ninth Street School annex and State Street – and potentially a few others, including the original Gaenslen and Walnut Street. Two other buildings not in use by MPS were in use by others: Madison Street was home to the MFD training center and Ludington was being leased to Allis-Chalmers.
In January 1946, the school board approved the use of the three buildings, with the Milwaukee Common Council paying to convert them into habitable units, while at the same time, "not impair(ing) their future use as schools, not disturb(ing) the child care center and the toy loan center in the (Ninth Street) annex, nor the toy loan center in the Weil School."
It was decided that eight two-room apartments for veterans with children could be created in State Street School (though in the end, the number of rooms varied in the apartments) and while work commenced on building interior walls – which were actually only two-thirds high walls inside the apartments to help make them more easily removable later – applications were received.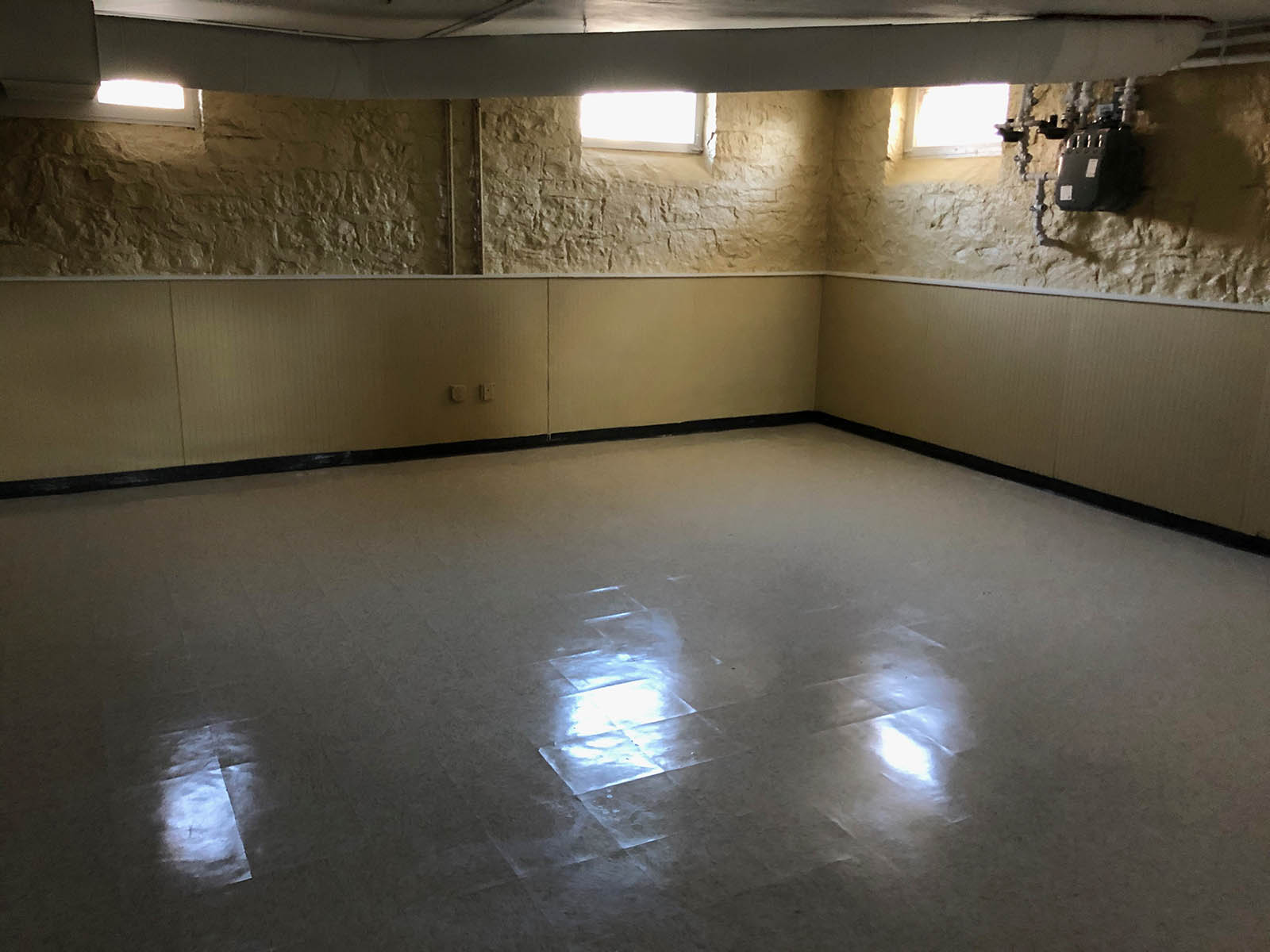 After personal interviews with the applicants, the "winning" tenants were notified on May 1, 1946 of their acceptance. Within just a few days, the first family – Mr. and Mrs. Kenneth Dahl and their three-and-a-half-year-old son Steven moved in.
The Dahls received free rent in exchange for their labor as building janitors, though this arrangement would become problematic later on.
Soon, the apartments were full.
But, the 1880s building was built as a school, not a residence. Those 1928 bathrooms were installed only in the basement, which meant a lot of stairs especially for families on the second floor. The interior apartment walls that did not extend all the way to the ceiling caused issues of intra-family privacy. Even worse, each two apartments' kitchens shared a common wall, part of which was a frosted glass window, causing issues with privacy between families.
Then there was the fact that although the Dahls were living rent-free as janitors, they cleaned neither the toilets nor the hallways, and the tenants were all expected to chip in their labor.
One Nov. 11, 1946 headline in the Milwaukee Journal says it all: "Schoolhouse Dwellings Are Haven, Not Heaven."
Subheadlines added, "'One Big Family' Motif Hard on Nerves" and "Joint Use of Facilities Stirs Petty Civil Wars."
"Although readily granting that any roof is better than none, most veterans who have moved into the city's housing projects are something less than enthusiastic about their emergency quarters, the paper wrote, before detailing the squables and complaints in the former State Street School.
"Although one of the eight veterans' wives later recounted that she 'burst into tears' when she saw the gloomy building, most of the families had searched long enough to be moderately enthusiastic about any dwelling with four walls and a roof. This enthusiasm soon abated, however, and within a few weeks most of the families were searching for more suitable quarters almost as diligently as they had before moving into the former school."
Of the eight original families, one had already left town for a job in Arkansas that came with an apartment, and another found somewhere else to live in Milwaukee. Both families had been replaced.
But two more had purchased homes and were eager to leave as soon as their construction was complete.
"The apartments ... vary somewhat in size," The Journal article noted. "Two have four rooms, the remainder three. Showers and other sanitary facilities are in the basement – 38 steps down from the four families on the second floor. The original signs reading 'boys' and 'girls' are still in place. A typical apartment at the school consists of a long, closetlike kitchen, with barely enough room for an icebox, stove and sink; a large, irregularly shaped living room and a small bedroom separated ... with a partial partition.
"When the family moved in, the floors were unvarnished and the marks where the students' desks had been bolted down could be seen plainly. In the living room, one wall, formerly a blackboard, is covered by composition material. The ceilings are half again as high as those of most apartments. The walls between living units are thin enough to make each floor practically one large, though not always happy, family."
Some of these complaints were addressed and the floors were varnished and curtains covered the frosted glass in the kitchens. A shortage of electrical outlets was remedied by having electricians add some more temporary ones.
Other issues proved more problematic.
"The two-thirds partition between the living room and bedroom might have come in handy for badminton, but was hardly conducive to privacy. And no matter what was done, the signs reading 'girls' and 'boys' remained 38 steps down. The community washroom, playground and bathrooms, not to mention the paper thin walls, soon gave each tenant a remarkable insight into the life of his fellow."
It's worth noting here that among the eight families in residence at the school there were 30 people, including 14 children. Five of those were babies. Each family paid between $40 and $45 a month rent.
There was fear of fire in a building with a single staircase and a single second floor fire escape to which only a couple apartments had direct access.
And, "the quarrels of the playground frequently spilled over into adult circles," the paper noted. "Besides the troubles of the younger set, the chief cause of contention has been the cleaning of the halls and bathrooms. Most of the tenants when they moved in had believed that the family which had agreed to take care of the duties of janitor-manager in lieu of paying rent would take care of such items. But this did not prove to be the case."
The city provided a mop and a bucket and the tenants were expected to do the work. The recently returned vets grumbled, "this is just like the army."
The tenants – like the State Street Parents four years earlier – demanded a meeting, which they got. But the result was the same as those parents received, too.
The meeting, to which only a few low-ranking city officials reportedly attended, "was a wild affair, with charges and countercharges hurled back and forth among the tenants. The city officials refused to agree to any of the tenants' requests. (Later) one tenant afterward that he had been threatened with eviction for 'stirring up trouble.' The rest were told they were lucky to be living at the schoolhouse."
The conditions – and conflicts – were about the same at the other schoolhouses, too, the paper noted, "and with somewhat more privacy in a few of the 170 Quonset huts the municipality is erecting."
The Dahls found themselves in another conflict in 1947 when folks learned that they owned a house in Milwaukee that they were renting out for $100 a month while they lived free as janitors at State Street School, which they don't appear to have cleaned. This led to criticism from officials as well as the media, it seems.
However, the Common Council came to the family's defense, noting that there were (unspoken) circumstances involved.
In December 1947, the Journal reported that the family would remain at the school, with aldermanic blessing, for another 3-6 months, until they could move into their home at 4183 N. Montreal St.
"Sobbing, Mrs. Dahl told the common council's housing committee that they would move out of the city unit 'as soon as we possibly can.' The other veteran, who occupies their house, will be ready to move into a home he is building in from 3-6 months. They had decided to rent the house instead of living in it themselves because of unusual expenses, the Dahls said.
"Their house, purchased in October, cost $10,500. Ald. Alfred C. Hass, housing committee chairman, apologized to the Dahls for criticizing the arrangement. 'I wanted to make sure no underhanded selection of tenants was going on. But I've changed my opinion after hearing their side of the story.'"
Despite the hiccups – which must surely have felt much more malignant to some of the tenants – the school was approved, in May 1948, for two more years of G.I. emergency housing, and, it seems, some families remained there until 1954.
In January 1955, the school board's building committee suggested getting the again-vacant building ready to reopen the following autumn.
In February the board approved reopening it with a K-3 program for students with learning disabilities.
But, again, the tiny building was unworkable and in May 1959, superintendent Harold S. Vincent suggested that rather than spend on "expensive remodeling" that would be required – this was a time when school districts were beginning to "modernize" vintage buildings wth dropped ceilings, new windows, closed transoms, asbestos tile flooring and the like – it would be better to close State Street and send its students to one of two programs at Townsend Street on the North Side and Greenfield Elementary on the South Side.
And that's exactly what happened.
In May 1964, however, the Wisconsin Montessori Society purchased the building and moved its Milwaukee Montessori School there from Our Lady of Lourdes, 3722 S. 58th St., where it had operated for the previous two years.
That summer MMS extensively remodeled the building and in 1966 put on a concrete addition on the west side.
It then proceeded to educate a few generations of Milwaukeeans until it relocated to a new building in Wauwatosa in 1998.
Since then, the building has been owned by the YWCA and has been home to a variety of educational programs including the Milwaukee Excel High School, a private voucher school.
Now, the building is again getting a makeover as it prepares to continue to serve children as a new location for Kid-Tastic Child Care.
Recently, after many years of eagerly hoping to get a chance to go inside, workers there allowed me a peek in the old building (I didn't see inside that modernist addition), where I tried to picture 19th century Town of Wauwatosa students in the classrooms with the slates, and where I imagined the hopping mad former soldiers swabbing the hall floors and their kids trying to make it all the way to the basement bathrooms before having an accident.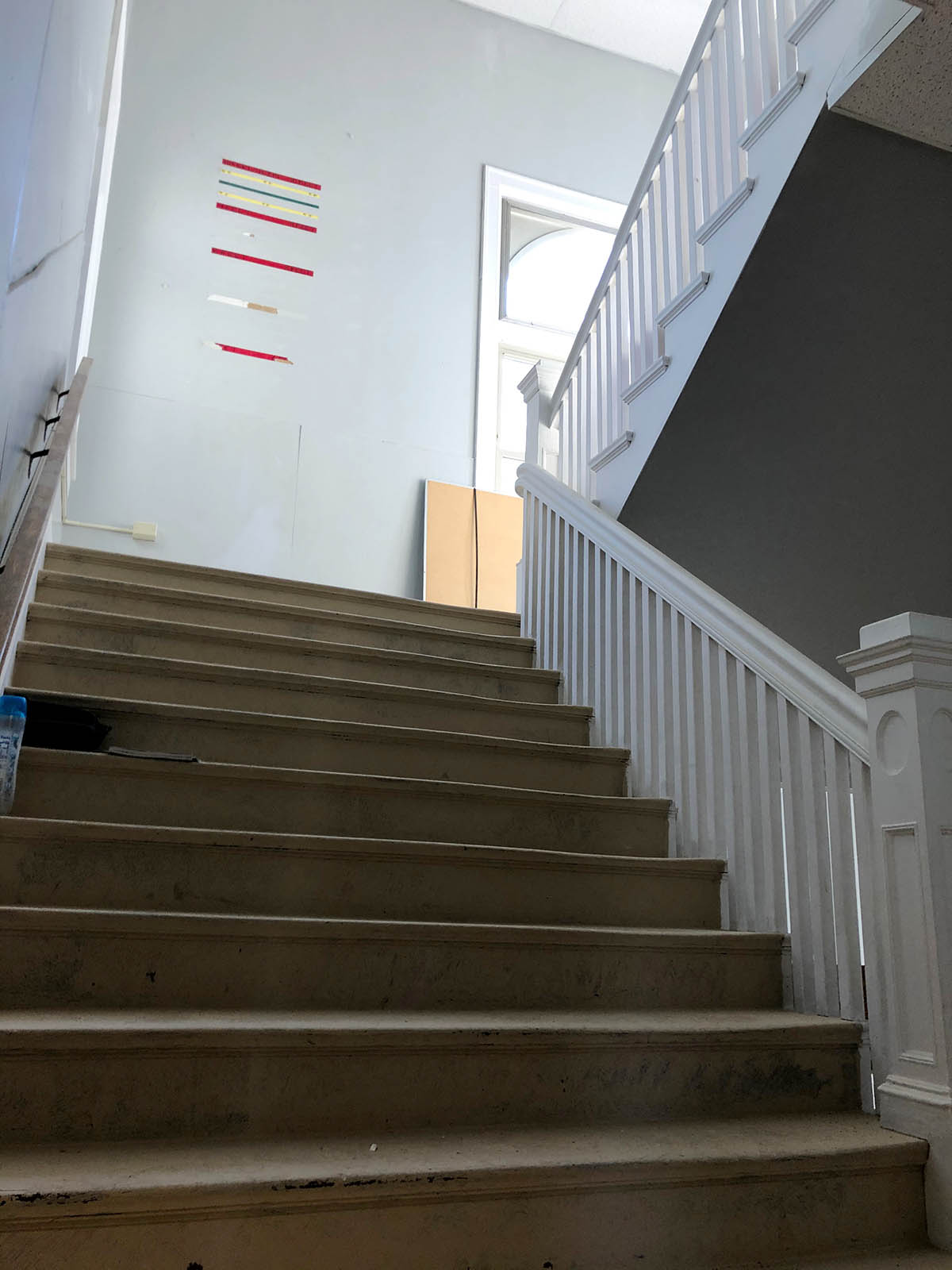 Back up in the classrooms I could picture tots with their brown stairs and pink towers and more recently with their laptops working through geometry problems.
The hardwood floors are still there, as is some of the wainscoting and a lovely main entrance staircase, all spic and span and freshly painted for the kids who will soon come for Kid-Tastic.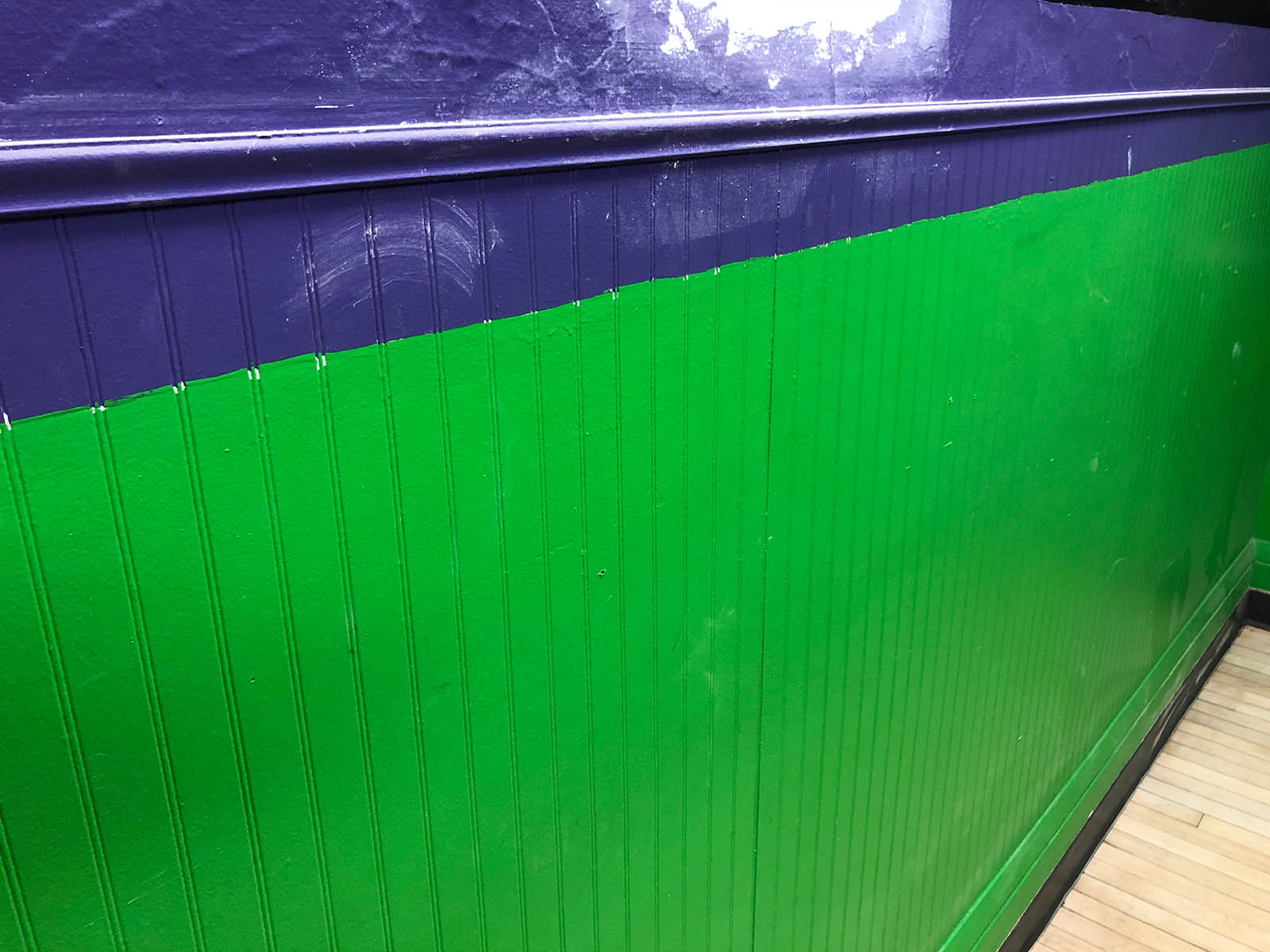 On the way out, I stopped and looked at that 1932 retaining wall and thought about all the history it's seen.
While the old State Street School might not be a high-profile landmark, it's definitely packed full of history.
Born in Brooklyn, N.Y., where he lived until he was 17, Bobby received his BA-Mass Communications from UWM in 1989 and has lived in Walker's Point, Bay View, Enderis Park, South Milwaukee and on the East Side.
He has published three non-fiction books in Italy – including one about an event in Milwaukee history, which was published in the U.S. in autumn 2010. Four more books, all about Milwaukee, have been published by The History Press.
With his most recent band, The Yell Leaders, Bobby released four LPs and had a songs featured in episodes of TV's "Party of Five" and "Dawson's Creek," and films in Japan, South America and the U.S. The Yell Leaders were named the best unsigned band in their region by VH-1 as part of its Rock Across America 1998 Tour. Most recently, the band contributed tracks to a UK vinyl/CD tribute to the Redskins and collaborated on a track with Italian novelist Enrico Remmert.
He's produced three installments of the "OMCD" series of local music compilations for OnMilwaukee.com and in 2007 produced a CD of Italian music and poetry.
In 2005, he was awarded the City of Asti's (Italy) Journalism Prize for his work focusing on that area. He has also won awards from the Milwaukee Press Club.
He can be heard weekly on 88Nine Radio Milwaukee talking about his "Urban Spelunking" series of stories.