Get your Milwaukee history fix this summer with OnMilwaukee's Urban Spelunking, sponsored by DearMKE. Fall in love with Milwaukee and its stories on DearMKE.com, or go on your own urban exploration and share your photos and your stories of Milwaukee with #DearMKE on Instagram, Facebook and Twitter.
The remnants of Milwaukee's manufacturing and industrial past have long provided havens for creativity for the city's musicians, photographers, painters and other artists, to say nothing of folks more suited to deserted factory life than traditional apartment dwelling.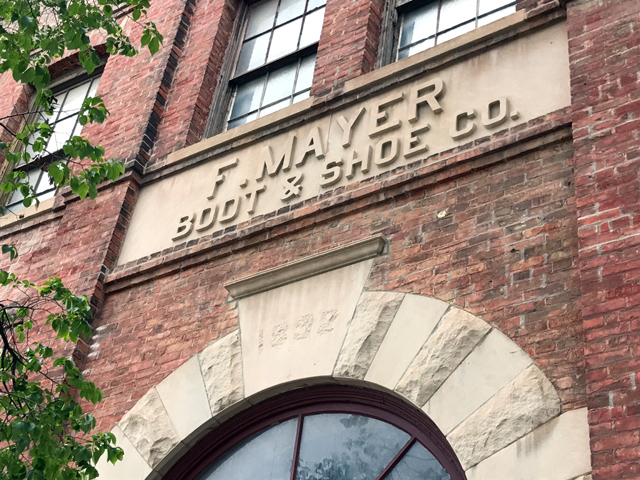 One such place was the Bern Boys building in Walker's Point. Another was the dearly departed Sausage Factory on the northwest end of the Humboldt Avenue viaduct.
Still another was the former tannery buildings on Virginia Street, where the founders of Colectivo and Fuel Cafe, among others, were housed. Think, too, of Lincoln Warehouse on the western edge of Bay View. Then there was the legendary Sydney Hih.
Chief among a list of these places would have to be what is called "The Fortress," 100 E. Pleasant St., that complex complex of at least six connected buildings – including the one with the Medieval-looking tower – that were once home to the F. Mayer Boot & Shoe Co.
Over the past few decades, it has been a creative home to musicians like BoDeans, Paul Cebar & the Milwaukeeans, and Pat McCurdy; filmmakers like Frankie Latina, Scott Reeder, Andrew Swant and Bobby Ciraldo; visual artists like Davey Noble, Ray Chi and Faythe Levine, among others. (Mary-Louise Schumacher wrote a nice piece on this aspect of the building's life.)
There have been galleries, theater companies, an art supply shop and even a daycare and Montessori school in the building.
Rick Wiegand (who also owns the former Tower Theater and the Ambassador Hotel) bought the place in 1988 and has been landlord to these folks for all those years. But, now he's selling the place to a developer that plans to turn this complicated web of buildings erected between 1880 and 1912 into apartments, including one on the giant cube of a space in the tower that has given the building its nickname. Wiegand says closing is set to take place by the end of September.
Born in Darmstadt, Germany, in 1823, Frederick Mayer (pictured above, courtesy of Mark Kuehn) arrived in Milwaukee and opened a thriving and ever-growing shoe store on Water Street in 1852. Twenty-eight years later, he moved into the shoemaking business, setting up shop with his sons A.J., George (pictured at right) and Frederick Jr., in a two-story building on the northeast corner of 1st and Walnut Streets.
After enlarging that building with a two-story addition to the east, Mayer still needed more space and so in 1892 he tapped architect Herman P. Schnetzky to make that building larger still, expanding not only to the east but also upward to create a five-story structure (that seems like six stories on the Pleasant/Walnut Street side thanks to an exposed basement level).
Business was booming for Mayer, which had started out making about 150 pairs of a shoes a day and in 1893 employed 125 people. The expanded plant capacity soon boosted production to as many as 3,000 pairs each day.
In 1899, Mayer hired Eugene Liebert to draw a further expansion to the east, replacing a two-story factory with a roof lined with dormers (seen below in a photo courtesy of Milwaukee Public Library).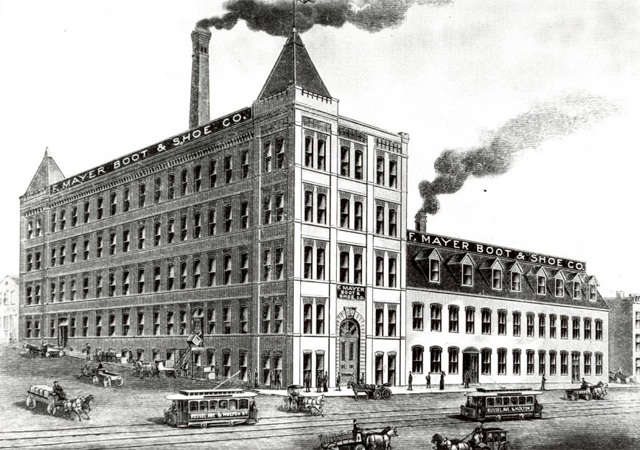 (PHOTO: Courtesy of Mark Kuehn)
Liebert had been partners will Schnetzky from 1892 until 1897, but had been Schnetzky's draughtsman since 1887, which means Liebert most likely had a hand in designing the 1892 building, too. That likely make it quite simple for Liebert to maintain the continuity of design, especially of the Walnut/Pleasant Street facade.
Here are Sanborn Fire Insurance Map images of the site from 1894 and 1910. Note that the 1910 map details on which floor each manufacturing process took place: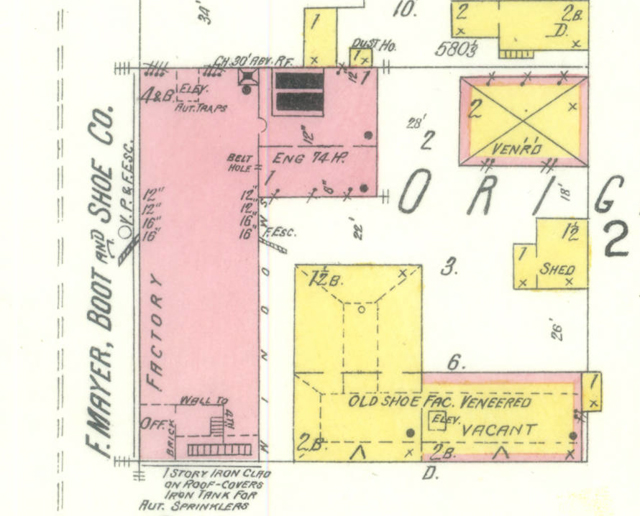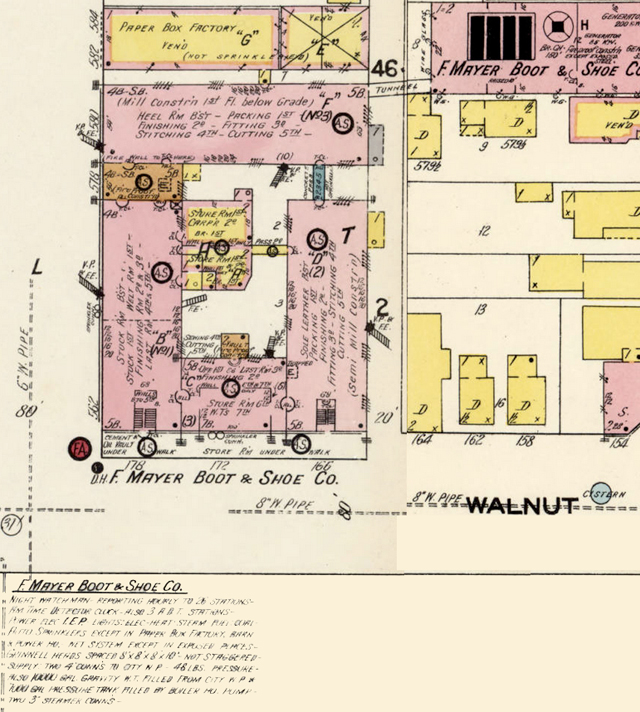 Further additions went up to the north in 1900, 1906 and 1912, creating the array of connected structures that we see today and that are collectively called "The Fortress." A 1908 postcard notes that in 1908, Mayer had 259,000 square feet of factories in Milwaukee and Seattle, and were turning out 9,000 pairs of its "Honorbilt" shoes daily.
In 1910, the company again hired Schnetzky and his son Hugo to design the striking terra cotta building that is home to West Elm on the corner of Water Street and St. Paul Avenue.
"The F. Mayer Boot & Shoe Company represents one facet of the giant tanning industry which made Milwaukee a leader in the country," notes the Wisconsin Historical Society.
"The Brewers' Hill area saw the largest concentration of tanneries along the banks of the Milwaukee River. Manufacturers such as the U. Schoenecker Boot & Shoe Company and the Mayer plant were located in the proximity to the supply of tanned leather. By 1910, in a period of property for the leather industry as a whole, Mayer had expanded nationwide and established a five-story building in Seattle to meet the demand for shoes along the West Coast and Alaska."
Although Mayer died in 1897, his sons continued to run the business into the 1930s.
These days, most – though not all – tenants have moved out. Wiegand showed me around one day recently and it is really a warren of hallways and spaces of all different shapes, sizes and configurations, in part because of its many varied usages and subdivisions over the years, but also because of the fact that there are six buildings fused together.
In the southwest corner of the basement, you can really see the earliest parts of the structure, with cream city brick walls and heavy timber framing. Toward the back, in the 1906 building, is the site of the former daycare (pictured above), which was also a Montessori school for a time.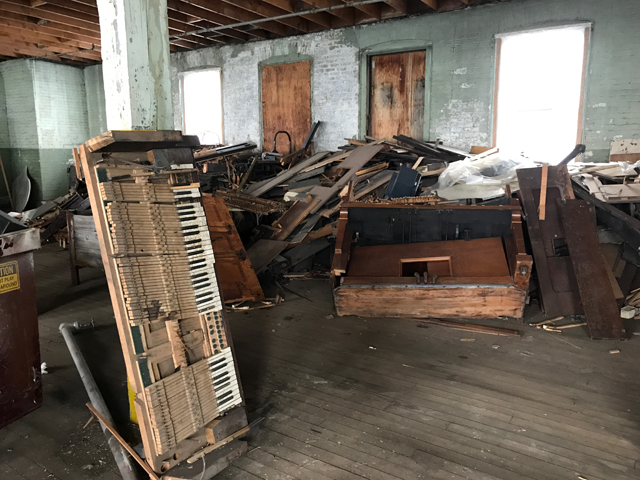 The storied "piano graveyard" still survives on the top floor of the earliest building, with a stack of pianos and piano parts mounded into what looks almost like an art installation, or the result of a piano factory collapse.
If you keep heading south in this space and then turn left, you find the wooden ladder that is the first leg of the journey to the roof of the crenelated tower. Go up through the scuttle and you're in the dark, lower level of the tower, which has windows, but not facing Pleasant Street.
Take the metal ladder through another scuttle and prepare to be amazed.
This is the gorgeous, two-story open cube of space, with two levels of windows on all four sides, that Wiegand says he thinks the new owners will convert into an apartment. The 360-degree views for the lucky renter will be astonishing.
Another metal ladder – this one much taller thanks to the height of the space – leads to the scuttle that opens on to the roof, which, of course, offers more unobstructed 360-degree views because you're another 25 feet or so higher and with no walls around you.
I stand up here for a good long while – I wouldn't blame Wiegand if he had been eying his wristwatch impatiently, though I didn't see him do it – taking in the views, despite the fact that it was raining lightly.
Back downstairs, Wiegand takes me into the Mayer offices in the 1899 Liebert building. In here, there's a vault with a stunning red brick surround, and offices with fireplaces of matching brick and nice arched openings.
A series of smaller offices are behind a wood-and-glass wall with decorative iron escutcheons and doorknobs, evoking a long-departed era. Before I head out the studded leather doors toward Pleasant Street, Wiegand urges me to take a photograph of the heavy black slate stairs.
"Imagine the boots of all the workers that wore down those steps coming in here to collect their pay every week for all those years," he says. I stop to take the photo and pause for a moment to hope that the new owners of this Milwaukee landmark appreciate its history as much as Wiegand does.
Born in Brooklyn, N.Y., where he lived until he was 17, Bobby received his BA-Mass Communications from UWM in 1989 and has lived in Walker's Point, Bay View, Enderis Park, South Milwaukee and on the East Side.
He has published three non-fiction books in Italy – including one about an event in Milwaukee history, which was published in the U.S. in autumn 2010. Four more books, all about Milwaukee, have been published by The History Press.
With his most recent band, The Yell Leaders, Bobby released four LPs and had a songs featured in episodes of TV's "Party of Five" and "Dawson's Creek," and films in Japan, South America and the U.S. The Yell Leaders were named the best unsigned band in their region by VH-1 as part of its Rock Across America 1998 Tour. Most recently, the band contributed tracks to a UK vinyl/CD tribute to the Redskins and collaborated on a track with Italian novelist Enrico Remmert.
He's produced three installments of the "OMCD" series of local music compilations for OnMilwaukee.com and in 2007 produced a CD of Italian music and poetry.
In 2005, he was awarded the City of Asti's (Italy) Journalism Prize for his work focusing on that area. He has also won awards from the Milwaukee Press Club.
He can be heard weekly on 88Nine Radio Milwaukee talking about his "Urban Spelunking" series of stories.