It was a rollicking soft opening tonight at Urban Bay View, 2301 S. Logan St., the second business venture of Paul Jonas, who also owns Tonic Tavern, 2335 S. Kinnickinnic Ave. Urban is managed by longtime Tonic bartender and bellwether of the service industry, Paul "PK" Kennedy.
Urban was in tip-top shape tonight and the only amenities still to come, according to Jonas, are a fire ring in the sitting area and two decks on the west and east sides of the building.
Urban, formerly Gerry's Diamond Tap, was completely gutted and remodeled. It will be open to the public starting tomorrow – Friday, May 20 – at 4 p.m. and every day after.
"We might be open a little earlier on the weekends, stay tuned," says Jonas.
The previous tavern was ensconced in maple wainscoting for decades, but Jonas and crew removed the space to reveal tin patterned walls, ceiling and a mahogany wood-topped bar. Stephanie Quinn from Modern Edge Design created the design, which is a blend of warm tones, wooden, re-purposed tables and a large, comfortable lounge.
The bar is named in honor of Jonas' late father – Urban Charles Jonas, Jr. – who passed away a few years ago and played football and basketball for Marquette University, was a Triple A baseball pitcher, as well as a Hall of Fame member of the Milwaukee County Golf Association.
Kennedy was extremely busy tonight, but pleased with the turn out.
"It's a little overwhelming, but I'm really happy," says Kennedy. "I have great staff and a great bunch of friends here tonight."
Here are nine more photos from tonight's opening:
1. PK all the way
2. Beautiful Booze
3. Cake (courtesy of Hue owners
Mark
Nielsen and Carina Tran)

4. Out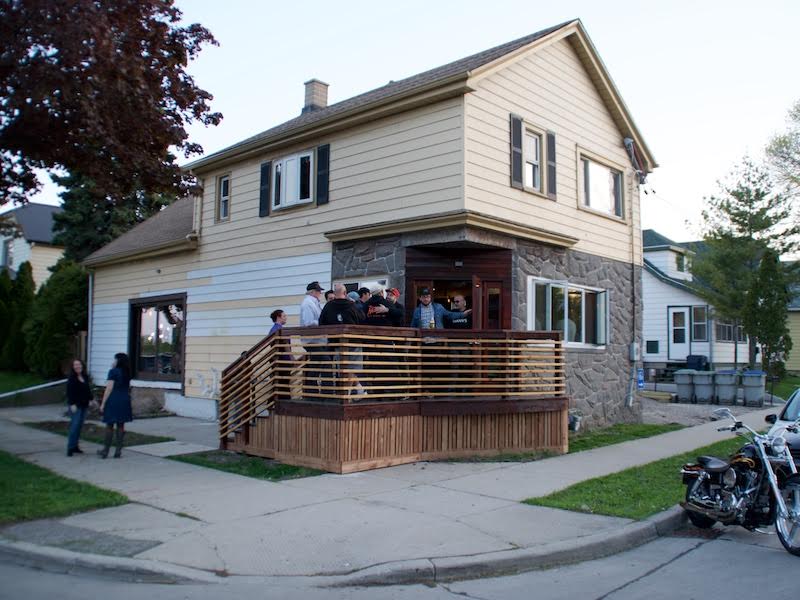 5. Tributes
6. More tributes
7. Yes
8. Hanging out

9. Bar back
Molly Snyder grew up on Milwaukee's East Side and today, she lives in the Walker's Point neighborhood with her partner and two sons.
As a full time senior writer, editorial manager and self-described experience junkie, Molly has written thousands of articles about Milwaukee (and a few about New Orleans, Detroit, Indianapolis, Boston and various vacation spots in Wisconsin) that range in subject from where to get the best cup of coffee to an in-depth profile on the survivors of the iconic Norman apartment building that burned down in the '90s.
She also once got a colonic just to report on it, but that's enough on that.
Always told she had a "radio voice," Molly found herself as a regular contributor on FM102, 97WMYX and 1130WISN with her childhood radio favorite, Gene Mueller.
Molly's poetry, essays and articles appeared in many publications including USA Today, The Writer, The Sun Magazine and more. She has a collection of poetry, "Topless," and is slowly writing a memoir.
In 2009, Molly won a Milwaukee Press Club Award. She served as the Narrator / writer-in-residence at the Pfister Hotel from 2013-2014. She is also a story slam-winning storyteller who has performed with The Moth, Ex Fabula and Risk!
When she's not writing, interviewing or mom-ing, Molly teaches tarot card classes, gardens, sits in bars drinking Miller products and dreams of being in a punk band again.