One last glance prevented more than a half-century of Milwaukee VA history from ending up in small-town landfill in the southwestern corner of Wisconsin.
After a long, circuitous route, along with a year-long delay due to health issues, a time capsule from 1963 that was unearthed during a construction project at the Milwaukee VA, was rediscovered in a garage on a dairy farm near Cashton, Wisconsin, about 30 miles east of La Crosse.
"That was going to go into our village garbage pit," said Earl Laufenberg, an Army Veteran who served in Vietnam. "They just happened to shake it and they said, maybe there's something in this. That's why they kept it. But, it was about 10 seconds from being thrown into the big garbage bin."
The time capsule was buried during the building of the current Clement J. Zablocki VA Medical Center, which opened in 1966. The copper box contained newspaper clippings, coins, annual reports from the hospital, and a copy of the dedication speech by Zablocki, the Milwaukee-area congressman who advocated for the new hospital.
The box was dug up about four years ago by Earl's son, John Laufenberg, who was working for Willkomm Excavating & Grading of Union Grove on the south entrance project at the Milwaukee VA.
At the time, the box – and its significance – went unnoticed as just part of the excavation debris.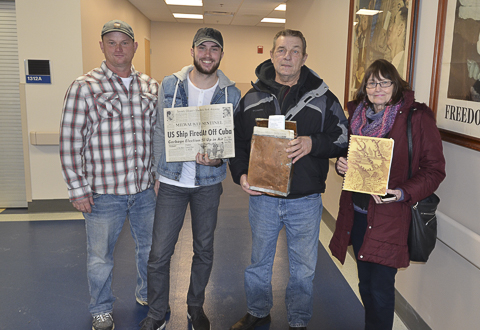 John Laufenberg (left) unearthed the time capsule during a construction project.
His son, Caleb Hawkins, and his parents, Earl and Barb Laufenberg, display the box
and its contents while returning it to the Milwaukee VA.
"It was on a Friday," said John Laufenberg, who still works for Willkomm, which has done several projects at the Milwaukee VA. "I picked up all the trash and everything here in my work truck. That weekend, I had to go back to Cashton with that truck to pick up some materials for the company. At dad's garage, I took out all the metal and stuff, cleaned out all the wood and put it in the burner barrel, and just threw it in the garage.
"Probably a year later, he was cleaning the garage out," John Laufenberg said. "They heard something when they shook the box and then they opened it up."
An electrician friend opened the box with a battery-powered tool. Barb Laufenberg, Earl's wife, said she called the Milwaukee VA to let them know about the box, but before they could arrange to deliver it, Earl ended up undergoing treatment for lung cancer.
As such, the box and its contents understandably got put on the back burner, she said.
Earl and Barb Laufenberg recently traveled to Milwaukee to see John and brought the time capsule with them.
"It was a combination of events that kind of mysteriously came together to make this happen," John Laufenberg said. "Mother and dad didn't piece the whole story together until I saw it and figured it out. That's how it got back here. I remembered throwing it on the truck."
Janice Curnesmedical librarian at the Milwaukee VA, and public affairs officer Gary Kunich,
wore protective gloves while examining the contents of the time capsule.
The time capsule contained copies of both the morning Milwaukee Sentinel and afternoon Milwaukee Journal from the days when Milwaukee was a two-paper town.
"US Ship Fired At Off Cuba," the Sentinel headline blared. Another headline simply said, "Pushes VA Air Conditioning," part of Zablocki's insistence that the Veterans Administration – as it was called at the time -- change its policy and air condition the entire new 10-story hospital.
The patient lunch menu for March 29, 1963, included such options as clam chowder, Spanish omelet, or smoked tongue, while the Friday dinner menu included the obligatory deep fat fried haddock.
Also included was a copy of Zablocki's dedication speech, single-spaced in mimeograph purple; annual reports from 1961 and 1962; a commemorative booklet for the cornerstone laying ceremony; a copy of the Wood Tattler, the employee newsletter of the day; a variety of coins from 1963, as well as a wheat penny and Mercury dime; and a mercury thermometer.
"It's exciting," said Janice Curnes, a medical librarian at the Milwaukee VA. "It's fascinating, I can't wait to get my hands on it.
"We're going to try to preserve it the best we can," said Curnes. "We'll go through and look at what documents can be scanned, do reproductions, and maybe we can find a place for a display."