Virginia tries to claim it's the state for lovers, but we cheeseheads know Wisco's where the lovin's at. Thus, it's no surprise that we have oodles of local options for treats and trinkets made with affection to swoon over. Below you'll find a list of some of our picks, ranging from virtual activities to delectable edibles (er, not those kinds of edibles; they're not legal in Wisconsin yet.)
In any case, celebrate the people you adore on Feb. 14 because regardless of which chocolates or red wine we buy, it's really just about sending love off into the ethers. Just don't buy them those chalky candy hearts; nobody likes those.
414LoveBoxes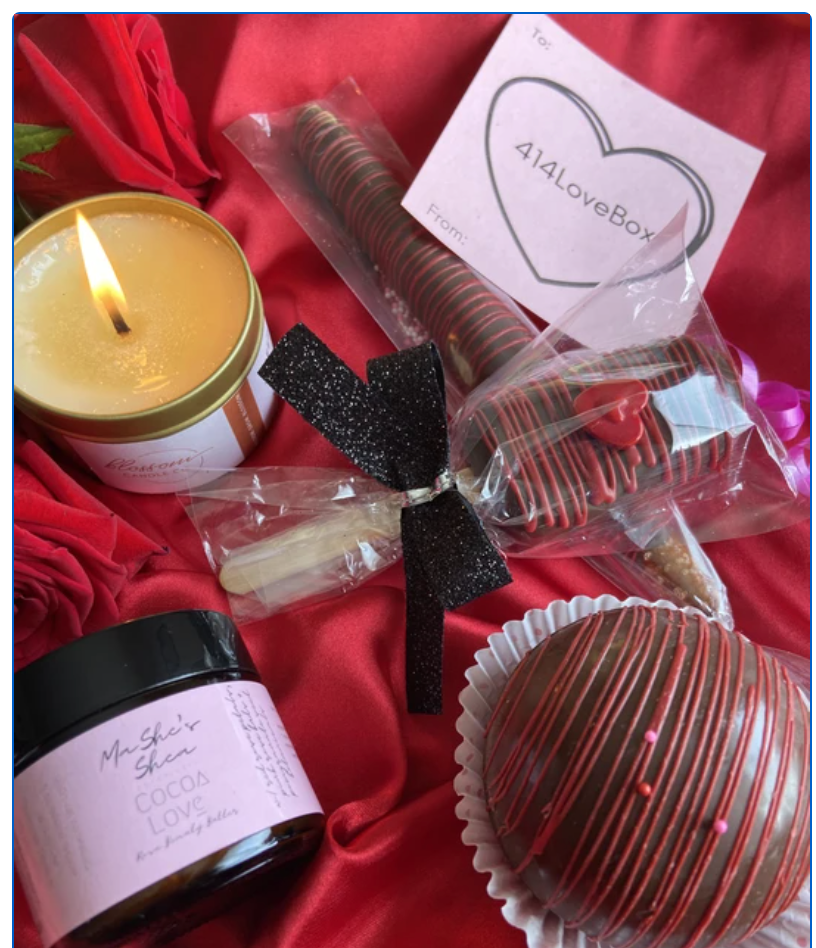 Local businesses MaShe's Shea Botanicals, Blossom Candle Co. and Scrumptious Consumptions collaborated to create the V-Day-inspired "414LoveBox." The boxes, which are only available in Milwaukee, are available with white or milk chocolate and include a specially designed card; Coco Love Rose body butter; rose-scented massage candle, hot cocoa bomb, dipped pretzel rod and "cake-sickle." Curbside pickup and local delivery are available. Order here, ya hopeless romantic.
Black Twig Bakery's "February Favorites"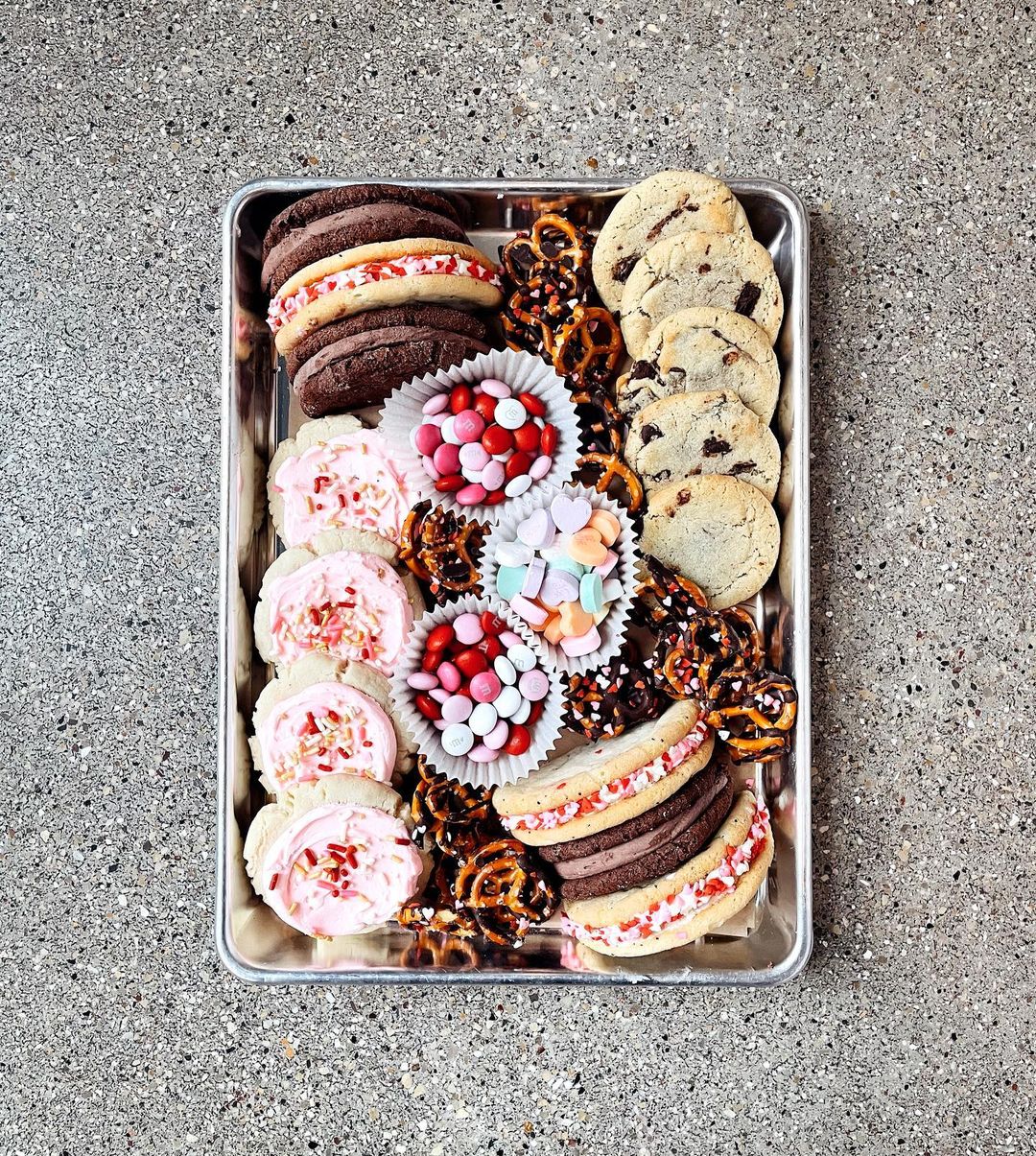 Choose from a sexy assortment of Valentine's boxes lovingly packed with cakesickles, macaroons, a cookie sandwich sampler and a dessert Charcuterie for two (pictured). The Tosa-based bakery also offers myriad sexy bakery items this month that are available a la carte including pink Champagne macaroons, red velvet sandwich cookies, chocolate caramel cupcakes and more. Find the sweetness here.
Chase My Creation's signs of love 'n' justice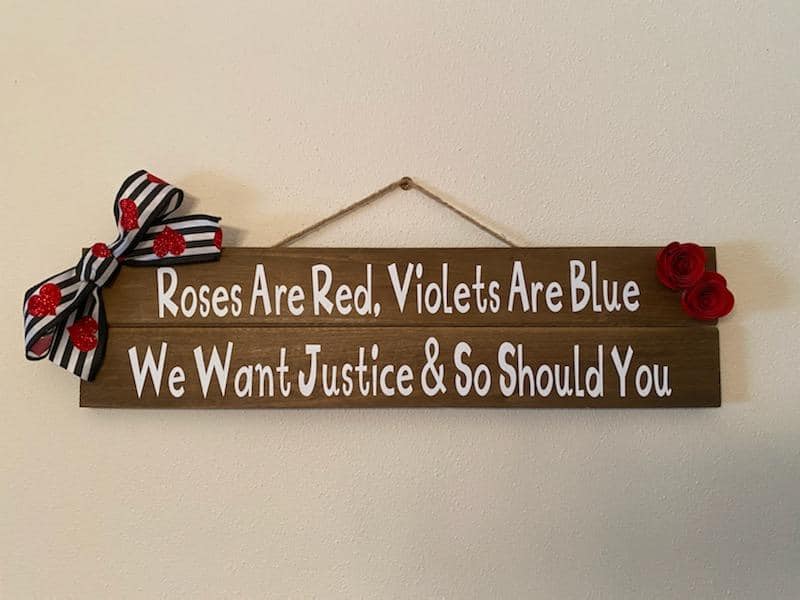 We love these wooden signs handpainted by Milwaukee-based Chloe with help from her daughter and inspiration, Chase. She has new signs especially for Valentine's Day that are available for order right here.
Life's A Batch Cookies by Courtney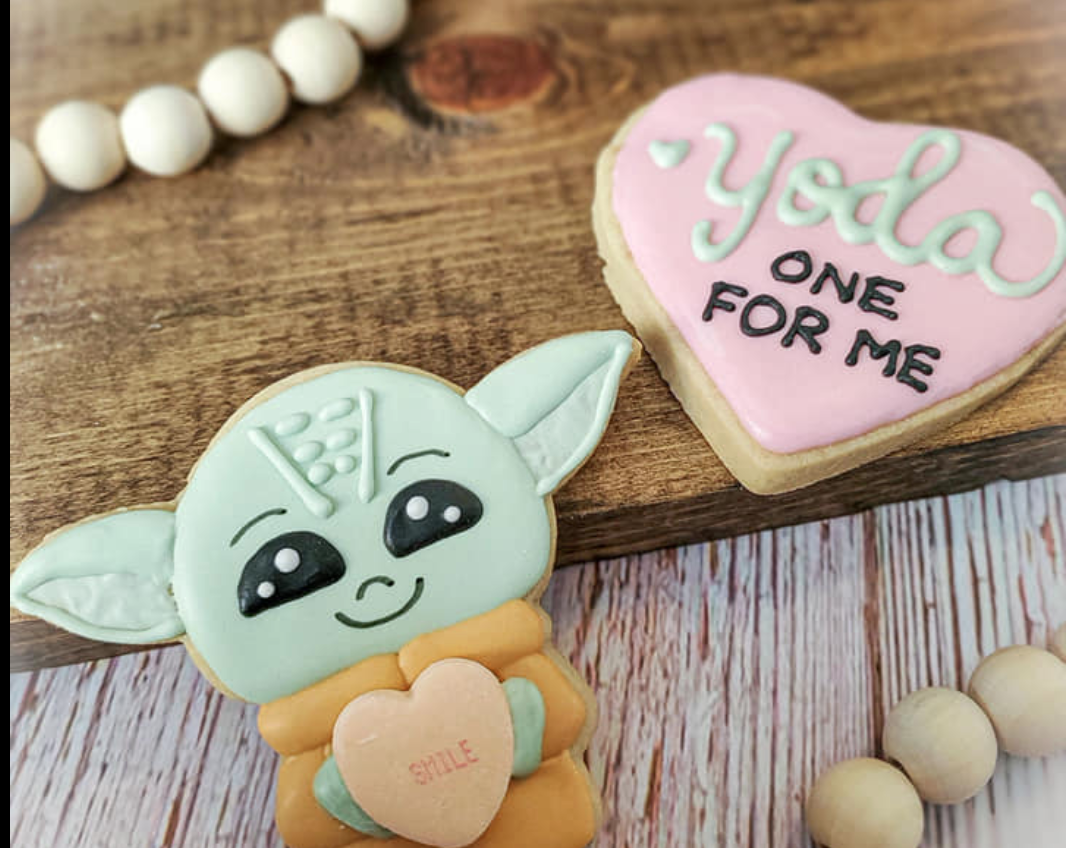 Does your sweetie have a sweet tooth and is smitten with Star Wars? These adorable Yoda cookies are your V-day go-to this year. (The pizza cookies are super cute, too!) Plus, they're made by a local lady who is an RN and "cookier" by night. Go here to order and, as always, may the force be with you.
Lou Malnati's heart-shaped pizzas
If pizza is part of your love language, then you'll wanna grab one of these for your honeypie. Starting Feb. 8, deep dish, heart-shaped pizzas are available for pick up or can be shipped anywhere in the country. Locally, Lou Malnati locations are in Greenfield, Brookfield and Fox Point. Get all the delicious deets here.
Milwaukee Tours "Breakfast In Bed" Box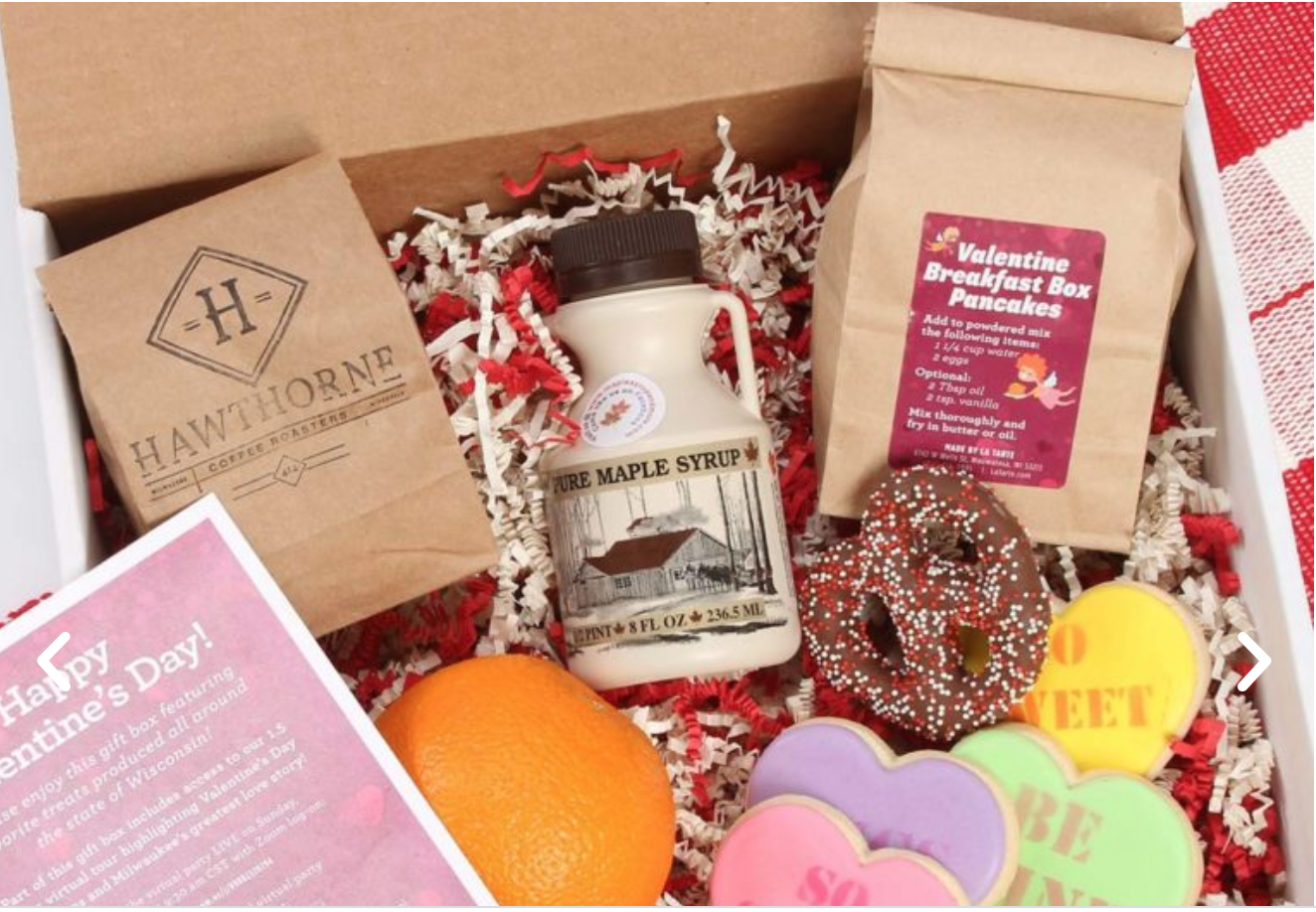 Spoil your bae with breakfast in bed with this everything-you-need-to-succeed box curated by Milwaukee Food Tours. It's chock full of Wisconsin products including pancake mix by La Tarte Bakery, maple syrup from County Line Sugar Bush, Coffee from Hawthorne Coffee Roasters and more. Shipping available. Get one here.
Milwaukee Pretzel's heart-shaped pretzels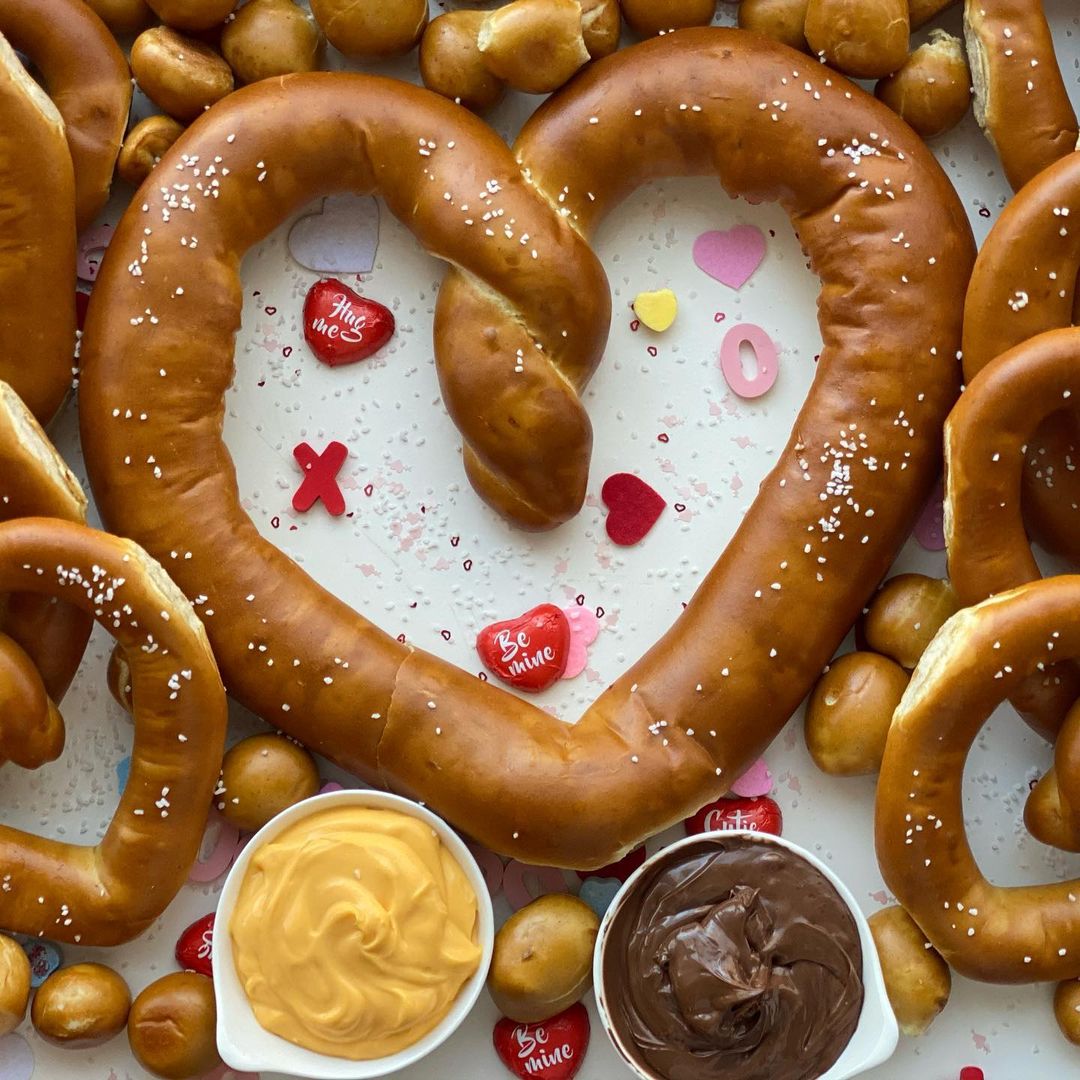 Have a particularly twisted lover? Well then, this 1-pound pretzel just might be the perfect V-Day goodie. Plus, Milwaukee Pretzel Co. will donate $1 from every pretzel sale to Feeding America Eastern Wisconsin. Gift boxes are also available. Find it all here.
O&H Kringle's heart-y pastries
Valentine's Day is on a Sunday this year, so grab a pecan or cherry, heart-shaped Danish Kringle made in Racine (in main photo). Pair it with some local coffee and you can check off "Valentine's 2021" from your to-do list. You can send 'em to your long-distance loves, too. Pre-order right here.
Sip 'N' Shine "wife boxes"
This local, woman-owned business sells chocolates all year 'round, but they especially shine during Valentine's season. This year they are specializing in hot cocoa bombs and "wife boxes," packed with wine, flowers and, of course, chocolate. Find out more here.
Splash Studio love-themed art kits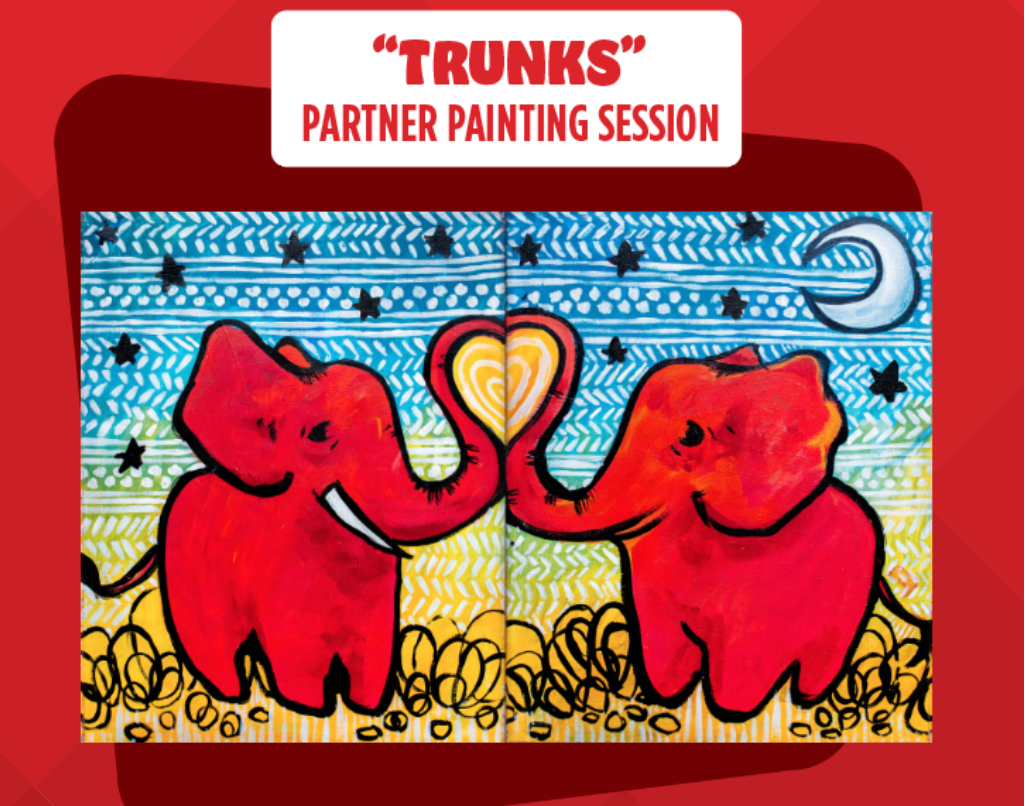 Surprise your arty sweetie with a live event and/or a love-themed art kit from Splash Studio. Painting packages include all the art supplies needed to make your masterpiece, virtual direction from a Splash studio artist (optional) and convenient pick-up at a variety of locations. Go here for more info.
State Fair pink cream puffs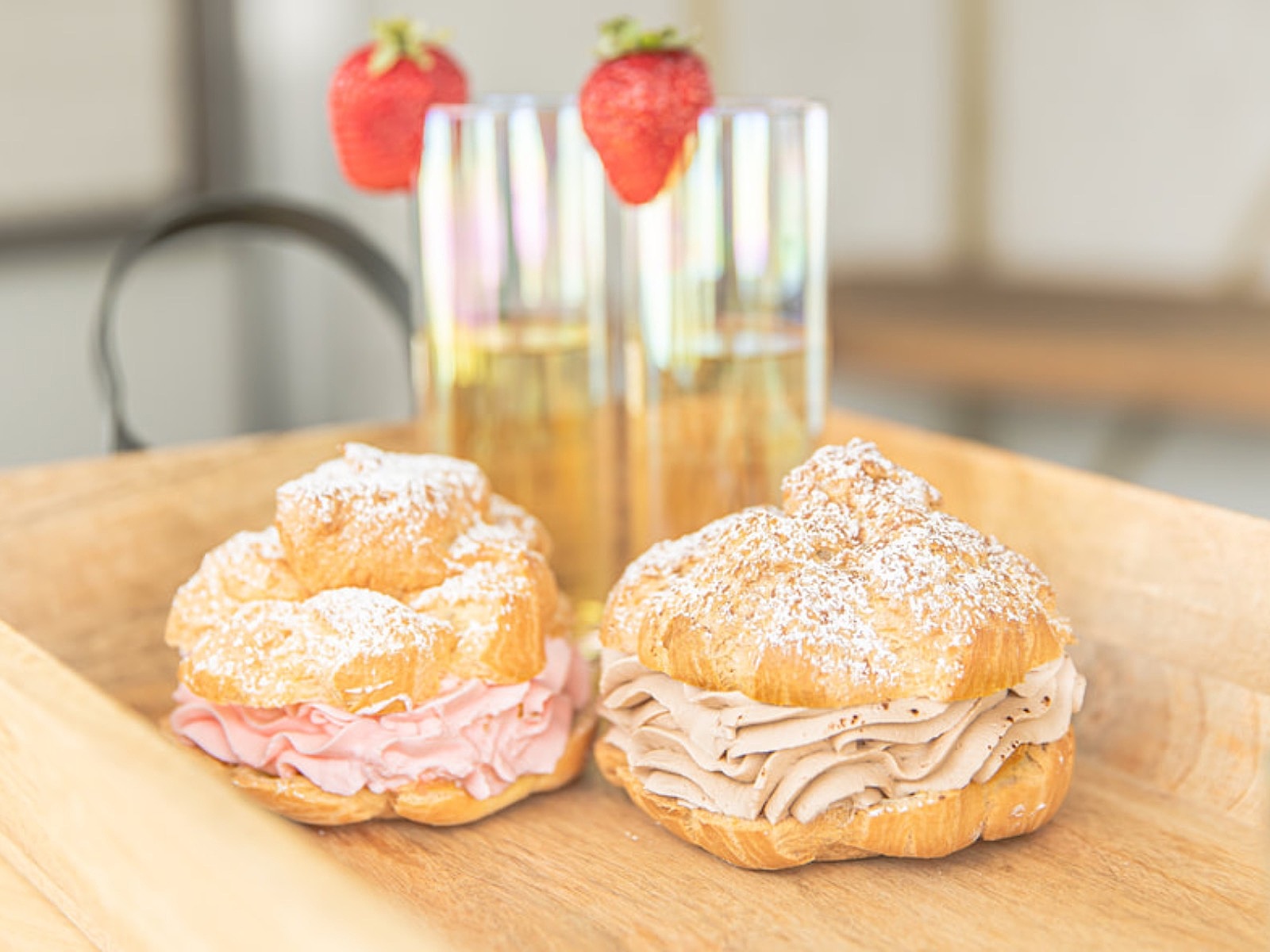 Pick up a pack of strawberry- or chocolate-flavored cream puffs from the Wisconsin State Fair. The cream puff pop-up will take place Feb. 11-14 and will offer three packs and six packs of the coveted puffs. Order early and get a discount. Love it? All you need to know is right here.
Sugarcube's V-Day Donuts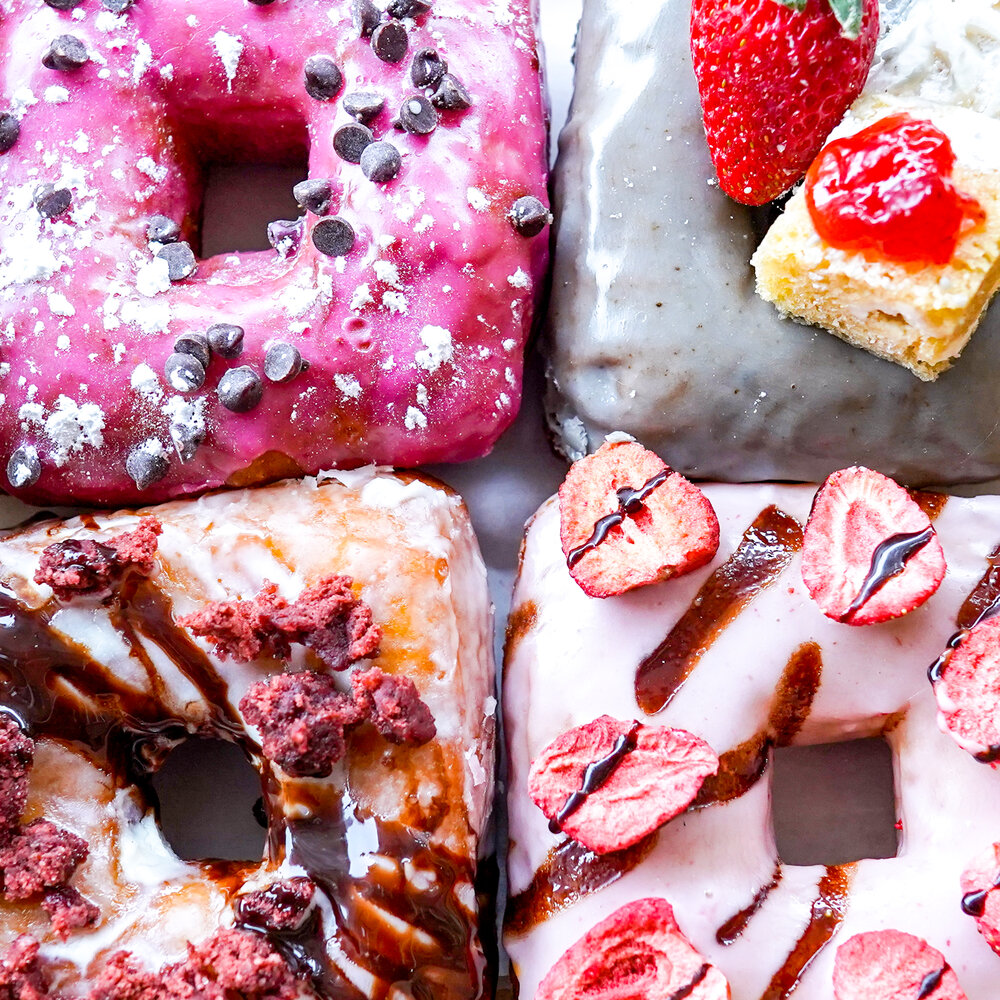 This pop-up donut biz will be at numerous locales prior to Valentine's Day, hawking their square-shaped, handmade donuts that include red velvet cake, strawberry fields and classics like good ol' glazed. Go here to find out more about Sugarcube and where to find 'em.
Waxwing Valentine's gifts galore
Brew City-based, woman-owned Waxwing features the work of more than 100 artists, many of them local, in their curated, online shop. They have an online section dedicated entirely to Valentine's Day and feature gift options including cards, clothing, candles, cacti and more. Waxwing delivers locally. Get shoppy here.

Molly Snyder started writing and publishing her work at the age 10, when her community newspaper printed her poem, "The Unicorn." Since then, she's expanded beyond the subject of mythical creatures and written in many different mediums but, nearest and dearest to her heart, thousands of articles for OnMilwaukee.

Molly is a regular contributor to FOX6 News and numerous radio stations as well as the co-host of "Dandelions: A Podcast For Women." She's received five Milwaukee Press Club Awards, served as the Pfister Narrator and is the Wisconsin State Fair's Celebrity Cream Puff Eating Champion of 2019.