This story originally ran in 2018.
Pickles have been on the short list of juicy trends for a while now – as well as pickle-flavored everything from potato chips to chewing gum – but for Van Holten's, a Wisconsin-based pickle maker that's famous for its Pickle-In-A-Pouch, pickle passion is nothing new.
"We've been doing this for 120 years," says Steve Byrnes, the president of Van Holten's Pickles in Waterloo. "Pickles are particularly popular because they're good for you in terms of a fast snack. No fat, no carbs, no gluten and still very flavorful."
Van Holten's started in 1898 on Milwaukee's East Side as a vinegar distributor and added sauerkraut and pickles to its product line a few years later. Byrnes' father, Jim, purchased the company from the fourth generation of Van Holtens in 1992.
"My dad had no right purchasing a pickle company. He had no food background, no consumer background and no manufacturing background, but thought he'd give it a shot anyway. He was a business guy – a smart man – and it turned out very well," says Byrnes. "Van Holten's was always known for its quality products, it just needed to be run a little differently."
Today, Van Holten's dominates the pickle-in-a-pouch market and sells more than 33 million a year.
"It's a small niche, but within that niche we're the largest," says Byrnes.
Van Holten's pickles come in five varieties – dill, sour, hot, kosher and chamoy (fermented in a Mexican condiment with Chinese origins) – and are sold in two sizes. The larger versions are personified with names like "Big Mama," a heftier version of the spicy, and "Big Papa," an oversized dill.
In Milwaukee, Van Holten's pickles-in-a-pouch are sold at Pick N Save, Woodman's, Shopko, independent convenience stores / gas stations and Amazon. The regular-size pickles sell for about $1 and the larger go for $1.49.
"Big Papa is a big pickle," says Byrnes. "And yeah, the pickle jokes are obviously endless."
Van Holten's also sells pickle products not in pouches, including the brand new Pickle Cutz, refrigerated, fresh-cut pickle slices, and Pickleback Mixer to be served in Bloody Marys or served as a "pickleback" chaser with vodka or, in parts of Wisconsin, tequila.
Pickle-Ice, a newer product, is a frozen pickle juice pop.
"It might sound weird to people up here, but if you are down south in Mississippi or Louisiana or Texas and you go to a kids' little league or soccer game, they will most likely be selling pickle popsicles made from frozen pickle juice in Dixie cups for 25 cents," says Byrnes.
Athletes are known to drink pickle juice because of the natural electrolytes.
"Electrolytes help prevent dehydration," says Byrnes. "And that's why pickle juice is also good for a hangover. Or so I've heard."
The Keto diet craze also has contributed to a spike in pickle popularity because it requires extra electrolytes.
Van Holten's pickles are made and packaged entirely in Wisconsin. The cucumbers come from farms in the Waupaca / Wautoma area where the soil is sandy, a requirement for successful cuke crops.
Every July, 300,000 bushels of cucumbers arrive at Van Holten's where they are unloaded into outdoor, eight-foot-tall tanks (four feet of the tanks are below ground) that are filled with salt water for 45 days. After this process, they are fermented and ready to be flavored and packaged in Van Holten's 50,000-square foot facility.
"This is the old-school way of pickling," says Byrnes. "A throw-back to the older way of making food. People are interested in being closer to their food and preserving is a part of that."
At the end of the process, Van Holten's has 35 million pickles to distribute throughout the United States.
"The South in general buys more pickles than the North," says Byrnes. "But no one buys more pickles than Texas. They even serve them in movie theaters."
Byrnes, who has served as president of the company for 11 years, worked every job in the factory as a very young man, but says he wasn't always keen on following in his father's footsteps.
"Actually, I hated it at first. I didn't like smelling like a pickle. And when I was fresh out of college, I felt like I should be doing something to make a difference in the world and I didn't see how working in a pickle company did that," says Byrnes.
Byrnes moved to China to teach English, but right before he left, he started working in the sales and business development side of the business and realized he enjoyed it. So when he returned from China, Byrnes accepted a full-time position at Van Holten's.
"And the rest is, as they say, history," says Byrnes.
Over the years, Van Holten's has experimented with myriad different pickle products, including a peppermint pickle based on a tradition of pushing a peppermint stick through the center of a spicy pickle.
"This is a real thing, a phenomenon in urban areas of the Midwest, and we attested to make something similar by flavoring our brine with peppermint. We sampled these pickles at some of our North Side stores and about half the people really liked them, which is what we expected, but they said they also missed the crunch of the peppermint stick," says Byrnes.
Van Holten also tried dill pickle popcorn and sweet pickles.
"Everyone wanted sweet pickles until we finally made sweet pickles," laughs Byrnes.
But staying creative within the pickle sphere while staying focused on the staple sellers is all part of the fun.
"Our pickles in a pouch will always be our bread and butter, but we continue to try new products to keep growing and to keep it interesting," says Byrnes. "And it's working: we have grown every year for the past 14 years. We're very proud of that."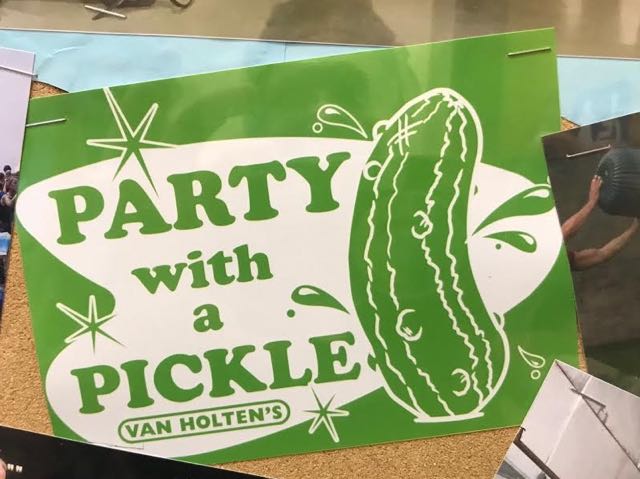 Molly Snyder started writing and publishing her work at the age 10, when her community newspaper printed her poem, "The Unicorn." Since then, she's expanded beyond the subject of mythical creatures and written in many different mediums but, nearest and dearest to her heart, thousands of articles for OnMilwaukee.

Molly is a regular contributor to FOX6 News and numerous radio stations as well as the co-host of "Dandelions: A Podcast For Women." She's received five Milwaukee Press Club Awards, served as the Pfister Narrator and is the Wisconsin State Fair's Celebrity Cream Puff Eating Champion of 2019.