I've been to Las Vegas more times than I can count, and I've seen my share of crazy Vegas stuff (I'm talking about you, Hangover Doctor). But on this winter's trip, I went in with a new attitude: no work, only play and a let-it-come-to-you attitude I've never tried in Sin City.
I guess by making this list, I'm technically doing a little work after this vacation, but it's fun to think back on the weird Vegas stuff I saw. Obviously, this city is meant for weirdness, and you can find it in hundreds of different ways. Here's just a little of what I saw:
1. Secret pizza
Don't see the secret pizza? That's because it doesn't have sign. Go here and turn left, then right into that unmarked hallway with the records on it.
Hidden in a hallway by Marquee at the Cosmopolitan, you can find a secret pizza restaurant. Since it has no actual name or sign, look for the long lines at weird hours – it's open about 18 hours a day. In fact, I ordered some secret pizza a few years ago around 4 a.m. (kinda hazy memory), and this year I wanted to go back. The big pieces are sold by the slice, and even when the line is somewhat short, it takes a pretty long time. Don't even bother trying to find a seat, because there aren't any. I guess it's not much of a secret anymore, but it kind of is, right? It's definitely weird.
2. Titanic-themed slot machines
I don't know, it seems a little weird to name a slot machine after a tragedy that claimed the lives of 1,517 people. Technically, the slot machine is referring to the movie, and yes, the sinking took place 100 years ago, but it feels pretty morbid to cheer when you spin up three icebergs. What's next, a Pearl Harbor Day slot? Too soon?
2. High-end boutiques that stay open really late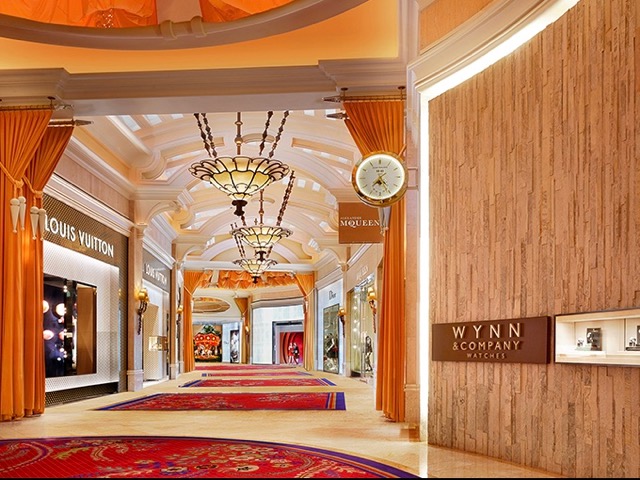 (PHOTO: Wynn Las Vegas)
It's 11 p.m. on a Sunday night, and you're ambling through the Wynn or Caesar's Palace after playing some Titanic slots and drinking free mini cocktails. Seems like the perfect time to buy a $16,000 Panerai Luminor watch, right? Good thing you can choose from a quiet shop with a single, bored-looking man in a suit who will sell you one. Perhaps Rolex or Cartier or Jaeger-LeCoultre is more your speed. Fortunately, there are plenty of shops ready for you to drop $25k at a moment's notice in the middle of the night. Who does this??
3. Late-night sushi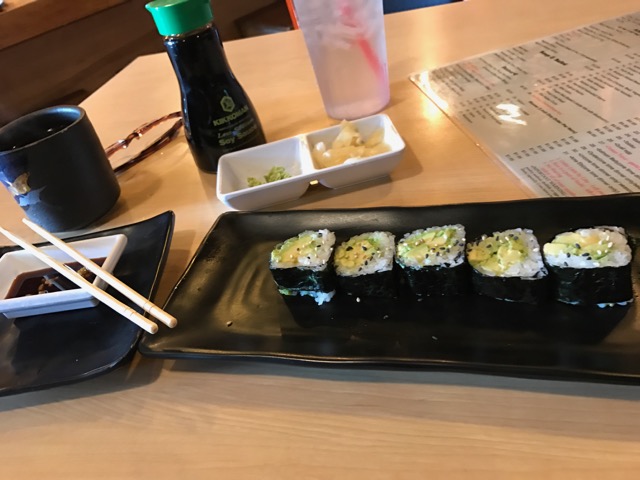 Similarly, but way less expensively, I like how everything is open all the time in Vegas. I had a hankering for sushi at 2 a.m. after losing some money at the Hard Rock. No problem; there are plenty of legit, great places to choose from. I randomly picked Kaizen in a strip mall across the street. It was awesome, but yes, it felt weird to eat sushi by myself in the middle of the night, then Uber it back to the hotel. Vegas, baby.
4. Purple Reign
Each year, I considered seeing the Prince tribute act at Westgate, the former Las Vegas Hilton. Yeah, the place is pretty rundown since Elvis played there, but with His Purpleness' passing in 2016, this seemed like the right time to take the Monorail to the show. Guess what? Fake Prince was amazing. You barely have to squint your eyes (and certainly not your ears) to buy into Jason Tenner's impersonation. Of course, the weird part is that you'll be the youngest person in the audience of about 50 old drunk people going berserk for "Little Red Corvette." Still, I highly recommend Purple Reign. Don't laugh, just go.
5. The oddly-placed dive bar
(PHOTO: Yelp.com)
Just off the center Strip lies Stage Door, a legit dive bar that's been there forever (I remember checking it out in the late '90s). Cheap-ass sketchy hot dogs, PBRs, homeless people, local and wasted frat boys … this place is weird. Really weird. Maybe it's so divey that it's retro hipster? But not as far as I could tell. Sitting there among all the ritziest casinos in town, Stage Door feels like it belongs on Packard Avenue. Just with way more slot machines and hookers. Weird.
Andy is the president, publisher and founder of OnMilwaukee. He returned to Milwaukee in 1996 after living on the East Coast for nine years, where he wrote for The Dallas Morning News Washington Bureau and worked in the White House Office of Communications. He was also Associate Editor of The GW Hatchet, his college newspaper at The George Washington University.
Before launching OnMilwaukee.com in 1998 at age 23, he worked in public relations for two Milwaukee firms, most of the time daydreaming about starting his own publication.
Hobbies include running when he finds the time, fixing the rust on his '75 MGB, mowing the lawn at his cottage in the Northwoods, and making an annual pilgrimage to Phoenix for Brewers Spring Training.