Join us on Saturday, July 23 for some lakeside munchies at the second annual OnMilwaukee Food Truck Fest. Choose from a menu of 20 trucks and enjoy the live DJ, games and entertainment. It's the biggest gathering of the best food on four wheels.
North Avenue Market, 5900 W. North Ave., is closing in on its opening with a soft launch planned for August and a grand opening in September.
The West Side food hall, which straddles the Uptown Crossing, East Tosa and Washington Heights neighborhoods, aims to function as a community center for the surrounding neighborhoods, providing a meaningful gathering place for social interaction and innovation.
It will strive for that goal with a mixed use space that combines a diverse collection of food vendors and retail shops with rentable office and conference space, a stage and multiple areas for gatherings and events.
North Avenue Market founder Chris Harris Morse notes that the slate of tenants for the space is nearly full, with one prime location (a corner stall with a built in pick-up window) remaining for lease. In addition, hospitality industry veteran Tabitha Donohue has been named general manager for the Market.
Curious to learn more? Here's a mini-tour of sorts which will take you through what you'll find on both levels of the forthcoming Market.
The ground floor
The ground floor of the Market will showcase four food vendors (to start), a bar and a coffee shop, along with a stage which will accommodate live music, performances or presentations. An outdoor patio on the West of the building will feature a double-sided fireplace which connects to an indoor lounge space inside the Market. Meanwhile, a drive-thru will allow customers convenient pick-up for food from any of the operating market vendors.
Taste of Java
The coffee shop, Taste of Java, will offer a patio-side walk-up window and drive-thru service along with a counter inside the Market which will operate until 6 p.m. daily. The shop is a partnership between Pilcrow Coffee Roasters and the Market, which will be managed by Harris Morse and his team.
Additional features on the ground floor will include a historical homage to Walnut Street created in collaboration with the Wisconsin Black Historical Society, along with a variety of vendors and decor that capture the inclusive nature and mission of the community-based food hall.
Bittercube Bar
Harris Morse's electric personality and mission-driven approach was what attracted Ira Koplowitz, founder of Bittercube to the North Avenue Market Project. Koplowitz, whose production facility and Bazaar is located just a few blocks from the Market at 4828 W. Lisbon Ave., came into the project early on as a consultant to assist with hospitality side. But Koplowitz and Bittercube colleague Brandon Reyes also agreed to handle management for the bar program at the Market.
The main bar will be a centerpiece on the ground floor of the Market and will feature an island-style bar that features accessible table-height setting on the North side to accommodate guests in wheelchairs. Meanwhile, additional seating to the east of the bar will feature a display of art from local artists, some of which will be available for purchase.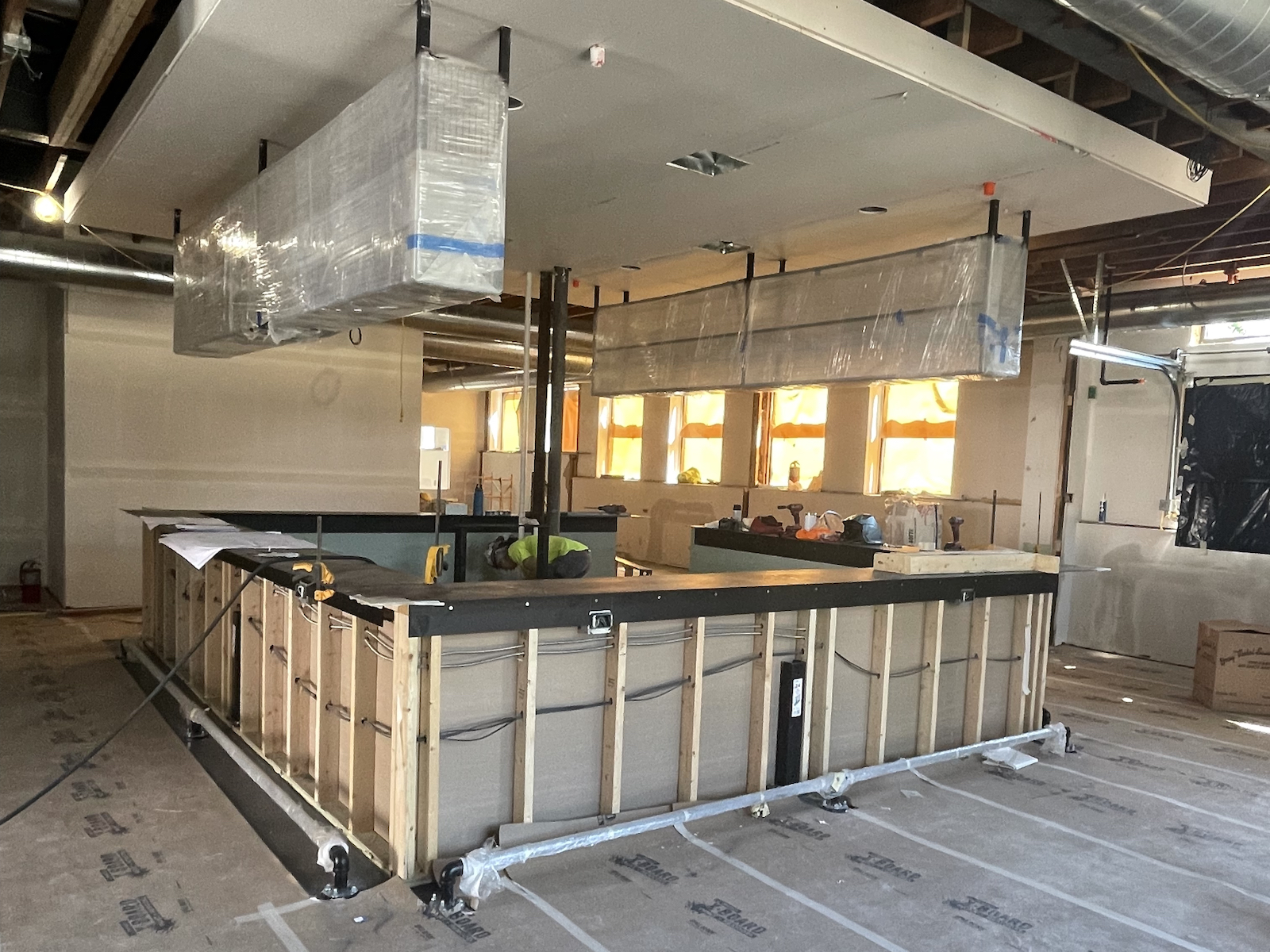 As for its menu, guests can expect primarily "brunch style" offerings during the day, including a variety of non-alcoholic options, plus low ABV cocktails. Later in the day, the menu will shift over to a menu that features classics and modern classics along with specialty drinks that aligns the flavor profiles of the beverages with each individual food concept. For instance, offerings might include a sweet tea lemonade riff to pair well with Curtis/Bones Southern and Soul Food offerings.
Curtis/Bones
When the tagline for a business is "So good you can take it home to grandma," that sets the expectations pretty high. But for the owners of Curtis/Bones, the goal is delivering on flavorful, scratch-made fare made with recipes that have been passed down through the generations.
Michael J. Curtis and his mother Sheila Bones-Gordon have been cooking together in their home kitchens for many years, and their restaurant is both the culmination of their homestyle cooking and a celebration of the tradition of cooking together as a family.
Elements of the menu are derived from both sides of the family. Curtis' grandmother Delores Curtis, who learned to cook from her father, was masterful at desserts. And she passed along her knowledge of baking to her grandson. Meanwhile, Bones-Gordon's grandmother Linnie Grace Parker, taught her to cook with fresh ingredients from her Arkansas garden.
"She taught me how to prepare potatoes, corn, okra, peas, berries," says Bones-Gordon. "Everything had to have a particular taste and just the right texture."
In the case of greens, she says she remembers her grandmother's words "The greens ain't good unless I can eat them with my fingers." To demonstrate, she would hold a piece of homemade cornbread in her hand, stretch her pinky out and scoop up the greens.
And while Bones-Gordon says they want to adhere to traditional preparations as much as possible, their menu will also cater to guests who have chosen not to eat pork by incorporating substitutions like smoked turkey necks into side dishes like their greens.
Together, the mother and son team will deliver a menu of homestyle soul food staples including smoked meats (including beef and turkey legs) and sides like greens, cornbread, dressings, yams, sweet potato casserole, macaroni and cheese, along with Southern style weekday breakfast, weekend brunch and a Friday night fish fry.
They will also satisfy guests' sweet teeth with housemade desserts including banana pudding, caramel cake, peach cobbler, fried pies, sweet potato pie and cheesecake.
Ultimately, Curtis says, they are looking forward to establishing themselves and becoming part of the community at the North Avenue Market Hall.
Fresh Farm Bowls
If the name Fresh Farm Bowls sounds familiar, it's because it is. Chef Jonute Svien first launched the business, which specializes in globally-inspired fare made with farm fresh produce, as a food truck in 2015. And, while the food truck's inaugural run only lasted about a year, Svien says that he's excited to reboot his business at the North Avenue Market Hall.
Svien says the past few years have been tough. After shutting down the food truck, he made the decision to enter military service, signing on with the U.S. Navy in 2016. Unfortunately, his time in the service would be fraught with hardships. Early on his mother, who had been battling cancer, passed away. A car accident left him with severe nerve damage in his back and another accident led to the amputation of his lower leg and medical discharge from the Navy in 2020.
At that point, he says, he felt strongly about getting back to cooking, work which he'd always loved. At first, he contemplated relaunching his food truck. But when the opportunity to be a part of the North Avenue Market came around, he says he decided that posed the better option. Thanks to investments from his fellow entrepreneur and brother Isaac Svien, a WWBIC loan and a federal Bounce Back grant, Svien says he's been able to raise the capital needed to reboot his business.
Fresh Farm Bowls at North Avenue Market will feature options for breakfast, lunch and dinner including offerings like housemade waffles, fruit bowls and huevos rancheros, in memory of Svien's mother, who was born and raised in Mexico City, Mexico.
Entrees will include globally inspired bowls including falafel, Thai beef curry and chipotle pork and Italian lasagna. The concept will also feature salads like roasted beet with goat cheese, walnuts and honey; Italian chopped salad; and pistachio strawberry. Meanwhile, wraps will feature fillings like chipotle chicken and avocado, turkey and vegetables.
All offerings will be priced in the $7-$9 range and feature produce grown by Svien on a plot of land he rents in Oostburg, Wisconsin, as well as local farms including Springdale Farm in Plymouth, Wisconsin. Svien says that 10% of the profits from his business will go to support
Giving Angels MKE, a nonprofit organization he founded to support military veterans and their reentry into civilian life.
"I'm so excited to get back to doing what I love," says Svien. "The past few years have definitely been tougher than expected. But I've always told myself to keep my head down and never give up. It's what gets me through the bad days and keeps me moving forward."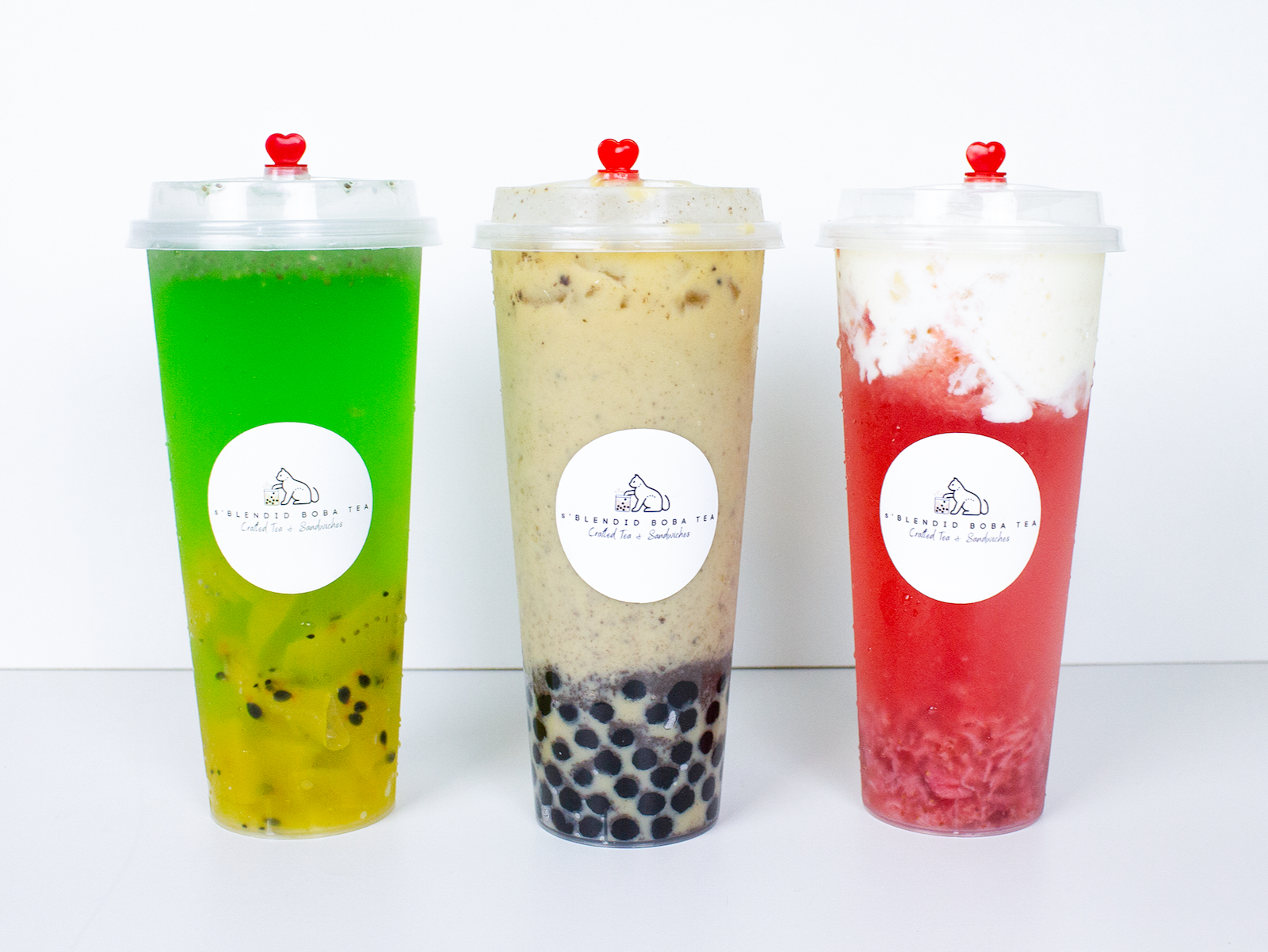 S'Blendid Boba Tea
When Malee Thao moved to Milwaukee two years ago, she quickly realized that it was a city for food lovers; but, as she explored she was surprised to find that there weren't more bubble tea shops. So she made the decision to put her career as a nurse on the back burner and contribute to the scene.
She began researching what it would take to start a bubble tea shop, connecting with shops in other markets and exploring how they operated and what they offered. She also began looking at various options to launch her business, including locations where she could open a shop. When she came upon a vendor opening at the forthcoming North Avenue Market, she says the mission resonated.
"The idea of being part of a diverse community of businesses was really appealing to me," she says. "And I was excited to share the journey with other small food businesses."
Thao, who began selling her bubble tea at local farmers markets this summer, says it was a great way to gauge the market for her product. It also helped her to zero in on the items she plans to feature on her menu.
Once open, S'Blendid Boba Tea will offer a combination of milk teas, fruit teas and Thai teas, many of which are made with a base of organic loose leaf tea.Guests will also be able to choose from a variety of traditional toppings including bursting boba, black tapioca, grass jelly, housemade honey and passionfruit jellies and salted cheese foam.
Thao says that, in addition to their teas, her shop will also offer Korean fried chicken sandwiches featuring housemade sauces including gojuchang and sweet Asian sesame.
Thao says that, although her business is very new, she hopes to be able to use it to contribute to a cause that's closer to her heart.
"Our cat logo represents one of our long-term goals in operating this business: to support our local animal shelters," she says. "When the business becomes more established, we plan to donate 10% of our proceeds to support the work that they do."
Sam's Deli
Who is Sam? I'm glad you asked. It's actually an acronym that incorporates the first letters of two of Harris Morse's husband's biological sons (Andrew and Mark). The "S" also has a special meaning; ask about it when you stop in!
On the menu, guests will find elevated sandwiches made with Boar's Head meats, along with salads and soups and a selection of Wisconsin cheese and charcuterie offerings.
The wall located just outside of the deli will showcase inspirational artwork that captures the feel and intention for the Market.
Not far from there, near the back of the market, there will be a wall showcasing two inspirational organizations which will benefit from the market's philanthropy: the Boys & Girls Club of Greater Milwaukee and the Ability Center (TAC). The Market will also aspire to making a difference for both LGBTQ+ youth and children who've been in foster care by creating a scholarship fund to support their educations.
The Packed Picnic Company
Although you won't find a vendor stall for The Packed Picnic Company, the Market will serve as a pick-up location for the business, which offers a variety of packages that include all the essentials needed for a fabulous picnic for two or more people (blankets, place settings, decor).
You'll find more information about the partnership with The Packed Picnic Company near the back wall of the Market near the east entry, which also showcases an historical map of the area surrounding the North Avenue Market.
The Garden Level
Head down the stairs (or the accessible elevator) and you'll find even more to enjoy. The lower level of the Market is home to a relaxed seating area surrounded by two food vendors, a speak-easy style cocktail bar, conference space and five office spaces with flexible leasing options.
Enter the Garden Level from the eastern side and you'll be greeted by a visual depiction of Amanda Gorman's inaugural poem, which concludes with the lines: 'We will rebuild, reconcile, and recover. And every known nook of our nation and every corner called our country, our people diverse and beautiful, will emerge battered and beautiful. When day comes, we step out of the shade of flame and unafraid. The new dawn balloons as we free it. For there is always light, if only we're brave enough to see it. If only we're brave enough to be it."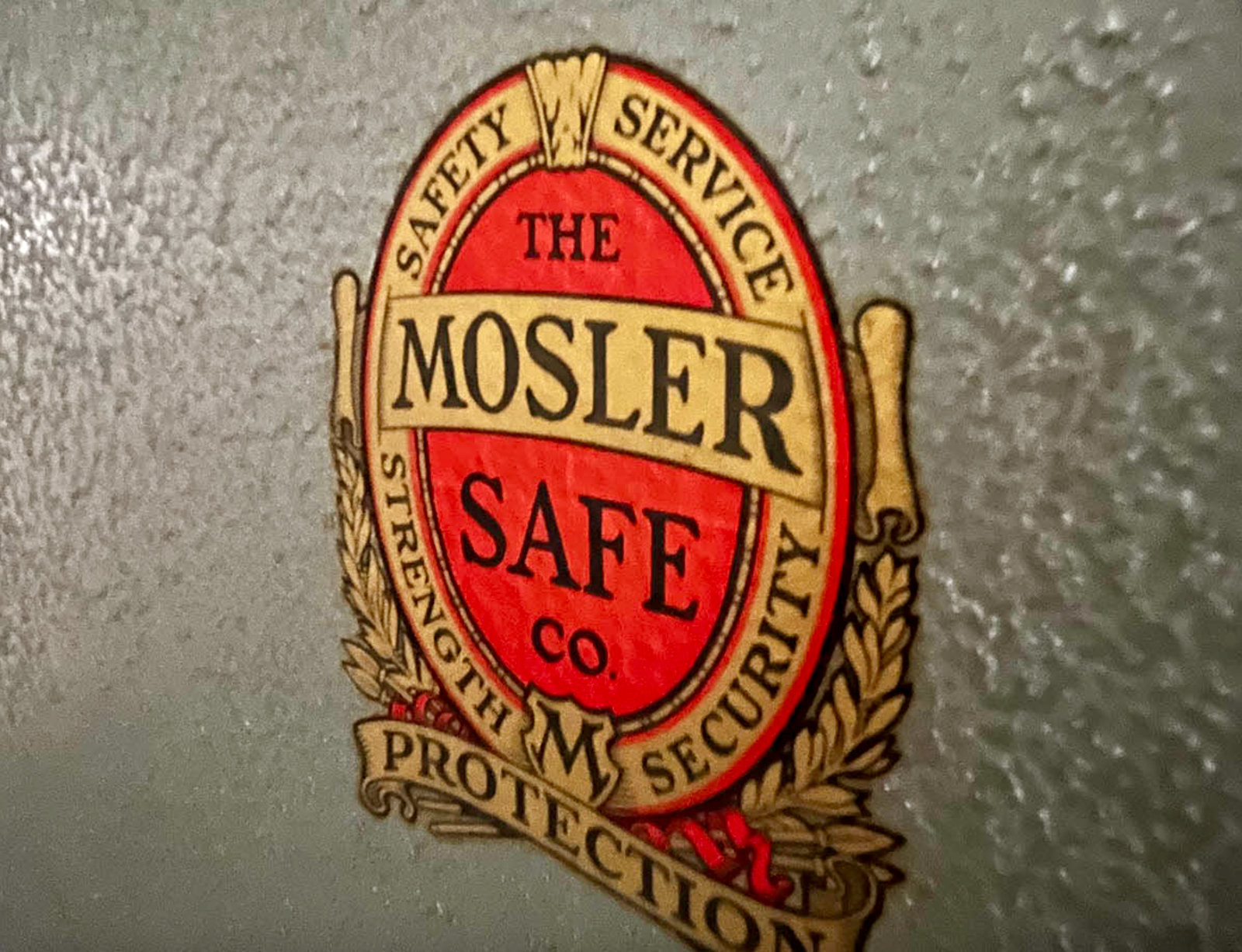 Mosler's Vault
Not far from there is the former bank vault, which is on its way too being converted into a speakeasy-style bar called Mosler's Vault, named for the safe company whose name is on the door. The Vault, which will seat 9-12 customers, will feature a moss ceiling (in keeping with its location in the Garden) and a bar faced by former safety deposit boxes.
The menu at the bar will feature specialty cocktails with a focus on unique flavor profiles, esoteric spirits and hard to find botanicals and infusions. The Vault will be open Wednesday through Sunday, but is likely to operate on a reservation-recommended basis.
Journey further into the Garden and you'll find flooring composed of artificial grass, along with a picnic style seating area, which will also function as a space for vendor pop-ups or small events. Shortly thereafter, you'll find yourself in Dessert Alley, a space dedicated to sweet treats of all types.
A&B Desserts
First up is A&B Desserts, which is named for Harris Morse's sons Austin and Bobby. The dessert vendor will offer a combination of popcorn, sweet snacks, popcorn and smoothies/milkshakes, including boozy shakes created by Bittercube. Alcohol-based drinks are likely to include classic ice cream drinks like the Pink Squirrel, along with fun, modern renditions.
Next up, you'll find an open-concept space where guest can watch the magic of decorating happen at Arty's Sweet Talk cupcakes.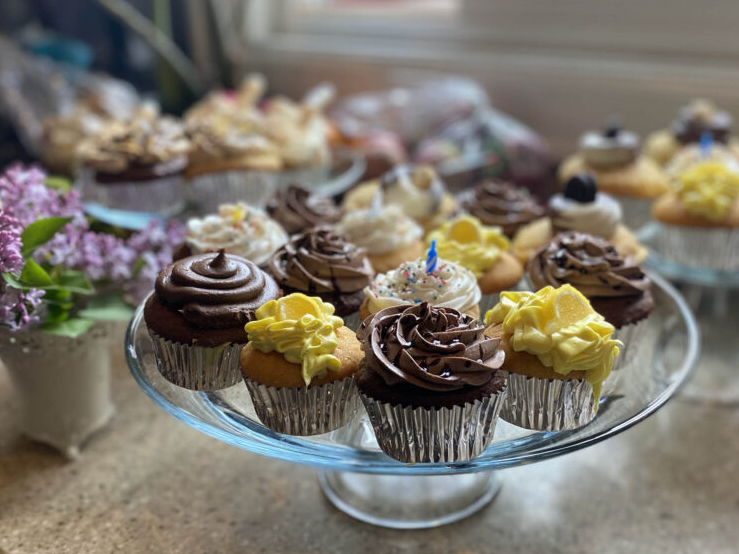 Arty's Sweet Talk Cupcakes
facebook.com/Artys-Sweet-Talk-Cupcakes
Artaynia Westfall never would have imagined she'd be running a cupcake business. A chef for over 30 years, she spent 20 working with the Bartolotta Restaurant Group. As her career progressed, she also launched The Nest, a company which offers cooking classes for children ages 5 to 15. The more she worked with children, the more she saw the joy they took from activities like decorating cupcakes. It was at that point that she says she thought to herself: "I want to start a business that makes people happy... and baking does that."
Westphall launched Arty's Sweet Talk Cupcakes just before the pandemic began, operating a small retail shop at the St. Ann Center for Intergenerational Care. But when she heard about the North Avenue Market Development, which was to be located just four blocks from her home, she reached out to find out more.
"The more I learned, the more excited I was to be a minority business owner right in my own neighborhood," she says. "And I'm excited to be a part of the market hall with such a great selection of food businesses."
As the business name suggests, Arty's Sweet Talk Cupcakes, which will be located on the Garden Level of the Market, will offer a rotating selection of seasonally driven cupcakes in over 30 flavors like chocolate, vanilla, lemon, carrot cake, red velvet, cookies and cream. But Westphal will also offer Orbs (her version of cake pops), bundt cakes (small and large) and cheesecake cupcakes. Items like liquor-infused cupcakes and jumbo cupcakes, which feed up to 10 people, will be available by special order. She will also offer a selection of vegan, gluten-free, sugar-free and keto-friendly cupcakes.
Westphal says she'll operate her from-scratch bakery with the help of a group of interns and junior bakers, including students from MATC, and she's committed to sourcing high quality ingredients including eggs, butter, milk and cream from local farms.
Westfall says she's also excited to be able to utilize the public event spaces in the food hall to offer children's cooking classes through her The Nest business, as well as host chef-driven children's birthday celebrations right at the market.
The rest of the Garden
The remainder of the lower level space will include The Greenhouse, a series of office spaces each bearing its own unique name. Each space will include desks and pinnable walls to facilitate idea generation, brainstorming and collaboration.
The Workshop, a shared conference room or classroom space that accommodates about 20, will feature its own distinct audio system, a television, a pinnable wall and a dry erase wall
The remainder of the lower level will feature a comfortable seating area surrounded by the Community Wall, where photos taken at the Market with a Polaroid camera will be displayed. There's also an area where chairs fold into the wall, but spell out the word "WELCOME" when pulled out. A green wall will display the message "A place where life comes to life" – a fitting message for an inclusive space where life and community is celebrated in all of its many forms.
Once open, the North Avenue Market will be open Monday through Wednesday from 6 a.m. to 9 p.m., Thursday and Friday from 6 a.m. to 11 p.m., Saturday from 7 a.m. to 11 p.m. and Sunday from 7 a.m. to 9 p.m.
Market vendors will all have the liberty of maintaining their own hours, but all will be open during core business hours of 10 a.m. to 6 p.m. daily.
Lori is an avid cook whose accrual of condiments and spices is rivaled only by her cookbook collection. Her passion for the culinary industry was birthed while balancing A&W root beer mugs as a teenage carhop, fed by insatiable curiosity and fueled by the people whose stories entwine with each and every dish. She's had the privilege of chronicling these tales via numerous media, including OnMilwaukee and in her book "Milwaukee Food." Her work has garnered journalism awards from entities including the Milwaukee Press Club.
When she's not eating, photographing food, writing or recording the FoodCrush podcast, you'll find Lori seeking out adventures with her husband Paul, traveling, cooking, reading, learning, snuggling with her cats and looking for ways to make a difference.