Daniel Schmidt is not an actor. He's never taken acting classes, and the last time he can remember taking the stage was in a mandatory play back in grade school.
"I was like the tree in the background or something," he recalls. "I never really thought I was cut out for acting or anything like that. But I guess it's a little different now."
The Big Bend native's second career acting gig is indeed a bit of a step-up from Nice Tree #2 in the school play, as tonight the system performance engineer's face will be seen across millions of televisions across the country, sharing the screen – and even a line or two – with one of the stars of HBO's "Silicon Valley" in a new commercial for Verizon.
Premiering tonight during the Thursday Night Football game between the Kansas City Chiefs and the Oakland Raiders, the new ad features comedian and current Verizon spokesman Thomas Middleditch chatting about Verizon and Google's exclusive wireless partnership for the new Pixel 2 smartphone with some very literal engineers from the two companies – very literal in that they overthink all of Middleditch's ideas and that they are literally played by engineers from Verizon and Google. That includes Schmidt, who plays the techie seated closest to Middleditch – and often sharing his shots.
Ironically enough, Schmidt's day job is as far from the spotlight as imaginable – even for the essential but often unheralded job of tech engineer. Schmidt works for Verizon inside of a top-secret switch location in New Berlin, a central hub where every single cell site in Wisconsin routes to on its way to delivering your call to its destination.
"I don't see it as being top secret because I've been coming to the same building for seven years, but it's pretty low-key – because it's a strategic location; if you wanted to take out our communications for Wisconsin, you could just attack this building," he jokes. "But if you're driving by, you'd probably have no idea that there was I don't know how many millions of dollars worth of equipment in here."
Tonight, however, he'll go from the shadows to the spotlight – all starting with a simple, seemingly random email around two weeks ago.
"One day, I was just sitting at my desk and an email came in saying around the lines of employees for potential TV commercial spot," he recalls, laughing. "I looked at it and wasn't sure it was even for me or what the deal was. So I talked to my boss and asked him, 'Did you submit me for a Verizon commercial audition?' and he said yeah. So that's when I realized it was an actual real email, meant for me. It just seemed so out of place; it didn't seem real."
The invitation was very real, though, and after quickly auditioning for the part, Schmidt was cast for the ad and flown out to Los Angeles, along with the other Verizon and Google engineers, for a full day of filming. And we mean a FULL day – about 15 hours, grabbing hundreds of takes from dozens of different angles and readings. It's a long time to be stuck in a fairly foreign environment, surrounded by bright lights beaming down and "close to 100" people, between crew and extras, meandering around you.
"It's definitely different than what I'm used to; in engineering, every little detail, I'm aware of what and why," Schmidt says. "There, I felt like I was left in the dark, but talking to some of the people on set, they don't want the actors to worry about those details. They just want you to focus on saying your lines and nothing else."
It's hard to focus and stay calm, however, when you're learning lines for your first nationwide TV gig – something Schmidt admits stressed him out a little bit before they hit the set. And it's even harder when you're suddenly feet away from a Hollywood star, exactly the case for Schmidt – a fan of "Silicon Valley" since its premiere – when Middleditch arrived on set.
"We're sitting there, and then one of us looks over, and in the crowd of people, there comes Thomas just walking up," he says. "It's a surreal moment for a little bit. I was excited, and I tried to calm down, thinking, 'We're both here to do the same job.' So I tried to focus on doing the lines and doing the part. I did have a chance to talk to him a little bit."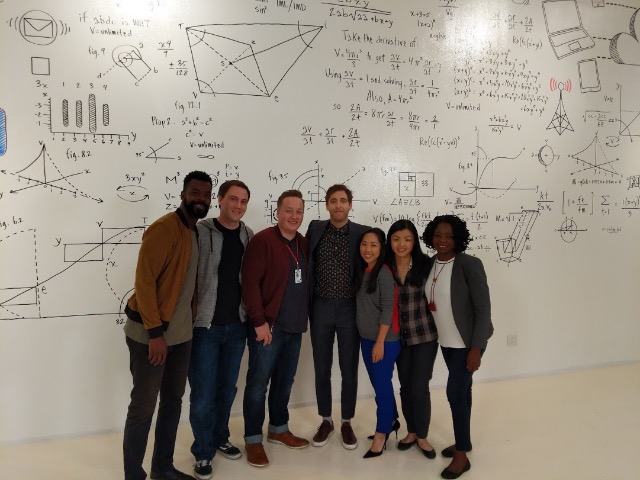 In the end, Schmidt was able to get past his somewhat star-struck nerves and deliver his lines – both in the current version of the ad and in another version for online.
"Once we started going, I wasn't really that nervous; I was having fun with it," he says, jokingly adding, "The nice thing is, if you screw up once, you just do another take – and then you do another 50 takes after that."
Now back in Milwaukee and back to work, Schmidt admits he got a bite of the acting bug from the whole experience. But while he figures out what the next step there might be, his next step here is heading to a bar to watch Thursday night's Raiders-Chiefs game – though mostly for the commercials ("since I'm a Packers fan, I don't really care about them") – and savor seeing his first acting gig since grade school.
"I never really sought the spotlight, but I guess it found me."
As much as it is a gigantic cliché to say that one has always had a passion for film, Matt Mueller has always had a passion for film. Whether it was bringing in the latest movie reviews for his first grade show-and-tell or writing film reviews for the St. Norbert College Times as a high school student, Matt is way too obsessed with movies for his own good.
When he's not writing about the latest blockbuster or talking much too glowingly about "Piranha 3D," Matt can probably be found watching literally any sport (minus cricket) or working at - get this - a local movie theater. Or watching a movie. Yeah, he's probably watching a movie.