It was cold and wet walking among Wisconsin's veterans in the staging area before Saturday's Veterans Day parade. The weather might have seemed depressing, but the actual event was anything but.
Grover Castine, a former Marine Lance Corporal served in Vietnam from 1960 to 1964, relayed that the parade today "means the world." His son, also a veteran, passed away a week ago. In a voice heavy with emotion, Castine said that even if it "had been snowing, I would've been here." Former Gunnery Sergeant Craig Martin, who served from 1973 to 1987, had similar sentiments. He affirmed that seeing so many vets coming together was a wonderful thing, and knowing how many volunteers worked so hard to put the parade together impressed him in a touching way.
Former Gunnery Sergeant Craig Martin
I ran into another veteran, Ward Sikorowski, whose service dog, Princeton, had his own Harley trailer. Ward left the Navy with some anger issues; Princeton helps to keep Ward calm. As the parade started, Ward lovingly put a pair of goggles over Princeton's eyes.
So really, it's safe to say that gratitude carried the day – and not just the immense gratitude that we non-serving citizens feel for our vets, putting their lives on the line to protect our most basic freedoms, but gratitude that the vets feel for those who came out to support them, to remember them and to honor them.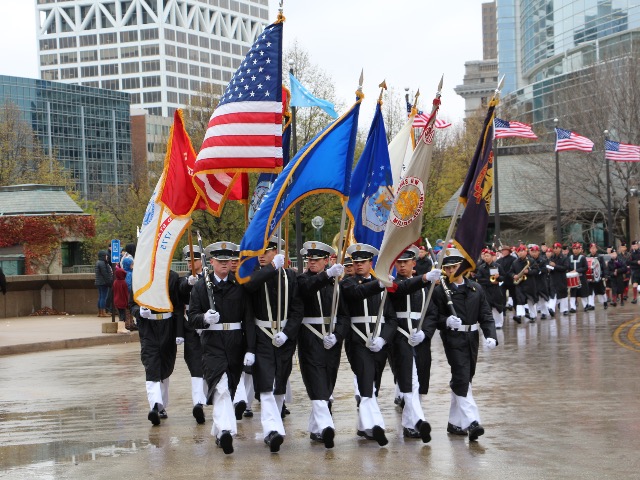 After the parade started, I rode to the War Memorial and ran inside to warm up. There I met up with Ralph C. Ast, 86 years old, who served during the Korean War. He first told me a story about his brother getting hit by a Milwaukee streetcar. He was also full of stories about serving in Korea. It's incredible that this sweet man saw so many horrible things and talked about them like they happened yesterday.
This year, the parade honored the Combat Medics and Corpsman, highly decorated men who did incredible things to save other soldiers. George Banda, Bill Goralski, Kippert Hammond and Romain Monarski served as special guests of honor, and the parade was filled with an incredible number of veterans – some walking, some riding in vans and cars. There were a couple of buses filled with disabled veterans from the VA and the Luther Home. So many people waved and clapped as they went by, and you could see the vets waving back. It was so uplifting to know that these small gestures – waving a small flag, waving, clapping – maybe made their way to these veterans' hearts for just a little while.
I stood next to Vietnam veteran, whose son – also a veteran – was with him. We chatted and joked throughout. He explained to me what some of the ranks and uniforms meant. Quite often, veterans who were walking in the parade would come over and shake their hands to thank them for their service. He'd come home from Vietnam and lived a quiet life. The thing that struck me about him, and exponentially applied to most veterans, is that his time of service left marks on his life, things he might not even notice. One outward sign: Every time someone marched by with an American flag, he saluted. An incredible tribute to our flag and our country by a veteran who came home to such a hostile, ungrateful environment.
The woman standing next to me had a box full of hundreds of flags. She was handing them out to anyone who wanted one. One veteran marching along the route came over to her and started crying. He was so thankful for this small gesture.
There were at least 50 students from Wisconsin Lutheran High School marching today. They carried handmade cards thanking vets and handed them out to every veteran they saw along the route. The sign they carried read "Thank God for Veterans." There were Gold Star parents and Blue Star moms. Marquette University ROTC and St. John's Military cadets marched as well. There were dignitaries, County Executive Chris Abele and Mayor Tom Barrett alongside the veterans. Congresswoman Gwen Moore joined the parade, too.
The veterans, though, carried the day. Despite the cold, wet and chilly conditions, there was warmth and light all along Wells Street today.
If you have the chance, thank a veteran. It doesn't matter where or when. It's not awkward. They're as thankful for you as we are for them.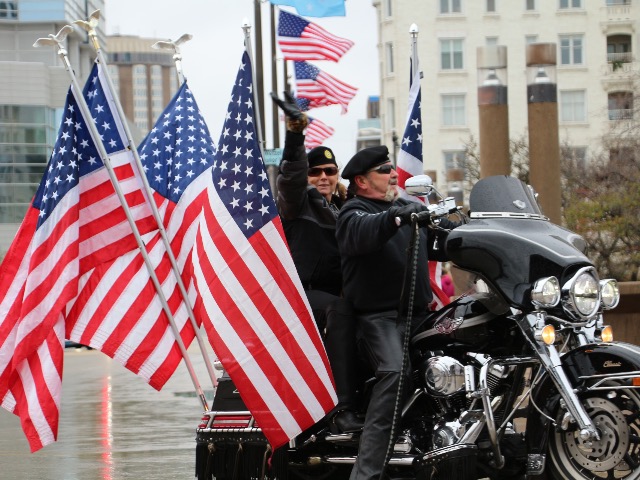 Moving to Milwaukee in 1998, Lora quickly adapted to and embraced big city living. A graduate of Carthage College and Marquette University Law School, Lora clerked for the Hon. Diane Sykes at the Wisconsin Supreme Court, worked as a litigator in private practice, and most recently was employed as a development officer for the MACC Fund.

In all of her experiences, time was focused on writing which has been a passion since junior high school. A series of food service industry jobs both before and after law school taught her that bringing out the human side in any story is key to great storytelling and good writing.

A die-hard east side girl, you'll usually find Lora down by the lake or on the Oakleaf. She's an avid photographer, and sometimes storm chaser.

Hobbies include biking, gardening, cross country skiing, swimming, blogging, and of course working on her fictionalized autobiography--fictionalized, because whose life is really interesting enough to fill 400 pages?

She's in IMDb. Look her up.