Earlier this year, Victory Garden Initiative announced that it would purchase a former corner tavern at 3279 N. Richards St. in Harambee and renovate it for its new Farmhouse – A Place to Gather and Create, which is also expected to include a farm-to-table cafe.
Victory Garden's mission, says Executive Director Gretchen Mead, is "to build communities who grow their own food, creating a community-based, socially just, ecologically sustainable and nutritious food system for all. Sometimes we just say, 'We help people grow their own food,' and leave it at that."
The project is bringing a positive new mission to this sometimes troubled spot, which had been the scene of a number of robberies and shootings in the past.
Though initial renderings didn't show it, VGI hired local artist Stacey Williams-Ng (below, at work) to adorn the exterior of the building with colorful murals that serve as bright, outward symbols that change is coming to this site.
The building isn't huge, but, says Mead, it is a great fit. And not only because it is right across the street from the organization's urban farm (though that definitely is a plus).
"It's really quite perfect for us," Mead says as we stand in a former kitchen behind the bar area, which is currently full of the kinds of things you expect to see in a space in transition: ladders, boxes, spools of wire, architectural renderings, folks at work.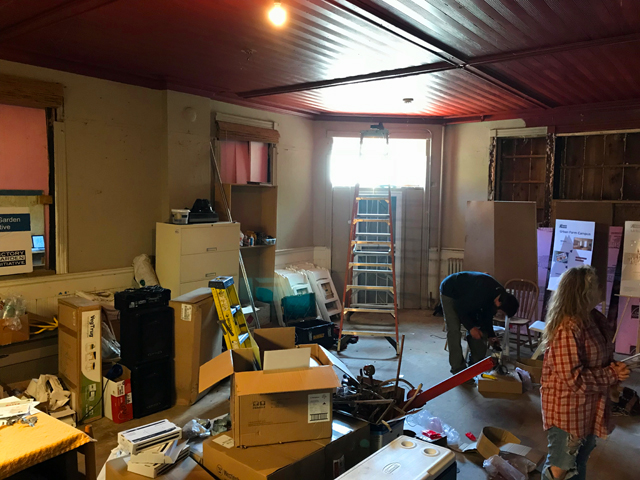 "I think it's 2,300 square feet in total," she says. "The upstairs is our office space. The space we're standing in right now really couldn't be more ideal. It will be a commercial kitchen and is already sort of set up as a kitchen. And the space (that) used to be a pub is ideally suited to host the public. So it will be a classroom and event space."
The former bar area has a great old beadboard ceiling and, like the kitchen behind it, original wainscoting and window frames.
Mead foresees adding a greenhouse and an outdoor space to the building, via an opening in the south wall of the building that will connect to a vacant lot next door, which Victory Garden also owns.
While VGI prepares for that work, the lot is currently being used as an extension of the farm, with vegetables already in the ground.
A little history
The building began life in 1903, when Schlitz tapped architects Kirchhoff and Rose to design a modest neighborhood tavern – a tied house that was owned by the brewery and leased to an operator who would sell its products.
August Uihlein hired the same architects to design some much more elaborate tied houses around town, but this one was scaled down, befitting its site, nestled into a north side neighborhood.
The first floor tavern, with its entrance on the corner and large plate glass windows facing Richards Street, was topped with a three-bedroom apartment for the barkeep and his family.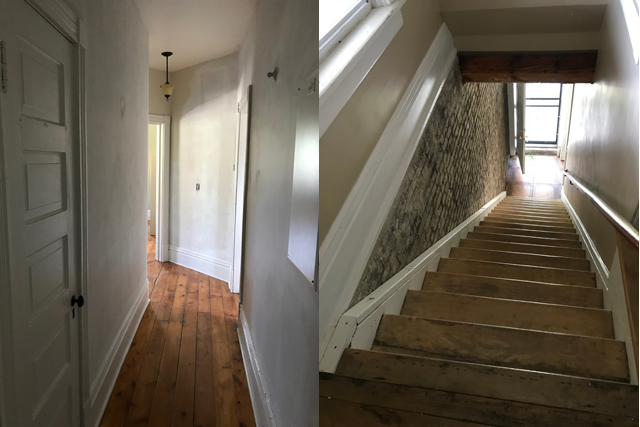 The apartment upstairs.
The total projected cost of the building – including paying mason Rudolph Gehring – was estimated in city records at $4,000.
The building also has identical twins (pictured below), including an unpainted one at 11th and Concordia with a Pabst ghost sign beneath which one can spy an earlier Schlitz ad; another on 6th and Bruce Streets; and surely others, too.
(PHOTOS: Google Street View)
The 1904 city directory names William C. Runge as the first publican to run the place.
By 1923, when Prohibition had already been in force for a few years, Runge appears to have been running a store in the old tavern and still living upstairs with his family, including his wife Lydia and mother-in-law Augusta Gaulke.
Lydia died in 1928 and though in 1933-34 Runge will still living upstairs and running the business below, at some point his brother-in-law Hugo Gaulke later took over and, with his wife Marie, ran the M&H Tavern.
By the 1950s, Marie alone was listed as the proprietor of the tavern and resident above.
In fact, another generation of Gaulkes – son Gordon – would also run the bar (by then called Gordie's Tavern) and live upstairs.
That would change upon Marie's death in February 1971. Within a few months, city permits show that a Bayside resident named Art Wisth owned the building and Johnny Formento had applied for an occupancy permit. Formento's eponymous bar, however, was short-lived, and by 1972, classified ads offered the space for rent.
A few more operators came and went, including James Henry Harrison's Sonny's Corner Tap, which occupied the tavern when Wisth decided to close up the plate glass window in 1974.

The boarded-up windows from inside.
In '78, the bar was available again and Johnny Hatcher soon opened Hatcher's Place.
Though Hatcher wasn't likely using the old beer chute that you can still see in the basement – it's bricked up now – he was probably chilling his beer in the cooler that appears to be original to the building, or at least pretty darned old.
In 1984, the Shaw family purchased the building and ran a series of bars there – including Shaw's Lounge, Solo's Place and the more colorful Shaw's Pink Garter Tavern – before going out of business a dozen years later and giving way to a whole new kind of operation: Pastor David King's Win-A-Soul Ministries.
A match is made
Most recently, the building was owned by an artist – who stored some of her work in the former tavern – and her sons, one of whom works at Victory Garden and made the connection.
Finding the perfect new home for VGI – whose offices are currently on Farwell Avenue, a few miles from the farm – hasn't been easy. But, in the end, that well-suited space was literally and figuratively right in front of Mead's face.
"It really has been like the perfect set of circumstances," she says. "I have been trying to find a way to move into an office space and have a classroom space right next to the farm for probably five years. We've looked at many different options. We've explored many things.
"Then I found out through the grapevine that this place is actually in the family because Ian (Powell) is our farmer, and his brother Colin owned this building and was ready to sell it. Colin really wanted to work with us and wanted to see us be able to have a greater impact here in the community. So we started talks about price and timeline and all of that and here we are."
The future
The building allows VGI to bring its offices to where its mission lies, and while that will make things easier and more cohesive for VGI staff and volunteers, this modest former corner tap means much more to the organization, says Mead.
"This is really about making a greater impact in this community and it means we can better use the food from the farm," Mead says, noting that in addition to its own crops, VGI rents small garden plots to nearly two dozen folks.
"We're growing a lot of food now at the farm, it's really very abundant. We've created a very productive and vibrant growing space, and now we can use all of that food here in this kitchen to serve people in this community in various ways. We're still dreaming up those program routes."
Mead says she expects The Farmhouse project to be complete by early autumn.
Born in Brooklyn, N.Y., where he lived until he was 17, Bobby received his BA-Mass Communications from UWM in 1989 and has lived in Walker's Point, Bay View, Enderis Park, South Milwaukee and on the East Side.
He has published three non-fiction books in Italy – including one about an event in Milwaukee history, which was published in the U.S. in autumn 2010. Four more books, all about Milwaukee, have been published by The History Press.
With his most recent band, The Yell Leaders, Bobby released four LPs and had a songs featured in episodes of TV's "Party of Five" and "Dawson's Creek," and films in Japan, South America and the U.S. The Yell Leaders were named the best unsigned band in their region by VH-1 as part of its Rock Across America 1998 Tour. Most recently, the band contributed tracks to a UK vinyl/CD tribute to the Redskins and collaborated on a track with Italian novelist Enrico Remmert.
He's produced three installments of the "OMCD" series of local music compilations for OnMilwaukee.com and in 2007 produced a CD of Italian music and poetry.
In 2005, he was awarded the City of Asti's (Italy) Journalism Prize for his work focusing on that area. He has also won awards from the Milwaukee Press Club.
He can be heard weekly on 88Nine Radio Milwaukee talking about his "Urban Spelunking" series of stories.