A few years ago, CNET ran a story posing the question, "How can 30-year-old receivers sound better than new ones?" The gist of the article is that with so many proprietary features like AirPlay, Bluetooth, HD Radio and Dolby, electronics company are forced to skimp on the most important part of making a great stereo: the way it sounds.
Ben Carp still hears about this article all the time, and for the most part, he agrees with it.
Carp, a tinkerer since his teenage years, restores and sells vintage stereo receivers on Craigslist from his Bay View home. Business is brisk, because in this disposable, feature-creeping, overly compressed digital audio world, people are gradually again starting to care about audio quality that once mattered more than anything else.
"In the '50s everything was tube, and everything sounded really warm and mid-rangy, and that was the kind of music people listened to," says Carp. "Then it got slightly crisper over the years. In the mid to late '90s, someone sort of flipped the switch and everything started sounding much tinnier and sibilant."
Bill Rouleau, the owner of Bay View's Rush-Mor Records, agrees.
"If anyone has any doubts about the fidelity of vintage equipment I would highly recommend they spend a little time in the Jazz Estate," he says. "They've got tube amps, and their back room might be the best-sounding room in the city."
Adds Carp, "It's weird, you look at these home theater receivers that are 150 watts per channel times 7.1 or whatever fantasy number they put out, and they really don't sound that good."
So, for many reasons, these old receivers wind up at yard sales, at Goodwill or just in the garbage. And that's where Carp comes in.
"Once upon a time, you could go to a Goodwill and see racks of this stuff," he says. "But that was before it became popular. Now it just trickles in. A lot of the stuff I pick up is in trade. Sometimes I pick up stuff at estate sales, but a lot of it's networking, too; I know people who know that I'm into this stuff."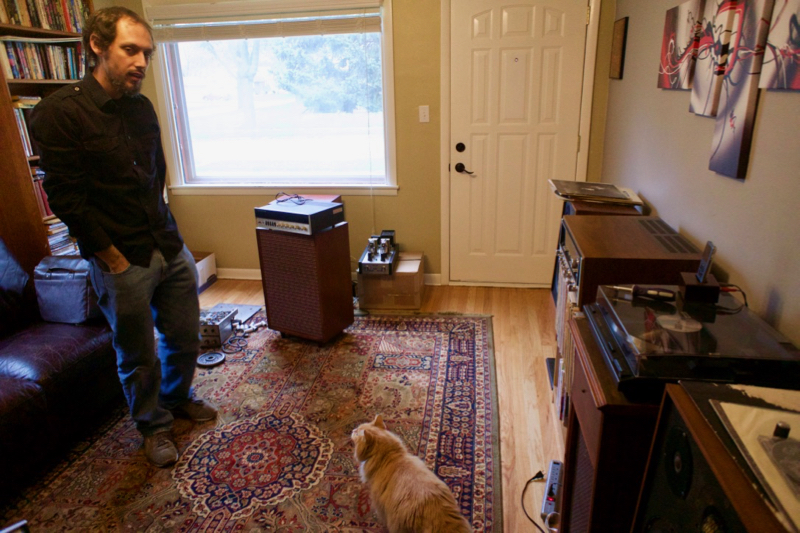 Once Carp acquires an old amp, he takes it apart and brings it back to life before putting it on Craigslist. He cleans and lubes the controls with Deoxit D5 and Faderlube, and does exhaustive research on the original product. He digs up manuals and chats with audiophiles on message boards. He carefully shoots photos, notes imperfections and writes a clear, concise description that stands out from some of the other listings on Craigslist.
"Some people, you can tell they're just digging stuff out of the Goodwill dumpster and putting it up. I try to be more professional, I try to be a cut above everyone else. I know Craigslist is really scary for a lot of people."
For his efforts, Carp can turn a nice profit on these restoration projects. Most of his receivers list between $150 and $300, but occasionally he comes across a a very high-end model, like the Sansui 9090DB that he's selling for $1,200. That one he acquired in an estate sale – someone was getting rid of the top-of-the-line monster amp because it no longer had a cord. In 1975, that receiver sold for $900 – which would be more than $4,100 in today's dollars.
Says Carp, "Realistically you can easily put together a nice vintage set for $500. Under that it gets trickier, because you can get a nice receiver for about $200, you can get a nice pair of speakers for $100 to $200, you can get a nice turntable for $100 to $200. It really depends how finished it is, and what your knowledge base is, and how much time and legwork you're willing to put in."
Carp says that people spent the 2017 equivalent of thousands of dollars on their audio equipment because home entertainment in the '60s and '70s meant just a TV and a stereo. Consumers didn't have to divide their incomes between tablets and computers and phones, and these receivers were built to last. Compared to what you can find at big box stores today, these vintage components look like pieces of heirloom furniture.
To that end, Carp's eyes light up when he considers the craftsmanship that went into these old receivers, and how he's doing his part to keep them alive.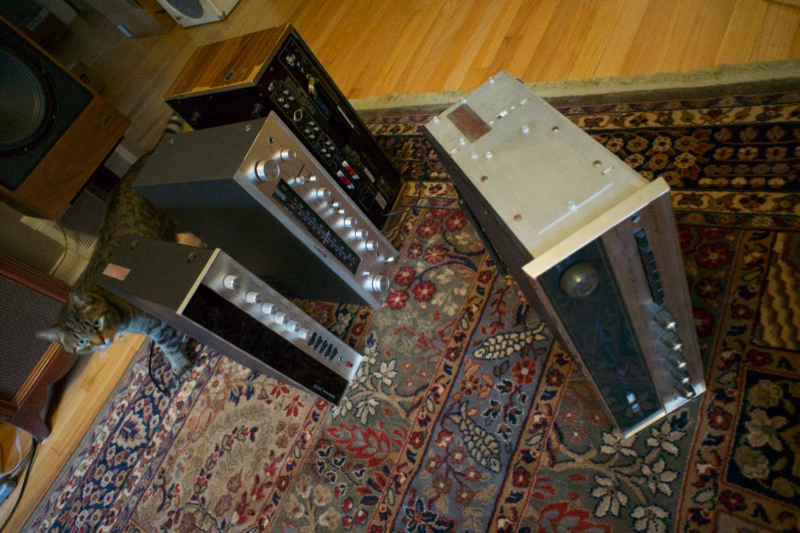 "It's so incredible just looking at these 60-year-old pieces of equipment and knowing that someone hand-soldered everything in there," he says. "It was all put together piece-by-piece, and every once in a while you'll see a little personal touch; sometimes there are mistakes or something that didn't get soldered, or someone put their own component in. Or you'll see little scrawls in there, like quality control checks and stuff. It's so neat just getting to see that, and it's so sad to realize that not only are all those people dead, pretty much, but there's a lot of knowledge that's just gone."
Carp, a music lover who actually considers himself more of an enthusiast than an audiophile, loves to share this knowledge, and even though he occasionally sells other electronics on eBay, he prefers Craigslist when it comes to vintage stereo equipment.
Shipping considerations aside, a receiver is something you have to hear in person.
Interestingly, his customers aren't just retro-crazed hipsters, either. He sells a lot of stuff to Baby Boomers, who are looking to recreate the systems they got rid of years ago. Many people, he says, bought an mp3 player at some point and gave away their records, or downsized their hi-fi gear in favor of a Bluetooth speaker – and now they regret that loss of a physical connection to their music.
"Once the CD came in, it was like, 'Why would we want records?' So many people just got rid of their records, or just buried them in the basement. But people want something more visceral than mp3s. Discovery of music is different when it's all digital and it's all infinitely accessible, versus picking through a friend's record collection. And just running into stuff at rummage sales, and being like, 'Oh, this looks cool.' This giant 12x12 piece of album art, it's so different from a digital file."
Says Rouleau, "Just yesterday we had a couple come in to buy their first record together. They're gifting each other with a turntable for Christmas. It was pretty heartwarming."
Much like the process of scouring Goodwill for old records, you'll have to search a little bit to find what Carp is selling at any given time. Because he sells almost exclusively on Craigslist, there's no easy way to group his products together. However, if you search for "receivers," you'll know his stuff when you see it, though he's far from the only person in Milwaukee.
"There are like a half-dozen other people that I recognize on Craigslist," he says. "Everyone has their own distinctive style."
Andy is the president, publisher and founder of OnMilwaukee. He returned to Milwaukee in 1996 after living on the East Coast for nine years, where he wrote for The Dallas Morning News Washington Bureau and worked in the White House Office of Communications. He was also Associate Editor of The GW Hatchet, his college newspaper at The George Washington University.
Before launching OnMilwaukee.com in 1998 at age 23, he worked in public relations for two Milwaukee firms, most of the time daydreaming about starting his own publication.
Hobbies include running when he finds the time, fixing the rust on his '75 MGB, mowing the lawn at his cottage in the Northwoods, and making an annual pilgrimage to Phoenix for Brewers Spring Training.