On Sunday, March 15, bars closed around America in response to the COVID-19 pandemic. Today, many of them are still closed, awaiting the all-clear date when it's safe to reopen for their community. Throughout American history, bars have only been closed this long once before – during the 13 years of Prohibition – and even then, most converted to "soft drink parlors," "pharmacies" and other guises to wait out the storm.
With COVID-19, bars didn't have that option. Events were cancelled. Doors were locked. Neon went dark. Staff and performers were sent home. And many are still closed today.
For the nation's gay bars, this presents a double jeopardy as we head into Pride Month. Sociologist Greggor Mattson reports that over 37% of gay bars have closed within the past 12 years. Only 16 lesbian-first bars remain nationwide. San Francisco has lost its oldest gay bar, The Stud, after 55 years in business and might lose the long-running Aunt Charlie's, a cornerstone of the Compton's Transgender Cultural District.
Last year, we watched as the whole wide world celebrated the 50th anniversary of Stonewall with massive parades and festivals. This year, we're left wondering: How many gay bars have already closed forever, never to reopen, and just haven't told us yet?
For all these reasons, Milwaukee is fortunate to be home to Wisconsin's oldest LGBTQ bar, now one of the top 10 oldest gay bars in the nation.
Throughout the pandemic, This Is It has remained vibrant and connective with the community, producing a series of streaming drag shows that give local talent an ongoing performance (and income) platform and give the community something exciting and fun during these dark times. Drag-A-Thon Fridays and themed weekend shows have drawn large online crowds – which opened the door for a new type of pride celebration.
Tonight, This is It launches its Virtual Pride event, a four-day online celebration hosted by MC Tempest Heat and special guest Max, featuring national, regional and local talent – including Nina West, Mrs. Kasha Davis, Brita Filter, Cacophony Daniels, Miss BJ Daniels, Bryanna Banx$, Chanel D'Vine and many, many more.
"We understood why Milwaukee Pride decided to cancel," said George Schneider, co-owner of This Is It, "and we understood why they didn't want to host their own virtual events. So, we decided to create an opportunity for local performers and a venue for community celebration. Although we are still not open, and do not even have an opening date, people kept asking us, 'What are you going to do for Pride?' People look to This is It to be a leader. So, we rose to the occasion."
All performances are filmed individually and remotely with strict social distancing rules in place. Rather than an entire cast being onsite at once, the filming involves one performer, one narrator and one producer at a time, collected across several days.
"We're especially excited that every performer has a personal connection to This Is It," said Schneider. "These people are part of our extended family. The endearment goes both ways."
With shows streaming live on Facebook, YouTube and Twitch, performers can be tipped directly – or donate their tips to specific causes – through Venmo, CashApp and other systems. This Is It has not received any sponsorships for producing the event and will not earn any revenue from hosting it.
"For 11 years, I was part of producing PrideFest," said Schneider. "I started volunteering as a youth pride coordinator when I was barely 18 and later became one of the Board of Directors. Chad Harrington, our manager, brings a wealth of technical skills and production experience. Michael Fisher, co-owner, is the absolute best at booking the big acts. Together, we pulled Virtual Pride together faster than even we expected."
Saturday's Generations of Pride show will showcase nearly two dozen beloved local performers, including Ms. BJ Daniels, who has headlined her own PrideFest Milwaukee show for the past several years after decades of local performances.
"The ingenuity and creativity of the LGBTQIA Community never ceases to amaze me!" said Daniels. "It's astounding how we've found new and innovative ways to let performers, DJs and other talent share their message of inclusion and celebration during Pride Month.
"We will not be silenced, erased or chased back into the shadows by anyone or anything, pandemic included. Now that is something to be proud of."
Virtual Pride runs Thursday, June 4 through Sunday, June 7. For a full schedule of nightly events, visit the This Is It Virtual Pride event page. And with Mayor Tom Barrett's announcement that bars and restaurants can reopen on Friday, June 5, at 2 p.m. with 25% capacity, stay tuned to their Facebook page for ongoing updates about potential reopening plans for Pride Weekend.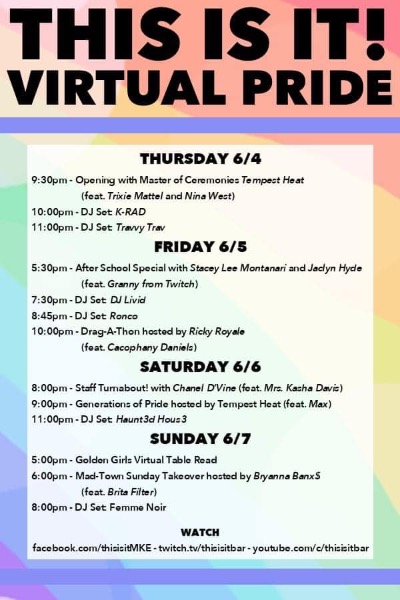 Support local LGBTQ voice and visibility
Virtual Pride isn't the only public expression of LGBTQ pride happening this weekend.
On the morning of Saturday, June 6, Milwaukee's rainbow crosswalks will be brightly repainted in honor of Pride Month. Dedicated in November 2018, the rainbow crosswalks are Milwaukee's first and only permanent memorial to its LGBTQ citizens. All design, installation and maintenance costs are entirely community-funded. The project receives no tax dollars or city services.
"We deliberately included the black and brown stripes in 2018, honoring the Philadelphia movement towards a more inclusive pride flag," said Schneider. "For our next maintenance cycle, we are working on a design that amplifies and includes transgender voices as well."
Donations are essential to support the Rainbow Crosswalks Project, a collaboration between This Is It and Milwaukee Pride, Inc as 501c3 fiscal agent. For more information about donating, contact thisisitbar@gmail.com.
"It's so important that we have these rainbow crosswalks in the heart of Downtown," said Don Schwamb, founder of the Wisconsin LGBTQ History Project. "For people of every generation to see them, realize they are welcome here and celebrated exactly for who they are ... that is huge. For a questioning teenager in an unsupportive home, for a senior citizen who's hidden in the closet their whole life, those crosswalks have meaning and power. They say, you will find your tribe here, you are safe to just be you."
Invest in a local LGBTQ legacy
Since early April, This Is It has been selling "Bar Bonds." These dynamic gift certificates create a tremendous value for regular customers, while allowing the bar to support operating costs at a time with no revenue. The certificates will be redeemable on reopening day for the face value paid, but for patient customers, they provide an amazing return on investment. Three months after reopening, your purchase will be worth 10% more every month for a calendar year. To date, the bar has sold nearly $10,000 of the dynamic gift certificates and will continue to sell them up until the reopening date.
"At first, it was really dire," said Schneider. "But just as we rallied around the community, the community is now rallying around us. We'll get through this together."
Schneider encourages all buyers to read the fine print before purchasing, as these are gift certificates and not U.S.-issued or insured savings bonds. "Bar Bonds" can be purchased online today.
How does a bar that is older than "gay pride" – a bar that was open every night of the Stonewall Uprising – feel about being closed during Pride Month?
"As a bar owner, it's doubly bizarre to be closed right now," said Schneider. "There's none of that growing buzz and excitement that leads up to Pride weekend. Not working at the bar six-seven days a week, I miss chatting with the organizers, entertainers and patrons. PrideFest weekend is always a time for epic togetherness. I miss that the most.
"But we all know that pride is still alive and thriving. So, please join us in celebrating in a new way this year – until we can all be together again in person."
For more information about the history of This Is It, visit the Wisconsin LGBTQ History Project website.
Growing up in a time of great Downtown reinvention, Michail Takach became fascinated with Milwaukee's urban culture, landmarks and neighborhoods at a young age. He's been chasing ghosts ever since. Michail, a lifelong Milwaukeean, dreaGrowing up in a time of great Downtown reinvention, Michail Takach became fascinated with Milwaukee's urban culture, landmarks and neighborhoods at a young age. He's been chasing ghosts ever since. Michail, a lifelong Milwaukeean, dreams of the day when time travel will be possible as he's always felt born too late. Fearlessly exploring forbidden spaces and obsessively recording shameless stories, Michail brings local color to the often colorless topic of local history. As an author, archivist and communications professional, Michail works with community organizations (including Milwaukee Pride and Historic Milwaukee) to broaden the scope of historical appreciation beyond the "same old, same old."