A little rain couldn't damper the belly-filling fun of the sixth annual Walker's Point Food Crawl on Saturday afternoon, as gastronomes tasted their way through the historic neighborhood, sampling old favorites and trying out new spots.
Nearly 20 of Milwaukee's best restaurants served up a selection of small plates to strolling and Bublr-biking food lovers, who endured a brief early thunderstorm that ultimately cleared up into a beautiful and delicious day. The Walker's Point Food Crawl, which started in 2012 and is hosted by OnMilwaukee and MKEfoodies, featured 18 food venues and 42 total items, ranging from sliders and pizza to chili-braised beef tongue pupusa and trout rillette with sourdough.
The crawl covered almost 15 blocks from north to south, mostly along S. 2nd Street in Walker's Point. The restaurants that participated were: Screaming Tuna, Merriment Social, Bowls, Indulgence, Black Sheep, Zak's Café, Lost Valley Cider Co., Camino, Morel, Clock Shadow, Milwaukee Brewing, Fixture Pizza Pub, Drink Wisconsinbly Pub, Crazy Water, Meraki, Braise, c. 1880 and Wayward Kitchen.
Given the success of the Walker's Point Food Crawl, another neighborhood could be coming soon. Stay tuned to OnMilwaukee for details!
1. Meraki's slow braised pork belly with sweet corn ice cream
2. Steny's Bloody Mary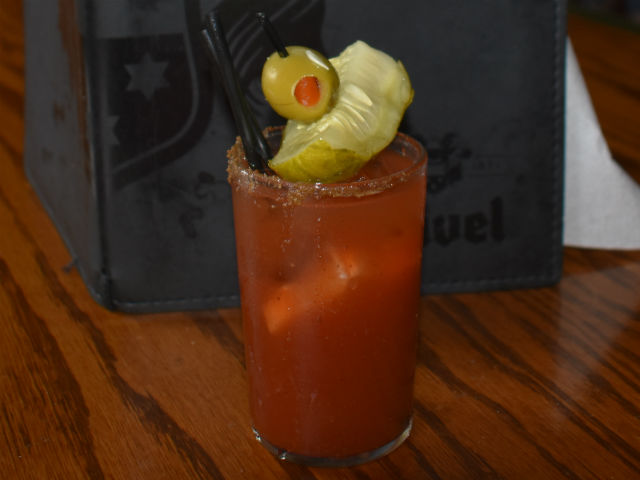 3. A bride-to-be on a bachelorette party at Drink Wisconsinbly pours from the Soul Boxer Old Fashioned "bubbler"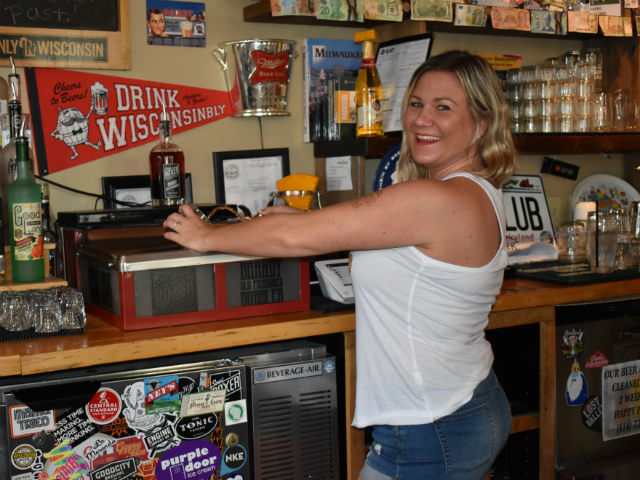 4. Drink Wisconsinbly's Roelli cheese curds fried in Lakefront East Side Dark beer batter, served with house ranch
5. The reporter takes his eyes off the prize briefly and risks losing his cheese
6.
Joe Musha, brand ambassador from Great Lakes Distillery, at Drink Wisconsibly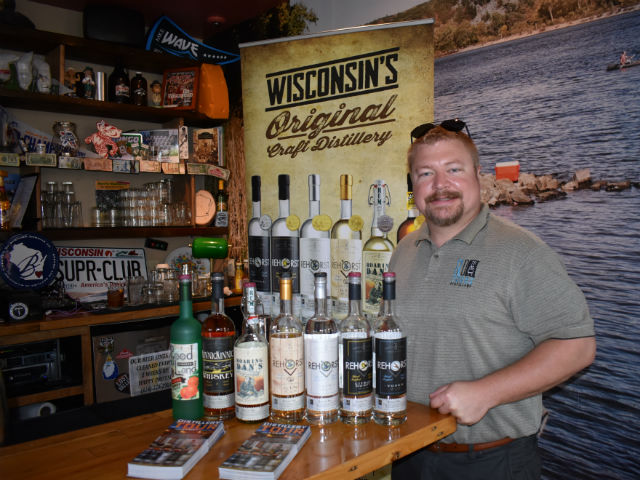 7. Screaming Tuna's wasabi tuna roll with tuna, avocado, masago and wasabi mayo
8. Bowls' mini North African bowl with quinoa, onions, garlic, golden raisins, dried cranberries, scallions, tomatoes, pickled peppers, pistachios and pomegranate molasses; and mini spiced sweet potato and egg bowl with fingerling potatoes, mushrooms, poblano, garlic, red pepper, sriracha and over-easy egg
9.
Black Sheep's spinach and asparagus risotto with crispy carrot, egg yolk and vinaigrette
10. A group of visitors deciding which restaurant to crawl to next
11. Zak's Cafe's avocado roasted red pepper Benedict with poached egg, avocado, roasted red peppers and hollandaise sauce on an English muffin, with country fried potatoes
Born in Milwaukee but a product of Shorewood High School (go 'Hounds!) and Northwestern University (go 'Cats!), Jimmy never knew the schoolboy bliss of cheering for a winning football, basketball or baseball team. So he ditched being a fan in order to cover sports professionally - occasionally objectively, always passionately. He's lived in Chicago, New York and Dallas, but now resides again in his beloved Brew City and is an ardent attacker of the notorious Milwaukee Inferiority Complex.
After interning at print publications like Birds and Blooms (official motto: "America's #1 backyard birding and gardening magazine!"), Sports Illustrated (unofficial motto: "Subscribe and save up to 90% off the cover price!") and The Dallas Morning News (a newspaper!), Jimmy worked for web outlets like CBSSports.com, where he was a Packers beat reporter, and FOX Sports Wisconsin, where he managed digital content. He's a proponent and frequent user of em dashes, parenthetical asides, descriptive appositives and, really, anything that makes his sentences longer and more needlessly complex.
Jimmy appreciates references to late '90s Brewers and Bucks players and is the curator of the unofficial John Jaha Hall of Fame. He also enjoys running, biking and soccer, but isn't too annoying about them. He writes about sports - both mainstream and unconventional - and non-sports, including history, music, food, art and even golf (just kidding!), and welcomes reader suggestions for off-the-beaten-path story ideas.