If West Bend folks who grew up seeing movies at the West Bend Theatre, 125 N. Main St., walk back inside now – when they can walk back inside – they're in for a surprise.
Built in 1929 as a vaudeville theater, the venue was changed a lot over the years. Decor was painted or otherwise covered over and in the 1970s, a false ceiling was added to create lower and upper theaters. In 1992, the lower theater was chopped in half to create a triplex.
But now, thanks to an active nonprofit staffed by passionate folks, the theater has been completely renovated. It's back to a single house, there's now a bar, a cutting edge audio system, new seats and perhaps most exciting of all, restored decor thanks to the discovery during the transformation of original paint details.
And, now, after what it calls the "longest intermission ever," the West Bend Theater will reopen on Friday, July 10 for a 7 p.m. performance by the Andrew David Weber Band.
Capacity is reduced and distancing measures will be in place for the show.
"We've learned a lot the past few months and the most important action is to respect your neighbors," says Executive Director Jeff Potts. "Give everyone a little extra space, patience and courtesy. If you don't feel well, or someone in your household doesn't feel well – stay home. Seriously. Your ticket will be good for another day. Just make smart decisions."
When the renovation was completed in late winter, opening night in early March turned out to also be closing night. After a single day of business – a sold out Grand Opening event with the band Chicken Wire Empire (who stepped in at the last moment to cover for Cory Chisel, who was in self-quarantine after being abroad) – the West Bend Theatre immediately closed once again to wait out the coronavirus outbreak.
"Technically, we'd done two things," says Potts, the sole full-time employee at the moment. "We did a soft opening for our contractors, we showed 'The Goonies' for the families of everybody that worked on the project, and they loved it. And then our official grand opening.
"We reached out to our friends, Chicken Wire Empire, and they did happen to not have a gig that night and they came up, they bailed us out, they put on a really great show and people loved it. At the end of the day, we only had about 130 people that attended, which is about 33 percent of our capacity, but under the circumstances it actually turned out pretty good because we were well within guidelines (then in force). It was always designed to be an event for our closest supporters, so they got a real intimate experience."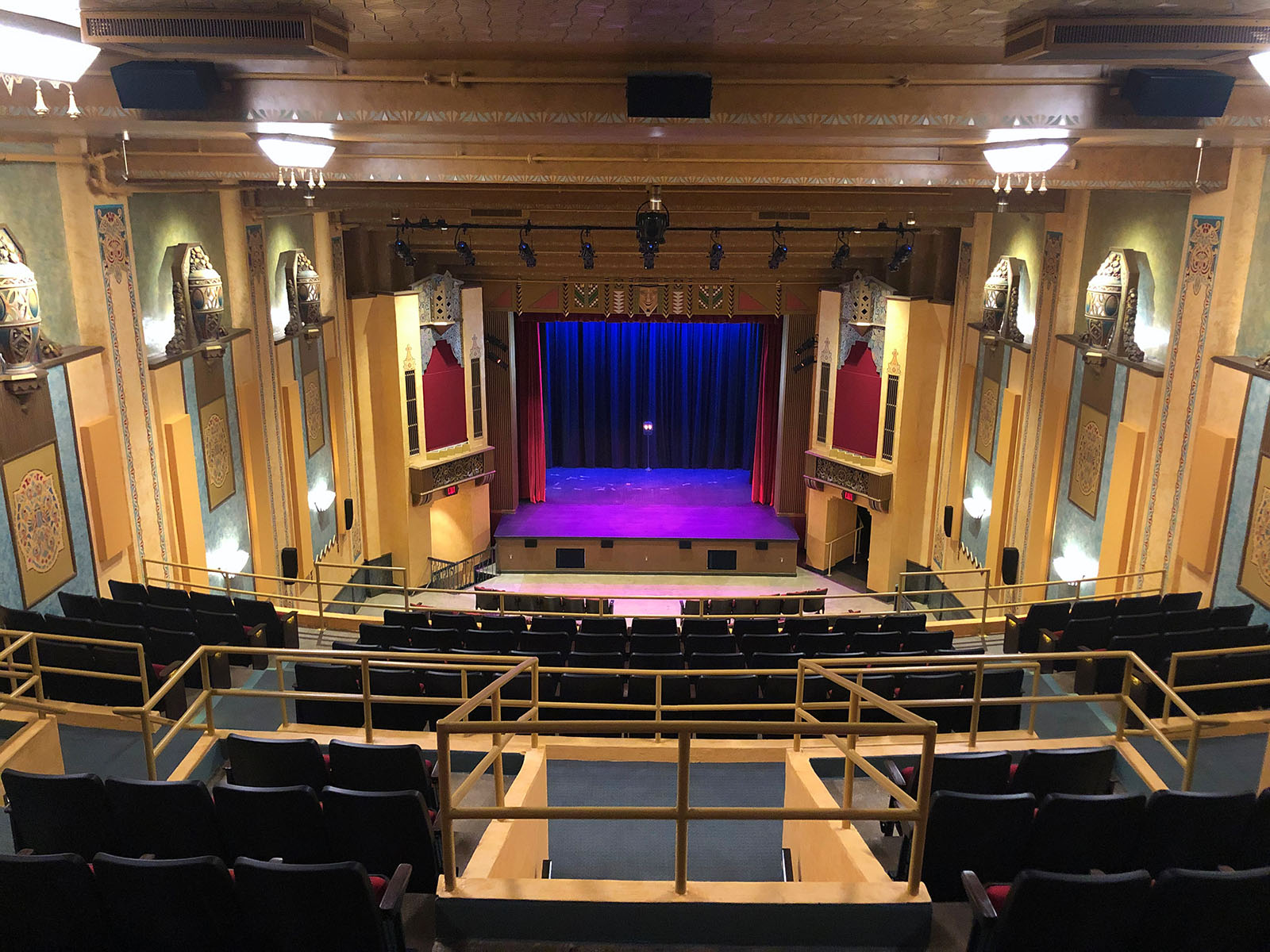 The theater – the fourth built in the city and the sole survivor – was designed by Chicago architect Anker S. Graven (of Graven and Mayger) and opened in November 1929 as a venue for vaudeville performances, which explains why it has a performance-scale stage with a loft, dressing rooms, an orchestra pit and more.
The 825-seat auditorium had 600 seats downstairs and another 225 in the balcony.
Also upstairs were restrooms, a smoking room, a cosmetics room, the projection booth and an office for the manager.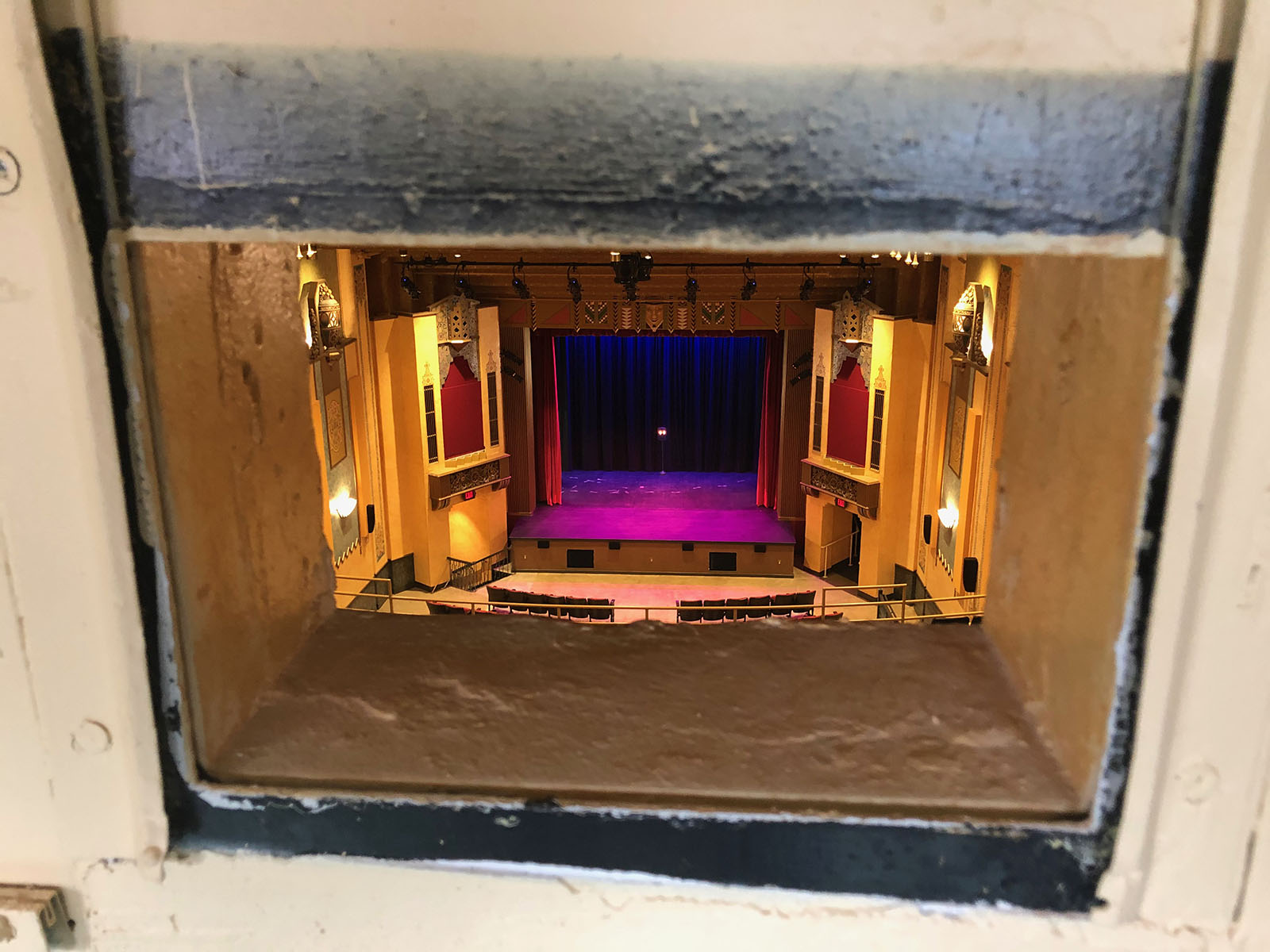 Downstairs, where there is now the concessions stand, there was Walter Koehn's jewelry shop and across the lobby in another small retail space was a barber shop.
The outdoor ticket booth survives, but the $10,000 Barton organ does not. At least not in the theater.
Among Graven & Mayger's other theater work were the Fisher Theater in Detroit, the Alabama Theater in Birmingham and the RKO Orpheum in Davenport, Iowa.
Three images courtesy of CinemaTreasures.org, including from 1932 (ab0ve) and 1951 (below).
The firm also designed the 25-story Lawyers Building in the Chicago Loop (1929) and, in 1928, Leland Tower in Aurora, once the tallest building in llinois, outside Chicago.
"The city of West Bend wanted a beautiful theater building downtown," says Potts. "The stock market crashes (in September/October 1929), people don't have money to go celebrate the roaring '20s anymore."
Opening night, Nov. 26, 1929 featured a mix of vaudeville performers and films, including "Is Everybody Happy?," starring Ted Lewis and "A Perfect Day," with Laurel and Hardy.
Fortunately, movies were becoming popular and so the theater did not close as vaudeville declined.
"It instantly transitioned from vaudeville into just the cinema," says Potts, noting that Gene Autry performed there two days in August 1933. "Vaudeville never worked out, but with the golden age of cinema coming on, for 70 years we were the place people went for movies."
Over the years, the theater's blade sign became an iconic symbol of West Bend and the theater became a hub of entertainment.
August Berkholtz and Louis Kuehlthau founded the West Bend Theater Company in to build the The West Bend, which was owned by W.W. Oeflein from 1929 to '32 and leased to the Community Theaters group, funded and run by the likes of the Pabst family, which ran theaters across Wisconsin, including the Geneva in Lake Geneva and the Plaza in Burlington.
Berkholtz assumed the lease in '32 and held it until 1962, earning Box Office magazine nods when he upgraded the already high-quality audio system in 1937 and, the following year when he, in the words of a history on the West Bend website, "pioneer(ed) use of the marquee to advertise show times in addition to feature details."
In 1960, presidential hopeful John F. Kennedy campaigned in West Bend and the theater's blade sign pops in the background in photos of that visit.
As I said earlier, the 1970s through the '90s were not kind to the theater's architecture and by 2006, the West Bend really began to slow, showing signs of age and a changing entertainment landscape. It showed some films and hosted some live music as the West Bend Cinema BrewHaus.
During the renovations. (PHOTOS: West Bend Theatre)
And after...
In 2012, Matt Prescott bought the theater and fixed the roof and made other repairs. Five years later – after some urged tearing it down and leaving only the facade standing – Prescott sold it to Historic West Bend Theatres, who undertook the recent renovation.
Money was raised – including more than $2 million from private sources and another $1.5 million in historic tax credits, about $4 million in total – and last year work began on the renovation.
And the place is stunning. The retail spaces are gone, incorporated into the lobby, which was expanded by removing and leveling the rear portion of the raked auditorium, bringing down the number of seats to 340.
When workers uncovered original painted details, they brought in Conrad Schmitt Studios to restore what remained and recreate what didn't.
Although so much was changed, a lot remained, including decorative plaster urns and other decorations, a cool and creepy face in the center of the proscenium above the stage, decorative stair railings, ornate vent grates. And THAT blade sign out front!
The former organ pipe lofts now house part of the state-of-the-art audio system that's been installed for films.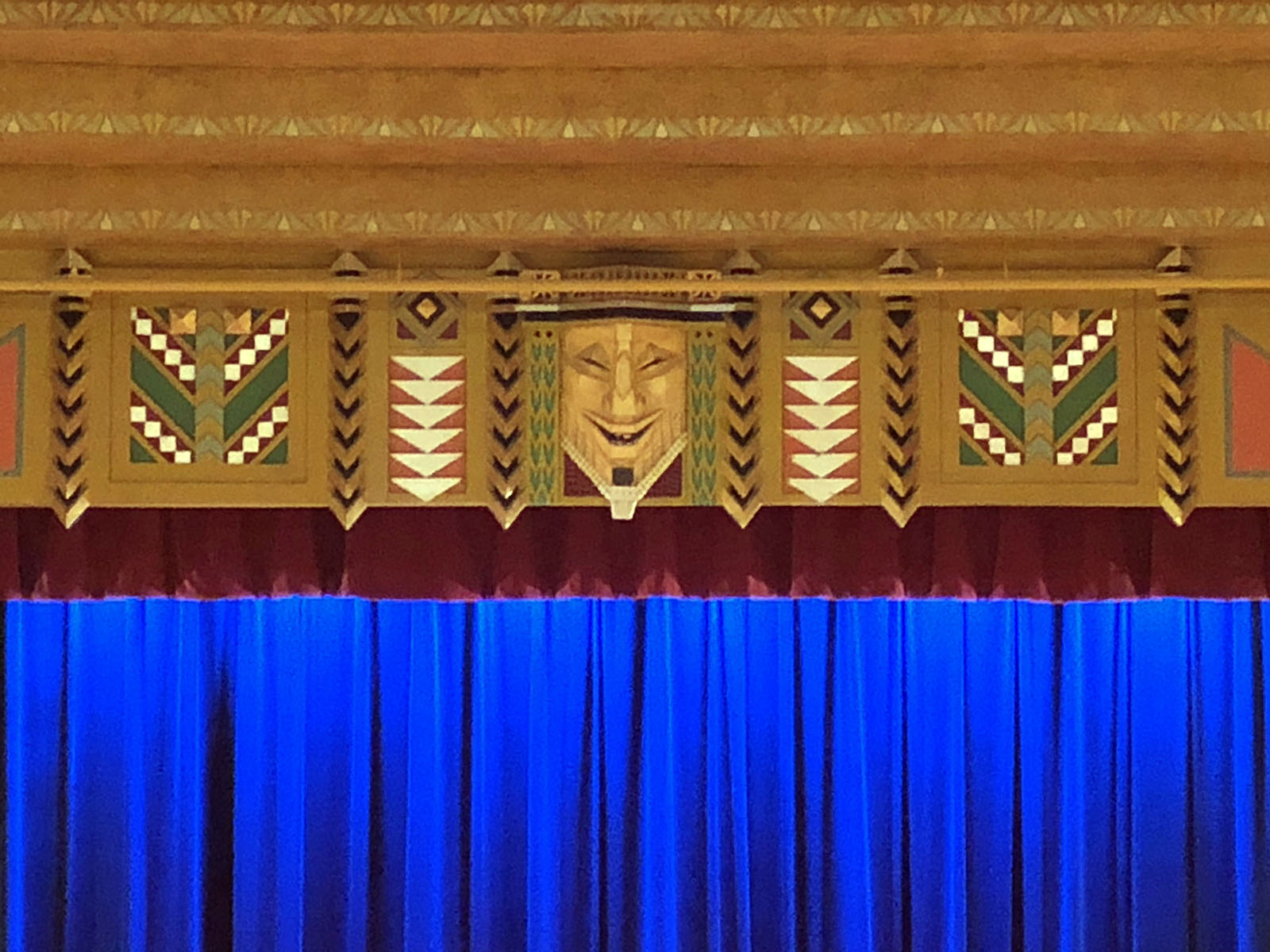 Below the stage there are shiny new backstage rooms and, much to my delight, a small square opening that leads into the now-covered orchestra pit, which is used for storage.
"The complete restoration and equipping this facility came up to about $4.1 million," says Potts as he walks me around. "$3.1 went into fixing the building, and that was all new electric, HVAC, fire suppression, everything was new, structurally, in here.
"That last million went into all the equipment we needed, a big chunk of that was restoring the historic artwork from 1929 that they discovered during the renovation project. Artwork restoration (much of which was unexpected) and investing in our equipment were the only things we went over budget on. Fixing the building itself, boy, we nailed that, and that was really cool."
The goal is for the West Bend to be a multipurpose facility, says Potts.
The orchestra pit (above) and its current entrance (below).
"About 40 percent of the time we want to be a cinema house," he says. "That was our history, that's the reason we're still here. We're going to do classics and independent films. We won't do first-run movies. We're not initially going to do second run movies either. There's plenty of stuff in the golden era of Hollywood and the new golden era, which is things we grew up on in the '80s and '90s. Very nostalgic.
"Another 40 percent, we want to be an experience venue: live music, comedy's going to do really well here, and some performing arts theater stuff. (And) we want to be a rental venue. We also just want to open up on Saturday mornings for the farmers market and welcome people in. It's right on Main Street. Just show classic cartoons or something would be really cool."
Potts says they're taking a volume-based approach to the business.
"We're non-profit, we're historic and that doesn't necessarily make us unique anymore,"he says. "There's plenty of old historic theater buildings back online. What they generally do is they program from September through May, use summer to reset. They sell subscriptions, they do fundraising.
"Our approach is going to be much more like what Pabst/Riverside/Turner Hall does. We want volume. I want to be open three to four nights a week, year round, knowing I'm selling popcorn and sodas and some beer."
However, for its first few months, the West Bend was selling exactly nothing, thanks to the spread of coronavirus. Fortunately, Potts was the only paid full-timer at the moment, but there were plenty of costs that started to mount the longer people were compelled to stay home.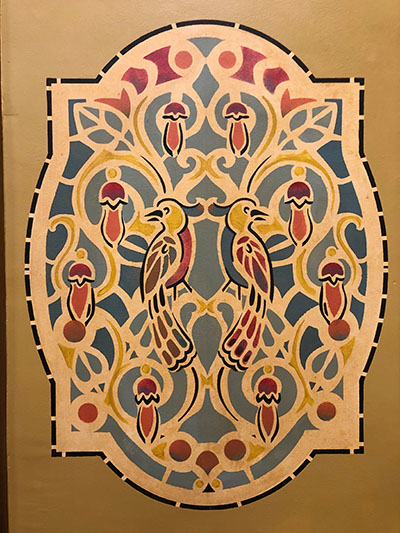 "Maybe we should have read our own history," says Potts, with a nervous smile. "We didn't think we'd be doomed again."
He says his executive committee hoped the theater could be back online by the weekend after Memorial Day.
""Unfortunate timing," says Potts, "but historically theaters are gatherings spaces for a community – in both times of prosperity and times of challenge. The arts, the creativity they inspire and the escape they provide are needed now more than ever."
"We're going to be very dynamic in what we can offer, and we're going to try to be smart. But to be real honest, it's absolutely terrible timing for a theater comeback.
"My message," he says with a touch of dark humor to lighten the mood, "don't ever let us close again because that third time's going to be really bad."
Born in Brooklyn, N.Y., where he lived until he was 17, Bobby received his BA-Mass Communications from UWM in 1989 and has lived in Walker's Point, Bay View, Enderis Park, South Milwaukee and on the East Side.
He has published three non-fiction books in Italy – including one about an event in Milwaukee history, which was published in the U.S. in autumn 2010. Four more books, all about Milwaukee, have been published by The History Press.
With his most recent band, The Yell Leaders, Bobby released four LPs and had a songs featured in episodes of TV's "Party of Five" and "Dawson's Creek," and films in Japan, South America and the U.S. The Yell Leaders were named the best unsigned band in their region by VH-1 as part of its Rock Across America 1998 Tour. Most recently, the band contributed tracks to a UK vinyl/CD tribute to the Redskins and collaborated on a track with Italian novelist Enrico Remmert.
He's produced three installments of the "OMCD" series of local music compilations for OnMilwaukee.com and in 2007 produced a CD of Italian music and poetry.
In 2005, he was awarded the City of Asti's (Italy) Journalism Prize for his work focusing on that area. He has also won awards from the Milwaukee Press Club.
He can be heard weekly on 88Nine Radio Milwaukee talking about his "Urban Spelunking" series of stories.