A little more than halfway through our tour of Westside Academy's home in the former 31st Street School, 1945 N. 31st St., Principal Renee Drane had to excuse herself to attend another meeting. When her School Support Teacher Antoinette Means took over, she said, "you showed him the old books, right?"
Old books?
Back to the library, from whence we'd just come, where at the top of a metal shelf in an adjacent storage room – a former cloak room back when the library space served as a classroom – were a stack of perhaps a dozen books.
Each in a heavy-duty clear plastic bag was what looked like a thin, but oversized school notebook (remember the kind with that black and white speckled cover?) with a sticker on the cover with a date and, in most cases, a stamp that read "Nineteenth Dist. School."
Special Education Teacher Angela Blevins – who, in the absence of a school librarian has whipped the schoo's library into tip-top shape – found the books scattered on the shelves with other books and materials when she was organizing the library, which occupies a beautiful long classroom with an apse of windows with southern exposure.
She could tell they were special and put them in protective sleeves and up high, away from curious little hands.
The books are amazing. They are student registers, showing the school's enrollment, a page for each letter of the alphabet: name, father's first name, street address, parents' nativity, pupil's nativity, date of birth, date of entering school, age upon entering ...
While looking at the books, another teacher appeared in the room to chat with the school staffers and marvel over pages of faculty photos from yearbooks of about 20 years ago. I couldn't help but overhear her say she was born in 1991, which made it especially striking to be poring over these names of students born more than 100 years earlier that walked the same corridors, occupied the same classrooms so long ago.
The earliest book we could find was dated March to June 1896, and that is likely the very first one from the school. Though the building dates to 1895, the appears that the school actually opened in early 1896.
In January of that year, the Nineteenth Ward School Association was founded with $43 given over by Ninth Ward School Association treasurer Julius Kohn.
The following month, Prof. William Promberger was named principal, which makes March 1896 a reasonable start date for the program. Research over the years has shown that new schools sometimes began in mid-year.
Promberger arrived with a few years' experience as an administrator under his belt, having been the school leader at Ninth District Primary No. 3 in 1893-94 before moving to Ninth District No. 2 (now Brown Street), where he remained until his appointment at the new Nineteenth Ward school.
The ward had two other schools. Walnut Street (now razed) dated to the 1880s and 37th Street School (now closed and replaced by Bethune Academy) followed in 1903.
Promberger had a long, distinguished career as an MPS principal, almost entirely at 31st Street School, where he was principal until 1935. I'll do the math for you; that's 39 years.
He was one of three brothers, the sons of a Bohemian immigrant and "common day laborer" who settled in the Third Ward, according to an 1897 Milwaukee Journal article. The boys attended what would later be called Jackson Street/Andrew Jackson School.
Brother Robert J became a machinist at E.P. Allis Works, while John was a freight agent of the Northern Transportation Co. in Duluth.
"Through their own untiring energy and perseverance forged their way ahead and fitted themselves for positions of high trust and honor," the Journal noted.
A street view from the 1950s, above, and an aerial shot from the '60s, below.
The building itself was designed by R.G. Kirsch and Co. This firm, located on Grand Avenue in the heart of Downtown was not among the names of architects who typically designed the city's public schools, which is why the schoolhouse doesn't look quite like any other.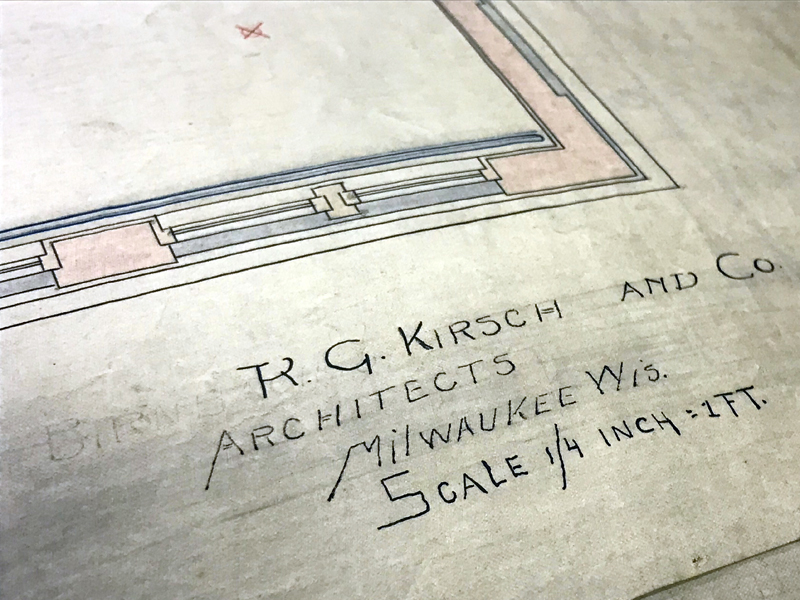 Interestingly, its exterior doesn't look much like its blueprints, either.
Compare the original drawings and the current photos of the same views today below and you'll see that while the result is quite similar to the drawings, there are very noticeable differences, in the shape of the pediment, the openings and configurations, even in the two striking turrets, which are unlike anything seen on other MPS buildings.
Note that the projecting entrance is a later addition. A major addition was put onto the back of the building in 1908 (below).
Inside, the top-floor assembly hall still exists, though its now bisected by a wall to create an art room. The side with the original stage is used for music classes and small theater productions.
We peeked into a few of the numerous attic spaces and while I didn't find a ton of graffiti, I found a few things, including scrawls dating to 1940 and 1958.
For nearly 20 years now, 31st Street School has been home to Westside Academy, which for a time was a growing program in the district. So much so, that a second location was opened nearby on 36th Street to house a middle school program.
But that closed a couple years ago and now Westside is entirely housed at 31st Street.
"Because were were K-8, our enrollment was 410," says Drane, adding that this year's number is 225 and the projection for next year's budget suspects 213 will be enrolled.
Drane points to changes in the neighborhood as the biggest factor in the school's enrollment decline. She says that when she and her staff canvassed the neighborhood over the summer to invite families to check out Westside, they found that many houses were vacant, sometimes because they were being renovated.
There are, she says, just fewer kids in the neighborhood right now.
"One house across the street we have a student but the other two houses, they don't have kids," she says of the block the school it on. "And the three houses on the corner are empty, you know."
But many students are enrolling in other schools in the district, too, she says.
"This school year we know that parents wanted to keep all their kids together (at one school) so they start taking the siblings to K-8 programs," she says. "I'm down street from Starms and Metcalfe, and they both are K-8s and early start schools."
Another nearby draw is Bethune Academy.
"There are a lot of Asian families that are in some of the houses here, and we just don't have a ESL program," Drane says. "My Asian families are going to Bethune, they have a program right there. They have Hmong-speaking teachers, they have an ESL program. We don't have ESL here."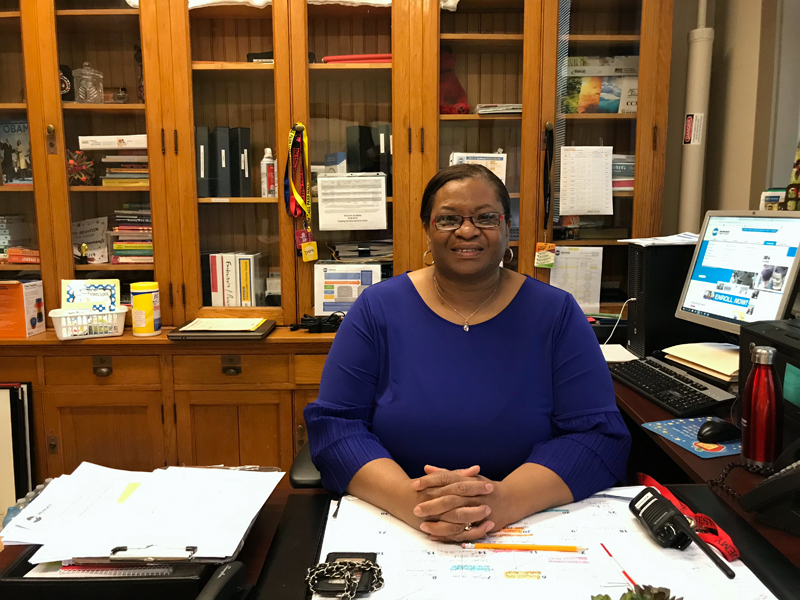 Principal Renee Drane.
But Drane is excited for the future and she doesn't think that her enrollment will continue to decline. As the homes under renovation in the neighborhood are coming back online, she expects to see more children in the area again.
And she's excited to be working with the Green Schools Consortium of Milwaukee on the greening of the schoolyard.
As part of the Green & Healthy Schools Network and Reflo, Westside is working to add green space, an outdoor classroom and more.
The consortium has already helped add green space at a number of MPS schools, including Brown Street Academy, Maryland Avenue Montessori, Lloyd Barbee Montessori and others, and its currently working with numerous others, including Doerfler, Starms, Burdick, Hawley, Clement Avenue, Fratney and more on projects.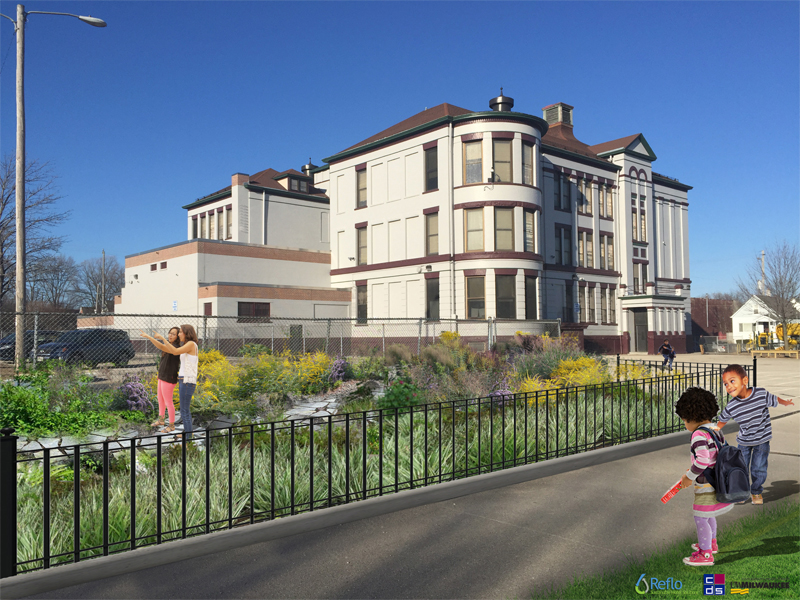 "We are in the fundraising stage now," says Drane, showing off conceptual renderings of the plan. "It's exciting. We have a teacher who is going to do soccer with the kids. It will be nice to have the grass so we can offer that.
"This neighborhood has a lot of construction and we are doing construction here. We really are on the road to success."
Born in Brooklyn, N.Y., where he lived until he was 17, Bobby received his BA-Mass Communications from UWM in 1989 and has lived in Walker's Point, Bay View, Enderis Park, South Milwaukee and on the East Side.
He has published three non-fiction books in Italy – including one about an event in Milwaukee history, which was published in the U.S. in autumn 2010. Four more books, all about Milwaukee, have been published by The History Press.
With his most recent band, The Yell Leaders, Bobby released four LPs and had a songs featured in an episode of TV's "Party of Five," and films in Japan, South America and the U.S. The Yell Leaders were named the best unsigned band in their region by VH-1 as part of its Rock Across America 1998 Tour. Most recently, the band contributed tracks to a UK vinyl/CD tribute to the Redskins and collaborated on a track with Italian novelist Enrico Remmert.
He's produced three installments of the "OMCD" series of local music compilations for OnMilwaukee.com and in 2007 produced a CD of Italian music and poetry.
In 2005, he was awarded the City of Asti's (Italy) Journalism Prize for his work focusing on that area.
He can be heard weekly on 88Nine Radio Milwaukee talking about his "Urban Spelunking" series of stories.