Wheel & Sprocket announced on Tuesday that it will move its largest bike store to Ballpark Commons, becoming the Franklin mixed-use development's first retail tenant.
The Wisconsin bicycle chain will occupy the first floor and lower level of a three-story office and retail building in the Northside section of Ballpark Commons, which is being developed by ROC Properties, an investment initiative of ROC Ventures. Wheel & Sprocket has agreed to lease 20,150 square feet of space and move its original store, the Hales Corners location that opened in 1973, to Franklin.
"Given our goal of creating an environment conducive to active lifestyles, we can think of no better partner than Wheel & Sprocket as our first retail announcement," Mike Zimmerman, chief executive officer of ROC Ventures, said in a statement. "It's enormously exciting to have a bike shop that is so active in promoting the benefits of the activity right on the Oak Leaf Trail and adjacent to a County Park. They will be a tremendous asset to the entire community."
Ballpark Commons is a mixed-use development at the Rock Sports Complex, 7900 Crystal Ridge Dr., that will feature a 4,000-seat stadium, commercial and retail businesses, restaurants, residential apartments and various entertainment and active lifestyle amenities. Despite some area opposition to the project, the City of Franklin last month approved the project, and construction is expected to begin later in 2018.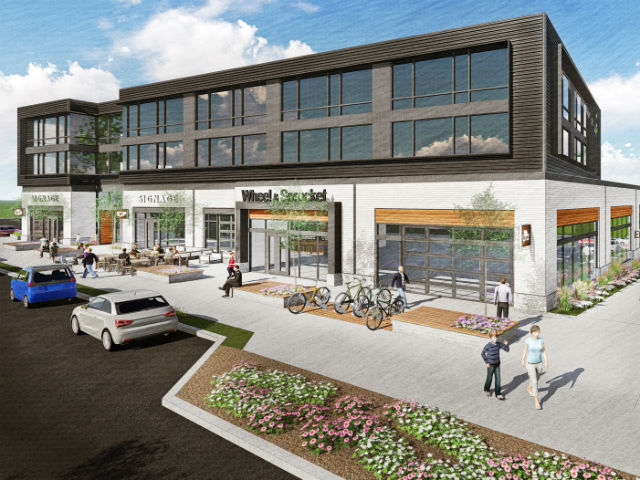 Zimmerman's ROC Ventures, which was formerly MKE Sports & Entertainment, changed its name last year to reflect the company's commitment to "return on community." With that principle in mind, Wheel & Sprocket – a nationally recognized Wisconsin retailer known for its customer service, bike education seminars and cycling classes, active community involvement and bicycle infrastructure advocacy – saw an intuitive fit.
"While moving out of the Hales Corners community that has been home for 44 years is bittersweet, we are thrilled to be part of the Ballpark Commons," said Wheel & Sprocket President Noel Kegel. "Being part of an active lifestyle development with complementary users is huge, not to mention the benefits of having off-road and paved trails out the back door.
"This move speaks to the rapidly changing retail landscape where we will be able to offer a more dynamic experience. This will more than just a bike shop; we aim to help develop BPC into a premier hub of cycling activity in the area. There is so much potential."
Added Franklin Mayor Steve Olson: "I'm pleased that Wheel & Sprocket is joining Ballpark Commons as a lead tenant in what will be a premier activity destination in Wisconsin. This is just the start of many local businesses recognizing the potential of the development and the Franklin market. Welcome Wheel & Sprocket."
Born in Milwaukee but a product of Shorewood High School (go 'Hounds!) and Northwestern University (go 'Cats!), Jimmy never knew the schoolboy bliss of cheering for a winning football, basketball or baseball team. So he ditched being a fan in order to cover sports professionally - occasionally objectively, always passionately. He's lived in Chicago, New York and Dallas, but now resides again in his beloved Brew City and is an ardent attacker of the notorious Milwaukee Inferiority Complex.
After interning at print publications like Birds and Blooms (official motto: "America's #1 backyard birding and gardening magazine!"), Sports Illustrated (unofficial motto: "Subscribe and save up to 90% off the cover price!") and The Dallas Morning News (a newspaper!), Jimmy worked for web outlets like CBSSports.com, where he was a Packers beat reporter, and FOX Sports Wisconsin, where he managed digital content. He's a proponent and frequent user of em dashes, parenthetical asides, descriptive appositives and, really, anything that makes his sentences longer and more needlessly complex.
Jimmy appreciates references to late '90s Brewers and Bucks players and is the curator of the unofficial John Jaha Hall of Fame. He also enjoys running, biking and soccer, but isn't too annoying about them. He writes about sports - both mainstream and unconventional - and non-sports, including history, music, food, art and even golf (just kidding!), and welcomes reader suggestions for off-the-beaten-path story ideas.