The only question you need to ask yourself this week is "Where am I watching the Bucks game?" If the answer is not "from the comfort of my couch" then we have some great spots to cheer the Deer with a few dozen to a few thousand of fellow fans.
Plus, the weather looks grand, so outdoor screens are the way to watch. Here are 11 establishments that sound like fun to us. And feel free to share your favorites, too.
1. Bayshore - The Yard
5800 N. Bayshore Dr., Glendale
thebayshorelife.com
The Yard is located smack dab in the heart of Bayshore, and offers a huge green space for fans to set up chairs or spread out blankets in front of the big screen while enjoying food and beverages from The Tap, California Pizza Kitchen, Trader Joe's, Cheesecake Factory, Kilwin's and more. https://onmilwaukee.com/articles/bucks-bayshore-the-yard
2. Boone & Crockett
818 S. Water St., (414) 212-8115
boonemilwaukee.com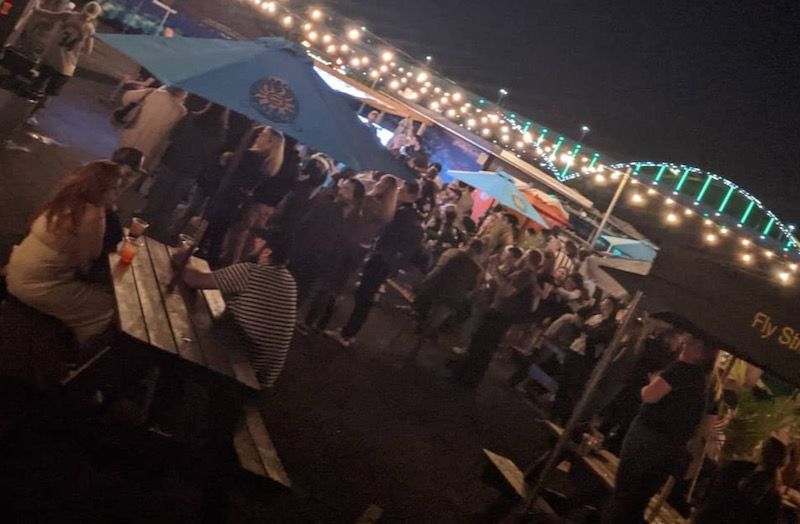 Boone & Crockett, 818 S. Water St., rented an extra JUMBOTRON to host a patio and indoor watch party at the adjoining Cooperage starting at 6 p.m. Drinks are available at the numerous on-site bars and food trucks have you covered for eats. Plus, you can enjoy the Hoan Bridge lit up in Bucks colors from Boone's patio.
3. Champion's Pub
2417 N. Bartlett Ave., (414) 332-2440
championspub.com
One of Milwaukee's most beloved neighborhood taverns, nestled in a residential neighborhood of the East Side, features a gargantuan patio with a new 80-inch screen for your game-watching pleasure.
4. Club Charlie's
320 W. Menomonee St., (414) 763-8548
clubcharlies.com
Head to the Third Ward to catch the game at Club Charlie's. They'll have the Bucks game blasting both indoors as well as outside on the patio's big screen.
5. Company Brewing
735 E. Center St., (414) 930-0909
companybrewing.com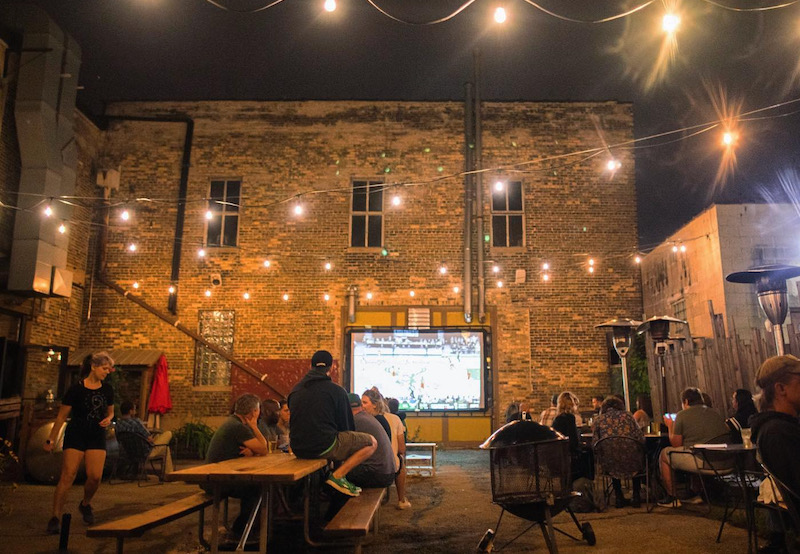 This Riverwest brewing company, restaurant, bar and event space will air the game on the patio with DJs during the commercials in the tap room.
6. Fiserv Forum / Deer District
134 Vel R. Phillips Ave.
deerdistrict.com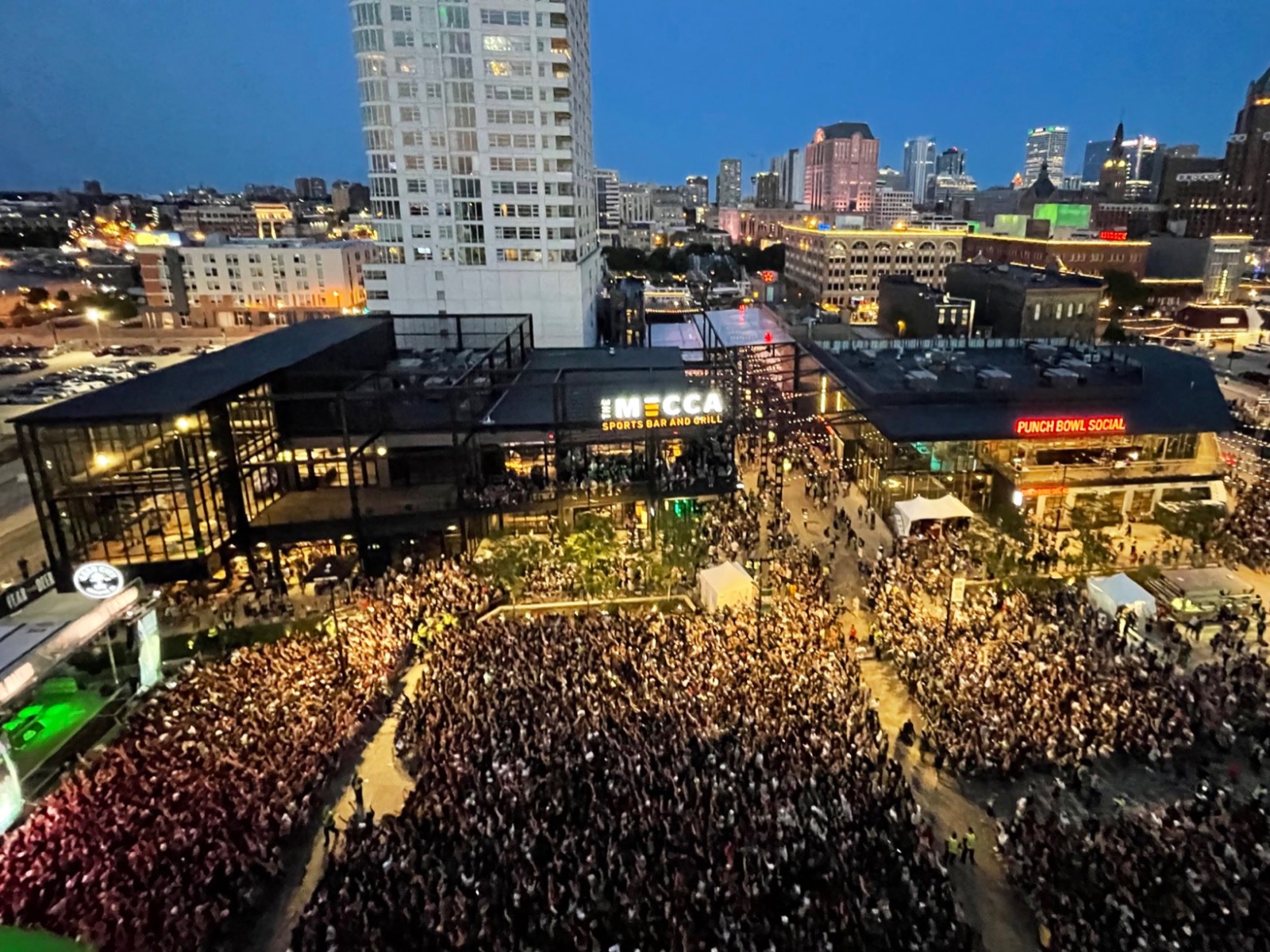 If you wanna go REALLY big, the Fiserv Forum is your spot for game watching. The free watch parties take place in the plaza at Fiserv Forum and in The Beer Garden. Gates for the outdoor watch parties will open two hours before tipoff. For a list of bars surrounding the Fiserv Forum that are also hosting Bucks bashes, go here.
7. Iron Horse Hotel - The Yard
500 W. Florida St., (414) 374-4766
theironhorsehotel.com
The Iron Horse Hotel has a gorgeous patio with three large-screen TVs that will air the Bucks games this week.
8. Leff's Lucky Town
7208 W. State St., Wauwatosa, (414) 258-9896
leffs.com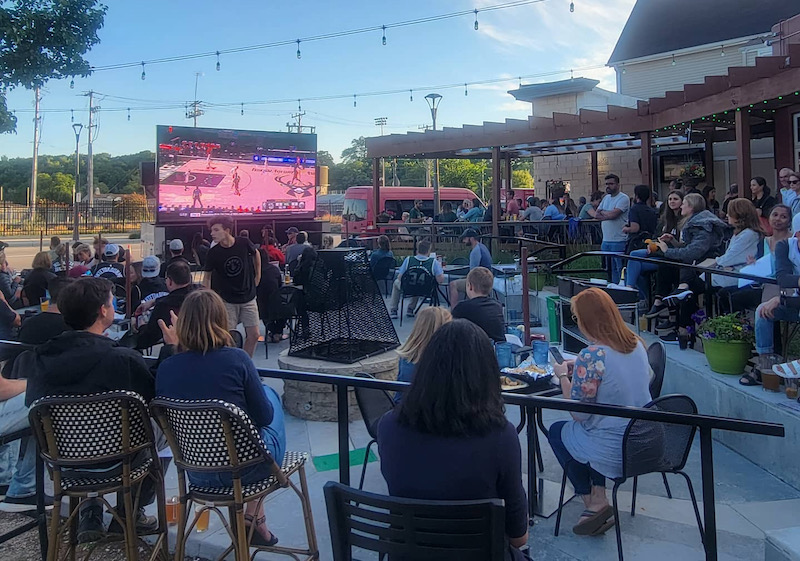 The big screen is coming out for game 6 on the patio of this popular Tosa bar and eatery. A full bar and menu is available during the game.
9. Puddler's Hall
2461 N. St. Clair St., (414) 747-9005
puddlershall.com
Puddler's is a friendly, neighborhood Bay View bar that's also one of Milwaukee's oldest taverns. It sports a large patio with an outdoor screen, more than 50 varieties of beer, and local Foltz Family pizzas.
10. Walker's Pint
818 S. 2nd St., (414) 643-7468
walkerspint.com
One of the country's last women's bars, located in the heart of the Walker's Point "gayborhood," is projecting the game on huge screens both indoors and on their large patio. Drink specials and pizzas will be available.
11. Zocalo Food Truck Park
636 S. 6th St., (414) 433-9747
zocalomke.com
Milwaukee "it" spot of the summer invites you to their patio to cheer on the Bucks and enjoy food and drinks from the on-site food trucks including Dairyland, Mazorca, Foxfire and more. Bring your own chair to ensure seating; this one is gonna rock.
12. "Deer District Franklin"
Franklin Field, 7035 S. Ballpark Dr.
milwaukeemilkmen.com/franklin-field
Tonight's game will be shown on the Franklin Field scoreboard and Milky-Way Drive-In screens, as Ballpark Commons temporarily becomes "Deer District Franklin." The Watch Party is free in the Milky-Way lot and Franklin Field, and concessions – food and beverages – will be available.

Molly Snyder started writing and publishing her work at the age 10, when her community newspaper printed her poem, "The Unicorn." Since then, she's expanded beyond the subject of mythical creatures and written in many different mediums but, nearest and dearest to her heart, thousands of articles for OnMilwaukee.

Molly is a regular contributor to FOX6 News and numerous radio stations as well as the co-host of "Dandelions: A Podcast For Women." She's received five Milwaukee Press Club Awards, served as the Pfister Narrator and is the Wisconsin State Fair's Celebrity Cream Puff Eating Champion of 2019.