In May, we brought you the news that the 1983 Arcade bar space at 1110 N. Old World 3rd St. would be changing hands at the end of the Bucks' season, thanks to the purchase of the space by VentureFifth, an investment management company with a focus on restaurants and bars.
Edward DeShazer, President of VentureFifth, noted that it was his hope to bring something fresh and new to the area, with the hope of capturing a demographic not adequately served by the existing venues in the area.
"Mike Edler, my business partner, came up with a concept we thought would be a great fit for the area," he says, noting that they will be teaming up with MaryJean Sparks and Tommy Stemper of Sparks Endeavors, to open the new concept, which will be called WhiteTail Milwaukee.
If all goes well, the venue is expected to open by the end of November.
What to expect
WhiteTail Milwaukee, which will showcase a large L-shaped bar (equipped with modern amenities like USB ports and electrical outlets) and booth seating, is expected to accommodate up to 70. The modern space will be outfitted in warm wood and modern tile showcasing varied textures and a color palette embracing a mix of deep green, charcoal and white.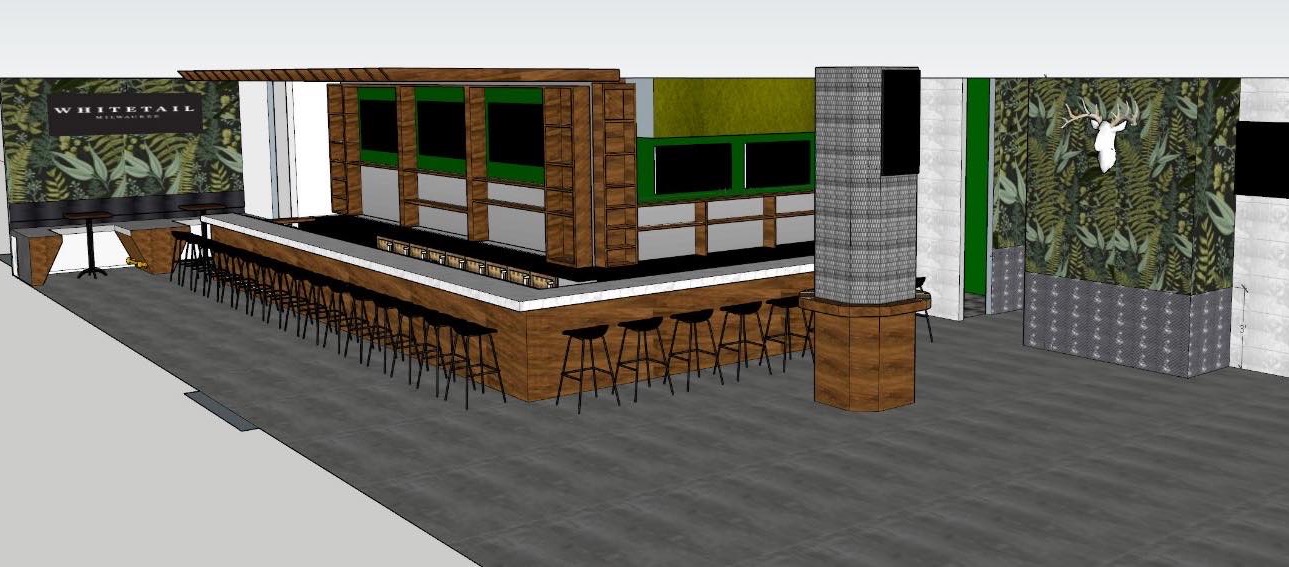 "We want to join the other great establishments surrounding the Deer District and offer a fresh take on a neighborhood bar," he says, "Our goal is to not just be a place people come together during events, but a place where people gather any day of the week."
DeShazer says WhiteTail Milwaukee will offer a beverage menu with myriad options from wine and beer from local breweries to classic craft cocktails. The house menu will include drinks including a Trinidad sour, seasonal margarita, house bloody mary, negroni, bourbon milk punch and a classic Wisconsin style old fashioned, plus at least two seasonal rotating cocktails.
WhiteTail is expected to be open daily from 4 p.m. to 2 a.m.
Watch OnMilwaukee for additional details in the coming weeks, and be sure to follow WhiteTail on Facebook and Instagram.
Lori Fredrich (Lo) is an eater, writer, wonderer, bon vivante, traveler, cook, gardener and girlwonder. Born and raised in the Milwaukee area, she has tried to leave many times, but seems to be drawn to this quirky city that smells of beer and alewives.
Some might say that she is a little obsessed with food. Lo would say she is A LOT obsessed with food. After all, she has been cooking, eating and enjoying food for decades and has no plans to retire anytime soon.
Lo's recipes and writing have been featured in a variety of publications including GO: Airtran Inflight Magazine, Cheese Connoisseur, Cooking Light, Edible Milwaukee, Milwaukee Magazine and the Milwaukee Journal Sentinel, as well as on the blog Go Bold with Butter, the web site Wisconsin Cheese Talk, and in the quarterly online magazine Grate. Pair. Share.