Back in June, online mega-retailer Amazon announced it would be purchasing organic grocery chain Whole Foods for a whopping $13.7 billion. The partnership quickly made waves throughout the grocery industry, and customers of both retailers were wondering what kind of changes to expect.
Would Whole Foods delivery become an option? Would the store's inventory of organic products change? Would prices decrease, making the notoriously expensive grocery store more accessible to shoppers on a budget?
On Aug. 28, Whole Foods officially came under Amazon ownership. Shoppers were greeted with new signage bearing the Amazon logo and announcing price cuts throughout the entire store. Items like bananas, almond milk and ground beef were discounted in Amazon's attempt to shake the "Whole Paycheck" reputation the upscale grocer has garnered over the years.
The new orange signs were scattered throughout the East Side Whole Foods location on North Avenue, and many popular grocery items were discounted up to 40 percent.
Previously, organic bananas were $0.99 per pound. With Whole Foods' new Amazon-influenced prices, they're now down to $0.69 per pound.
Organic avocados went from $1.69 each to $1.49 each.
Gotham Greens brand packaged spring mixes, baby romaine and baby kale all went from $3.99 down to $3.49.
Protein lovers were greeted with an array of orange signs at the meat counter. Chicken, beef and fish prices were reduced, with some meat as much as $5 cheaper per pound.
Boneless rib-eye steak and New York strip steak each went from $18.99 a pound to $13.99. Eighty-five percent lean ground beef is now $4.99 per pound, down from $6.99 per pound. Packaged ground beef bricks went from $8.99 per pound down to $6.99 per pound.
Tilapia fillets went from $10.99 per pound. to $7.99 per pound, and salmon fillets are now $12.99 per pound or $4.99 per pound, depending on cuts.
Both conventional and organic whole chickens are now cheaper. Organic whole chickens went from $3.49 per pound down to $2.99 per pound, and conventional, non-organic whole chickens are now $1.99 per pound.
The vast majority of discounts are on Whole Foods' generic brand, 365 Everyday Value. In the store's refrigerated section, milk, eggs and butter were all met with discounts. Half gallons of 365 Everyday Value brand milk went from $4.19 each down to $3.49 each. For nondairy drinkers, a half-gallon of almond milk dropped from $3.99 to $2.99.
One-pound containers of butter dropped to $4.49, from $4.99. Brown eggs are now 50 cents cheaper at $2.99 per dozen.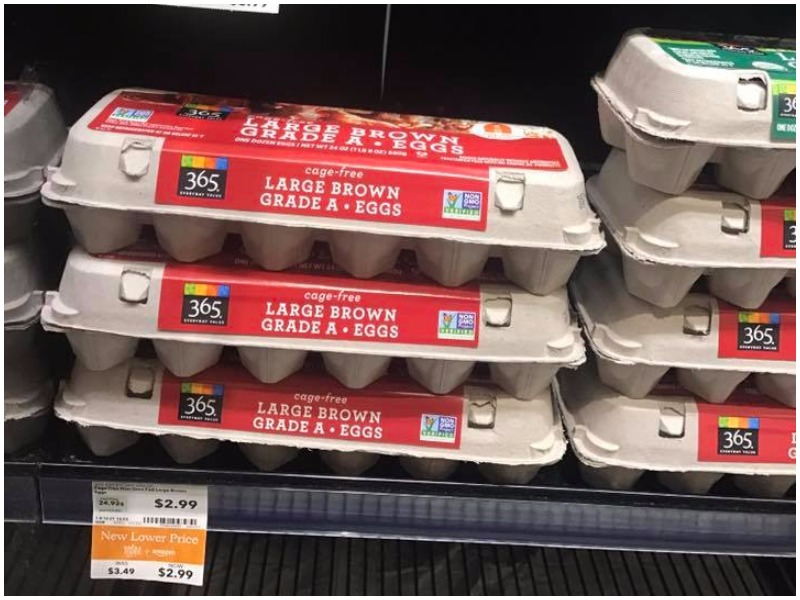 Most of the new deals are on the outskirts of the store, though some recent price cuts can be found in the aisles, too. Shelf-stable items like 365 Everyday Value tomato sauce, coconut milk and water were all discounted.
Tomato sauce varieties went from $3.19 per jar down to $2.79.
Cans of coconut milk went from $2.99 to $1.99.
Cases of water went down to $2.49 each and gallons are now $0.89 each.
The only non-Whole Foods brand product currently discounted is Cheerios. Boxes of the cereal were previously $3.99, and with Amazon's pricing, they are now $2.99.
It's rumored that Whole Foods will be cutting even more prices in the future, and these green signs around the store signal even items that will be cheaper in the months to come. One sign reading "We're growing something good" hung in front of 365 Everyday Value bread varieties.
Amazon Prime members can also expect exclusive deals with their membership in the future. Even though we didn't see any in the North Avenue store, Whole Foods is now selling Amazon Echo devices for $99.99.
In a city with as many grocery stores as Milwaukee, Whole Foods may have to continue to slash prices in order to keep up with the competitive, ever-changing market. We look forward to seeing what other products Whole Foods will discount in the future.