Skyrocketing wholesale prices on chicken wings have become a recurring topic of discussion and hand-wringing among restaurateurs over the years, but, due to the pandemic shutdown and other factors, those prices are again soaring and it's hitting local wings places hard.
"The prices are at or close to an all-time high," says Joe Muench of Black Shoe Hospitality, which owns Maxie's, Blue's Egg and Story Hill BKC. "We buy jumbo first- and second-joint wings and normally pay $60-ish for a 40-pound case of wings, but prices keep going up. We currently are paying $105 a case."
There are a number of factors at work when it comes to the rising cost of raw wings.
In October, Jonathan Maze wrote in Restaurant Business Online that one key to the price hikes has been a boom in wings on offer, especially online.
"We are in the midst of a boom in the number of virtual chicken wing concepts," he noted. "Numerous national brands have decided to take chicken wings and make virtual brands out of them, using excess capacity inside their kitchens to ride a wave of wing popularity."
Among those are big-hitters like Applebee's and Fazoli's. But, Maze added, demand at existing wings purveyors has also shot up.
"Wingstop, the takeout wing chain, has soared through the pandemic, generating 22.5 percent year-to-date same-store sales," he wrote, adding, "chicken wings, far more than any other commodity, are highly volatile. A surge in demand can lead to a spike in prices. Indeed, chicken-wing price spikes come every few years, almost like clockwork."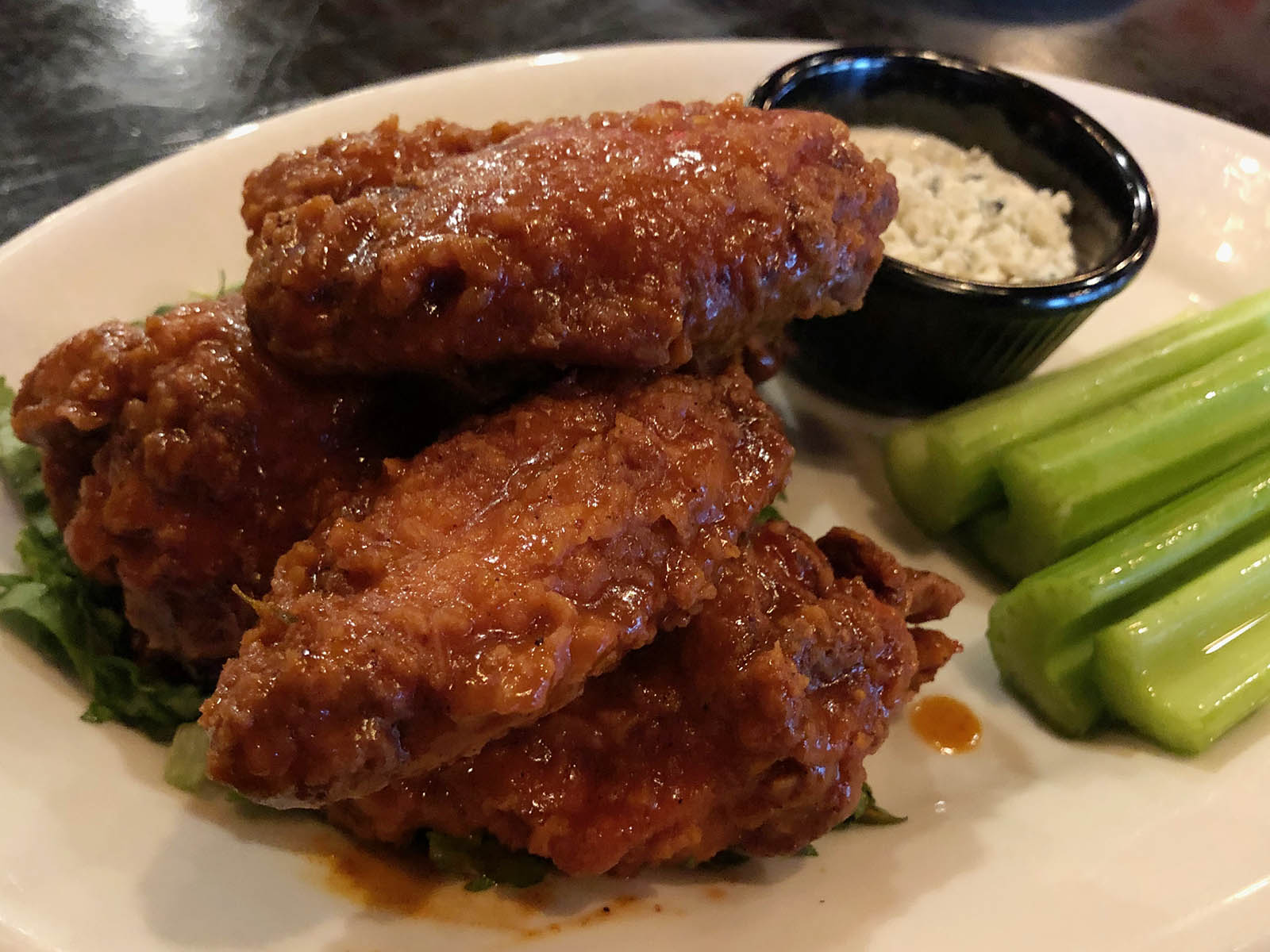 But, Maze warned, don't think that the recurring nature of these spikes, "can't have drastic consequences."
Wholesale prices, Maze said, quoting USDA pricing data, are up at least 11 percent over last year.
In early November, Bloomberg reported that wing prices were at their highest level in a decade.
Some local restaurants are seeing increases much higher than that.
"(Our) wings pricing is up around 25 percent," says Joel Klamann, co-owner of O'Brien's on Vliet Street, "not unlike other proteins in the last six months that for different reasons have been elevated."
Then there's this...
In October, the Wall Street Journal reported that six officials in the chicken industry were indicted as part of an investigation into price-fixing.
Add in the fact that during the pandemic, some chicken processors shut down, squeezing supply at a time when demand was already rising.
"We're affected not just by the rise in price, but in finding the usual wings we use," says Joe Dean, who owns the bar and grill at Club Garibaldi in Bay View.
"The plant was shut down for three months due to COVID outbreaks, so l could only find ones that were huge and expensive, which meant in it order to avoid raising my prices super high l had to eat the increase so as not to pass it along to my customers. With the new (mask and capacity) mandate we are getting sucker punched every time we turn around. A lot of places aren't going to be around much longer."
Chris Leffler, who owns Leff's Lucky Town in Wauwatosa, concurs, and says he's looking at potential solutions.
"We have seen chicken wing prices soar along with chicken tenders, ribs and carryout containers," he says. "We are looking at several different options for new menu items, substitutes for current menu offerings, and alternative choices that incorporate well with our kitchen and now popular curbside carryout business.
"The past eight months have been a whirlwind of adaptation at the moment for all three of our restaurants. The multitude of marketing strategies, business plans, employee schedules, procedures and training has been exhausting."
On a national level, Wingstop is looking at selling bone-in chicken thighs as an alternative.
Charlie Morrison, CEO of the Dallas-based chain told the Daily Mail that he's partnered wth a supplier on a plan that he hopes will, "mitigate the impact of continued inflation of bone-in chicken wings over the near term."
Muench says Black Shoe also has its eye on the thigh.
"We are trying to balance the menu pricing through other options like chicken thigh nuggets," he says. "We try to raise prices as a last resort. Balancing menu sales through limited time offers helps distract from items when raw costs go crazy.
"We have a huge following of our wings and we can't take them off the menu, and trying to explain to our regulars about price hikes is not a good approach. New items to balance sales is our preferred approach."
Leffler agrees that raising prices to customers at the moment is a very bad idea.
"Never before have we had to be so concerned about labor expenses and the costs of goods on our products like chicken wings," he says. "We could usually absorb an increase in food costs like the wings currently by raising the price a bit and with the sheer volume of business.
"(But) the last thing we want to do now is raise any prices when our businesses are running around 50 percent of our normal sales and with all that is involved with the pandemic, we sure are not going to absorb the cost increase with high sales."
Over at O'Brien's, Klamann is not raising prices, either, but is, instead, absorbing the price increase and hoping for the best.
"We haven't raised prices or suspended any specials of any kind," he says, adding, "our menu pricing in comparison to some of our competitors in the area is 10-20 percent higher. The reason being we use more fresh products, stay away from frozen as best as possible and roast all our own meats."
Brian Felten, whose wings at his Neighborhood Draft in Washington Heights are extremely popular, says he, too, has felt the pinch, but is lucky that wings aren't the only thing his customers crave.
"Prices have been high for while," he says. "I hope they drop. I have not raised my prices. Fortunately, I'm not just a wing joint. Other options on my menu are popular choices, too.
"Wings have always been the item to get the customers in the door, to make money on the beer and booze. I find it crazy (these days) to see jumbo wing night at 75 cents (per wing), (but) it's a loss for gain. Some business owners will do anything to get them in the door. These are tough times."
Born in Brooklyn, N.Y., where he lived until he was 17, Bobby received his BA-Mass Communications from UWM in 1989 and has lived in Walker's Point, Bay View, Enderis Park, South Milwaukee and on the East Side.
He has published three non-fiction books in Italy – including one about an event in Milwaukee history, which was published in the U.S. in autumn 2010. Four more books, all about Milwaukee, have been published by The History Press.
With his most recent band, The Yell Leaders, Bobby released four LPs and had a songs featured in episodes of TV's "Party of Five" and "Dawson's Creek," and films in Japan, South America and the U.S. The Yell Leaders were named the best unsigned band in their region by VH-1 as part of its Rock Across America 1998 Tour. Most recently, the band contributed tracks to a UK vinyl/CD tribute to the Redskins and collaborated on a track with Italian novelist Enrico Remmert.
He's produced three installments of the "OMCD" series of local music compilations for OnMilwaukee.com and in 2007 produced a CD of Italian music and poetry.
In 2005, he was awarded the City of Asti's (Italy) Journalism Prize for his work focusing on that area. He has also won awards from the Milwaukee Press Club.
He can be heard weekly on 88Nine Radio Milwaukee talking about his "Urban Spelunking" series of stories.