Wisconsin Dells is home to many different waterparks, but which one will best fit your needs? Are you visiting with kids? Teens? Pets? Winter? Summer? All of the above?
I've had the pleasure of attending every waterpark in the Dells during the winter and summer – some multiple times – so this should help you pick the perfect park for you and your people. Here are my picks:
The best waterparks for winter: Since the outdoor waterparks aren't open during the winter for obvious reasons, visits during these months rely on the indoor action. Great Wolf Lodge has an especially fun indoor water park and the "under one roof" makes the stay warm and easy. Kalahari and Chula Vista – now that the "Flyin Mayan" ride is back – are also good choices.
The best waterpark for small kids: Kalahari Resort or Great Wolf Lodge. Choosing the easiest-to-navigate waterpark is important when visiting with babies, toddlers and / or young kids. All of the Dells waterparks have separate areas for littles, so visiting one where all of the rooms and attractions are in the same building – or buildings that are connected – makes it easier on the grown ups. You might even decide a hotel with a pool and a few attractions are enough for this trip – after all, young kids won't notice the difference and will love it the same regardless.
The best waterpark for older kids: Any of the parks work for older kids, but ask yourself what kind of experience you want to have. If you want many different experiences – from thrilling water rides to toddler pools to swim-up bars (for parents, of course) – a larger park like The Wilderness Resort is ideal. Keep in mind that this is a massive resort and there is a lot of walking (or shuttling in summer) from building to building.
The best waterpark for teens: In winter, Wilderness Resort is a great teen park because it gives them plenty of options and roaming opportunities. It also has an indoor theme park!
Noah's Ark, which is the largest outdoor waterpark in the country and only open in the summer time, is a great place for teens to roam and meet parents after a full day or even just a few hours. There are many "older kid" water rides and much to explore on the mammoth grounds.
The best waterpark for kids / teens at the same time: Great Wolf Lodge is very manageable and literally has something for everyone, thanks to the thrilling Howlin' Tornado that will appeal to anyone looking for big thrills.
The waterpark with the "most bang for your buck": A Mt. Olympus Resort stay includes admission to the waterpark and theme park, both indoors and outdoors.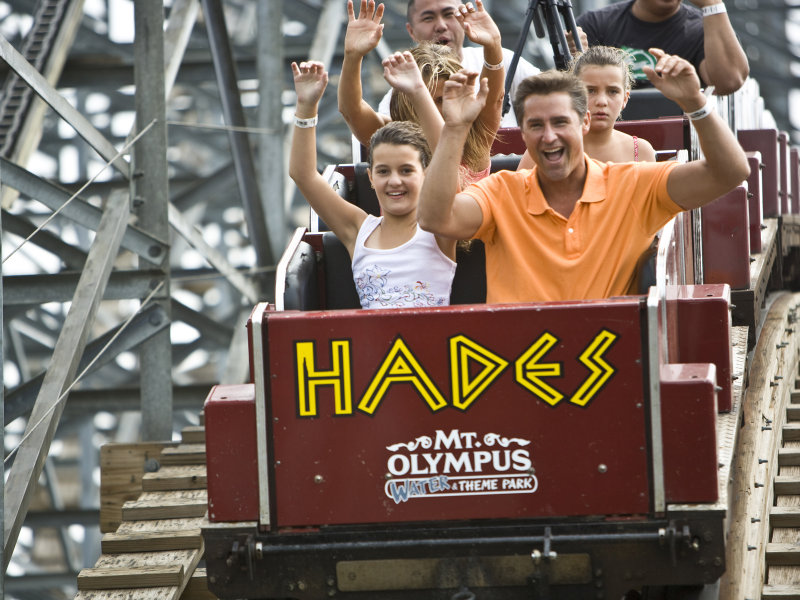 The only waterpark if traveling with a dog: Dogs are not allowed at any of the Dells waterparks, but here is a link to dog-friendly hotels in the Dells, many of which include day passes to waterparks.
The best waterpark for nature lovers: Chula Vista Resort is located five miles from "the strip" in a natural, private setting that includes picturesque lush surroundings, waterfalls and a great person-made beach area (not open in winter, though). Wilderness Resort comes in second for a waterpark that celebrates natural elements. Even though it's located on bustling Hwy 12, it's nestled on 600 acres of land.
Most thrilling water adventure at a waterpark: In the winter, any of the parks with the "funnel" rides offer the most thrill, like the "Howlin' Toranado" at Great Wolf Lodge. The "Flyin' Mayan" at Chula Vista is also wild ride.
During warmer seasons, Poseidon's Rage at Mt. Olympus featuring 9-foot tidal waves is just short of terrifying. Lower-weight adults and kids should stand nearer the "shore" because the towering waves will potentially sweep up smaller bodies. Chula Vista's outdoor waterpark, featuring an eight-story drop, is great for those who love the feeling of a stomach drop.
Most rustic lodging at a waterpark: Mt. Olympus and the American Resort both have treehouse options that kids love. Each treehouse comes with air conditioning and television and hotel-grade beds. The only drawback is the bathrooms are on the ground, so be prepared to climb down a tree trunk a few times in the night with the kiddos. (Summer only).
The best waterpark for a bachelor / bachelorette group and "girls' or guys' weekend:" Wilderness Resort or Kalahari both have adults-only swim-up bars. And they are indoors, so perfect during winter.

Molly Snyder started writing and publishing her work at the age 10, when her community newspaper printed her poem, "The Unicorn." Since then, she's expanded beyond the subject of mythical creatures and written in many different mediums but, nearest and dearest to her heart, thousands of articles for OnMilwaukee.

Molly is a regular contributor to FOX6 News and numerous radio stations as well as the co-host of "Dandelions: A Podcast For Women." She's received five Milwaukee Press Club Awards, served as the Pfister Narrator and is the Wisconsin State Fair's Celebrity Cream Puff Eating Champion of 2019.