Festival City is hopping this summer! OnMilwaukee's Festival Guide is brought to you by Potawatomi Hotel & Casino. Escape the heat and step inside!
There are 98 new foods in which you can indulge at the 2023 Wisconsin State Fair. But which ones are worth trying?
I spent 7+ hours on opening day of the Fair working my way through a list of reader-suggested foods, tasting every single one. I've ranked 14 of them from worst to best (14 being the worst) and included my tasting notes and candid thoughts for your reading enjoyment.
Notes: The dish descriptions used here were taken directly from the State Fair Food Finder.
Sporkies winners are noted with an *.
14. Dill Pickle Donut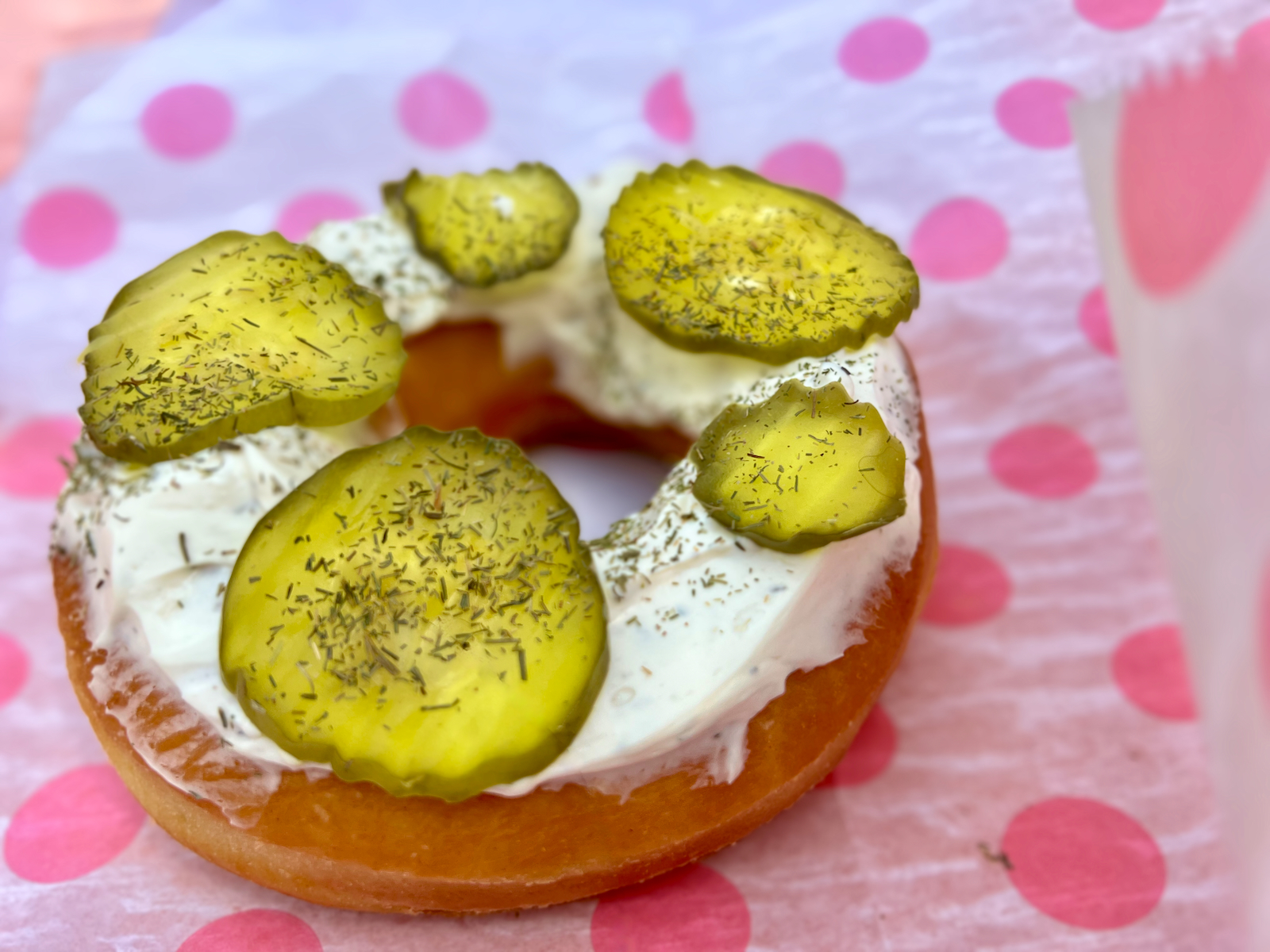 Where to find them: Fluffy's Hand Cut Donuts, South Grandstand Avenue, $8
Description: What started as an April Fool's Day joke has taken off… welcome the Dill Pickle Donut! Get ready to bite into this hand-cut yeast-raised donut "frosted" with a dill pickle juice whipped cream cheese and topped with thick-cut dill pickles and a dill sprinkle.
As adorable as it was wrapped up in its pink polka dotted tissue, this intriguing offering was undoubtedly the biggest disappointment among all the foods I tried this year. I'll admit that a part of that had to do with my expectations. I love both pickles and doughnuts, so I was excited by the thought of indulging in a uniquely sweet and savory treat that somehow blended the flavor of pickles with the sheer joy of a soft, fluffy doughnut.
What I got: a very soft (fluffy isn't a bad way to describe it) savory doughnut spread with vaguely pickley cream cheese and topped with pickles. It reminded me (and several others I discussed it with) of a bagel and cream cheese; but, in this case, it was the Wunderbread of bagels, a fluffy mass of dough that could be compacted by a stiff wind. And while I love a good dill pickle cream cheese, it was entirely out of place on this creation – which fell somehow in the category of "not-a-bagel" but also "not-a-doughnut" territory.
The description says that the doughnut began as an April Fool's Day Joke. And well, I guess the joke was on me.
13. Beer Cheese WI Lava Cake*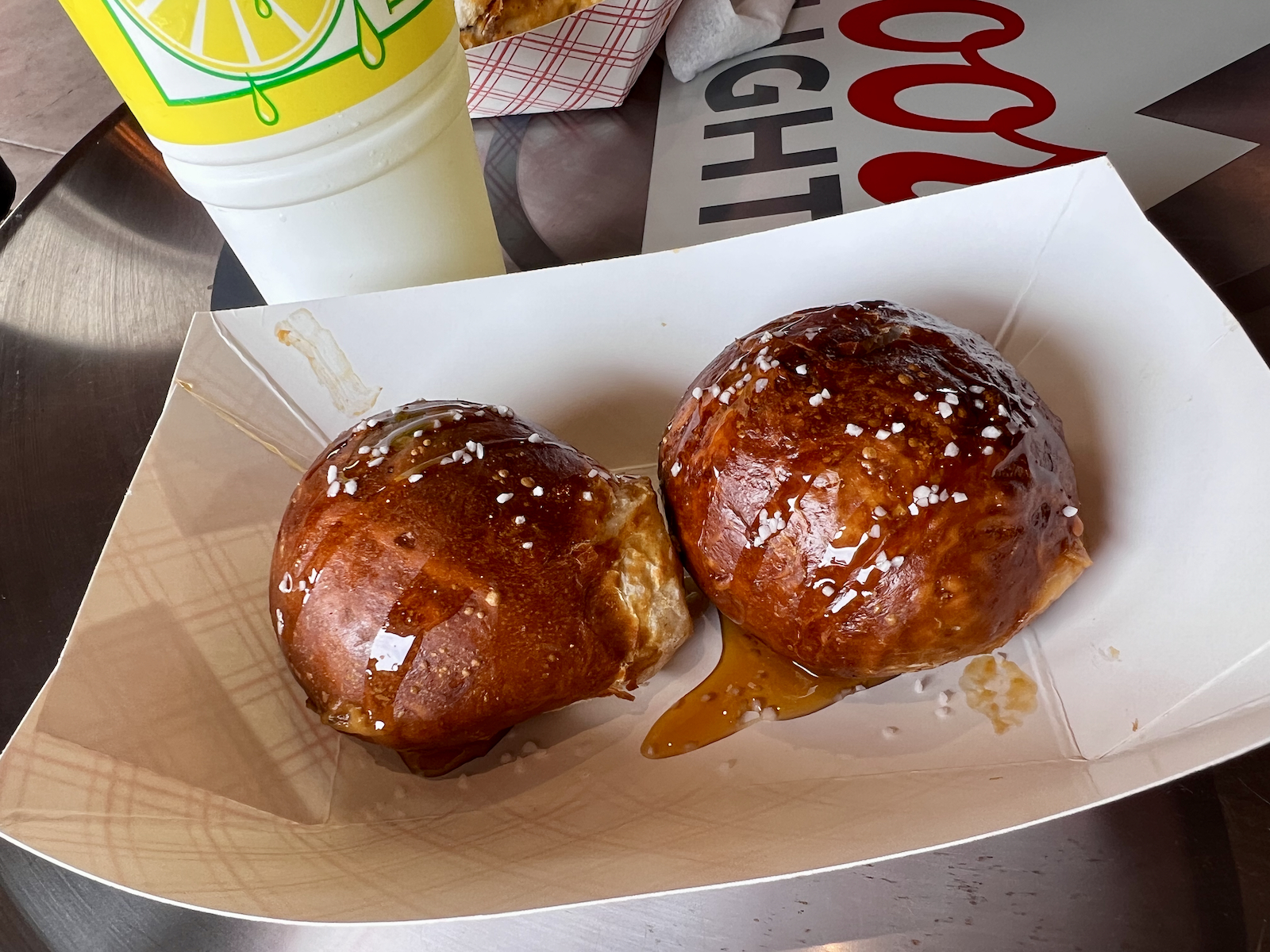 Sporkies Winner
Where to find them: WürstBar, Central Avenue & Second Street, $11
Description: A savory take on a sweet classic, the Beer Cheese Wisconsin Lava Cake sums up Wisconsin in one bite! These salted Milwaukee Pretzel Company slider buns are filled with famous beer cheese soup, topped with butter and pretzel salt, and drizzled with house-made hot honey and red pepper flakes.
First, I'd like to put out a call to rename these. When I read "lava cake," my brain veers to the delectable dessert made famous by Chef Jean-Georges Vongerichten. Not to get too foodie on you here, but I could entirely imagine a savory cake with a molten lava center of delectably nuanced beer cheese soup. I can also imagine it being delicious, while also "summing up Wisconsin in one bite."
So, even before I tried this Sporkie winner (how did that happen?), my brain wondered why it wasn't named something more apropos like a "Beer Cheese Pretzel Bomb"?
But even if we're envisioning a soft pretzel filled with molten beer cheese soup, there are things that must be considered. The pretzel must be supple and easily bitten into, and the soup must be flavorful enough to hold its own.
I'm a fan of Milwaukee Pretzel Company's line of Bavarian pretzel-inspired products. They're delicious (and truly an homage to the German heritage that lingers in our fair state). But in this context, the rolls were reduced to a bread-heavy vessel that was dry on the outside, dense in the middle and filled with an all-too-thick, not particularly flavorful, cheese sauce. And while hot honey is trending in the food world right now, it did nothing for these cheesy pretzel balls except make it more difficult for me to eat them without my hands being reduced to a sticky mess.
I hate to disagree so adamantly with the creator of these. But I really hope that these beer-cheese-filled pretzel balls do not sum up Wisconsin in one bite. Truly, y'all. We are better than this.
12. Birria Beef & Mac Sandwich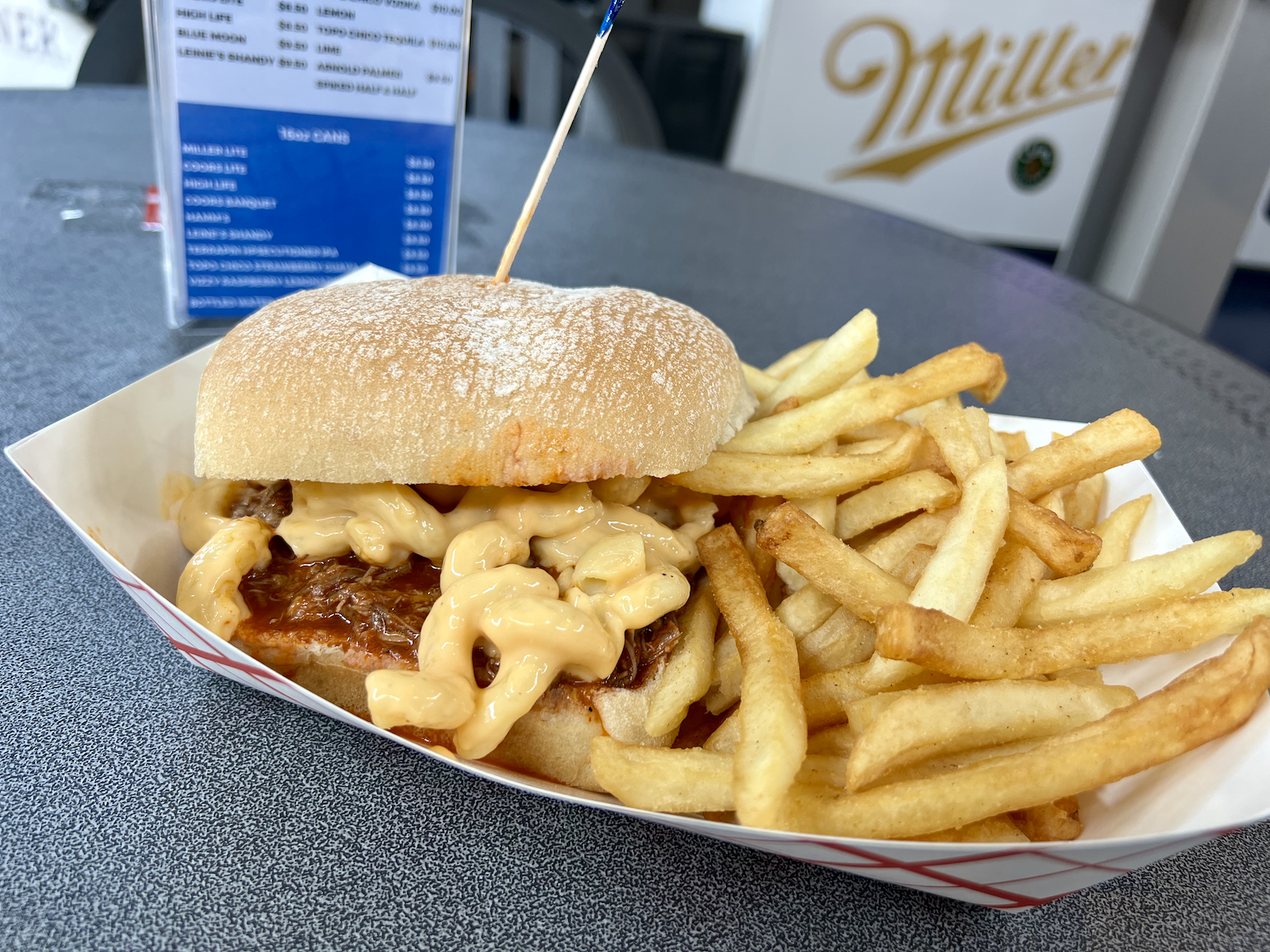 Where to find it: Leff's Miller Lite Sports Bar & Grill, Grandstand Avenue & Second Street $16
Description: Revere's Birria Beef & Mac Sandwich is served with fries.
Birria, the flavorful stew which originated in Jalisco, Mexico that has become synonymous with the tacos of the same name, is a ubiquitous find at taquerias across the U.S. And – done well – the tender, slow-cooked chili-infused beef tacos are a true indulgence served up with a bowl of equally flavorful consomme for dipping.
Americans love to play around with dishes, swapping out components to create something entirely new. And that's happened with birria, which has been reimagined as ramen and – more recently – as the star of grilled cheese sandwiches, which have popped up on food blogs, in restaurants and even at Disneyland. So the idea of a sandwich (a torta, if you will) with the braised beef isn't so out there. Americans also love putting macaroni and cheese on sandwiches, so again, no surprises here.
The upsides of this sandwich begin with the price. At State Fair, $16 for a sandwich and fries is a pretty good deal. The choice of roll was also fitting. A soft version of more traditional ciabatta, it made a good vessel for the fillings, soaking up the beef's juices and holding things together without being difficult to eat.
But the beef, itself, was birria more in name than flavor. It was tender, but underseasoned, without enough of the rich, earthy smokiness of chilies that makes birria so phenomenal. The macaroni and cheese, while creamy, also fell similarly flat in the flavor department. Ultimately, I couldn't help but think that a cup of consomme would not only have taken this sandwich to the next level, but kept it more closely in line with the spirit of the birria trend overall.
11. Camel Chili Cheese Fries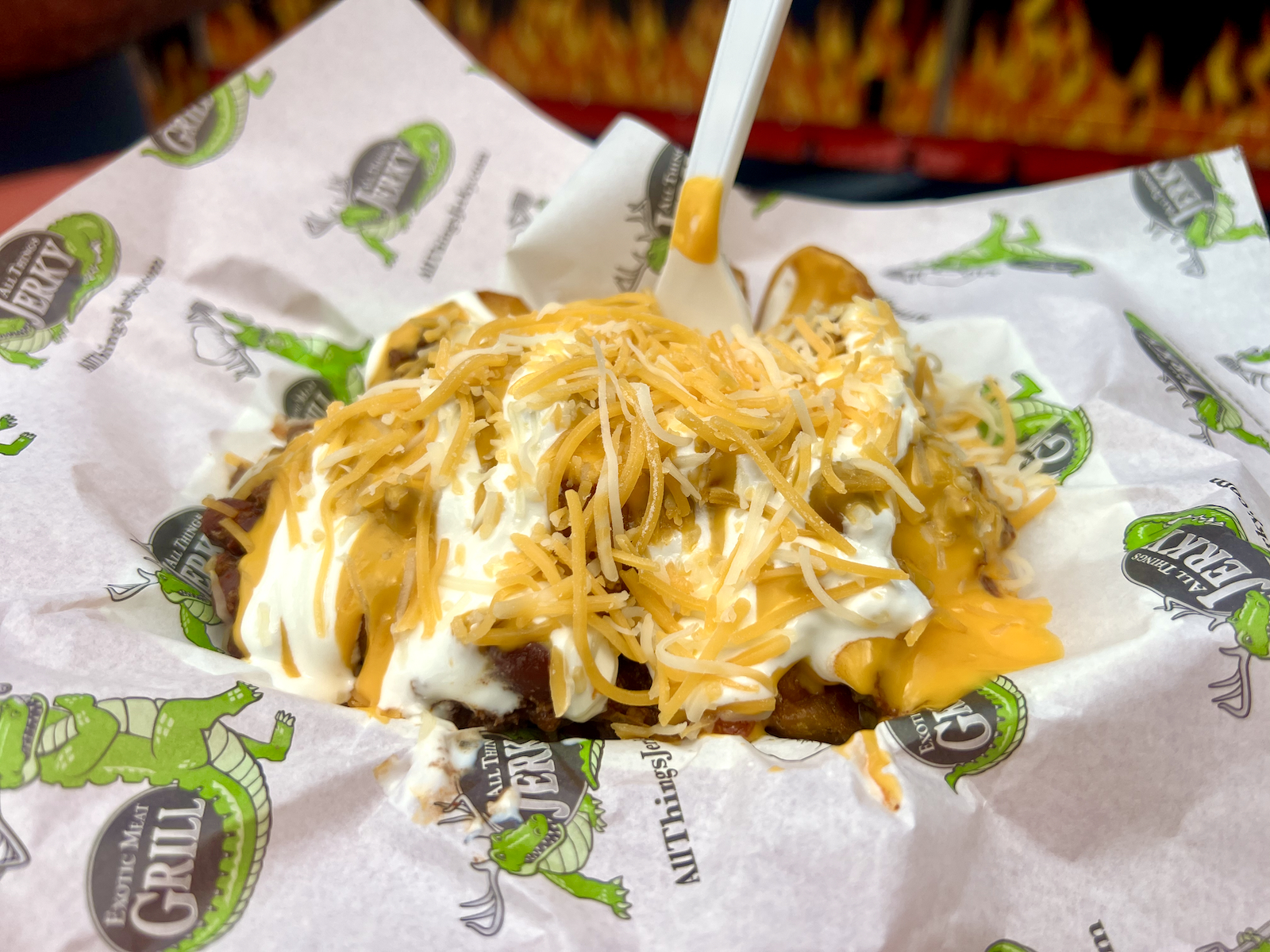 Where to find them: Exotic Meat Grill, South Grandstand Avenue, $15
Description: Camel Chili Cheese Fries are sidewinder fries covered in warm 100% Camel ground meat chili, then topped with two types of cheese and sour cream. These exotic chili cheese fries are so ooey gooey good, you'll need a fork to help you devour them!
At least two readers requested that I try these chili cheese fries. I'm guessing their curiosity stems from the inclusion of camel, a meat that is slowly, but surely, making its way into the U.S. market. My first experience eating camel was as a flavorful slider at The Cheel, where the meat was seasoned with toasted garlic, aged balsamic, tarragon and a touch of honey. It's lean meat which reminded me of grass-fed beef or bison in terms of its flavor. A bit of reading hipped me to the fact that the meat is lean, but also fairly nutrient dense. So I was perfectly willing to try it in another context.
In this case, you'd be hard-pressed to know that you were eating camel at all. The chili was flavorful with a profile that resembled what you'd likely expect to appear on chili cheese fries. There was plenty of cheese (both nacho and shredded) to supplement, along with sour cream. In fact, the sidewinder fries were entirely covered to the point that they lacked any semblance of crispness. That wasn't a deal-breaker, as chili cheese fries often beg to be eaten with a fork; but I did find myself wondering if another style of fry might have been better.
The verdict? While there was nothing extraordinary about these fries, they'd definitely be sufficient to satisfy a chili-cheese-fry craving. They also provide a super low-risk way of trying out camel for the first time.
10. Wisconsin Quesadilla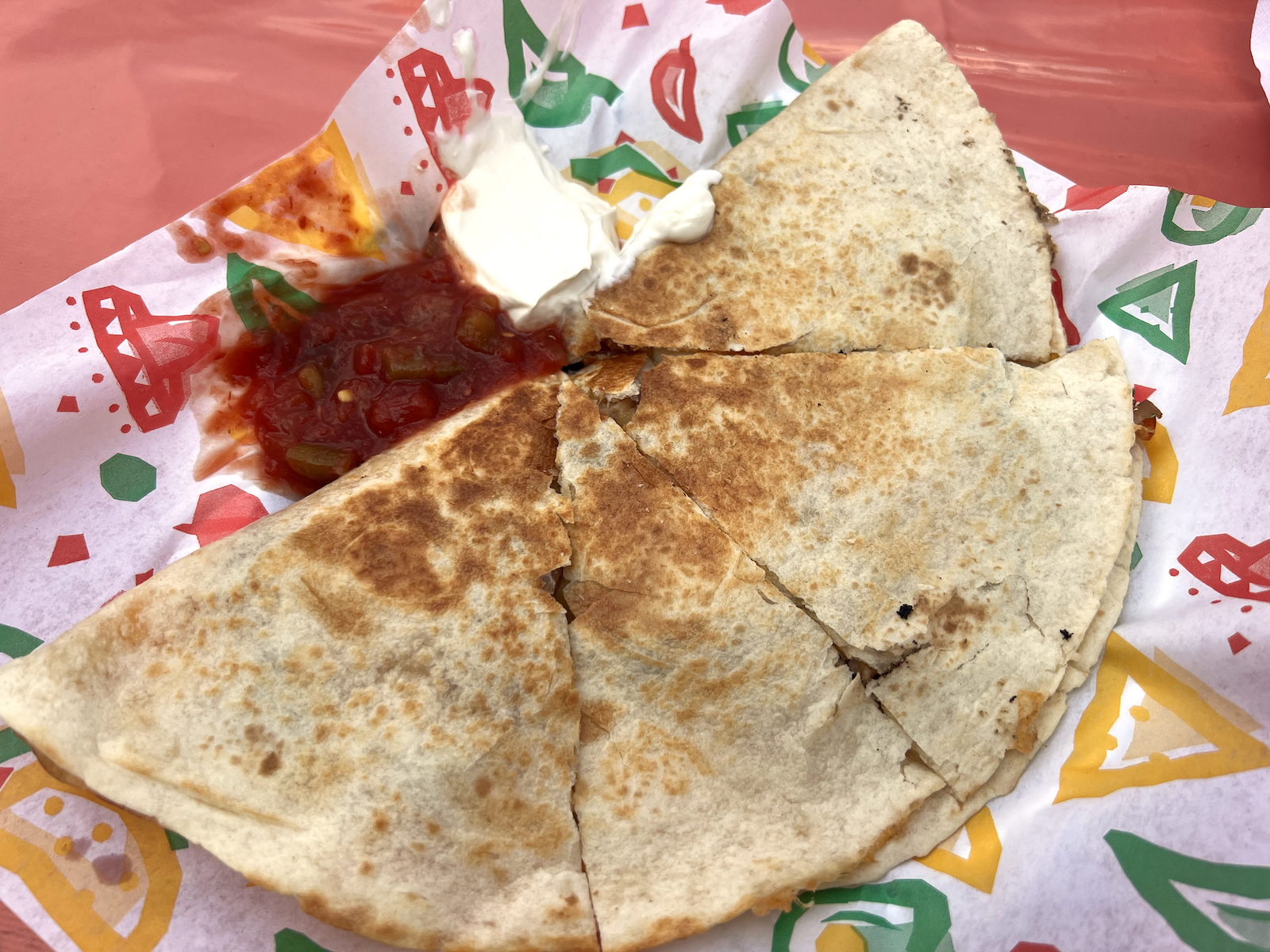 Where to find it: Mexican Grill, South Grandstand Avenue, $18
Description: The Wisconsin Quesadilla is truly filled with the best of Wisconsin! Stuffed full of cheese curds, chunks of brats, grilled onions and peppers, and shredded cheese, this quesadilla is cooked to golden brown perfection and served with sour cream and salsa on the side.
If I didn't know better, you could probably convince me that the quesadilla was invented in Wisconsin. It's cheesy, for one. But it's also satisfying and versatile. So the thought of a "Wisconsin Quesadilla" didn't strike me as particularly far-fetched.
Overall, the Wisconsin Quesadilla was well executed. The tortilla was beautifully crisped, the flavors worked together and it housed a bounty of hot stretchy cheese. The portion of peppers, onions and sliced bratwurst was generous, but also balanced by the cheese.
On the critical side, I always question the use of pre-cooked bratwurst (which is what was used here), as I find their processed texture and flavor to be less-than-desirable; I'd far prefer the more traditional Mexican chorizo in this application. I also questioned the accompaniments of mild red salsa and sour cream, which could have easily been replaced by a complementary sauce that was more in keeping with the Wisconsin theme.
Worthy of note: I overheard quite a few people remarking that $18 was a hefty price for a quesadilla, and it is. But this is State Fair, where everything tends to be priced a bit higher than usual. The one factor that makes the price tenable, in my opinion, is the fact that the quesadilla was definitely large enough to share among two or more people.
9. HabanGYRO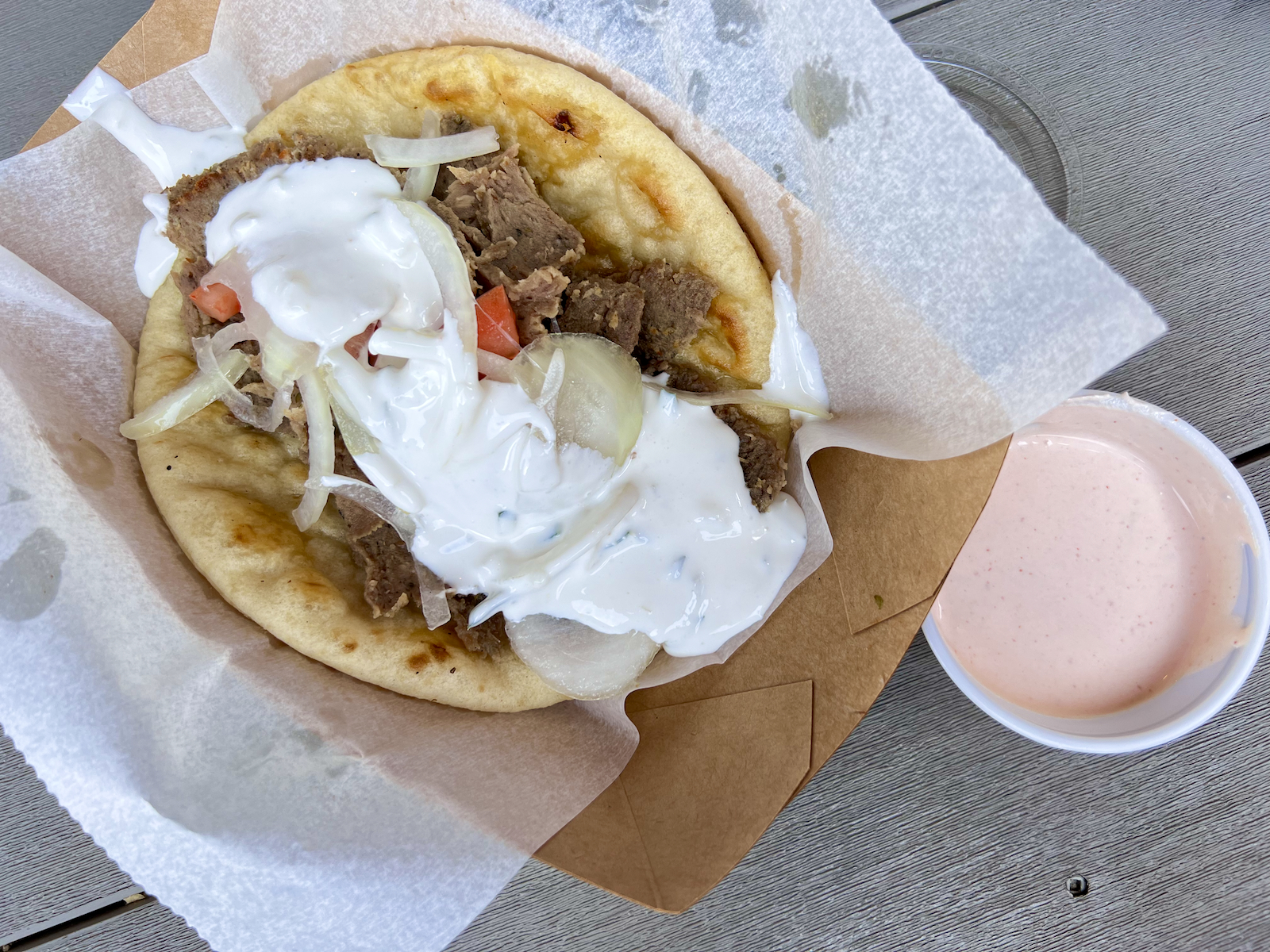 Where to find it: Gyro Man, Second Street between Central Avenue & Grandstand Avenue, $13.50
Description: Classic gyro with spicy habanero tzatziki sauce.
This classic Greek sandwich boasted tender, well-spiced meat, plenty of freshly sliced onion and two half-moons of fresh tomato. I also got a generous dose of regular tzatziki, along with a side of the spicy habanero-infused sauce. I'm greedy when it comes to the amount of meat on my gyro, so I tend to order extra. But the portion here was likely adequate for an average sandwich.
I actually really loved the spicy tzatziki. It was sneaky hot (the kind that takes a bit of time to build) with a nice fruitiness that played well with the salty meat and really complemented the bite of the fresh onions.
Honestly, it has never occurred to me to crave a spicy gyro. But after trying this fair creation, it's definitely made me wonder if a dash of fine hot sauce would be a worthy way to boost my next round of take-out.
Worth noting: I didn't realize it until later, but while the price on the menu board was $13.50 for the HabanGYRO, I was charged for a regular gyro ($13), plus $2 for the spicy sauce. What that meant is that I got double the sauce - mild on the gyro itself and spicy sauce on the side (maybe a good solution for someone who wants to cut the spiciness a bit).
8. Deep-Fried Red Hot Ice Cream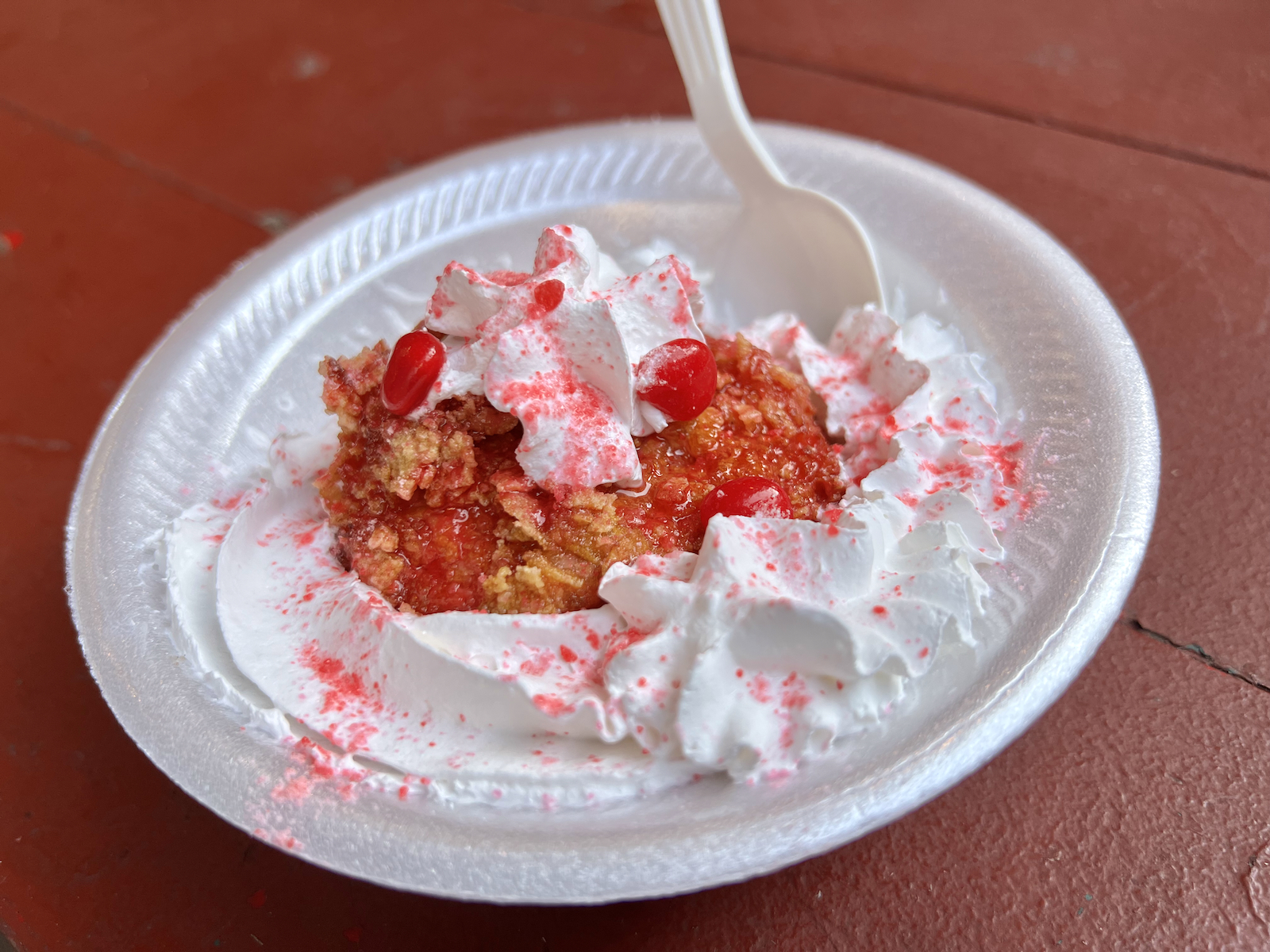 Where to find it: Leadfoots Race Bar & Grill, Grandstand Avenue between Second Street & Benno's Micro Alley, $7
Description: "Deep-Fried Red Hot Ice Cream takes refreshing scoops of vanilla ice cream, rolls it in a special coating of crushed corn flakes and 'Red Hot' cinnamon candy crumble, and deep-fries it all! Garnished with whipped cream and a sprinkling of additional 'Red Hot' cinnamon candies, this is a tasty twist on a classic dessert."
This one struck pure nostalgia for me, having grown up in an era when Chi-Chi's restaurants were a popular destination for cheap, boozy margaritas, free chips and novelties like fried ice cream.
And the dessert delivered expressly what it promised. The coating on the ice cream was crisp and warm, offering a distinctive textural element along with plenty of spicy cinnamon flavor. Both provided a pleasant contrast to the frozen vanilla ice cream.
In the end, this "Red Hots" ideation of fried ice cream was a refreshing pick for a day when temps hovered near 90 degrees, offering up a chilly diversion from the usual deep-fried fair foods.
7. The Porkie Sundae*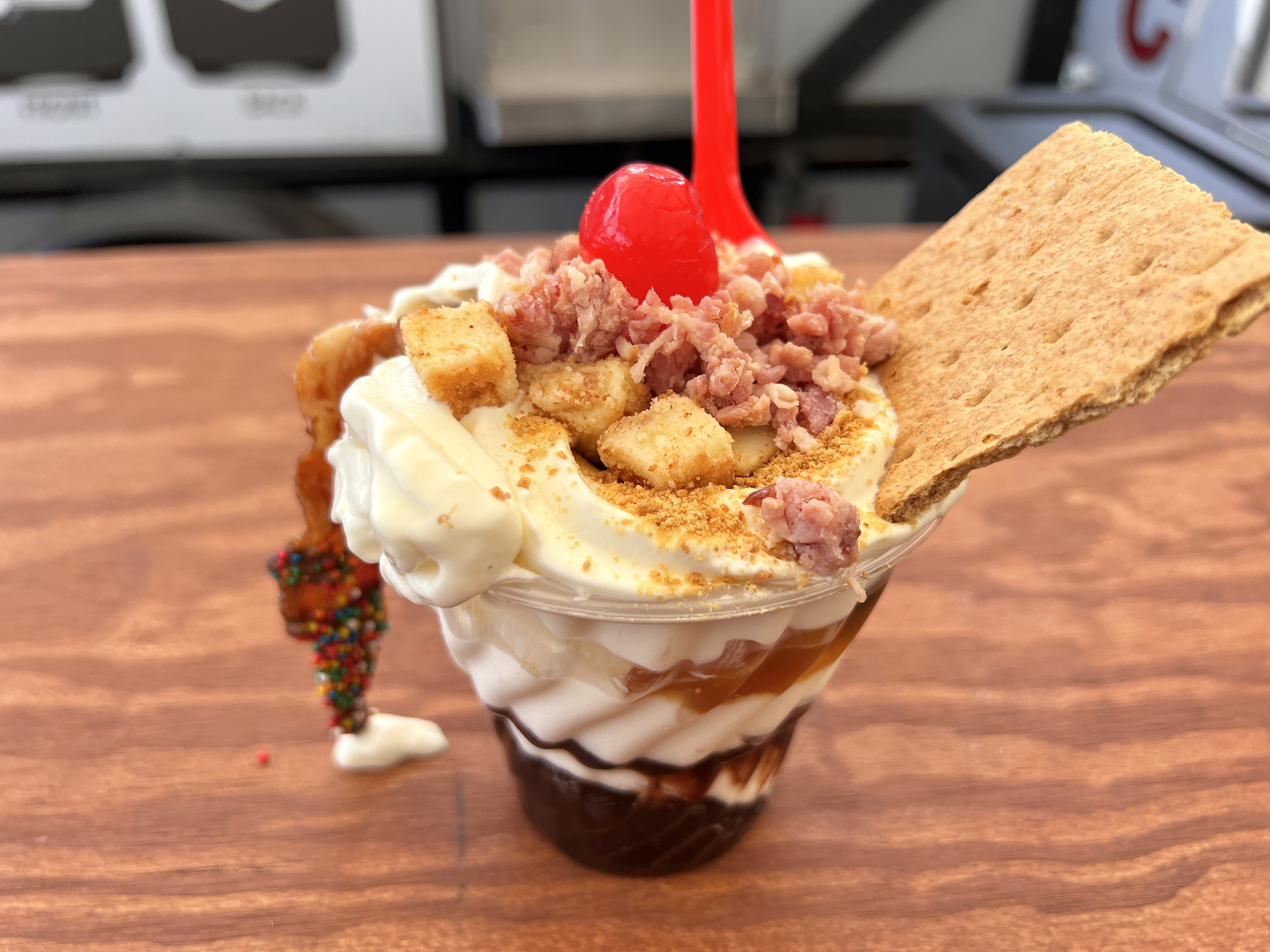 Sporkies Second Place winner
Where to find it: Camp Bar, Central Avenue & Center Street
Description: This sundae is just the treat for you to enjoy while at the pig races! Featuring vanilla custard layered with cheesecake bites and hot fudge, The Porkie is topped with graham cracker crust, more hot fudge, warm caramel, a graham cracker cookie, and cherry. But it wouldn't be complete without a piece of Rupena's candied bacon dipped in chocolate and rolled in sprinkles!
If you're trying out all the Sporkies winners, The Porkie Sundae is probably on your list. And while the list of ingredients might seem a bit random and outlandish, it's pretty much on par with what you might expect from a State Fair-inspired frozen custard flavor.
The custard – a new addition to the fair in 2022 – possessed an appropriately silky texture with a solid vanilla flavor. Old school hot fudge and a whirl of caramel gave it a classic sundae feel, while chunks of cheesecake, graham cracker and bacon (we seem to have also gotten some bonus porky bits on the top of ours) offered added richness and texture.
And while Rupena's is no longer at the Fair, the candied bacon – with its adorable chocolate coating and sprinkles – was a nice homage to the longtime independent grocer, caterer and State Fair Vendor.
6. Irish Dipper Sandwich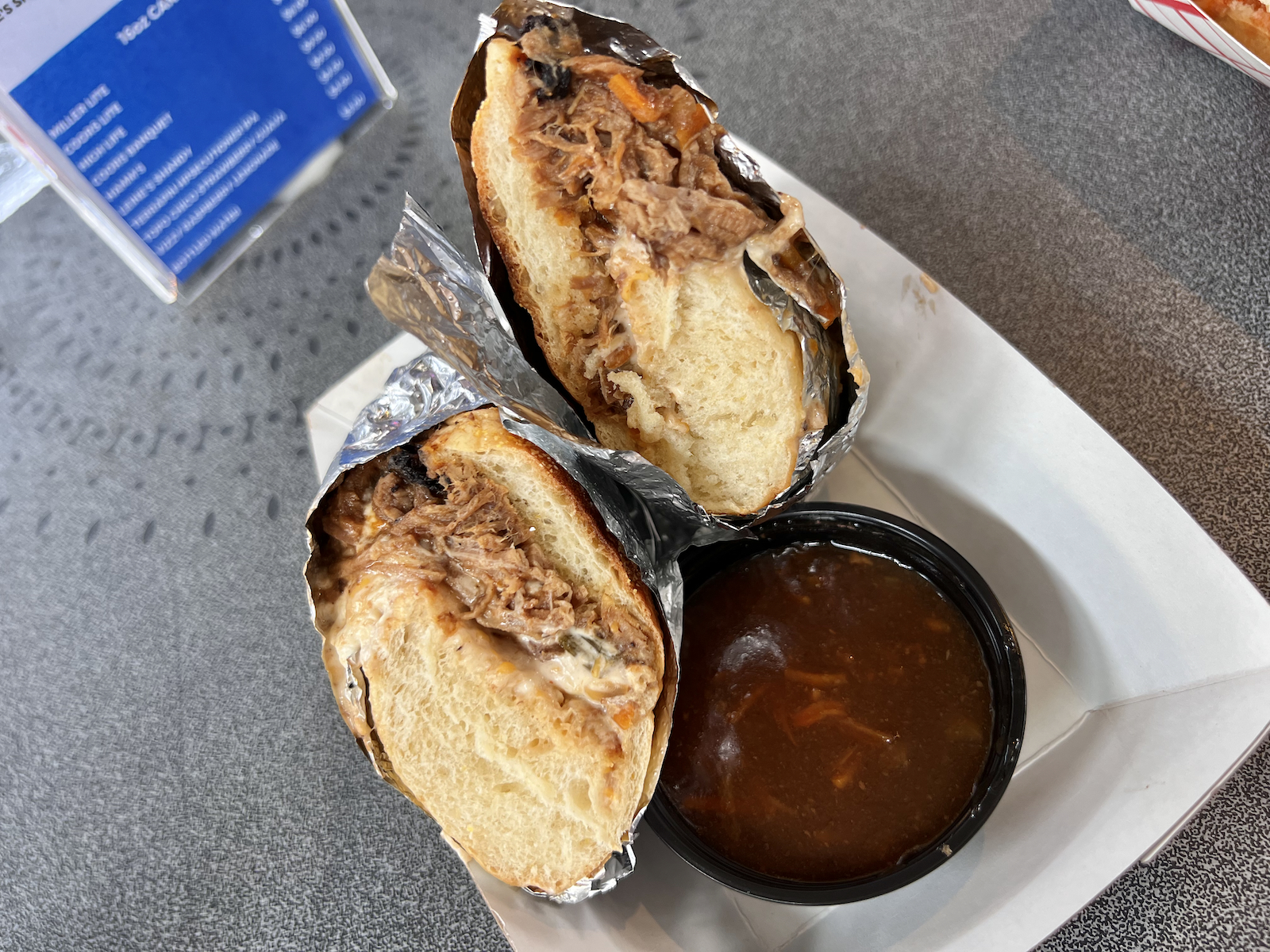 Where to find it: Slim McGinn's Irish Pub Grandstand Avenue & Second Street, $12.50
Description: In an effort to give fans what they've been asking for, the Irish Dipper was born! This delicious new Irish Onion Dip is made with cream cheese, Guinness beer, caramelized onions, and Irish cheddar, and then layered with classic Irish beef in Guinness gravy on a French roll to create a flavor bomb sandwich that will make everyone happy! Served with a souffle cup of Guinness gravy for dipping.
If you're a fan of dippable sandwiches, this Sporkies contender already has a leg up. And if you're in the mood for a sandwich that pulls together the comforting elements of slow-braised beef and party-worthy onion dip, you're likely to find satisfaction in the Irish Dipper.
The French roll was soft and pliable, offering just enough support for the melt-in-your-mouth tender beef, which reminded me of solid homemade pot roast. The creaminess of the onion dip added interest (while also making the sandwich a bit messy to eat; grab a few napkins), and the Guinness gravy, doppled with onion and shredded carrot, pulled in the elements of a beer beef stew. The gravy's thicker texture helped it cling to the sandwich, ensuring a bit of flavor in every bite.
Overall: it's a comforting pick that doesn't veer too far in its effort to bring something different to the Fair.
5. The MAC + JOE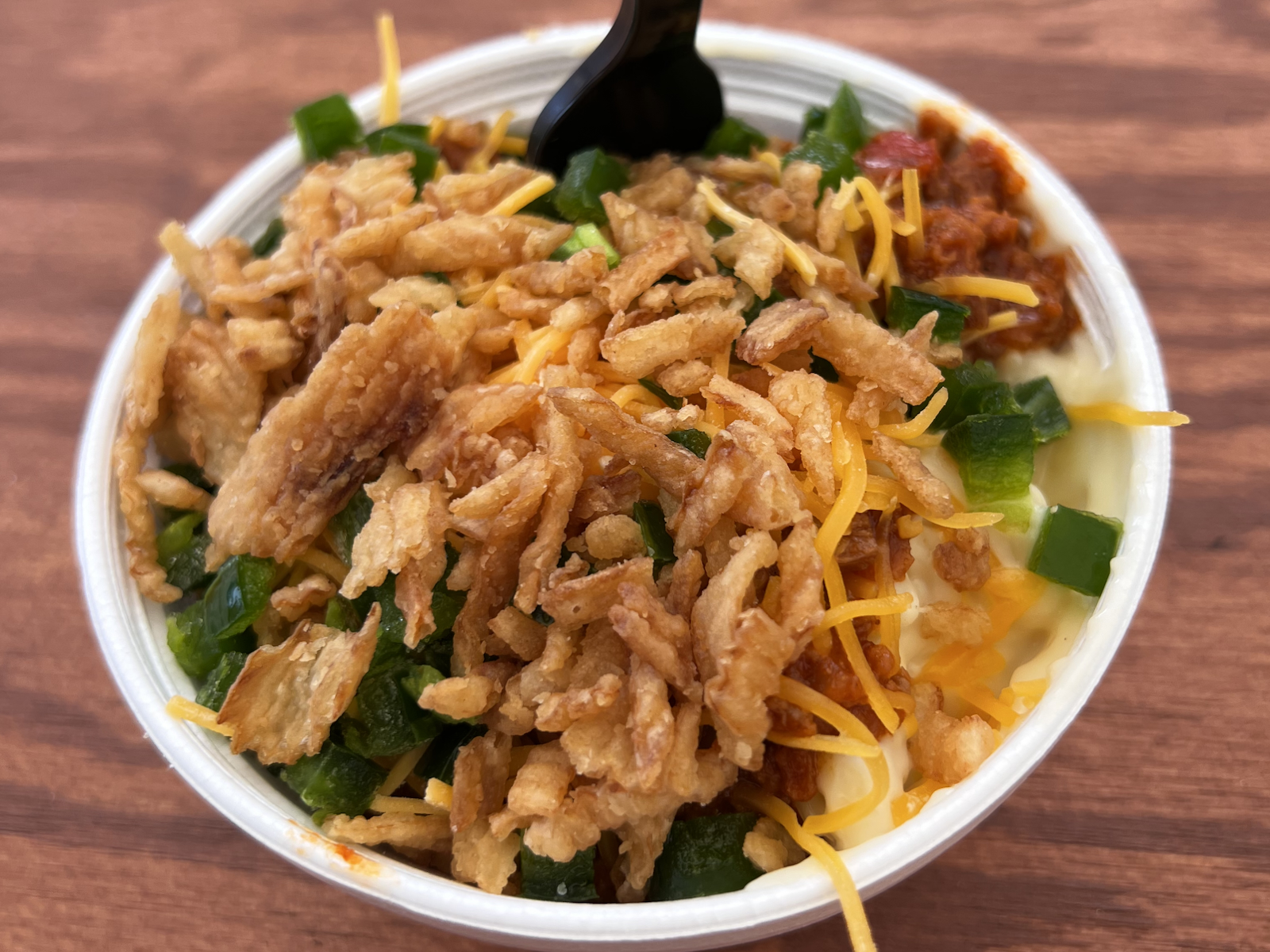 Where to find it: Camp Bar, Central Avenue & Center Street, $13
Description: The MAC + JOE is loaded with goodness! This dish consists of half Wisconsin Mac + Cheese and half classic Sloppy Joe topped with crispy, crunchy onion straws, a Wisconsin cheddar blend, chopped bacon, diced onions, diced jalapeños for a fresh kick, a dollop of cool sour cream, and even more crispy crunchy onion straws. Served in a cup so you can eat on-the-go!
I'm not sure that 90 degree weather screams: "Eat a bowl of hot mac and cheese topped with Sloppy Joe filling." But I managed to eat more than just a few bites of this clever creation, which combines two classic comfort foods in one.
I'm a sucker for a good mac and cheese, and this was one. It was creamy and cheesy with ample flavor and a silky smooth texture. The richness was a nice foil for the tangy Sloppy Joe, which transformed the dish into a cross between mac and bbq and chili mac. Despite the description, which seems to imply a host of toppings on each bowl, we were given the choice of three from a list that included onion straws, cheese, jalapeno, raw onion, bacon or sour cream. We added the crispy onion straws for texture, cheese (because why not?) and jalapeno, which offered both freshness and a super subtle kick.
4. Brat & Kraut Cheese Curd Taco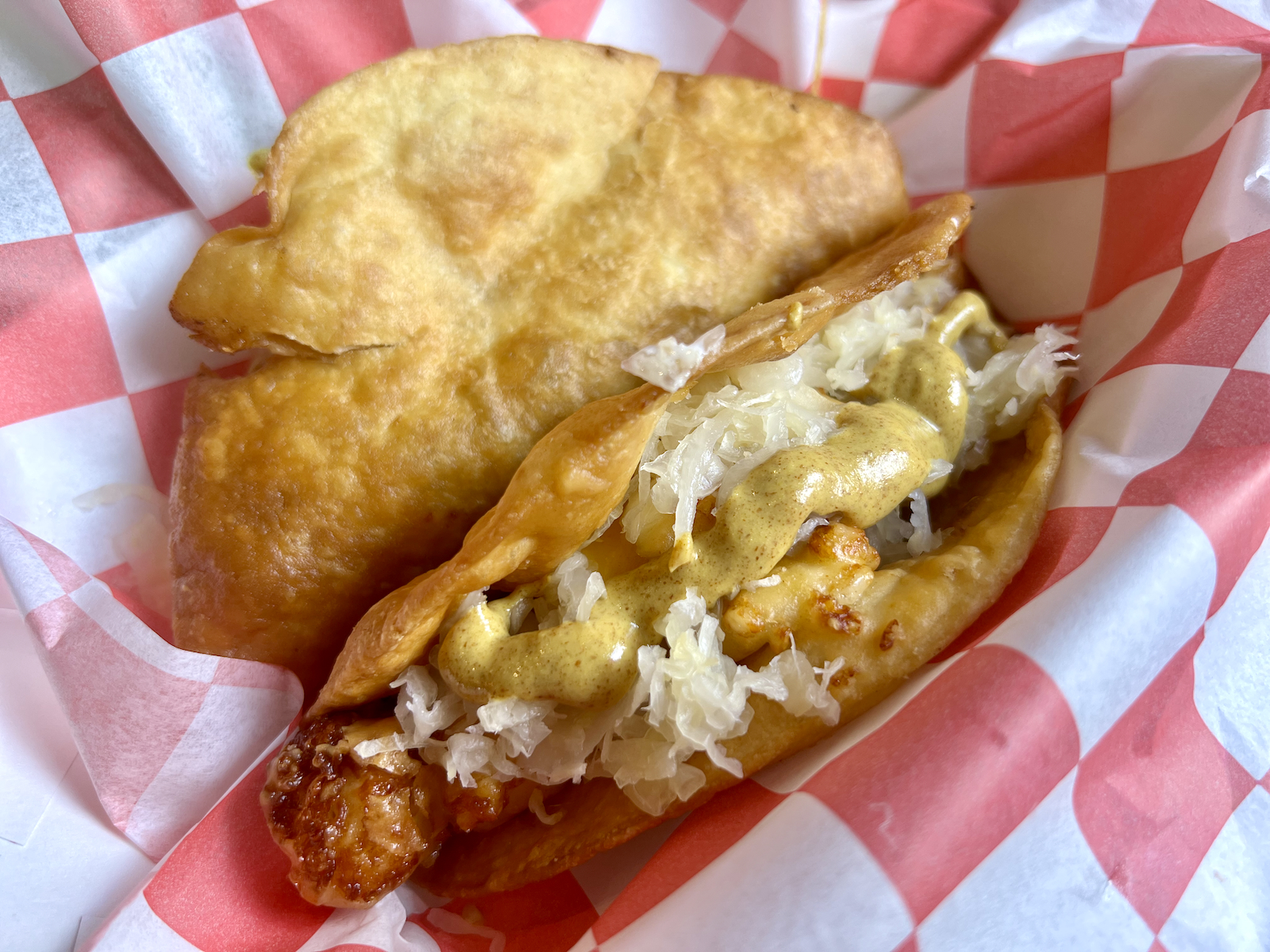 Where to find it: Richie's Cheese Curd Tacos, Wetley Way, two tacos for $14
Description: Find this taco filled with bites of Johnsonville brat, cheddar cheese curds, and sauerkraut topped with Beer 'n Brat mustard all in a fried flour tortilla.
Every year I look forward to trying a new creation from Richie's Cheese Curd Tacos, which always seems to come up with something new for the Fair. Inevitably, the untraditional tacos always end up somewhere in my top five dishes. That's largely due to their crackly flour taco shells, which are just sheer crispy goodness (think chimichanga). Meanwhile, the breaded fried cheese curds from Wisconsin's Ellsworth Creamery remain crisp on the outside and chewy on the inside (as they should be), even when confronted by other toppings.
This year, the shells were once again flawlessly crisp and contained a fair amount of bratwurst slices, an ample serving of kraut and a generous portion of mustard. Though the cheese curds got a bit lost among the stronger flavors of kraut and mustard, they helped to balance the pungency while also adding a bit of contrasting texture.
If you're looking for an alternative to the usual Sheboygan bratwurst, you might find a snip of joy in this unapologetically untraditional presentation of the Wisconsin classic.
3. Loaded Döner Fries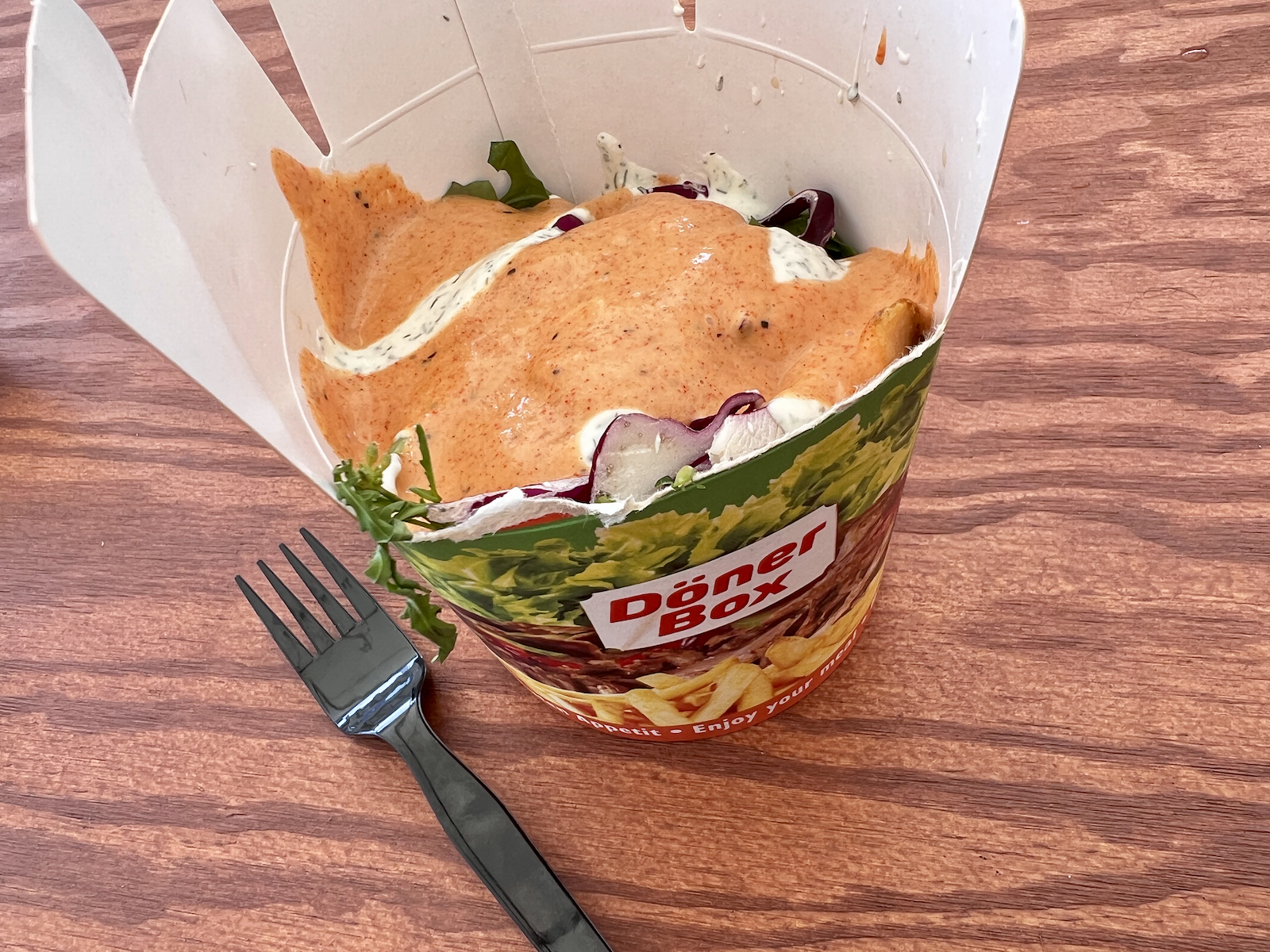 Where to find them: WürstBar, Central Avenue & Second Street, $11
Description: Spit roasted chicken, red cabbage, arugula, red onion, iceberg lettuce, carrots, white sauce, and house spicy aioli all over a bed of fries.
My appreciation for these fries began with their packaging: a kitschy round-bottomed noodle container (or should I say "döner box"?). Inside, I glimpsed little more than layers of sauce; but as I poked further in with my fork, I found a bounty of crisp vegetables and – eventually – the fries, which lined the bottom of the container.
A quick toss and I was enjoying what I jokingly referred to as "a French fry salad," a tasty mixture of crisp cabbage, peppery arugula, carrots, lettuce, slightly charred chicken and fries, all coated in spicy garlicky sauces. And I'll admit that I chuckled a bit when I realized that these loaded fries not only contained more vegetables than I'd eaten all day, but also provided a really pleasantly fresh departure from the other foods I'd been eating at the Fair.
2. Pizza Lumpia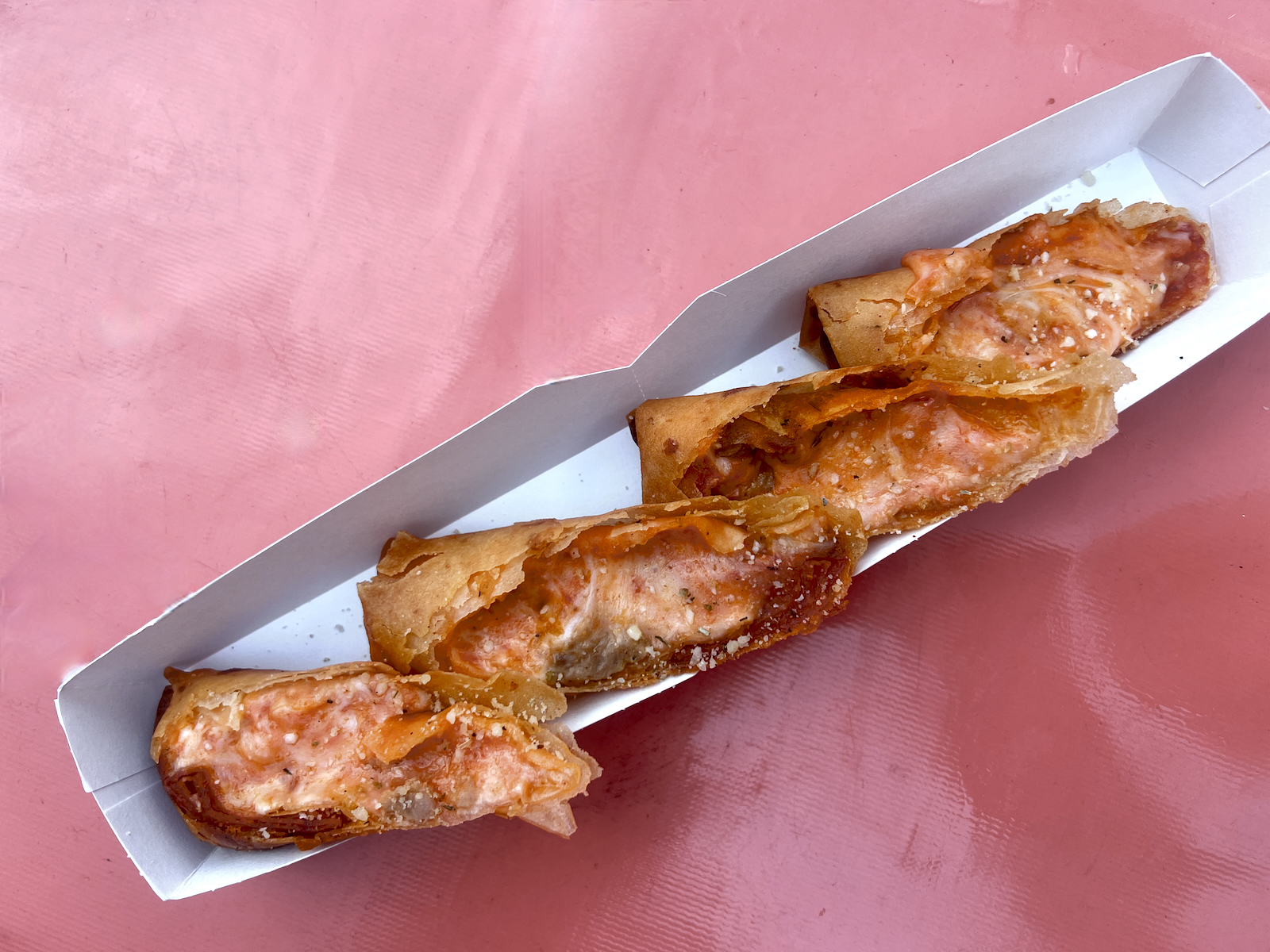 Where to find them: Lumpia City, South Grandstand Avenue, $10
Description: Lumpia (pronounced LOOM-pee-uh) is a Filipino appetizer that is comparable to an egg roll. This thin, crispy wrapper is filled with classic pizza ingredients.
You'll need to walk a ways down Grandstand Avenue to find the Lumpia City food truck, but at the end of the line you'll be rewarded with a delicious portable snack that's shareable and easily eaten without utensils. In fact, as I give it some thought, lumpia is a near-perfect Fair food.
I love the traditional lumpia, filled with cabbage, ground pork, onions, carrots and seasonings. But there's something fun (and very State Fair) about the pizza lumpia, which fuse classic Filipino fare with distinctly American flavors. Even more, tangy tomato sauce, Italian sausage and cheese is perfect stuffed inside the super crispy lumpia wrappers, which are served sliced on the bias, allowing them to reach perfect eating temperature in just minutes. My only regret is making the mistake of photographing these with the deeply unflattering pinkish-red tablecloth as a backdrop.
1. Deep-Fried Apple Pie*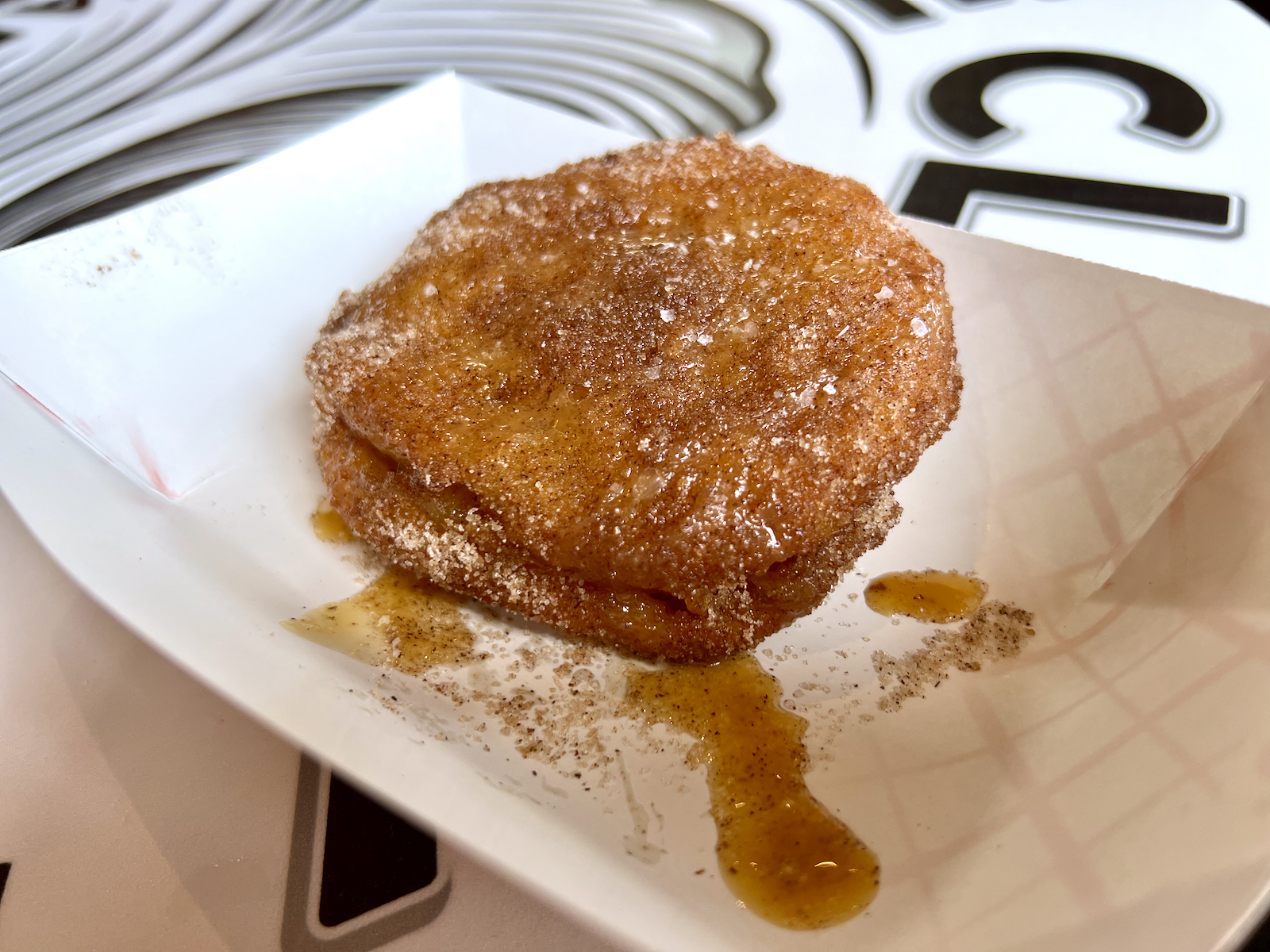 Sporkies Third Place winner
Where to find it: Saz's BBQ, Badger Avenue & Second Street, $7.50
Description: The Deep-Fried Apple Pie takes homemade apple pie filling and sandwiches it between two slices of white bread dipped in sweet French toast batter. Next, deep-fry it to perfection and top with caramel drizzle and cinnamon sugar. This "fair-ified" take on the classic campfire treat, a pudgy pie, brings you the flavors of a slice of apple pie in a fun new way!
Yaaas. This silly pie was so friggin' delicious.
It feels strange to choose a slightly elevated pudgy pie as the number one pick for new State Fair foods. But it's also a great example of how the simplest things can be the most satisfying.
Bite into this ultra-basic dessert and you'll see what I mean. The filling is comprised of apple slices that are tender (not mushy) and sweetened just enough to bring out their flavor. They're successfully contained by the crispy fried French toast batter-coated bread which has also been generously coated with sugar and cinnamon, making the pie crisp and sweet. The drizzle of caramel over the top just gilds an already delightful lily.
Corner me and I could even make the argument that, since this is essentially deep-fried apple-filled French toast, you could eat it for breakfast.
Lori is an avid cook whose accrual of condiments and spices is rivaled only by her cookbook collection. Her passion for the culinary industry was birthed while balancing A&W root beer mugs as a teenage carhop, fed by insatiable curiosity and fueled by the people whose stories entwine with each and every dish. She's had the privilege of chronicling these tales via numerous media, including OnMilwaukee and in her book "Milwaukee Food." Her work has garnered journalism awards from entities including the Milwaukee Press Club.
When she's not eating, photographing food, writing or recording the FoodCrush podcast, you'll find Lori seeking out adventures with her husband Paul, traveling, cooking, reading, learning, snuggling with her cats and looking for ways to make a difference.