Slurp up these festival stories packed with vitamins, minerals and everything you need to spike your summer fun. The Summer Festivals Guide is brought to you by Punch Bowl Social. Come on in – it's time we all win at adulting.
This content is presented in partnership with Wisconsin State Fair.
The cream puffs. The giant slide. The concerts. The weird, kooky and genius products at the Expo Center. Delicious unhealthy stuff on sticks. When you think about the Wisconsin State Fair, you're mind probably jumps to these aspects of the annual festivities – and for fair reason!
But there's so much more to explore at the Fair when it cracks open Aug. 1-11, from little details of big features and off-the-radar events that should all be on your to-do lists next to familiar faces like cheering on the pig races and noshing on your fourth cream puff. (We're not judging.)
Here are ten things that'll make you say "Wait ... they do that at the Wisconsin State Fair?"
1. Animals, animals and more animals
Yes, I hear you tell me through your computer screen, you already know that there's animals and livestock at the Wisconsin State Fair. No duh, Matt. But did you know just HOW MANY animals come through the State Fair each year? The grounds' six barns host more than 7,000 animals through the eleven days of festivities, from a variety of cattle and horses, to rabbits, chickens, donkeys, sheep, goats and pigs. Even more amazingly, most of these animals are only there for a few days, meaning that the State Fair has to clear out, clean out and bring in all-new animals pretty much every night. That's such a crazy level of animal organization and movement, Noah from the Bible is starting to think he had it easy in comparison.
For a complete schedule of when each type of animal will be on display and when certain barns are closed, visit State Fair's website. But here's a quick pro-tip: All of the barns will be open for the entire day on Monday, Aug. 5; Wednesday, Aug. 7; and Saturday, Aug. 10.
2. Flex at the Fair
Feeling a little guilty after knocking back a tasty order of deep fried milk and cookies? Pop by the Flex at the Fair competition on Sunday, Aug. 11, where fit Wisconsinites will show off their powerful physiques and bodybuilder figures in the hopes of claiming the titles of Mr. and Mrs. Wisconsin. Watching fit people compete and flex muscles burns calories, right? The semi-finals take place at 9 a.m. at the Activity Stage inside the Expo Center, while the finals will start flexing at 6:30 p.m. on the Associated Bank Amphitheater.
Looking for something else to pin to the fitness vision board in your mind? At 10:30 a.m. on Saturday, Aug. 10, the Fair also hosts a bench press/deadlift contest featuring some of the strongest Sconnies lifting their way to the title of champion. It's the perfect event to get you motivated to get eating healthy and exercising ... eventually. At some point. Maybe. Hey, where was that deep fried milk and cookies stand again?
3. Wisconsin's got talent
Calling all skilled kids: The Wisconsin State Fair wants to put your talent on display – and possibly give you a prize for it! The Junior Amateur Talent Competition showcases talented kids and teens as they take the Associated Bank Amphitheater stage at noon on Sunday, Aug. 11. and show off their unique abilities, from singing to juggling and more, in the hopes of being crowned the champion. All contestants pre-qualify for the event by competing in talent competitions at county fairs and local events throughout the state. Does being able to name all Division-I college basketball mascots or a decent Kermit the Frog impression count as talents? Asking for a friend ...
4. Hop over to rabbit hopping
The Wisconsin kids and teens aren't the only ones with talent at the State Fair. Hop over to the Poultry & Rabbit Palace showspace on Monday, Aug. 5 (noon until 7 p.m.) and Tuesday, Aug. 6 (1-6 p.m.), and you'll discover some rarefied rabbits racing one another in obstacle courses – judging speed, agility and, yes, their hopping abilities in both high and long jump contests. You haven't seen hares this talented since the time Bugs Bunny helped beat the Monstars in "Space Jam"!
5. Wool the runway
If you watched "Project Runway" and thought it could be improved wildly with the inclusion of more barn animal fashion, well, do I have a State Fair event for you! The Sheep Lead Class at 7 p.m. on Monday Aug. 5 in the Sheep & Goat Barn not only judges exhibitors on the way they handle and care for their sheep, it also challenges them to "make it work" and make an outfit out of wool for both them and their sheep, judged on use of the woolen fabrics and, of course, how the outfit looks. Be sure to watch these contestants sweat it out – because of the high level of competition and also because they're wearing wool in the middle of summer.
6. Amazing artists
I would argue that the Wisconsin State Fair cream puff is, indeed, a breathtaking work of art – but there will also be ACTUAL artwork and the very talented artists behind them scattered all across the fair grounds.
There's the Young People's Art Exhibit, hosted throughout the fair in the lobby of the Expo Center, featuring impressive pieces from students in school grades 6-12 throughout the state, as well as the Youth Expo Hall showcasing performances, revues, exhibits and activity stations from youth projects and programs. If you're a fan of art AND puns, then you should also check out the Cow-Temporary Art Walk, guiding attendees through an outdoor gallery of murals, wood carvings, metal sculptures, natural art and much more.
And in case that wasn't enough art at the State Fair, new to this year's edition is a special art exhibit called Autism, Arts and Animals on display in the lobby of the Expo Center for the first weekend of the Fair, featuring animal-themed art created by students ages 8-18 enrolled in Islands of Brilliance, a Milwaukee nonprofit that works with children and young adults living with autism.
No matter where you look at the State Fair, there will be something to catch your eye – beyond just the latest deep-fried stick food.
7. The Great Wisconsin Cooking Stuff Show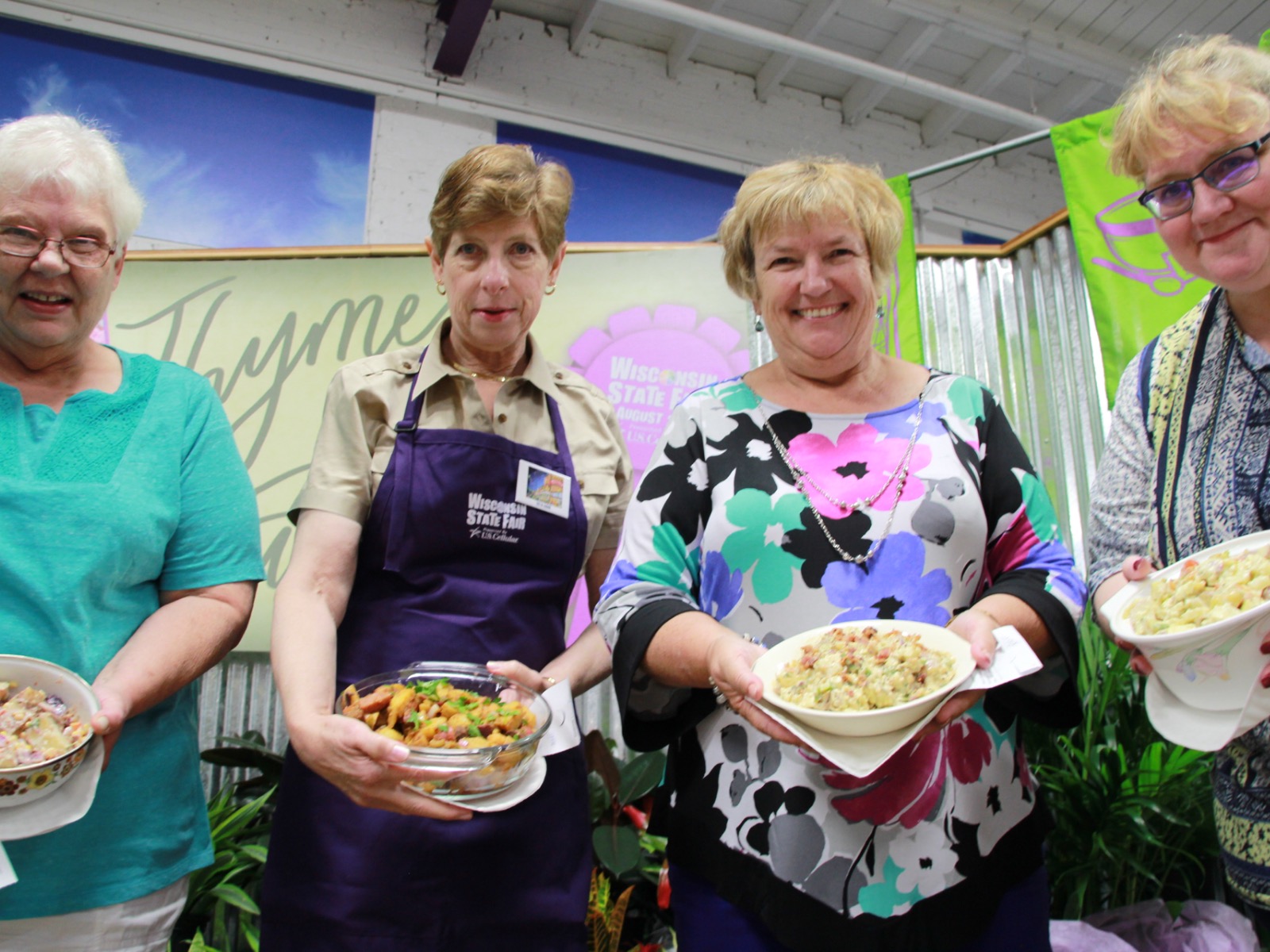 Love bingeing through cooking shows like "Chopped" and "The Great British Baking Show"? Why not watch it live at the State Fair, as amateur bakers and cooks from across the state will face off in the fair's live-judged culinary contests, running Friday, Aug. 2 and Sunday, Aug. 4 from 10 a.m. until 4 p.m. in Grand Champion Hall. Watch the heated contests – and maybe even learn a few recipes and cooking tricks in the process. Who knows, maybe you'll be on one of those cooking contest shows one day! (Though, if you're anything like us in the kitchen, it'll be Netflix's "Nailed It!")
8. Lavish livestock
I bet you thought the sheep wool fashion show would be the most fashionable animal show at the State Fair – but the Wisconsin Holstein Association's Holstein Futurity competition has something to say about that. The contest – hosted on Saturday, Aug. 10 at 6 p.m. at the Case IH Coliseum – not only involves exhibitors registering a particular cow THREE YEARS in advance and having to raise it into prime prize show cattle in that time, those exhibitors then show up to the event dressed to the absolute nines in the hopes of not only winning for the best animal but also for best dressed. We're talking fancy gowns and tuxedos, like it's a movie premiere. (Call it a mooooo-vie premiere; I'm so sorry.)
9. Art ASAP
Art: It's great – but it just takes so long! Not anymore – or at least not on the morning of Tuesday, Aug. 6 at Exploratory Park, where the Plein Air at the Fair will host its quick paint sessions, featuring artists creating mini-masterpieces in less than three hours. That's less time than "Avengers: Endgame" – and by the end, you'll have something better too! For more art at the State Fair from Plein Air at the Fair, drop by the park on Monday, Aug. 5 to see artists creating perfect Fair-inspired scenes on their canvases – which will also be available to purchase in the Plein Air Art Gallery inside the lobby of the Expo Center starting Tuesday afternoon.
10. Pom poms on parade
Give me an F! Give me a U! Give me an N! What's that spell? Pom-pons! (And also: I can't spell!) On Sunday, Aug. 4 at noon at the Associated Bank Amphitheater, cheerful athletes from across the state and across all age groups will compete for cash prizes and, most importantly, bragging rights in the 41st annual Badgerette State Fair Pom Pon Competition. And while you're watching, feel free to quick look up why it's actually spelled "pom-pons." I know I learned something today!
For more details and info on what you can all find and when at the Wisconsin State Fair, visit its website.
As much as it is a gigantic cliché to say that one has always had a passion for film, Matt Mueller has always had a passion for film. Whether it was bringing in the latest movie reviews for his first grade show-and-tell or writing film reviews for the St. Norbert College Times as a high school student, Matt is way too obsessed with movies for his own good.
When he's not writing about the latest blockbuster or talking much too glowingly about "Piranha 3D," Matt can probably be found watching literally any sport (minus cricket) or working at - get this - a local movie theater. Or watching a movie. Yeah, he's probably watching a movie.