The state of Wisconsin has a rich history spanning many sports, with influential power brokers and all-time great athletes. It got us thinking – who's the best of the best? We tell you who we think belongs on the Mount Rushmore of Wisconsin athletes, baseball in Milwaukee and the most influential figures in state history.
The first, and most important of the Mount Rushmore in this state has to be the people most responsible for, well, our sports.
The Wisconsin Sports Rushmore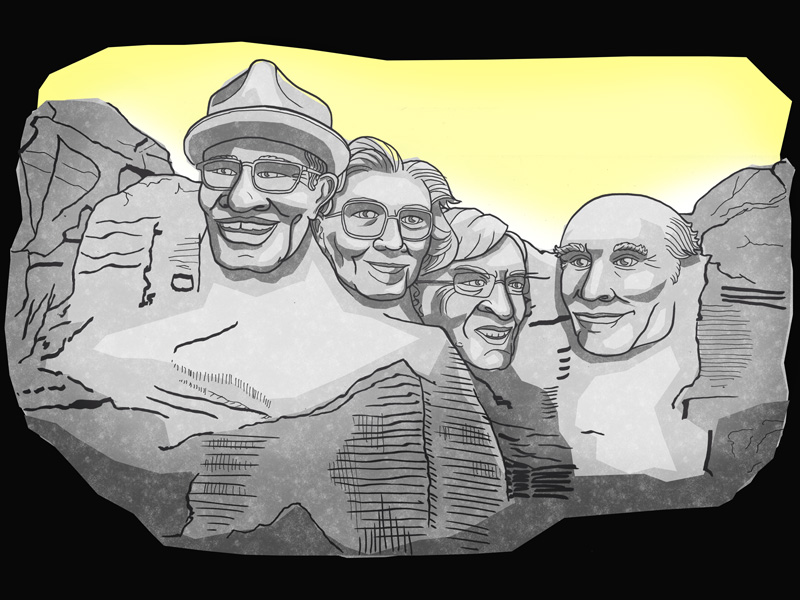 From left: Vince Lombardi, Jane Bradley Pettit, Bud Selig, Herb Kohl.

Vince Lombardi: He came in and took a moribund franchise to three NFL championships and the two Super Bowl titles in NFL history. He remains the standard bearer for head coaching in the league, and the game's ultimate prize is named after him.
Jane Bradley Pettit: Through her foundation, she donated $90 million to the BMO Harris Bradley Center and another $9 million to the Pettit National Ice Center and in 1999, she became a stakeholder of the Milwaukee Brewers and contributed $14 million toward Miller Park. Without her, you could make the argument that Milwaukee would have lost both of its professional franchises and the city would definitely not be a hub for winter Olympians.
Bud Selig: He brought Major League Baseball back to Milwaukee after buying the Seattle Pilots, a move alone that would put him on any Mount Rushmore of Wisconsin sports. But of course, he went on to become the commissioner of the league in 1992 and one of the most powerful men in all of sports.
Herb Kohl: The former Senator wanted to bring the NBA to Milwaukee as far back as the late 1960's and saved the team in 1985 when he purchased it from Jim Fitzgerald. He did his part to keep the team in Milwaukee going forward by gifting $100 million toward the construction of a new arena when he agreed to sell the team to New York billionaires Wes Edens and Marc Lasry in April. He also contributed $25 million to the construction of the Kohl Center at the University of Wisconsin.
Milwaukee baseball Rushmore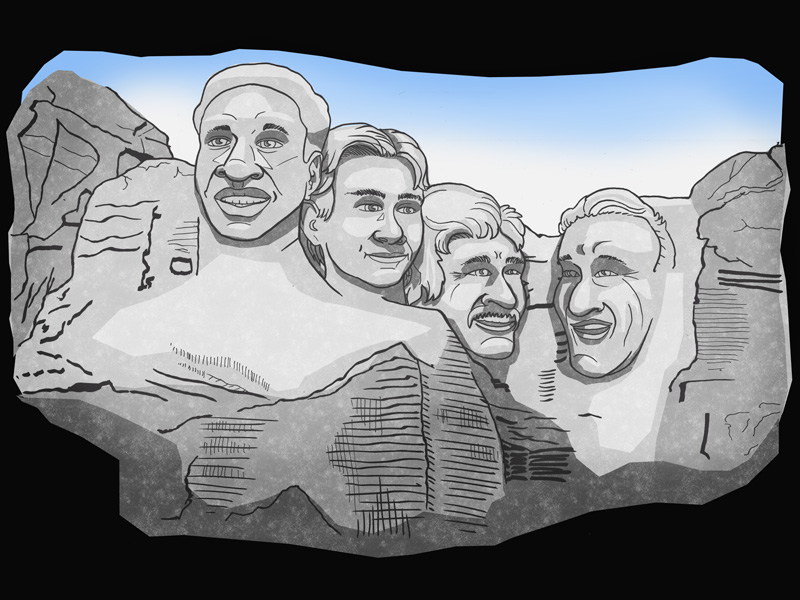 From left: Hank Aaron, Paul Molitor, Robin Yount, Warren Spahn.
Hank Aaron: What can you say about "Hammerin' Hank?" He spent his first 12 years with the Milwaukee Braves, going to 11 All-Star games and winning the 1957 Most Valuable Player award while hitting 398 homers and driving in 1,305 runs from 1954 to '65. He returned to Milwaukee with the Brewers for his final two seasons in 1975-76, hitting his final 22 homeruns to retire with a then-record 755. Perhaps most importantly, the Hall of Famer was part of the only World Series championship in Milwaukee as the Braves beat the New York Yankees in 1957.
Paul Molitor: He spent his first 15 years of his Hall of Fame career in Milwaukee, collecting 2,281 of his 3,319 career hits and 412 of his career 504 stolen bases while leading the American League in hits, doubles and triples once, runs scored three times while appearing in five All-Star games. He also hit .355 in the Brewers' only appearance in the World Series.
Robin Yount: A lifelong Milwaukee baseball player, "The Kid" won two MVP awards, went to three All-Star games and won one Gold Glove in 20 years with the Brewers. He collected 3,142 hits, hitting 251 homers and stealing 271 bases in a hall of Fame career. He also hit .414 in the 1982 World Series.
Warren Spahn: The Hall of Fame lefty came to Milwaukee after the Boston Braves relocated in 1953 and won a league-best 23 games with a league-best 2.10 earned run average in his first season in the Cream City. From 1953 through 1964, Spahn went 234-138 with a 3.05 ERA while completing an astounding 232 starts. He went to nine All-Star games as a Milwaukee Brave and won the 1957 Cy Young Award and won a game in the 1957 World Series.
Wisconsin athletes Mount Rushmore
From left: Robin Yount, Kareem Abdul-Jabbar, Eric Heiden, Brett Favre.
Robin Yount: Wisconsin has a great history of baseball, but only one Hall of Famer spent his entire career in the city, and that's Yount. He's remained the face of the franchise long after retiring in 1993. He holds 23 franchise records, including in advanced stats.
Kareem Abdul-Jabbar: While many around the country will associate Abdul-Jabbar with the Los Angeles Lakers, no player did as much for professional basketball in this state as he did. Drafted as Lew Alcindor in 1969, he played six seasons with the Bucks. He was a six-time All-Star, won three of his six MVP awards and one of his two NBA Finals MVP awards. He also led the Bucks to their only two trips to the Finals, including their only NBA championship in 1971.
Eric Heiden: Few have ever accomplished as much than the Madison native, who won an incredible five individual gold medals in speed skating at the 1980 Winter Olympics. While doing so, he set four Olympic records and one world record. He won seven other gold medals in world championships leading up to those Games, including in Milwaukee. He also set 15 world records. He then became a professional cyclist and won the first U.S. Professional Cycling Championship in 1985 and competed in the 1986 Tour de France.
Brett Favre: As much as any player could, Favre resuscitated a once-proud franchise over 16 years. He led the Green Bay Packers to four NFC championships and the 1996 Super Bowl championship, along with a return trip in 1997. He won three consecutive MVP awards while in Green Bay (1995-97) and went to nine Pro Bowls while setting an NFL record for consecutive games played. He also set NFL records for touchdown passes and passing yards.
Jim Owczarski is an award-winning sports journalist and comes to Milwaukee by way of the Chicago Sun-Times Media Network.
A three-year Wisconsin resident who has considered Milwaukee a second home for the better part of seven years, he brings to the market experience covering nearly all major and college sports.
To this point in his career, he has been awarded six national Associated Press Sports Editors awards for investigative reporting, feature writing, breaking news and projects. He is also a four-time nominee for the prestigious Peter J. Lisagor Awards for Exemplary Journalism, presented by the Chicago Headline Club, and is a two-time winner for Best Sports Story. He has also won numerous other Illinois Press Association, Illinois Associated Press and Northern Illinois Newspaper Association awards.
Jim's career started in earnest as a North Central College (Naperville, Ill.) senior in 2002 when he received a Richter Fellowship to cover the Chicago White Sox in spring training. He was hired by the Naperville Sun in 2003 and moved on to the Aurora Beacon News in 2007 before joining OnMilwaukee.com.
In that time, he has covered the events, news and personalities that make up the PGA Tour, LPGA Tour, Major League Baseball, the National Football League, the National Hockey League, NCAA football, baseball and men's and women's basketball as well as boxing, mixed martial arts and various U.S. Olympic teams.
Golf aficionados who venture into Illinois have also read Jim in GOLF Chicago Magazine as well as the Chicago District Golfer and Illinois Golfer magazines.