Editor's Note: Sponsored content is paid third-party advertising content. OnMilwaukee's newsroom does not write or edit this content.
These 10 architectural wonders will make your Instagram followers jealous.
What started as a Japanese-style house atop Deer Shelter Rock eventually became a collection of oddities from the mind of Alex Jordan Jr. in 1959. This angular, modern spectacle rising out of the woods of southern Wisconsin is weird from the outside in.
The seemingly unsupported Infinity Room pokes out 218 feet above the trees like the hideout of a Bond villain. Throughout his funhouse, you'll find self-playing music machines, a macabre whale and squid battling eternally, and the world's largest indoor carousel.
Wisconsin's own architectural golden boy, Frank Lloyd Wright left his work organically sprinkled across the state for visitors and locals to enjoy. Taliesin, his home and studio for nearly 50 years in Spring Green, is today a National Historic Landmark with six Wright-designed structures. May through October, visitors immerse themselves in this crown jewel of Wright's flat-topped prairie style and mid-century modern influence.
Visit Wright's other famous functional spaces across southern Wisconsin. In Madison, tour the lakeside Monona Terrace Convention Center and the amazing copper-and-glass Unitarian Church. In Milwaukee, Wright's Annunciation Greek Orthodox Church stands as one of the architect's last major commissions. And in Racine, visit the SC Johnson Headquarters, an office setting that would make Don Draper jealous.
Hands down the best times to visit are at 10 a.m. and 5 p.m., when the wings – yes, wings – of the Quadracci Pavilion open and close each day. The wings act as window shades to architect Santiago Calatrava's postmodern design, completed in 2001. The striking sail-like shape they create also serves a symbolic purpose, being on the shores of Lake Michigan.
A recent renovation increased the gallery space so now 2,500 artworks are displayed in the permanent collection, including Qing Dynasty pottery, Claude Monet's "Waterloo Bridge" and a Rothko multiform.
The Wisconsin statehouse stands among the most impressive public buildings in the country, and for good reason. Adorning the largest granite dome in the nation, this great beaux-arts monument is the tallest building in Madison.
Its four uniform wings, aligned exactly to compass, each have a unique pediment marking the governmental goings-on within. Inside, the circular mural "Resources of Wisconsin" decorates the rotunda ceiling 200 feet above. This National Historic Landmark's 100th birthday is in 2017.
Whether you ride a hog or a Honda Civic, the Harley Davidson Museum will fill your tank. Its three modern, open structures and space in between make it feel like the biggest, coolest garage you've ever hung out in.
In an afternoon at this 20-acre riverfront campus, you can explore archives and bike models from every era, peek into a design lab, ogle custom bikes from famous owners and marvel at the 45-degree track replica of the past.
Holy Hill, once home to a hermit in the 1860s, is one of southern Wisconsin's highest and most idyllic points. Surrounded by the Kettle Moraine State Forest, the hill wears a 90-year-old neo-Romanesque basilica and tower as a headdress.
Admirers can come year-round, but between May and October, visitors can climb 178 tower stairs and see treetops bounding outward as well as the Milwaukee skyline 30 miles away.
A ticket to a Milwaukee Brewers game on a rainy day will score you primo seats to see Miller Park's convertible roof in action – oh, and a baseball game.
Opened in 2001, the 42,500-seat park combines turn-of-the-century industrial influences and retro-style ballpark design (including real grass). The roof opens like a fan, and the arched wings, when open, sit on the edge of the first and third baseline, creating a stark postmodern silhouette that pops from the city.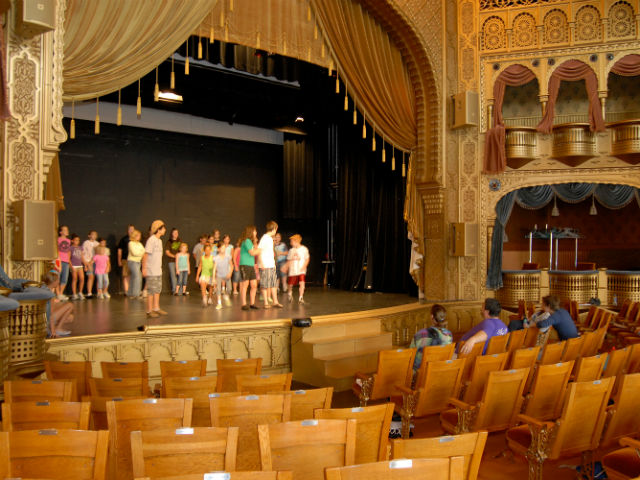 (PHOTO: Glenn Sanderson)
Captain and Mrs. Tainter built this grandiose Victorian theater for their late daughter, young Mabel Tainter, in 1889. Her lumber baron father spared no expense in commemorating Mabel's love of music and art.
Moorish design elements canvas the fortress-like sandstone façade, and the 251-seat interior – which still houses local and touring theater productions – glimmers with brass fixtures and hand-stenciled walls and ceilings. Stained-glass windows and the original organ also make it a popular place to get hitched.
On a pseudo-island of Door Peninsula's eastern edge, this 147-year-old lighthouse rises out of Lake Michigan to conjure a very Nantucket-y scene. Its steel sides are painted white to recall the Cream City brick of its original make before Lake Michigan hazed it into deterioration in 1902.
The original keeper's house, outhouse and 102 cast-iron, spiraling stairs inhabit the 8.7-acre outshoot of land, which visitors can reach on foot via a narrow land bridge.
Anyone knows the grandeur of one's estate can only be measured by its amount of chimneys. Broadway legends Alfred Lunt and Lynn Fontanne knew this when the couple built the estate in the 20s as a creative retreat and home while not on the stage.
The estate functions now as a theater and arts education establishment, and tours give visitors a glimpse of the Lunts' exciting lives (and ten chimneys) during the Golden Age of theater.
Browse more of Wisconsin's man-made wonders, and check out the top road trip stops across the state!